Noticing your neck has lost or is starting to lose firmness is one of the more distressing signs of aging. Often referred to as turkey or crêpey neck, it can be difficult to find a product that will make much of an impact on this delicate area. We have rounded up 10 of the most effective over the counter (including drugstore) firming neck creams that really work.
Estée Lauder Resilience Lift Firming/Sculpting Face and Neck Crème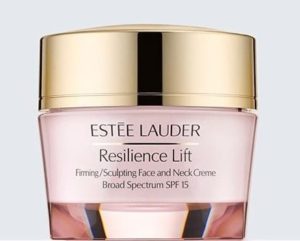 Estée Lauder  make some of the most popular and effective creams for your face. One best selling product to try that will work well for both your face and your neck  is Estée Lauder Resilience Lift Firming/Sculpting Face and Neck Crème Broad Spectrum SPF 15. This is a day cream that will give you a lifted look, protect your skin from the sun, and will help you smooth out fine lines and wrinkles. It comes in a dry skin or a normal/combination skin formula. They also offer a night version of the cream that does not include the SPF. It is a lovely cream to use, although it is a little on the pricey side.
Clarins Extra-Firming Neck Anti-Wrinkle Rejuvenating Cream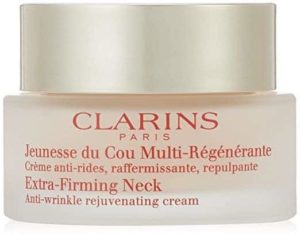 This Extra-Firming Neck Anti-Wrinkle Rejuvenating Cream from Clarins helps to firm and hydrate your neck. It has a smooth texture to it that goes on easily and doesn't leave a greasy residue. The scent is light and  most users will find it pleasant and not overpowering. Some of the more notable ingredients in this cream are Clarins' Extra-Firming Complex, Sunflower Auxins (to moisturize and protect), Sea Lettuce (for a plumping effect), and Oat Sugars (to moisturize and firm). It is recommended for women 40 and over.
NeoStrata Triple Firming Neck Cream


NeoStrata is a Canadian brand that it is known for products that use stem cell technology, along with a combination of retinol and peptides, and also a dry formulation for vitamin C (L ascorbic acid). The NeoStrata Triple Firming Neck Cream is a favorite of many dermatologist and skin care professionals. It contains NeoGlucosamine (which gives similar benefits as alpha hydroxy acid), NeoCitrate (helps produce new collagen), Pro-Amino Acid and Apple Cell Stem Extract (protects the skin's cells). It reportedly goes on smooth, isn't heavy, and doesn't have a strong fragrance. It is a little pricey, but many users have have seen a noticeable difference with this cream.
L'Oreal Paris RevitaLift Anti-Wrinkle & Firming Face & Neck Moisturizer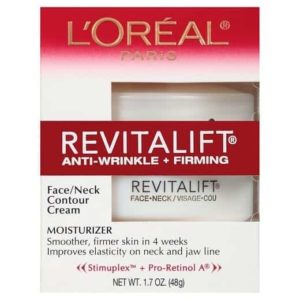 This firming formula by L'Oréal is a very well reviewed option for those who aren't looking to spend a lot of money.  It is formulated with pro-retinol A (L'Oréal trademarked name for it's version of retinol), pro-lastyl (an ingredient that can firm and renew elastin fibers), and criste marine extract (that will firm your skin and smooth wrinkles). As well as it's anti aging benefits, it will also moisturize your skin for 24 hours.
Olay Regenerist Advanced Anti-Aging Micro-Sculpting Face Moisturizer Cream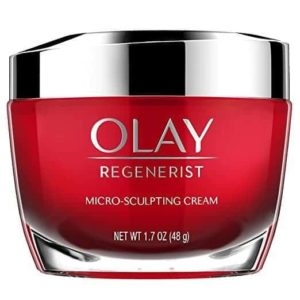 The whole Olay Regenerist line is great for helping to get rid of wrinkles and promote firmer skin. Although not made specifically for the neck, Olay's Regenerist Advanced Anti-Aging Micro-Sculpting Face Moisturizer Cream is often used on the neck as well as the face. Users find this cream helps reduce fine lines, wrinkles and skin discoloration for a fraction of the price that you pay for some of the more expensive neck creams.
Yeouth Neck Cream for Firming, Anti Aging Wrinkle Cream Moisturizer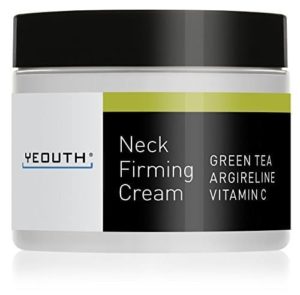 Yeouth is a very popular brand that you can find on Amazon.Their Neck Firming Cream uses the same antioxidants found in Green Tea (catechin EGCG that may reactivate dying skin cells) and Vitamin C (to promote collagen production). One of it's other key ingredients is Argireline, also known as acetyl hexapeptide that may help stop the formation lines and wrinkles by inhibiting muscle movement. This cream is made with natural ingredients and is cruelty free and vegan.
Gold Bond Ultimate Firming Neck & Chest Cream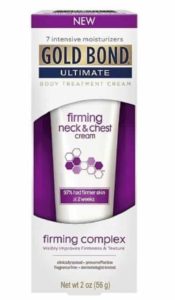 If you are looking for a good quality budget option to help firm up the neck and chest area, a lot of people really like the Gold Bond Ultimate Neck & Chest Firming Cream. Some of the key ingredients include: Salicylic Acid (BHA) to exfoliate the skin, Stress Response Proteins to improve texture of the skin, and an Advance Hydration Blend to maintain moisture. It is fragrance free and non-greasy.
BareMinerals Extra Firming Neck Cream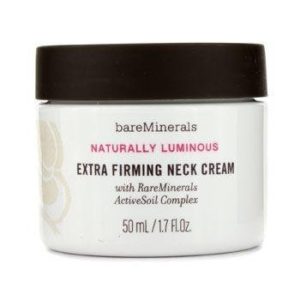 This bareMinderals Extra Firming Neck Cream is another decent option if you are looking for a moderately priced, yet effective (for many users) product. It uses something called ActiveSoilTM Complex. This complex is a combination of active minerals that come from virgin untouched soil, it is reported to have skin-renewing benefits like cell turnover and antioxidant protection. It also helps your skin absorb and retain moisture. This bareMinerals neck cream has no parabens, synthetic fragrances and artificial oils. The company also does not test on animals or use any animal by products.
Dr. Brandt Do Not Age Firming Neck Cream
This is one of the more pricey options on our list.It is a high end cream that has great reviews and features all of the things that you want in a great neck cream. It absorbs quickly, goes on smoothly, and moisturizes. It doesn't leave your skin feeling greasy and it can help to firm up the skin on your neck. It contains no parabens, is dermatologist tested, and never tested on animals.
StriVectin TL Advanced Tightening Neck Cream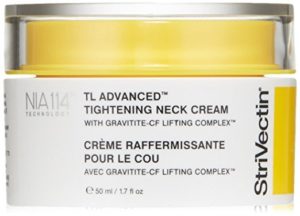 The StriVectin TL Advanced Tightening Neck Cream often comes up as one of the most effective neck creams on the market. I was hesitant to put it on this list though as I didn't find this cream to be particularly pleasant to use or effective. It is possible that I just had a bad batch and that would be why it left me a little underwhelmed. Regardless, many consumers have had good results with this particular cream so I'm including it as a possible, although pricey option if you like the brand.
What causes turkey neck?
Turkey neck is caused by a combination of your neck muscles weakening as you age leaving your skin less supported, along with your skin losing it's elasticity. Both of these factors cause the skin on the neck to sag and creating the dreaded turkey neck effect.
Do firming creams really work?
Like all beauty products, some creams may not work for you that work really well for others. Since everyone's skin is different, finding the right product may take a bit of trial and error. If you are unsure about a particular cream stick with brands that you know and trust. Also pay particular attention to ingredients (see below).
How do wrinkle creams work?
For the most part they work by moisturizing the skin, creating a more plumped up appearance to diminish the look of fine lines and wrinkles. They can also exfoliate dead skin cells to reveal more healthy looking skin. Some creams use ingredients that are believed to help with the production of new collagen and elastin helping to create a more youthful appearance. Most importantly neck creams aim to improve texture and firm up the skin helping to reduce the look of crepey neck. 
What are the most effective ingredients to look for in a neck cream?
Retinol– Retinol is one of the best ingredients to look for if you are looking to reduce the appearance of fine lines and improve your skin's elasticity.
Peptides– Peptides can boost the growth of new skin cells and help plump up the skin.
Alpha-hydroxy acids-Alpha-hydroxy acids can work as a natural exfoliant that can help brighten the skin and make it look smoother.
Antioxidants– Antioxidants protect cells from free radicals that can damage skin cells and cause your skin to age more quickly. They can also make the skin appear to be more firm and reduce the appearance of fine lines.
Stem cells-A few of the products on our list include Stem cell derivatives that are believed to stimulate collagen and elastin.
Do you have to get a cream specifically for the neck area?
Generally anything you use on your face can also be used on your neck. However the neck does have fewer oil glands so you can use a thicker product than you would use on your face without having to worry about a breakout. By using a thicker cream you can help hydrate the skin and possibly make it more smooth and healthy looking than with a lighter formula.
What Else Can You Do to Help with Neck Wrinkles?
Use a sunscreen to protect your skin from sun damage.

Pay the same attention to your neck that you do to your face (clean, tone, moisturize).

Make sure you keep your posture straight and your neck stretched out to avoid horizontal lines developing.

Do facial exercises for your

 neck

to help strengthen your muscles and reduce the look of turkey neck.
 Other Considerations
It is always disappointing to have high hopes for a beauty product only to discover once you have it it isn't right for you. Here are a few things to think about before you go shopping:
Is the product tested on animals?
There are a number of great options that specifically say they are not tested on animals. Try BareMineral, NeoStrata, Gold Bond Ultimate or Dr.Brandt.
Does this product have sunscreen?
Many neck creams don't contain sunscreen and may have ingredients that make you more susceptible to sun sensitivity. If this is a concern you may have to use a sunscreen in addition to the neck cream.
How does it smell?
These days most facial creams are fairly light on scent. If you are bothered by fragrance, look for products that are unscented (Gold Bond.
How long do you have to use it before you see results?
The time frame will vary between the different products, but you should start to see some results after using a neck cream for at least three weeks. You can check reviews to see if other users are getting good results, and what kind of time frame they are seeing it in.
What is the texture of the cream like?
When you start to use neck creams you may be surprised at just how thick some of them are. Since the neck has fewer oil glands than the face, you can use a thicker cream without experiencing breakouts.For some people the thickness is what they like about using a cream specifically formulated for the neck. Not all necks creams have a thick texture, but it is something to be aware of if you prefer a lighter cream.