A quality neck or back massager is well worth the investment if you have knots or pain in your neck or lower back. Not only are they relatively inexpensive when compared to treatment from a massage therapist, they are ready to use when and wherever you may need them.
There are all kinds of different designs to choose from that can target exactly the right area that you may have sore or tense muscles. Whether you need it at home, the office, while travelling or in the car, we have rounded up some of the most popular and best quality neck and back massagers to help you find one that is right for you.
6 of the Best Back Massagers
1. Zyllion ZMA-14-BK FDA Listed Shiatsu Neck & Back Massager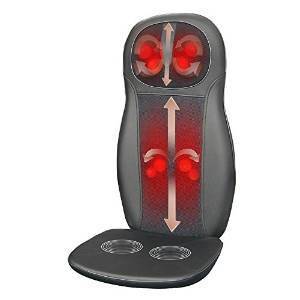 Zyllion ZMA-14 Shiatsu neck and back massager cushion with heat is a great option if you need deep kneading and rolling massages at the neck, upper back and lower back. The heat helps to relax tight muscles while the vibrating motors at the hip and the up-down motion of the massage nodes on the back provide an overall experience that help with pain relief on both your lower and upper back. It is designed to mimic what you would feel if you had a massage with human hands. It is pretty heavy duty, quite powerful and works especially well on the neck area. You can use this device at home or at the office, it just needs to be placed on almost any kind of chair where you secure it with an adjustable back strap. It comes with a one year warranty.
Check Pricing | ZyllionInc.com
2. Zyllion ZMA-19-BK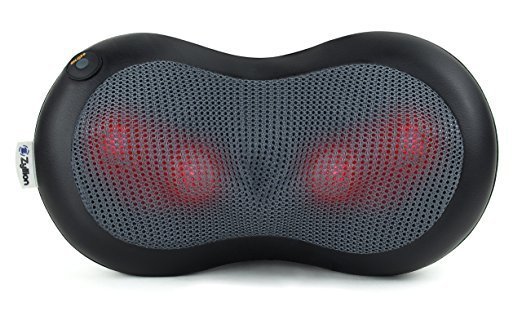 This is another great massager from Zyllion. This model is designed with a curve to accommodate the shape of the neck and upper back to penetrate deeply into the neck muscles for a deep massage. It uses deep-kneading shiatsu massage nodes that automatically changes direction every minute for a relaxing experience. The ergonomic pillow design works particularly well for the neck and upper back, but you can also use it on your abdomen, calf, and thigh areas. It comes with handle straps that you can use to either attach to a chair or to just adjust the position of the pillow in any situation that you are using it. It does have an easy to turn off and on heat function and it has a 20 minute auto-shut off feature for safety.
3. Thera Cane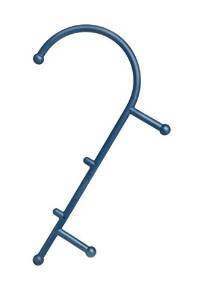 It doesn't look like much but the Thera Cane can work wonders on back pain. This simple self-massager makes it easy to apply compression to knots on your back (and other areas on your body). What makes it so great as a self-massager is that the unique design allows to you reach the hard to reach areas on your back that you may have trouble getting to with an electric massager. There are a few different versions put out by different companies that have a similar design with the kind of studded round therapy balls that you apply to sore muscles to try to work out knots and ease muscles, but the Thera Cane is one of the original makers of this type of design. It can be used pretty much anywhere since you don't need an electrical power source and you can use it while standing, lying or sitting. It comes with a detailed illustrated instruction manual and a lifetime guarantee.
4. Naturalico Shiatsu Massager (Heated)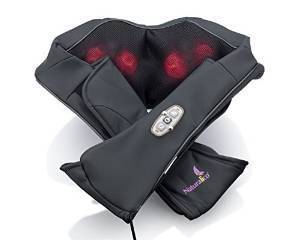 The Naturalico Shiatsu Massager is a fantastic option to help with neck and back self-massage due to its strap design. This design is great because it helps you avoid putting your arms in an awkward position in order to get at a difficult to reach area. This model is a four-node shiatsu massager with heat. While it is perfect for the upper back and neck, it can also be used on many other parts of your body. It has an auto-shut off for safety and you can use it almost anywhere since it is very lightweight. It even comes with a car adapter so you can use it in the car if needed.
5. Pure-Wave CM7 Extreme Power Massager Body + Facial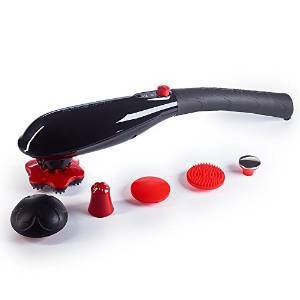 Pure-Wave Body & Facial Massager is one of the more popular styles of design of massagers. What is interesting about this model is that it is cordless, so you don't have to worry about the cord getting in the way or restricting where you can use the massager. This model only weighs about 1.75 lb, so it is pretty lightweight and easy to maneuver. It has a variable speed so you can use it on the gentle speed if you are just looking for a light massage or if you need something deeper you can increase the speed up to 3,700 RPM. It also has 6 different massage heads that work well for different body parts. This Pure-Wave model is very popular but some users have complained that because it is cordless it has a battery, but you can't change or replace the battery yourself if it dies. If it does die you have to send it to the manufacturer, but it isn't clear if there is a cost to do this. It comes in white or black.
6. Jeanie Rub Massager – Variable Speed PRO-3401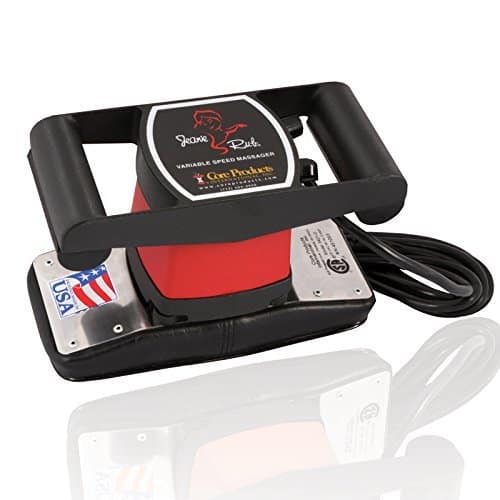 The Jeanie Rub Variable Speed Massager is a very popular heavy duty back massager. This is a device you would get if you want something really powerful. This company has been producing back massagers since 1966, so they have had a lot of experience perfecting this massager. This particular model is quite large and has a very powerful 1-amp motor that can produce very quick and invigorating speed if you need a deep massage. It weighs about 8 pounds that helps add to the pressure. You can also run it at a lower speed if you prefer a more soothing massage, although it doesn't have heat or offer any kind of kneading action. If you are planning on using this on your back you will need someone else to use the device on you, the design doesn't really allow you to use it on yourself because of the way the grips are positioned. The Jeanie Rub is made in the U.S.A from cast aluminum with a red and black powder coat finish that gives it a high quality durable feel. It comes with a one year warranty and it has a 120V AC Nominal Power Source that you need to use with a 12 foot grounded power cord.
Check Pricing | CoreProducts.com
Why Buy a Back Massager?
Massagers are great devices to help deal with aches and pains, as well as being beneficial for many different type of chronic conditions. They have been proven an effective way to help get rid of knots in the neck and back, while at the same time improving circulation. They can help reduce and manage stress, improve blood pressure and possibly give you increased flexibility in your muscles. Whether you need heat therapy, or a deep tissue massage these devices are inexpensive, very easy to use and they deliver great results.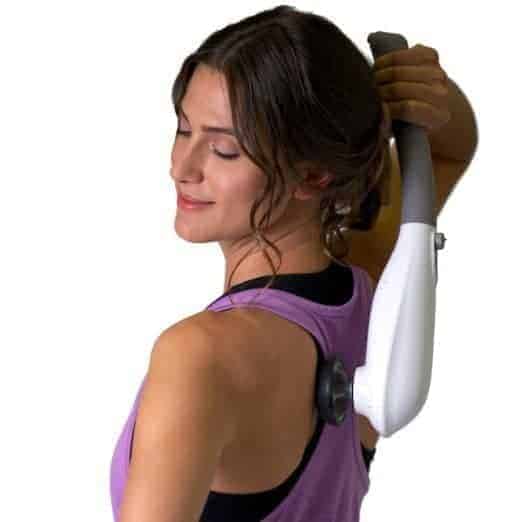 Features to Look for
Massage Technique– Each of the massagers use different methods of massage technique. The most popular methods that are used with electric massagers are shiatsu, kneading, and vibration types of technique. Heat is also used in combination with other methods to provide the most benefit.
Heat -Many of the top devices offer a heat on/off function. For most individuals the combination of the heat with the massage is very beneficial because it helps to loosen the muscles, making them more pliable and receptive for massage.
Body Part– If you are buying for a particular area of the body, most products list what areas they work best on. There are some great massagers that are specifically made for the neck and the back, but if you want a device that you can use on other body parts you can look for the strap design or long slim handheld models.
Weight- The weight of a device can play a major role in how easy it is to use. If you are going to be using it on yourself, you will probably want to look for a device that is lightweight. If you want a device that is powerful and you have a partner who will be able to use it on you, then you may want a heavier device that can give you more pressure. If you will be using the massager while travelling, ensure that you consider the weight as well as the size of any device that you are considering purchasing.
Multiple Speeds or Modes- Variable speeds are handy to have if different family members who may have different sensitivity to pressure or speed will be using the massager. Also it is useful to have different speeds since some days your muscles will be sorer than other days, so the ability to change up the speed or pressure is a huge plus.
Auto Shutoff – If the massager has a heat setting, make sure it also has an auto shutoff for safety.
Power: There are a few different types of power sources you can get. Most massagers have an AC Adapter and if you are lucky it will also include a car adapter that you can plug into your cigarette lighter. There are also many models that take batteries or that are rechargeable, making them great for travel or for use in other countries.
Warranty – The warranty lengths for the majority of massagers tends to be a 1 year limited factory warranty. If you buy a device like the Thera Cane it has a lifetime warranty.
Design-There is many different designs of massager to choose from that will suit almost everyone's different needs. Below we have listed some of the most popular products that have a variety of different designs. Before purchasing a device ask yourself where you will mostly be using the massager, when you will be using it (home, car, or office) and what your specific problem areas are. Answering those types of questions will help you figure out what is the best design for you.
Different Types of Massagers
There is quite a lot of choice when you are choosing a massager. The following are a few of the types of massage to be aware of:
Shiatsu – Shiatsu is a type of massage that applies pressure to the body using fingers or the palm. The massagers that are marketed as "Shiatsu Massagers" are trying to recreate the feeling of fingers massaging a body. Usually Shiatsu massagers have squeezing mechanisms or rolling nubs are used to try to feel like fingers.
Kneading or Squeezing – This is one of the most common types of massage techniques and massagers that use this method are trying to recreate the feeling of fingers and hands giving a massage. These types of devices are usually very relaxing and are great for a number of different pain and muscle concerns.
Vibrating – Vibrating massagers use vibration to shake the body part while also using pressure. It can be used on most areas of the body. It works loosing up your muscles. They are very common and most users find them to be very beneficial.
Infrared – Infrared massagers (usually combined with heat) help to improve blood circulation by relieving the pressure that surrounds blood passageways. It uses infrared energy, or heat, that penetrates into cells and tissues and helps to ease muscle and joint pain. It may also help reduce muscle stiffness and swelling in joints.
Muscle Rollers- Muscle rollers are an inexpensive way to achieve some of the benefits of massage but without breaking the bank. You use them on yourself and they can help relieve pressure, stiffness and tensions when applied to various body parts. It is a type of shiatsu or acupressure massage.
Thumping – Thumping massagers try to recreate the feeling of someone thumping you with a closed fist, it doesn't tend to be a very common massage technique in North America and some experts recommend that it is only used on the thigh and buttock area.