There are many different eyelash enhancing serums that can strengthen your eyelashes and help them grow longer and thicker naturally. The effectiveness of these products has improved drastically over the last few years, leading to the huge surge in popularity. Thick and full eyelashes can make your eyes look bigger and more beautiful, but unfortunately many of us are born with eyelashes that could use a little help. For those of us who need a little help in the eyelash department, we have found the most popular and highest quality eye growth enhancers that will improve the length and density of your own natural lashes.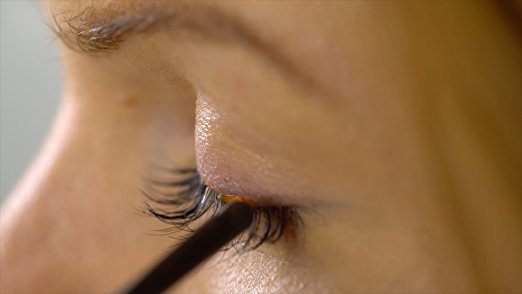 The following are some of the most popular and best quality eyelash serum brands available:
Babe Lash Eyelash Serum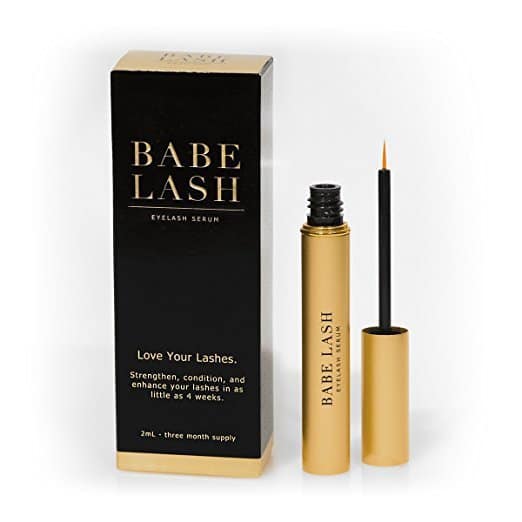 Babe Lash Eyelash Serum can help you enhance your lashes with as little as 4-6 weeks of use. Using this formula once a day (at night) will help your lashes become longer and fuller. Once your lashes have begun to improve, you can switch to using this serum two to three times a week to maintain results. It may take up to three months to see the full results. It is dermatologist tested, with very few reported side effects. The results will diminish if you stop using the serum. Babe is safe to use with contact lenses.
Ingredients: Water, Glycerin, Hydrolyzed Glycosaminoglycans, Sodium Hyaluronate, Panthenol, Sodium Lactate, Vitis Vinifera (grape) Seed Extract, Panax Ginseng Root Extract, Polysorbate 20, Sodium Pca, Sorbitol, Proline, Hydroxyethylcellulose, Yeast Extract, Chamomilla Recutita (matricaria) Flower Extract, Arctostaphylos Uva Ursi (bearberry) Tocopheryl Acetate, Methylamido Dihydro Noralfaprostal, Leaf Extract, Magnesium Ascorbyl Phosphate, Triethanolamine, Phenonip.
Latisse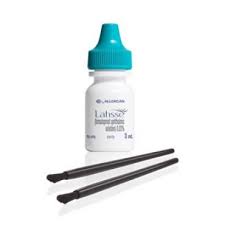 Latisse is probably the most well-known treatment to give thicker, fuller lashes. It was originally developed as a glaucoma treatment, but while it was being tested it was noticed that it produced thicker longer lashes in the patients who were using it to treat glaucoma. Latisse contains a prostaglanoid called bimatoprost and because of this drug it can only be obtained by getting a prescription for it. It works well for chemotherapy patients seeking to re-grow lashes and eyebrows after treatment as well as a beauty aid. There have been quite a lot of studies done on bimatoprost that have proven that it does help to grow, darken and especially thicken eyelashes. Unfortunately there are side effects to using Latisse including eye itching and red eyes (3.6 percent of patients in one Allergan study). There is also a small possibility of  a change in eye color (although not considered common). Any change in eye color that occurs is likely to be permanent, particularly if you have light-colored eyes. It only takes seconds to apply and you will need to use it for at least 16 weeks to see a result.
Cost: One LATISSE® kit costs approximately $120. It includes one bottle and 30 pairs of applicators.
Ingredients: Active ingredient: bimatoprost.
Inactive ingredient: benzalkonium chloride; sodium chloride; sodium phosphate, dibasic; citric acid; and purified water.
Available from: Doctor By Prescription, learn more at Latisse 
Body Merry Biotin Infused Lash & Brow Elixir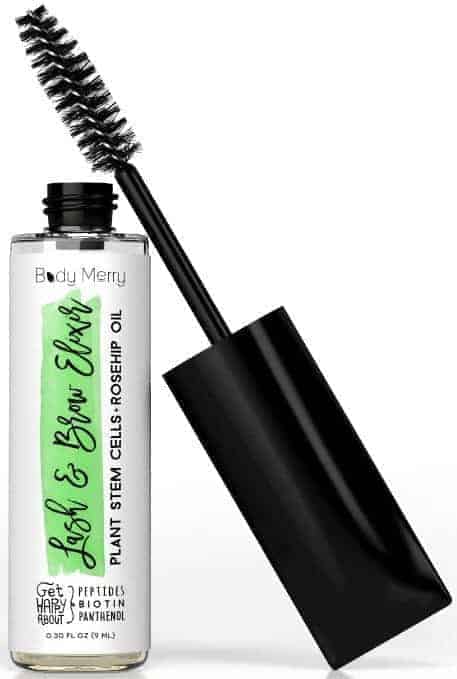 Body Merry Biotin Infused Lash & Brow Elixir is made with Biotin. Biotin is part of the vitamin B complex that helps maintain good hair, nails and skin. It uses only natural and organic ingredients, so there shouldn't be anything harsh that will irritate your eyes. You only need to use it once a day at night. It is cruelty free and comes with a 90-day manufacturer guarantee.
Ingredients: Cucumis Sativus (Cucumber Hydrosol), Cassia Angustifolia Seed Polysaccharide (Botanical Hyaluronic Acid), Aloe Barbadensis Leaf Juice (Aloe), Algae Extract, Camellia Oleifera (Japanese Green Tea) Leaf Extract, Kosher Vegetable Glycerin, Palmitoyl Oligopeptide, Palmitoyl Tetapeptide-7, Globularia Cordifolia Callus Culture Extract (Plant Stem Cells), Biotin, dl-Panthenol (Vitamin B5), Cucurbito Pepo (Pumpkin Seed Oil), Organic Rosa Canina (Rosehip Seed Oil), Punica Granatum (Pomegranate), Caprylyl Capryl Glucoside, Butylene Glycol, Carbomer, Polysorbate 20
Revitalash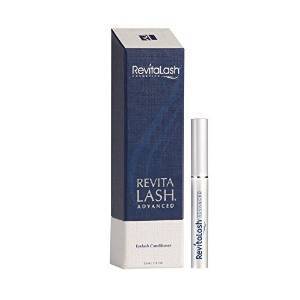 Revitalash is formulated with botanicals and peptides to help give your lashes improved strength, shine and elasticity.  It is a little on the pricey side, but 98 % of users have reported healthier, stronger and longer lashes after use. It also has safe natural ingredients like green tea, ginseng, and biotin to nourish your lashes with nothing to cause irritation.
Ingredients: Water/Aqua/Eau, Octapeptide-2, Triticum Vulgare (Wheat) Protein, Biotinoyl Tripeptide-1, Calendula Officianalis Flower Extract, Isopropyl Cloprostenate, Swertia Japonica Extract, Chlorphenesin, Panax Ginseng Root Extract, Phenoxyethanol, Camellia Sinensis Leaf Extract, Biotin, Serenoa Serrulata Fruit Extract, Pentylene Glycol, Glycerin, Disodium Phosphate, Oleanic Acid, PEG-40 Hydrogenated Castor Oil, Butylene Glycol, Apiqenin, Sodium Chloride, Phosphoric Acid, Cellulose Gum, PPG-26-Buteth-26.
Organyc Eyelash & Eyebrow Growth Serum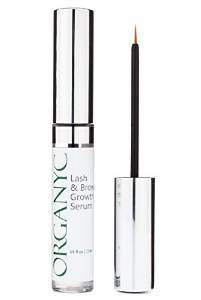 Organyc Eyelash & Eyebrow Growth Serum is another wildly popular all natural eyelash growth serum composed of natural and plant-based ingredients that promises to improve the length and thickness of not just your eye lashes but your brows as well. It can also help to prevent thinning and breakage. It is color, fragrance, dairy, wheat, casein, paraben, sulphate and gluten free. It also is not tested on animals.  Some users are able to get results within three months.
Ingredients: Sodium PCA, calcium pantothenate, sodium carboxymethylcellulose, ethylhexylglycerin, myristoyl pentapeptide-17, phenoxyethanol, purified water, and vitis vinifera.

Fysiko Eyelash Growth Serum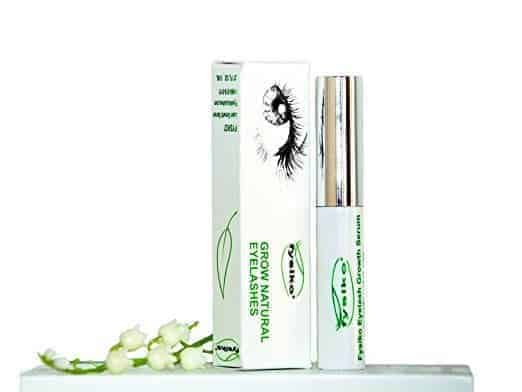 Fysiko' EyeLash Growth Stimulator is an extremely popular brand that is sold on Amazon. It is made with all-natural ingredients and it promises to make lashes fuller and longer in 4-12 weeks. Some users find that they get a doubling in length and volume of their lashes by week 12. To use, all you have to do is apply the thin applicator brush across your lash line once a day. A six months' supply will cost around $140.
Ingredients:Water, Glycerin, Hydrolyzed Glycosaminoglycans, Panthenol (Vitamin B5), Vitis Vinifera (Grape) Seed Extract, Sodium Lactate, Panax Ginseng Root Extract, Proline, Yeast Extract, Phenoxyethanol, Biotin, Hydrolized Soy Protein, Chamomilla Recutita (Matricaria) Flower Extract, Hexapeptide-11, Niacinamide (Vitamin B3), Thyme extract, Palmitoyl Pentapeptide-4, Arcyostaphylos Uva Ursi (Bearberry) Leaf Extract, Olve Oil, Sodium Hyaluronate,Magnesium Ascorbyl Phosphate (Vitamin C), Retinyl Palmitate (Vitamin A), Tocopheryl Acetate (Vitamin E) Polysorbate 20, Hydroxyethylcellulose, Sorbitol, Triethanolamine, Methylisothiazolinone
M2 Lashes Eyelash Activating Serum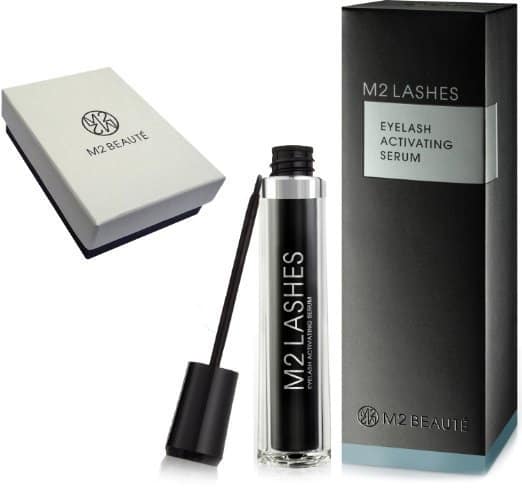 M2 Lashes Activating Serum is a luxury serum produced by a German based company. The main ingredient is something called MDN* complex that reportedly stimulates the roots of the lashes, and helps to create a longer growth phase giving you fuller, stronger lashes. The serum is dermatologically tested and free of risky ingredients with negative side-effects.
Ingredients: MDN* (MethylamidoDihydro Noralfaprostal), Biotin (Vitamin B7), Hyaluronic acid , Prodew 300, Hydrolyzed Glycosaminoglycans (GAG)

RapidLash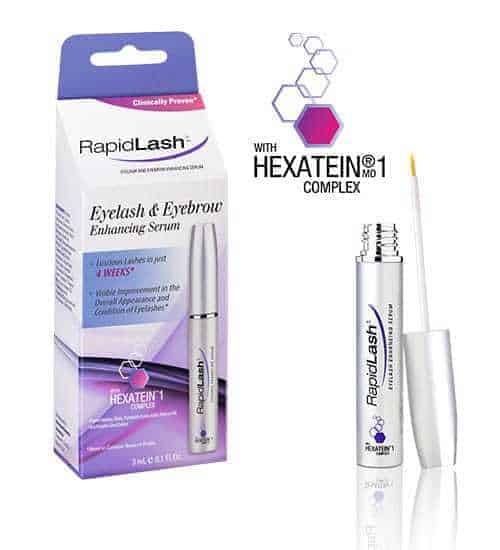 This version as RapidLash isn't as potent as the original formula but it still seems to get decent results for lots of consumers.  Some users start to see improvements after only four weeks of use, although expect at least three month to see significant change for most people. It is approved ophthalmologists as well as dermatologists. The main active ingredient is HexateinTM 1 Complex, which is just RapidLash a mix of infused with proteins, peptides, vitamins, minerals, amino acids and botanicals.
Ingredients: Water, Hydroxyethycellulose, Butylene Glycol,  Myristoyl Pentapeptide-17, Glycerin, Rhizobian Gum, Biotin, Panthenol, Pantethine, Sodium Hyaluronate, Hydrolyzed Glycosaminoglycans, Allantonin, Cucurbita Pepo Seed Extract, Maris Aqua/Sea Water, Octapeptide-2, Copper Tripeptide-1, Dipotassium Glycyrrhizate, sh-Polypeptide-1, Glycine Soja Oil, Black Sea Rod Oil, Phenoxyethanol, Sorbic Acid
, Chlorphenesin,

What to Look for in an Eyelash Serum
Ingredients
The ingredients that have the best science behind them are prescription only (i.e. Latisse) although lots of consumers are able to get good results out of the natural ingredient based serums. Natural ingredients won't work as quickly as prescription based, but there are generally less side effects to have to worry about.
Applicator 
Look for products that come with an applicator brush that are small and pointy (similar to a liquid eyeliner type applicator), not a mascara style brush.  The brushes that let you apply the serum to the lash line give much more noticeable results so the serum can get deeper into the skin.
Size

The pricing and the sizing of some of the bottles can be a bit misleading. Check reviews to see how long the product you are considering buying will last.
Common Questions about Eyelash Serums
Can I use eyelash serums if I wear contacts?
Yes, most products are safe to use if you wear contact lenses. Although read all instructions before using.
Do you put it on your skin (eye lid) or on the lashes?
The most effective eyelash serums work best when applied to the lash line. Some serums come with mascara like brush, but that makes it difficult for the serum to penetrate into the skin.
How often do you have to use it?
For most products you only need to apply them once a day, usually at night onto clean skin. You leave it on and do not wash it off. After applying it once a day for 4 to 12 weeks you should start to see longer and thicker lashes emerge.
What are the eye serums that contain the chemical that can cause eye color to change/darken?
The ingredient is call bimatoprost; it is a type of chemical known as a prostaglandin. It is in prescription only Latisse.
Do eye lash serums give you permanent results?
In order to maintain the results you will have to keep using the serum, but after you have reached your ideal growth you should be able to reduce the amount of days per week that you need to use the product.
Are Lash-Enhancing Serums Safe?
Generally most eyelash serums are considered safe. You need to be careful though, because many of the serums that are being sold are not FDA approved, so you need to read and follow all instructions on any of the products that you are using. If you experience any change in your vision, pain or discomfort using an eyelash serum you should discontinue use immediately.  Most serums cause a slight redness when first used, this should go away after a couple of days.
If you are considering getting a prescription for Latisse some of the potential side effects include iris pigmentation, lid pigmentation, and hair growth outside of the treatment area.
Side Effects of Eyelash Serum
Since you are dealing with an area that is so close to your eyes, it is important before using any product to look into possible side effects. If you are using a product that contains prostaglandin, there are rare but serious side effects that could occur including iris pigmentation, lid pigmentation, hair growth outside of the treatment
Before using a new eyelash enhancer you should perform a patch test on the skin of your arm to ensure that you won't have an allergic reaction or other adverse reactions.
Other possible side effects from using over the counter eyelash enhancers include red or itchy eyes
How to use
Eyelash serums couldn't be easier to use. When you first receive the product, do a patch test to ensure you don't have any kind of reaction to the formula. Once you have determined that the enhancer is safe for you to use, make sure your eyelid is clean and free of oil. Using the lash applicator apply the serum to your lash line and leave it. Try to avoid dipping the brush back into the serum for each eye (dip once for both eyes). This is usually done at night to ensure that the formula has time to penetrate into your skin and begin to activate your lashes. Try not to rub your eyes after applying. Some people begin to see results within a few weeks, while most will have to wait two to three months before noticing a big change.
The Bottom Line
There are a lot of eyelash enhancers to choose from. Finding one that will work effectively and quickly to give you longer and thicker lashes can be difficult. The above list is a good place to start your search, whatever product you choose make sure you do your research, check for any possible side effects and do a patch test before fulling applying the serum to your lash line. When you begin to use a lash serum you will need to consistent and patient since most products need a good 2 or 3 months to really begin to show results. Once you have found a product that works for you, you will need to continue use to maintain the results.