There are a number of easy to use cell phones that have senior friendly features such as bigger screens and keypads, amplified speakers, simplified cameras, and hearing-aid compatibility. Obviously there are many seniors who don't need these specially designed phones and are very happy with their smartphones, but there is large group of consumers, particularly the elderly, who are looking for a simple cell phone that can be used to make and receive calls. To help you find the best cell phone for yourself, a friend or a relative we have put together a buying guide explaining what you need to know about selecting the right model, getting a good plan and finding the best provider for aging adults.
On this page
What you need to know before buying
Features to consider
Cell phone for seniors reviews
| | | | | |
| --- | --- | --- | --- | --- |
| Top Picks | Best Phone Overall | Best Simple Smartphone | Best Flip Phone with Medic Alert Option | Best Budget Cell Phone |
| | Snapfon | Jitterbug Touch3 | Jitterbug 5 | KEVENZ® 3G Senior Cell Phones |
| | | | | |
| What makes this phone good?/Best Features | This is the number 1 selling senior cell phone in the U.S. It is inexpensive, has a speaking keypad, big buttons, and enhanced volume full color screen | One of the newest phones in the 'seniors' market. It has a simplified menu with large easy to read options. It also has a number of medical features that are very useful for the elderly inclding medical alert, urgent care, medical reminders, app that links family members and caregivers to the phone. |  This is a very popular easy to use basic phone for seniors who don't want any extra features but just want to make and receive calls and have an emergency button option. |  Very durable rugged phone that would work well as an emergency phone due to the long lasting battery life of standby 200-240 hours. |
| Pricing | | | | |
Features to Consider
When you are shopping for a simple cell phone the features you are going to want to look out for are much different than if you are searching for the latest smartphone technology. If you are a person who just wants a simple phone you will want to think about initial cost of the phone, the monthly plan cost whether you want a camera, size of the screen, etc.
If you are shopping for someone who is elderly and may have hearing or vision impairments you will want to think about the size of the screen, size of the font on the screen, loudness of the ringer, how big the buttons are, are they easy to press.
Here are some of the important features to think about when shopping for this type of phone.
Emergency Button – What makes most of these types of phones unique is that they have a help button that connects directly to a medic alert type system. You pay extra for the service but it is very helpful for peace of mind for relatives and friends who are concerned about safety.
Screen Size – If a senior has difficultly reading smaller fonts or seeing numbers on a small screen you, screen size may be a consideration.
Loudness of ringer -Another feature that is typical for phones for elderly is having the option to increase the ringer to a level that those who may be hard of hearing can hear.
Hearing aid compatible – To figure out if a cell phone is hearing aid compatible look for the ratings (M) for microphone of M3 or M4. The higher the (M) number the clearer the phone will sound. There should also be a telecoil rating of T3 or T4 and again the higher the T rating the clearer the conversations will be.
Volume control. Most phones have an adjustable volume control.
Battery Life- If you will be using the phone as an emergency phone that the user may forget to charge, getting a phone with a good standby battery life would be very useful. Some of these phones also have an option to text caregivers or family members when the battery is getting low so they can remind the user to recharge.
Ease of Use– This is incredibly important when shopping for a frail elderly user. You want to ensure that the buttons are easy to see and to press down. It is comfortable to hold, they display is easy to read. If possible have the user try the phone out before using.
Reception: If you are in a rural area or an area that traditionally has a weak signal, spend some time looking at the coverage maps of any cell phone providers you are considering. There is no point in getting a cell phone if you can't get proper coverage.
Portability: Some of the new regular cell phones have the very large 4.7" and 5.5" screens and although they make images and font size much easier to read, users may find that they don't fit comfortably in pockets or purses so before buying a phone with a larger screen consider how it will be used.
Cameras: Most basic models now contain a camera.
Text input options: Predictive text is useful and worth taking the time to learn if your phone only has a small numeric keyboard. Nearly all smartphones offer full QWERTY touch screen keyboards. While the buttons are tiny, it can be faster for punching out texts and emails although large fingers can be a problem. Android phones can download different keyboard layouts, such as Swype on certain phones, that can be useful.
Style: There are a few basic styles when it comes to choosing a cell phone. Standard, Slide, Flip Touch and QWERTY keypad style. Snapfon and KEVENZ® 3G  are standard phones with the keyboard and the screen on one interface. Jitterbug 5 is a flip phone style also known as a clamshell style, which just means that there are two sections that are joined by a folding hinge. Jitterbug touch 3 is a touch style, so you are touching the screen rather than pushing buttons. A slide style is one that has two section that are connected by a sliding hinge. QWERTY keypad style give you a keyboard layout on your phone, these are useful if you are doing a lot of texting or typing on the phone.
Price
There are a number of considerations when budgeting what a cell phone is going to end up costing you.  First there is the upfront cost of buying the phone, then you will need to select the best plan for your needs. Some of the phones also have activation fees as well as termination fees. If you select a smartphone you will need to consider how much data you are going to be using on a monthly basis.
The type of service plan you choose depends on how you are going to be using the phone. If you are only using the phone on a limited basis you will probably want to consider a pay as you go service plan. This just means that you pay a certain amount of money into your account and as you use the phone the credit goes down, when the credit gets low, you can top it up either automatically or by phone using prepaid cards that you buy at retail outlets. These types of plans don't require a contract.
If you will be using the phone often, send texts or use large amounts of data you will probably want to get a monthly service plan where you are charged a fixed amount every month. Monthly plans require you to commit to a fixed term that you will stay with that carrier- usually 1, 2 or 3 years.
REVIEWS
Best Cell Phone for Seniors (Overall)

Snapfon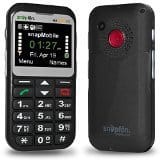 PROS: This cell has big keys, a well-lit display, a large emergency button on the back, it is easy to use, it has a flashlight, and a speaking keypad.
CONS: Not the best phone for texting. There are also some consumer complaints of poor quality of the feel of the phone.
Bottom Line: If you are looking for an inexpensive, easy to use phone for someone who would benefit from having access to an emergency button and who also needs a phone with special features like big buttons, large font, a keypad that will speak the numbers as you dial this is a great option.
What reviewers love: This phone hits all of the key features that this niche market is looking for in a cell. It has big buttons, an easy to see display a help button (you can activate with any of their plans for $15) and a speaking keypad. This is also the number one selling cell phone that is specially designed for seniors. The screen size is 2 inches which will appear small to those who are used to smartphones, although it is full color and well lit. The talk time is a decent 3 to 5 hours with a standby battery life of 90 to 120 hours. You can test out this phone with a 30 money back guarantee if you order it through the Snapfon website. They have a few different plans to sign up for, you can view those here as well as checking the coverage map. Some other notable features, are it can text a family member if the battery is low, in case they are the ones who are looking after the phone for an elderly user. It also has a flashlight that can be useful in all kinds of situations and is Hearing Aid Compatible with a M3/T3 rating.
 Who would benefit from this phone: This phone is great for people with low vision or who are hard of hearing, users who have weakened hand strength, family members who are looking for more peace of mind when caring for elderly parents.
What could be improved: Of the big cell phone carriers this phone is NOT compatible with Verizon or Sprint. It will work with AT&T T-Mobile and U.S Cellular, so you may be able to add a line to an existing family plan.
Best Simple Smartphone

Jitterbug Touch 3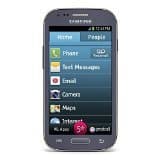 PROS:  Easy to use smartphone with special features for the elderly like health and safety apps, and medication reminders. There is an option to add medical alert service to the phone plan. The menu has large easy to read text, simple interface.
CONS: You can only use it with Great Call as your service provider; you can't use this phone with any other carrier. There is also a $25 online activation fee or $35 live agent activation fee.
This is a simple to use smartphone that is actually a Samsung Galaxy Ace Style phone that has been adapted by Great Call to use features that are helpful to some members of the senior citizen and elderly population. It has a simple easy to read menu organized into a list with links to phone, text messages, email, urgent care as well as one touch link to the 5 star app that will link the user to help in an emergency. It has an excellent battery life of 11.5 days of standby time, which is very useful for those users who don't remember to charge the phone on a regular basis. It also has other apps for Urgent Care with 24/7 access to nurses and doctors as well as an app called MedCoach to help users remember to take medication. 4 inches and obviously since it is a smartphone it is touchscreen.
What do reviewers love:
Users generally remark on the excellent customer service of Great Call and they love the option that the service offers specifically the 5Star medic alert button that provides peace of mind for users and family members of users. It is simple to use with a very easy interface. You can get any of the android app that you may want. The service coverage map is very good as Great Call uses Verizon's network.
The big display and the fact that it allows you to link to family and friends make this a plus for me. There is also a medication alert to remind the folks to take their meds. There are different plans with different costs. The amount of talk time and text available varies with each plan you choose via GreatCall. The medical apps are already installed, and I just have to go through one company for plan service. The one button medical alert is easily accessible too. This is basically a super easy smartphone with basic functions.
What could be improved:
You can't add the phone to an existing family plan with a major carrier; you must use GreatCall as your main carrier.  If you activate it only the activation fee is $25 for a single line and activation with a live agent is $35. Some users also feel that the data plans are too expensive for the amount of data you are getting. There are also reports that the battery life isn't good and you have to recharge the battery daily.
Best Flip Cell Phone

Jitterbug 5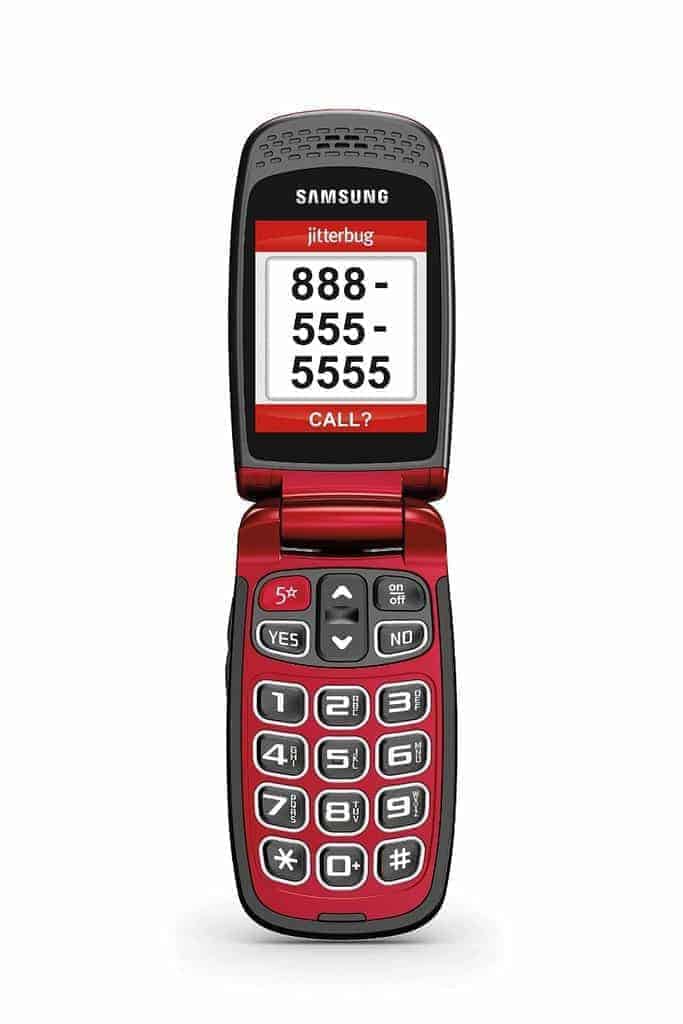 PROS: Big buttons, clarity of sound, urgent response service button (if you activate that plan), easy to use

CONS: The plans are a little expensive for a flip phone. You can only use Great Call as a carrier, although they do offer many different service options.
Bottom Line: If you are used to a flip phone and just want something easy to use and doesn't have all the bells and whistles but does offer an emergency button this is the phone to get.

What reviewers love: It doesn't get much more basic than this phone, it is the older style flip phone that is easy to close and carry around in a pocket. The interface is very simple with large easy to press buttons. The big selling feature is the 5* button which is connected to an agent that can offer assistance or dispatch emergency services. (if you opt into that plan). They can also call your designated emergency contacts in an urgent situation. If you are buying for a family member you can download an app to your own smartphone that can link to the Jitterbug 5 that allows you to see where the phone is and also the battery status.

What could be improved: If you are planning on doing a lot of texting, this phone isn't the greatest for that use. Some users report that this phone is difficult to set up.
Best Budget Senior Cell Phone

KEVENZ® 3G Senior Cell Phones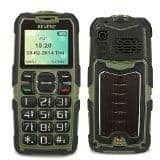 PROS:  Out of our top picks, this is the only phone that is unlocked  It has a speaking keypad with big buttons and the display is full color. You can also turn up the volume of this phone for those who are hard of hearing.
CONS: You can't use it with Verizon or Sprint. The SOS button isn't connected to a service.
Kevenz 3G Senior Cell phone has a screen size is 1.77 inches, it has all of the standard features including a speaking keypad, big buttons, amplified volume as well as a color screen. This is good phone to use as an emergency phone as it has a standby battery life of 200-240 hours. The talk time on it is 8-10 hours. It is a very rugged looking phone that may not appeal to some customer's aesthetics, although many users comment that this phone is easy to grip and hold and is very durable if it is dropped.
What users love about this phone: Since this phone is unlocked you are able to choose your cell phone provider (with the exception of Verizon or Sprint) and you are more flexible with the type of plan you want to get (pay by month/minutes or add to existing account) . The camera feature and the flashlight are a couple of favorite features for some owners of this phone. Users also appreciate the loudness of the ringer and like the outdoorsy type look of it.
What could be improved: Some users have complained that the initial setup is difficult if you are not a techie. The SOS button doesn't link to an emergency service, rather you program the button to the phone number you want it linked to (presumably 911).
Summary:
With the current aging population there is a need for these types of cell phones. They help family members stay in touch, link users directly to emergency services and help provide peace of mind all for a reasonable price. Some people might object to the idea of a 'senior' cell phone, however these types of phones are meant for the elderly, not the 60 year old techies are smartphone super users. If you are just looking for a device that can make and receive calls that is easy to use without extra feature these senior cell phones are a great product.
One note if you are looking for a phone as a user with physical limitations or disabilities, you may need to upgrade to higher end smartphone that has accessibility features. If you would like more information on how to find a cell phone for someone with disabilities, have a look at CTIA Access Wireless.