There is nothing better than a nice pair of thick flannel pajamas to help keep you warm on a cold winter night. Luckily there are a lot of cute, comfy, flattering flannel options for women that will keep you super warm, and looking amazing. If you are looking for a pair for yourself or as a gift for someone you love, we have done some heavy research to find the best high quality, seriously warm flannel pajamas.
Noble Mount Premium 100% Cotton Flannel Sleepwear Set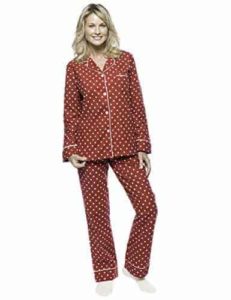 Noble Mount has a good reputation for the warmth of its flannels. Their 100% Premium Cotton Flannel Pajama Set is a great option if you want something warm that looks great while lounging, or that will keep you warm when you are sleeping. The sets come in a range of nice prints and colors. The flannel that is used is a 100% Premium Cotton Flannel that has been brushed,  which just means that it has been made softer. These PJ's come with a chest pocket, as well as two side pockets on the pants. The waistband is drawstring with elastic, so you can adjust the fit. It also comes with contrasting piping, which is a nice little design detail that adds to the overall stylish look of the sets. If you do choose this brand you should pick your size with the expectation that it will shrink about 5% when washed. Some customers who have bought this set find the rise on the pant is a little short, giving it kind of a low rise feel to it. If you are looking for a gift Noble Mounts PJs come in a nice gift box.
Find on Amazon
Lands End- Women's Flannel Sleepwear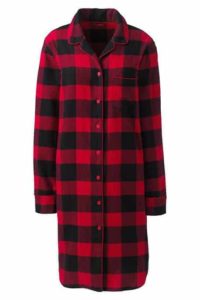 Lands End have a lot of really nice flannel sleepwear options, they are kind of known for the high quality and softness of their flannel.  Many of their pants and sleep shirts are sold separately, so they end up being a little on the pricey side unless you are able to get them on sale. If you don't mind the price, they have some pretty cute patterns, including some Christmas themed options that make great gifts. The flannel on the sleep shirts and pants is super soft and thick. The pants have a tie and elastic waist and pockets on the side, while the shirt is nicely tailored for a woman's body and isn't too boxy or unflattering.  They also have quite a nice flannel nightshirt (pictured) that I wanted to include just to give a range of flannel options. The nightshirt runs a little small.
Available at Land's End
bSoft Bamboo Flannel Classic Button Up Pajamas

Some of the warmest flannel options can get a little pricey, so I wanted to include a few picks that are warm and comfortable but that won't break the bank. One option are the bSoft Bamboo Flannel Classic Button Up Pajamas. They are inexpensive and yet still have a lot of the features that make a flannel pajama great, including being very soft and cozy.  They have an elastic drawstring waist, so you can adjust it for comfort, they also have side pockets on the bottoms. The flannel is thick and soft, and they come in a nice variety of patterns and colors.
Available from Amazon
L.L Bean Flannel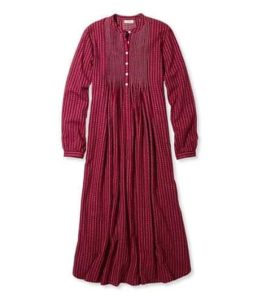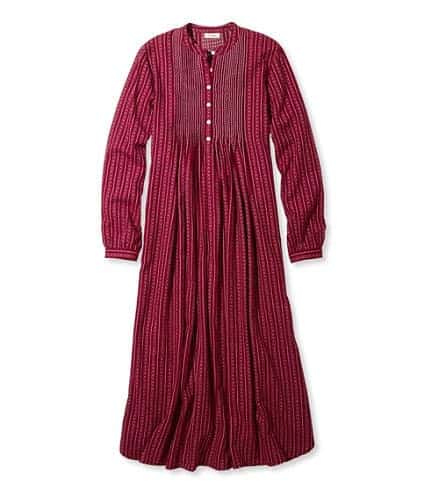 L.L Bean are another very popular place to get some high quality, thick flannel sleepwear. They have a few different flannel options, including their Scotch Plaids Sets and a number of different tops and bottoms that you can buy separately. The L.L. Bean designs come in some cute patterns and plaids. For the most part, their flannel has a reputation for being thick and warm. One of their most popular styles for women is their Flannel Night Gown (pictured above). It has been around for years, and if what you are looking for is comfort and warmth, then this flannel nightgown is a great choice. It is made from good quality fabric, and is designed to have a generous loose cut. This durable nightgown will last for years to come.
Available from L.L Bean
Bedhed Flannel Pajamas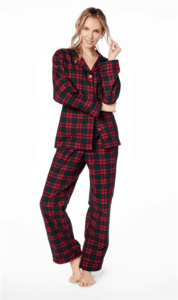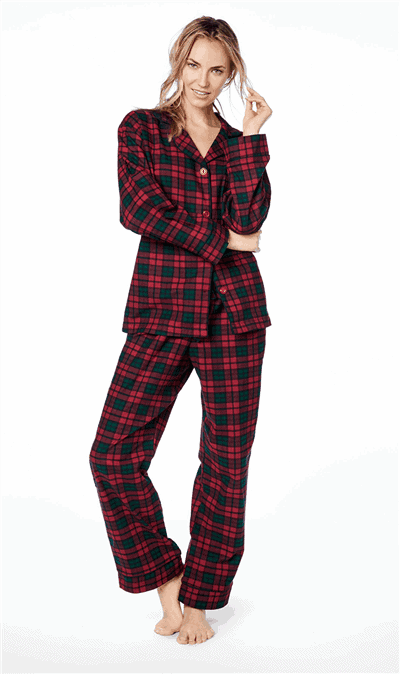 A great place to shop for flannel pajamas and nightshirts is Bedheads. They have a good selection of cute and quirky patterns that you won't find anywhere else. They are the classic men's pajama style with a relaxed fit. They have the standard notch collar and button down front. They aren't the cheapest flannels options that you will find, but they are one of the few sleep sets that are made in the USA.
Available from BedheadPjs.com
PajamaMania Women's Sleepwear Flannel Set

If you are looking for cute or colorful vibrant patterns for a reasonable price, check out PajamaMania Women's Sleepwear Flannel Long Sleeve Pajama Set. The quality and the stitching on this set is very good, so they should last for a number of years. The flannel is more of a lightweight to medium thickness, so some people may find them a little thin and not warm enough if you are looking for a really heavy flannel. Overall they are a great PJ for the price, although some customers have had issue with the sleeves being a little short and the rise in the pant a little low.
Find on Amazon
Garnet Hill's Organic Pima Cotton Flannel Mandarin Tunic Pajamas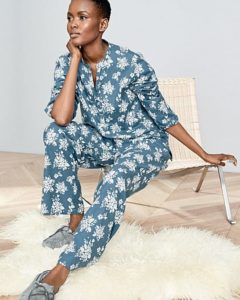 If you are looking for a high quality, luxury PJ set with a little bit of a different style, look no further than the Garnet Hill- Organic Pima Cotton Flannel Mandarin Tunic Pajamas. This set comes in a few really beautiful pattern options with a really flattering feminine, tunic style. They are a relaxed fit with quite a wide leg, so most women will find the fit to be comfortable. The Mandarin collar is something you don't see everyday on a flannel pajama set, so that adds to the overall sophisticated look of the set. The flannel is an organic pima cotton flannel that comes from Peru, so it is super soft. It is a lightweight flannel, so if you want a fabric that is very heavy and thick, this is not the set for you. This is more of a fall/spring weight flannel. If you like a more classic style Garnet Hill also have some nice flannel regular style PJs that come in pretty floral patterns.
Available from Garnet Hill
Alexander Del Rossa Womens Flannel Pajamas, Long Cotton Pj Set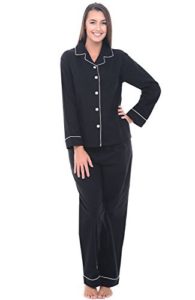 Alexander Del Rossa Womens Flannel Pajamas are a lightweight, flannel pj set that is made from a pre-shrunk cotton flannel, so you don't have to worry about shrinkage when you wash the set which can be an issue with other brands. The Alexander Del Rossa set has an elastic waist, but does not have the drawstring for adjustments. These are a relaxed fit so they will be comfortable for most women. The top is a little longer than what you usually get on women's flannel PJs which some women really like, others who are looking for a more flattering fit don't like so much. Overall they are a great budget option that most women will love.
Find on Amazon
What to look for
Inseam Length– If you have had trouble in the past with the length of the pant on pajama sets, measure you inseam and check the measurement of any PJs you are considering getting.
Check if they are low rise– A design issue that seems to be a bit of a problem with some sets is that the rise is short on the bottoms so you end up with a pant that is low rise. It is fine for some body types but not concomfortable for everyone. Check reviews to see if this is an issue on styles that yo are interested in.
Durability– Obviously you will want a pajama that is going to last though a lot of washing and wear. Most cheaper brands won't last you more than a year or tow. If you want a set that is made to last try L.L Bean or Land's End.
Thickness of the Fabric– If you buy a pair of flannel PJs assuming that they will be warm just because they are flannel, you may be disappointed. The weight and thickness of flannel varies quite a lot, so if you want heavyweight, warm sleepwear you will need to double check that the flannel is medium or heavyweight with a reasonable amount of thickness.
Cost– The cost of flannel sets can range from $30 to well over $150. The more expensive brands should last longer due to better quality materials and manufacturing. The more heavyweight flannel also tends to be a little more expensive.
Fit– Most women's styles are a more fitted fit. You can usually find the type of fit in the description of the set. If you love a relaxed fit and are having trouble finding something in women's, you always have the option to look at the men's styles. They are often a little more boxy and loose.
Pockets– A nice to have feature on a set of PJs is a pocket. Many brands offer a chest pockets, but not so many have pockets on the pant. If you are looking for a sleep pant with pockets, you can try Noble Mount, Land's End or the bSoft Bamboo set.