Red light therapy is an inexpensive option for anyone who is looking for ways to help reduce wrinkles. This technology was once only available at clinics and through dermatologists, but now there are easy to use devices that let you perform the treatment in the comfort of your own home.  They work by helping to boost collagen, making your skin look younger by reducing fine lines and wrinkles. Red light therapy products also help to fight dullness, while also improving rough texture, giving you smooth and soft skin.
In this buying guide you will learn:
Why you may want to consider using red light therapy
Does it really work?
What should you be looking for in an at home device
Are there any side effects?
Comparisons of the Top Products
Type


Best Overall

Best Budget

Best Deluxe
 Product
Silk'n Facefx Anti-aging Device
RubyLux Red & Blue LED Bulb
Baby Quasar MD PLUS Skincare Therapy
 Product

What makes this a top pick?

Helps with the appearance of fine lines and wrinkles
Clinically tested
Recommended by dermatologists
Improves skin texture
Helps brighten dull skin color

 Has 38 light emitting diodes (LED's)
1.75 inches in diameter
LED surface is 1.5 inches
Fits easily into most lamps or light fixtures.
The LED's are in the red and blue light wavelength ranges.

Most powerful at home device
Helps smooth away fine lines and wrinkles.
Very small and portable
Helps prevent future wrinkles and promote new collagen production.
Five year limited warranty.

Pricing
Check Price on Amazon
Check Price on Amazon
Check Price on Amazon
What is Red Light Therapy for Wrinkles?
Red Light therapy was originally developed by NASA as a way to help improve tissue growth, and help heal wounds and burns for astronauts while they were space. It turns out that it is also great to help your body naturally produce elastin and collagen in your skin, as well as increasing circulation. As you age, your skin begins to lose volume, which causes wrinkles. As your skin deteriorates it can start looking dull, and the texture of the skin begins to look rougher. The loss of volume and deterioration occur because of a reduction in collagen levels. When you use red light therapy you are helping to produce more collagen, and improve the overall look of your skin.
How does it work?
Red light therapy is a form of color light therapy, where you basically just shine a red light onto the area that you wish to treat. The non UV red LED light at a wavelength of 633nm (nanometers) penetrates the skin to around 8-10mm. When the light goes through the skin it triggers the body to make collagen and elastin, and to create new capillaries. When your skin is producing more collagen, your skin will look firmer and tighter. In addition to the anti-aging benefits, the new capillaries will give your skin better circulation and help heal scar tissues.
At home devices are more time consuming to use than professional treatments, but most users will begin to see results (improvement in overall signs of aging) after about 4 weeks of treatment.
Who would benefit from this treatment?
For anti-aging benefits and skin rejuvenation, red light exposure therapy is fine for almost  everyone to use. It is particularly beneficial for people over the age of 25. After the age of 25, we gradually start to lose the ability to make collagen, so our skin begins to show the signs of aging.
Who should not use red light therapy systems?
Light therapy is generally considered safe with few or no side effects. At home devices are much less powerful than what are used by dermatologists  where negative issues from professional light therapy can include irritability, headaches, eye strain, sleep disturbances and insomnia. As red light therapy is a relatively new technology to use for anti-aging purposes at home, long term testing and results have not been determined.  Most manufacturers recommend avoiding these products if you have any of the following health issues.
If you are pregnant
People who have photo-sensitivity
If you are taking antibiotics
If you have epilepsy
Benefits
Not only does red light therapy help to stimulate collagen production to help with the look of wrinkles and fine lines, it also plumps the skin as well as improving skin elasticity and firmness.  Some of the other things that it is great for include:
Broken capillaries
Age Spots
Cuts
Wounds
Scars
Joints
Bones
Deep muscles
Acne (reducing inflammation)
Does it work?
There have been a number of studies that have shown positive results with the use of red light therapy for anti-aging treatment. The concentrated red light is absorbed into the cells of the skin which in turn help to stimulate the production of more collagen. At home devices haven't been as heavy tested as the physician-administered laser therapy, although clinical trials from the manufacturers indicate that most individuals are noticing significant improvement with their skin. For example, clinical tests for the FaceFX system show age-defying results after just 8 weeks with 91% of testers showing an improvement of skin texture, 69% of testers have reduction of lines and wrinkles, and 78% of testers have a reduction of the pores.
During studies conducted by NASA on the effects of red light therapy scientists found that it can accelerate the growth of healthy skin cells by 150-200 percent, creating quick improvement in the appearance of the skin that is being treated.
Side effects
Basically the FDA has indicated that there are very few side effects with using this technology. A number of scientific studies have shown this technology to be a safe and effective way to treat a number of different conditions.
To be on the safe side, you may want to protect your eyes and not shine the LED light or look directly into the light, although LED lights are not considered damaging to the eyes, but the glare can be somewhat bright for some users. If you have any photosensitivity or light sensitivity you should follow any instructions in the manual on how to test for light sensitivity.
How long will it take to see results?
Results vary depending on your skin type, and your age.  Most users will see a visible reduction of fine lines and wrinkles around the eyes after around 4 weeks of treatment. Many users will also see an overall better skin condition compared to before treatment. This includes an improvement in the healthy appearance of the skin and a reduction in the overall signs of aging, including skin firmness. While at home treatments don't work as quickly at professional treatments, a lot of users have found that they can see an improvement to their skin texture within the first week of use.
Cost of At Home Devices
The cost of at home devices is much more economical that professional treatments, you can get very inexpensive bulbs that cost around $30 if you are interesting in trying this type of treatment out. Or if you have more money to invest, the $700 Baby Quasar MD PLUS Skincare Therapy Device is considered one of the most powerful products available. On average, you can expect to pay somewhere between $200 and $300 for an effective, FDA approved device from a reputable brand.
Reviews and Recommendations
Silk'n FaceFX Anti-aging Device

The Silk'n FaceFX is a great choice if you are looking to test out at home red light therapy devices, but you don't want to spend a lot of money doing it. You can buy it in a lot of different places, including drug stores and major retailers.  The Face FX uses a deep, dermal heat in combination with the red light therapy that can help give you beautiful radiant skin. It comes with the handheld device, a charging stand, electrical cord and a training manual.
RubyLux Red & Blue LED Bulb

The RubyLux High Power Red and Blue LED Bulb is another great option if you aren't totally sure red light therapy is right for you. With the RubyLux, you just purchase the bulb that you can attach to a light fixture that you already have at home. It is much less expensive (only $20) than other options, although it does require a bit more work to use it for treatments, but if you are on a budget and don't want to spend a lot of money, this is a good option.  It has 38 premium intensity light emitting diodes (LED's), and is designed to fit into standard U.S. lamps or light fixtures. It has an average bulb life of two years. Instructions for care and use are delivered electronically immediately after purchase.
Baby Quasar MD PLUS Skincare Therapy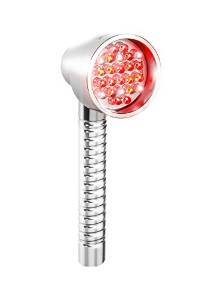 The Baby Quasar PLUS is one of the most powerful at home devices on the market. It's not cheap, but it will give you the closest results to getting a professional treatment. It has a large treatment head, and four times more power than its competitors. The larger treatment head will save you time, as it will cut the amount of time you will have to spend treating your face. The Quasar is an FDA-cleared Class II medical tool.
If you are interest in the Baby Quasar but are put off by the price, Quasar offer a slightly less powerful device with a smaller treatment head called the Baby Quasar PLUS. The Baby Quasar PLUS has a treatment head measuring 1.44 inches in diameter, while the more expensive Quasar MD PLUS has a treatment head measuring 1.94 inches in diameter. The Baby Quasar PLUS uses 3mm LEDs whereas the Quasar MD PLUS uses 5mm LEDs.
Both devices are dermatologist recommended and come with a lifetime "No Questions" warranty, as well as a 90-day "Money Back" guarantee.
Other Options:
LightStim for Wrinkles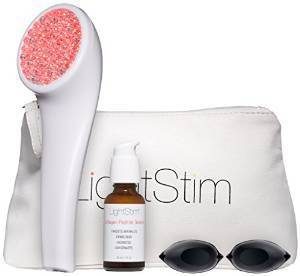 LightStim for Wrinkles is a LED light that reduces wrinkles and enhances collagen production; it was one of the first devices on the market to use red light therapy to help reduce the appearance of wrinkles and fine lines. It is cleared by the FDA for the treatment of peri-orbital wrinkles. It uses something called multi-wave technology that emits four wavelengths (colors) of therapeutic light, which is a little different than some of its competitors. As well as its anti-ageing benefits, it can help minimize the appearance of pore size, smooth out the texture of your skin, make your skin tone a bit more even, and even ease under eye puffiness.
Common Questions:
Can the LEDs used in Red Light Therapy damage skin?
Under normal operating circumstances, it is difficult to damage your skin using one of these products. With the exception of the RubyLux, these types of devices generally include a built in temperature sensor that monitors the temperature of the treatment surface to ensure it does not exceed a safety limit. For any beauty product like this it is very important to read all of the operating instructions before use to avoid damaging your skin.
Is there any UV danger when using Red Light Therapy?
No. Red light therapy does not use UV light. Generally it uses 660nm red LED light, which is not a UV wavelength.
Are red light therapy products safe to use on all skin types and tones?
Red LED light technology can be used safely, without side effects, on all skin types
Can the LEDs used by right light therapy devices be harmful to the eyes?
As long as you are using the device for its intended use, and are following all directions, there is no risk of damaging your eyes. As a safety precaution many users wear goggles to avoid any potential harm to the eyes.
The Bottom Line
These Red light therapy devices are well worth investing in if you are looking for new ways to help fight the sign of aging on your skin, in addition to giving your skin an overall glow and even tone. Many individuals have gotten great results from at home red light therapy devices. The only downside to at home treatments is that they are time consuming and it may take a while before you see results, they are a great alternative to costly professional services, for a fraction of the price.