Space heaters can be a great addition to help heat cold spaces for a relatively little cost. Unfortunately they do come with some safety issues, especially if you are looking for a product that is child friendly and safe for pets. Luckily there are a number of companies that are producing excellent devices that have advanced safety features, making them some of the safest type of space heaters that you can buy. To help keep your family safe (and warm), we have found the heaters that are the best options for households with children and/or pets.
Top Picks:

Best Overall

Best Safety Features

Budget

Product
Dr. Infrared Heater Portable Space Heater with Humidifier
Vornadobaby Sunny Nursery Heater
Honeywell Deluxe Energy Smart Cool Touch Heater
What are the best features?

Dual Heating System that increase the heat transfer rate, and evenly heats your space up to 1,000 square feet quickly
1500W
Settings range 50 to 85 degree
Produces 60% more heat than the other models in the market.
Safe for children and pets with no exposed heating elements.
Overheat Cut Off and Tip Over Protection System

Gently heats and circulates all the air around baby using Vornado's signature Vortex Action
2 heat settings
Lockable, backlit controls with programmable timer and informative LCD display
Safety features include cool-touch exterior, tip-over protection, and automatic safety shut-off system

Digital Energy Smart Technology
Oscillates to heat large areas
Programmable thermostat & 2 heat settings
Exceeds industry Safety Standards: Tip Over Switch & overheat protection
Digital Energy Smart Technology w/ energy usage indicator

 Warranty/

Guarantee

 3 Year Limited Warranty/30 day Satisfaction Guarantee.
 5-year guarantee
 3 Year Limited Warranty
Check Pricing
Check Pricing
Check Pricing
Read More: Safest Electric Fireplaces for Kids and Pets
Room heaters can be hugely beneficial if you live in a colder climate and are finding that you are spending a lot of money to heat your whole house. While these types of heaters can be a great investment, they do come with their own set of safety concerns. Basically most shoppers will be looking for something that won't burn their house down, while quietly and efficiently heating a room. If you have pets or small children, there are a few other essential features that you will also need to look for.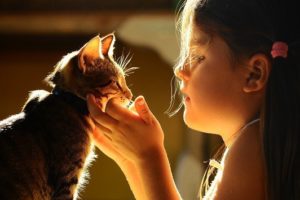 Features to Look for
When you have a small child or a pet, your number one priority is going to be safety. Because of curiosity, kids and pets love to investigate any new appliances that they come across, so it is in everyone's best interest that these devices have a couple of basic safety features.
Must Have Safety Features:
Roughly around 25,000 house fires and something like 300 deaths are caused by space heaters every year, often because a heater has been put too close to curtains, bedding, or upholstered furniture. When shopping for a pet-safe and/or kid safe space heater there are a couple of specific safety feature you are going to want to make sure any product you buy has:
Cool Touch Surface – First and foremost, any child and pet-friendly heater MUST be cool to the touch. Something like 6,000 people a year end up in the hospital with burns from touching heaters. You should look for a device that is cool to the touch, since no one wants their child or pet to end up with burns from an exposed heating element.
Automatic Overheat Protection — This is another must have feature that helps to ensure the safety of your family by shutting down if the unit gets too hot. There is a sensor that detects when the heater's internal components reach an unsafe temperature and switches off if it does. If you forget to turn of the appliance or don't realize it is overheating, this is another potentially lifesaving feature.
Tip Over Protection Switch– Tip over protection turns the unit off if it is knocked over. This is especially important if you get one of the taller/tower styles and if you have children or pets.
Certification –Make sure the heater you buy carries a safety certification label from an independent testing organization, such as the UL (Underwriters Laboratory), ETL (Intertek), or CSA (Canadian Standards Association) verifying that the unit meets all voluntary safety standards.
Other Features to Consider:
Thermostats: There are two types you can get: programmable thermostats or adjustable thermostats. If you get one with a programmable thermostat you can program the room temperature and the heater with adjust to keep the temperature steady, while adjustable thermostats don't maintain a set temperature, but stay at the setting you entered.
Programmable Timers: Timers are a great option to help save energy since it allows you to only use it when it's needed, or in situations where you want to warm up a room before using (i.e. shortly before waking up).
Wheels and/or Handles: If you are planning on using the heater in different areas of your house, you will want to look for a design that has either wheels (depending on the size) or an easy grip handle to make it easy to move the device to different areas.
Energy-Saving Modes: If you are looking to save money on your energy bill, some models have energy-efficient operating modes that can help reduce energy usage.
Multiple Heat Settings: It is useful to have multiple heat settings to let you control the temperature of a room more effectively and to allow you to heat different sized rooms.
Long Sturdy cord. Generally space heaters come with a cord that is 6-feet long. For some users it is handy to have a long cord because you NEVER want to use an extension cord with an electric heater.
Noise Level- If you are worried about the heater being too loud, most models give their decibel rating in the specs of the unit. The higher the rating means the louder the heater. If you are concerned about noise levels, micathermic heaters are some of the quietest models, so you may want to look into those types of heaters.
AC and Fan-only modes: Some models offer AC and fan-only modes for so you can use the product year-round.
Remote Control: A nice to have, but not essential, feature is a remote control that lets you easily change modes or adjust settings from anywhere in your room.
Reviews:
Top Pick Overall

Dr. Infrared Heater Portable Space Heater with Humidifier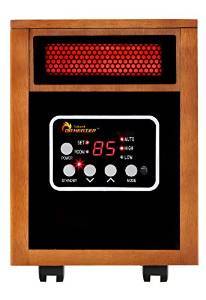 PROS:
Heats room quickly
Quiet
Cost efficient
Has a nice look to it
CONS:
Some users find it doesn't work for the advertised 1,000 square feet.
The controls on the heater are not hidden, so children may try to play with them
Bottom Line:
This wildly popular heater is a great option for anyone looking for a safe, and effective heater. It is especially great for pets mainly due to it over heat and tip-over safety features, which are a must for pets and kids.  It heats up most spaces in a short amount of time, with a minimum amount of fan noise. It combines a PTC and Quartz Infrared Element, so it not a stand in front of and get warm heater, but rather it heats objects in the room, instantly making you feel warm, while other heaters work by heating the air in the room. Some of the other notable things about the Dr. Infrared are that it comes with a 3 year USA warranty and it has a low noise blower with level of only 39 dBs. It uses a standard 110v 3 prong outlet and is listed by Underwriters Laboratories (UL) USA & Canada.
What reviewers love:
Reviewers love that it works well and doesn't cost a fortune to run. It also does not frighten pets, which can be a concern with louder units. A lot of users mention that they are impressed by the small size of the unit, and the amount of heat it delivers.
What could be improved:
The only downside that some reviewers mention is that the fan turns on and off every few minutes to check the room temperature. This can take some time getting used to.
Top Safety Features for Baby

Vornadobaby Sunny Nursery Heater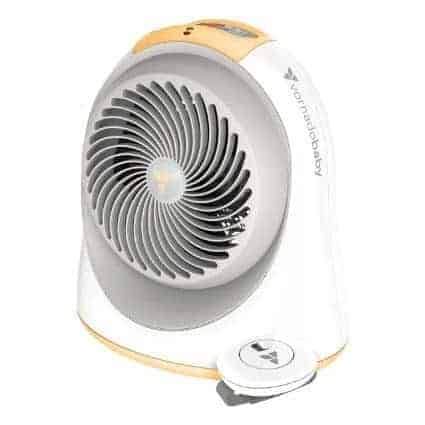 PROS:

Locked controls
No sharp edges
Has hidden and covered cord storage
No hot surfaces
CONS
Some users find it has a clicking sound when it is running
Bottom Line: 
This model has been specifically designed for babies nursery's, so parents can rest assured that they are getting a device that has the best safety features for children's curious fingers. It uses a special type of vortex airflow system that heats all the air around a room, so you can put it anywhere in the room and still keep your baby or child warm. The Sunny CS has been designed to stay cool to the touch and it will shut off automatically if excessive heat is detected or if the heater is tipped over. The automatic climate control adjusts the heat output and airflow to deliver the perfect amount of heat. It also has a fully hidden and covered cord storage and locking controls to keep children from tampering with the settings. In addition to all of the great features mentioned above, the Sunny also has a programmable timer that can automatically turn the heater off.
What reviewers love:
There is a lot to love about this heater; one of the best features is that once the temperature is met, the fan continues to move air to regulate the temperature and avoid hot spots even on the highest heat setting. The company Vornado has great customer service according to many users.  The heater is quiet and efficient. It's small and doesn't take up lots of room.
What could be improved: 
Some users have found that the heater makes a clicking noise that may disturb users who are very sensitive to sound.
Top Pick Budget Model

Honeywell Deluxe Energy Smart Cool Touch Heater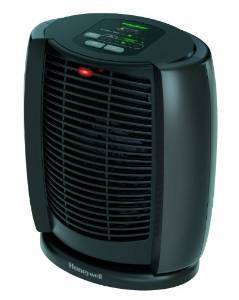 PROS:
CONS:
Inaccurate temperature readings on some units.
Bottom Line:
If you are looking for an inexpensive option that is child and pet safe, the Honeywell Deluxe Energy Smart Cool Touch Heater is a good choice. Not only does it have cool to the touch technology, it also has the all-important tip over off switch.
What reviewers love: 
Users love that they can safely use this heater around a child or a pet, and don't have to worry about anyone getting burned on it or starting a fire since it essentially just blows out warm air. The noise from the fan is pretty low.
What could be improved: 
Some users have found that the temperature isn't always exactly same as setting, so you may have to mess around with the settings a little bit to find a temperature that is comfortable for you.
Safe Operating Instructions
Obviously if you are looking for a heater that is safe for your child or your pet, you are concerned about safety. There are quite a lot of basic safe operating instruction that you MUST follow when using a space heater, especially around children and pets.
Ensure you keep a 3-foot zone around the heater, also keep it away from combustible materials such as furniture, bedding, and curtains.
Cords can be dangerous for kids and pets. Keep cords away from high traffic areas where they could become tripping hazard.
If you have young children or pets, place the heater where they cannot reach it.
Be sure to plug your heater directly into a wall outlet. Never plug your heater into an extension cord, or power strip, as it could over heat and cause a fire.
Place the heater on a hard, level, and non-flammable surface. They are supposed to sit on the floor and not a table or a counter top.
Turn the heater off when you leave the room or go to bed.
Don't plug another electrical device or an extension cord into the same outlet as the heater, as it can cause overheating.
Install smoke alarms on every level of your home and test them monthly.
Do not place heaters under desks or enclosed areas.
Never leave your heater unattended.
Before using any space heater, read the manufacturer's instructions and warning labels carefully.
Inspect heaters for frayed, worn or damaged, plugs or loose connections everytime you use it.
Always unplug and safely store the heater when it is not in use.
Are space heaters safe to leave on all night?
Generally most space heaters should not be left running while you or your child are sleeping or put into a colder room that houses pets overnight. They are intended to only be used as a supplemental heat while supervised. It may be tempting to leave a heater on all night, but there are other options you may want to consider first, such baby sleep sack or a Grobag for children, or a heated pad for pets. Realistically, a lot of people do still run space heaters all night, but you should also remember that they are a leading cause of house fires and you need to consider whether it is worth taking that risk. If you do choose to run a space heater overnight, make sure you only buy products that have the advanced safety features (over heat protection, tip over switch) to reduce the risk of fires and overheating.
Since portable heaters are responsible for a high number of house fires, before using any of these types of appliances you should go over your homeowner's or renter's insurance policy to make sure it won't become invalid in the case of a fire caused by one of these units.
Bottom Line
Space heaters are a great investment to help keep your house warm and to help you save money on your energy costs. When looking for a heater that is safe to use around children and pets, it is important that you spend some time researching any appliance you are thinking of getting. Ensure that the heater you purchase has all of the extra safety features mentioned above to minimize the risk of burns and fire hazards There are lots of great options to choose from to keep your family warm and safe, but they must be used with a bit of caution.