There are a lot of really good options if you are looking for a pet self-warming pad, also known as a thermal warming mat for your dog or cat. Self-warming pads are a great investment that will help to keep your pets warm and cozy all year long without the use of electricity. They work by having a thermal material that is inside the mat that reflects the pets own body heat back to them. They can be used indoors or outdoors, and are a great way to help protect your furniture from pet hair, while also keeping your pet comfortable. They are also an easy way to keep your pet warm in your car if you are travelling, or are looking to keep outside pets warm in the cold winter months.
Here are our top ten picks for best Pet Thermal Warming pads:
1. Easyology Thermal Warming Pad for Dogs and Cats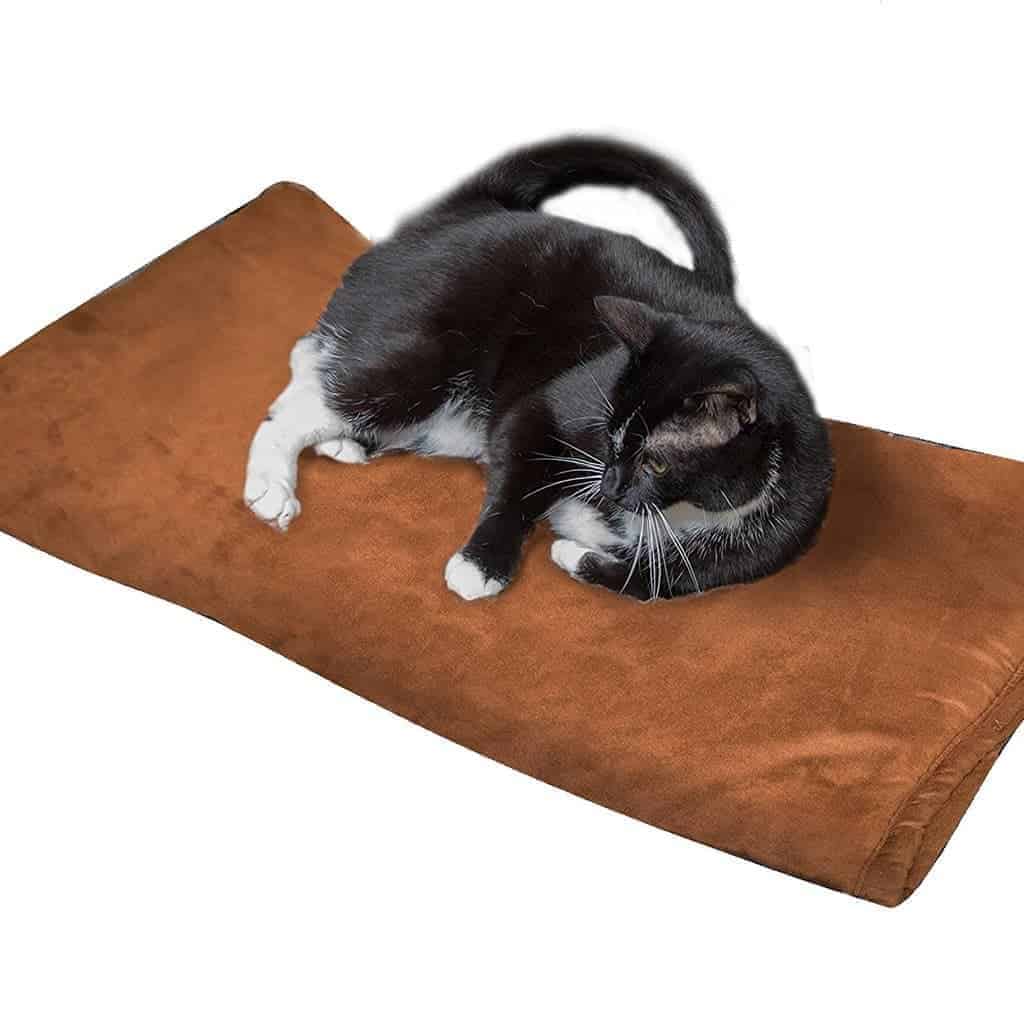 The Easyology Thermal Mat is quite a versatile mat for the price you are paying. It comes with a reflective insert that you can remove allowing the outer pad to be washed easily. You can also remove the reflective insert and replace it with a cooling insert (that you buy separately) for the summer.
This mat is a great size (31.5″ x 17.3″) for small or medium pets. It has a plush brown top with a bumpy non-skid texture on the bottom, so you can place it on your furniture or the floor and it should stay in place. This mat comes with a money back guarantee, so if you don't like it you can return for a full refund. Check pricing here.
2. K&H Manufacturing Self-Warming Crate Pad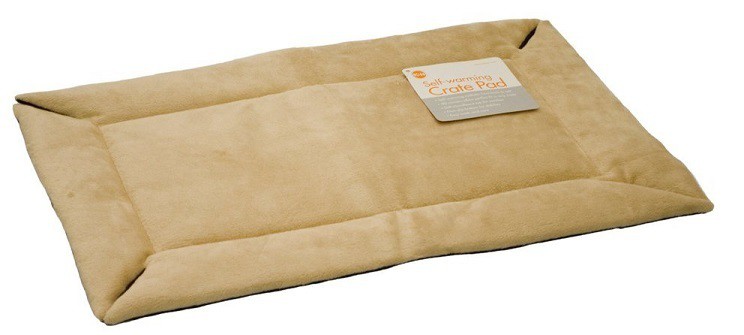 If you are looking for a self-warming mat that will work well in a crate, a great one to have a look at is the K&H Self-Warming Crate Pad. You can get it in 6 different sizes, so it will fit pretty much any type of crate (the silts in the corners help give it a better fit in the crate). The bottom of the pad has a non-slip material, while the top is a super soft microfleece.  It has a self-warming material inside the pad that will reflect your pet's heat back onto them. It can be cleaned by putting it into a washing machine on a gentle cycle and then air dried. It comes in three different colors: gray, mocha and tan. It is available here.
3. Cat Bed – Purrfect Thermal Cat Mat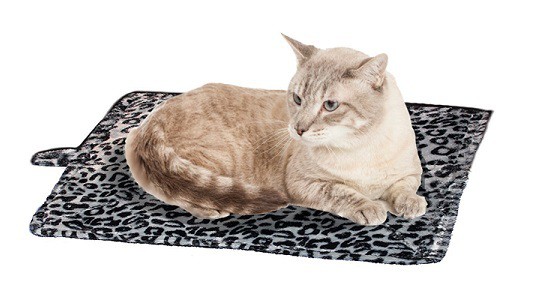 The Purrfect Thermal Cat Mat is a great option for cats as it is made of a durable fabric that can withstand clawing and chewing. It also comes in a popular leopard-print Berber fleece fabric that you can switch over to a solid black color on the other side. It is one of the cheaper mats available, but it is good quality for the price since most users find it does keep their cats snuggly and warm. It makes a slight crinkling noise when cats step on it, so if you have a cat or small dog that has issues with this type of sound this probably is a mat you will want to avoid. The size is 22 x 1 x 19 inches and it is available here.
4. Milliard Thermal Cat Mat / Self Heating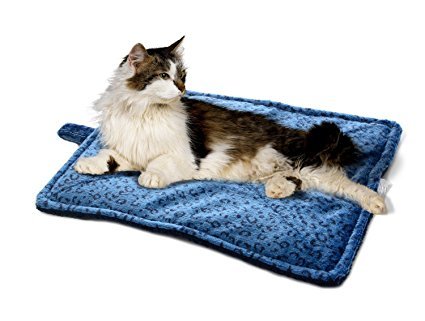 The Milliard Ultra Soft Thermal Cat Mat is very similar to the Purrfect Mat that is listed above, although it is slightly smaller. It has the soft leopard print design on one side, with the solid black fleece on the reverse side. The inside of the mat is a Mylar foil, so this mat will also have the crinkly sound. You can machine wash this Milliard mat, although it must be hung to air dry (you don't want to put any of the mats that have a Mylar insert into a dryer). It has an attached hangtag that you can use to hang dry the mat after washing or to store the mat when not in use. The size of the mat is 21 inches x 17 inches.  Check pricing here.
5. Meow Town Thermal Cat Mat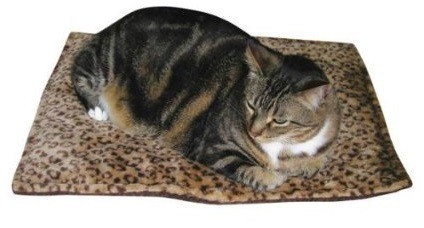 Just to give you one more animal print cover option I have included Meow Town Thermal Cat Mat. It is pretty much the same as the two that are listed above, but it comes in the beige animal print color, with the black Berber fleece backing. Since the three mats are so similar, you should shop around to find the best price.  The Meow Town is also machine washable and includes a hangtag. The size is 22″ by 18.5 ". It is available here.
6. K&H Self-Warming Pet Pad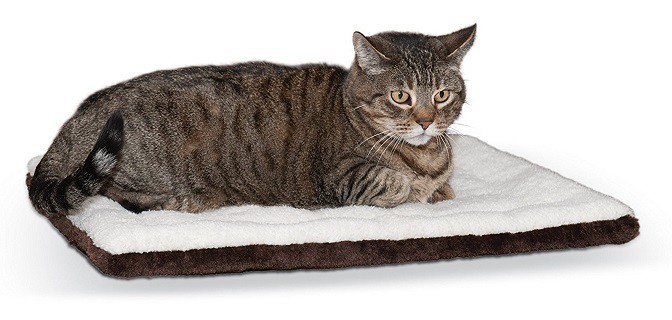 This K&H mat has a little bit more cushioning than other self-warming heating mats. The choice of fabric colors are pretty neutral (reversible oatmeal/chocolate or gray/black), so you will be able to find a match to almost any type of home decor. The top is a soft microfleece and the mat itself is machine washable. The small size of 21″ x 17″ means that it works well for cats and small dogs, and it fits well onto most furniture where cats usually like to perch. It comes with a 1 year manufacturer's warranty. It is available from K&H Pet Products.
7. Arf Pets Pet Dog Cat Self – Warming Heating Mat Pad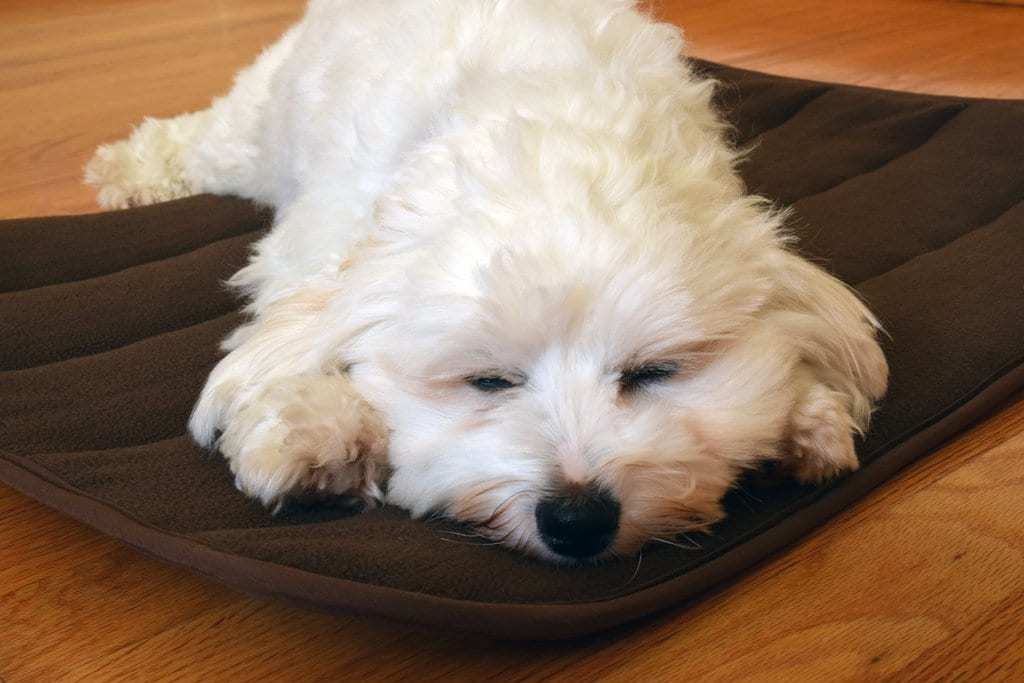 The Arf Pets Heating Mat has a soft polyethylene foam core that works well to reflect your pet's heat back to them. It has a fleece cover that you can clean with soap and water (not machine washable). It comes in three sizes small (14" x 22"), medium (21" x 31"), and large (32" x 48"). There aren't a lot of self-heating mats that come in such a large size, so if you are looking for a mat for a larger dog, this could be a good option for you.  It is a little stiff, so this one may work best in crates. It comes with a one-year warranty. Check pricing here.
8. Pet Magasin Cat Bed Heated (2-Pack)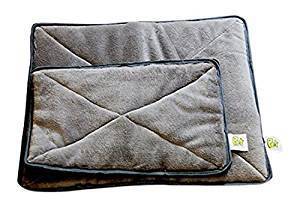 The Pet Magasin Cat Bed is a little different because it comes as a package of two mats, one 1 large (22″ x 18.5″) and 1 small (17″ x 11″) so you can position them in a couple of different areas in your home. The mats have a core layer of Mylar film, which is the self-reflecting heat material that many of the other mats also use. The outer material is a soft velvet cover with a rubberized non-skid backing on the bottom. The Pet Magasin Bed makes a slight crinkling noise when pressed on, but many cats love that sound and have no problem with it. They are not machine-washable, so if you have to wash them you will have to hand wash. Check pricing here.
9. New Age ThermoCore Reflective Heated Dog Mat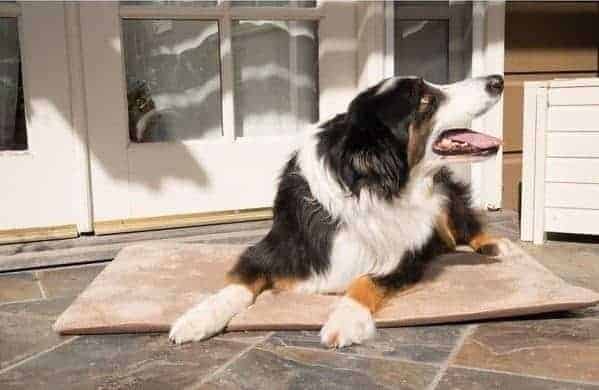 The ThermoCore Reflective Heating Mat large and extra-large sizes are a great option for medium to larger dogs that need a warming pad to help stay comfortable, especially if they spend much time outside. This model is made of a foam pad, Mylar for the insert (which is the reflective material), and a Polyester Plush for the outer material. The foam pads help to give it a little more cushion than you see in competing products. Another feature that I really like on this mat is that the plush cover has a zipper that allows you to remove it for machine washing. It comes in four sizes: small is 16.9″ by 17.7″, medium 19.7″ by 25.5″, large is 22.8″ by 30.7″ and extra-large is 24.8″ by 36.6″. You can find the ThermoCore at PetSmart.
10. OxGord Self Warming Pet Bed Cushion Pad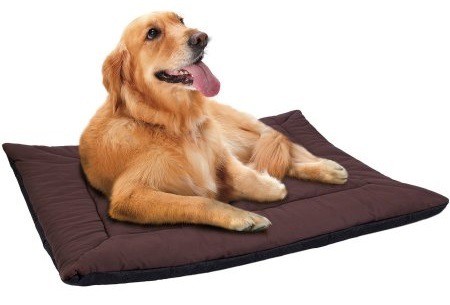 Another option that will work well for medium to large dogs (51-75 lbs) is the OxGord Self Warming Pet Bed Cushion Pad. It is made of an ultra-soft micro-fleece material, with a non-slip textured bottom that helps give it a secure fit. It is ideal for use in crates or as a standalone mat. It is pretty big; measuring 25″ x 37″ and it has a decent amount of cushion to it. A lot of pet owners use this mat as a crate mat because the trimmed corners allow you to get a snug secure fit in most (big) crates and carriers.  It is machine washable and you can find it at Walmart.
Features to consider:
When shopping for a self-warming mat for your pets there are a few features that you may want to look for.
Is it washable?
Almost all of these types of mats are 'washable', but some of them are not machine washable and must be washed by hand. If you have a cat or dog that is older and is prone to accidents or throws up a lot, you may want to look for a mat that is machine washable. To dry these types of mats you will have to hang them to dry, you cannot put them in the dryer because of the material that is used for the self-heating. If they do go in the dryer, they may be ruined.
Does it have an outer cover to take off and wash?
If you are planning on washing the mat a fair amount, you may want to look for a mat that has a removable cover to make washing it easier.
What is the heat reflective material that is used?
The most common type of heat reflective material that is used is Mylar, which is a polyester film made from stretched polyethylene terephthalate (PET) that is used for reflectivity.  The texture of the Mylar means that it does have a crinkly sound to it when it is stepped on, some cats and dog will love this sound, others with hate it and not want to use the mat. If you aren't sure how your cat will react to the sound, start off with an inexpensive mat.
What size of mat should you buy for the size and weight of the pet?
Obviously the size of the mat is important to the size of the animal you are buying for. The mats that are made only for cats are pretty small at around 21" by 17" inches. The bigger mats that are intended for large dogs are around 25″ x 37″.
Does the warming pad have a crinkle noise that repels the cats?
Unfortunately the material inside most of the mats that helps it radiate your pet's body heat, is also what may make the crinkling noise. Most cats will either like the sound or not be bothered by it. If you have a pet that is bothered by sound or you already know that they don't like the crinkling sound, look for a mat that has a thicker foam pad to help drown out the sound of the Mylar.
Are they chew proof?
Most of the mats are mat of a soft micro plush fabric that isn't really made to withstanding much chewing or clawing. If you are buying for a puppy or a cat or dog that likes to chew or shred their things, some of the mats do claim to be a strong enough material to withstanding chewing so you will have to look specifically for this feature.
What situations are you going to use it in, crate, as a bed or a mat?
These mats are intended to be used to keep your cats or dogs warm around your house or in their crate during the winter months. They can be used outside and used for additional warmth for a garage or sheltered areas that may contain pets. If you are leaving a pet outside on a really cold winter night, these types of mats won't be sufficient to keep your pet warm, since they are only reflecting the pets own heat back to them.
How thick is the pad? How much cushion does it provide compared to a thicker foam pad?
You may be surprised to find that most of these types of pads aren't very thick, because of this they are often used in combination with furniture or thicker padded beds to help keep pets warm. They are kind of more like a liner than a cushioned pet bed.