For those who find underwire bras to be uncomfortable and are looking to get a great wirefree bra, we have come up with the definitive list of the best styles around. The best designs of wireless bras will still give you the support and lift that you have come to expect from underwire, but without the discomfort. If you have tried wirefree in the past and found them lacking, it's time to look again. Advances in fabric technology and design have helped to create very supportive, comfortable bras that are a dream to wear.
There are A LOT of wirefree bra options to choose from including contour bras, sports bras, maternity bras, nursing bras, mastectomy bras and others. There are so many options to choose from there is definitely one that will fit your size and needs. The following are the most popular and best options if you are looking for an everyday, general wear, wireless bra.
1. Hanes Women's Ultimate Comfy Support Wire-Free Bra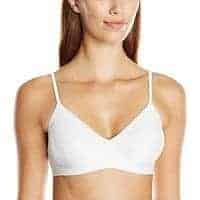 Hanes is known for good quality at a reasonable price and this bra is no exception. The Ultimate Comfy Bra has a reputation for being super comfortable, and looking great under clothes, especially for smaller cup sizes. It comes in wide range of contemporary colors and has adjustable shoulder straps with a double hook-and eye closure for extra comfort. Larger sizes may find it doesn't give enough support and works best as a lounging bra.
Available from Amazon

2. Warner's Wirefree Bras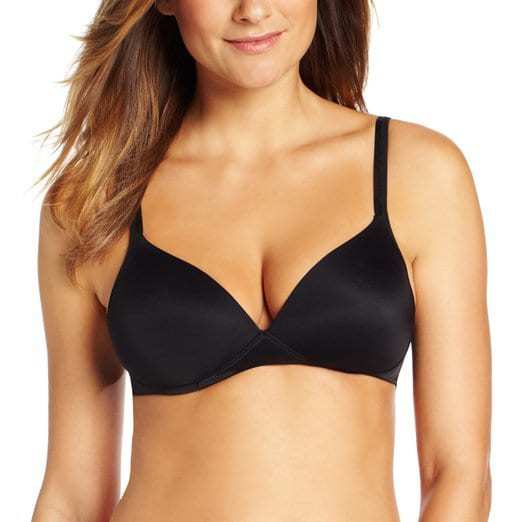 Warner's have three very good options that don't contain underwire that have made it onto our list. They are the Women's Back To Smooth Wire-Free Lift Bra, Warner's Women's No Side Effects Wire-Free Contour Bra and Warner's Elements of Bliss with Lift. All three styles are made with super soft fabric for comfort, but each have slightly different designs to address various issues that come up with women's different shapes and sizes.
The Back to Smooth style is designed to not dig in to your skin causing bumps or bulges. The design goal of this style is to look as smooth as possible, which it succeeds at. It also has light lift pads to help fill out the cup. This is a great open for larger sizes.
Warner's Women's No Side Effects Wire-Free Contour is a fantastic style if you have trouble with under arm bulge. This bra gives you extra side coverage along with the comfort of the wireless style.
Elements of Bliss with Lift is Warner's number one selling wirefree bra. It has lightly padded cups that give the wearer a natural lift and it comes in a number of lovely colors. This style is great for almost all sizes.
3. Vanity Fair Beauty Back™ Wire-Free Bra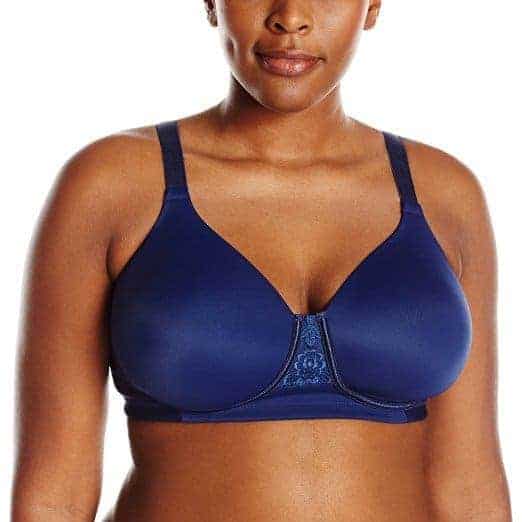 The Beauty Back Full Figure Wirefree bra is an excellent bra that works well for fuller figures. You won't have any bumps or bulges with the Beauty Back since the double knit fabric on the sides and back smooth out your silhouette. It also provides excellent support, has contoured cups for shaping, and it has 3-rows of hook-and-eye closures that have 3-columns that allows you to adjust for even more comfort. It comes in a variety of colors and is available in sizes 40-44B, 38-44C/D/DD.
Available from Amazon
4. Victoria's Secret T-Shirt Wireless Bra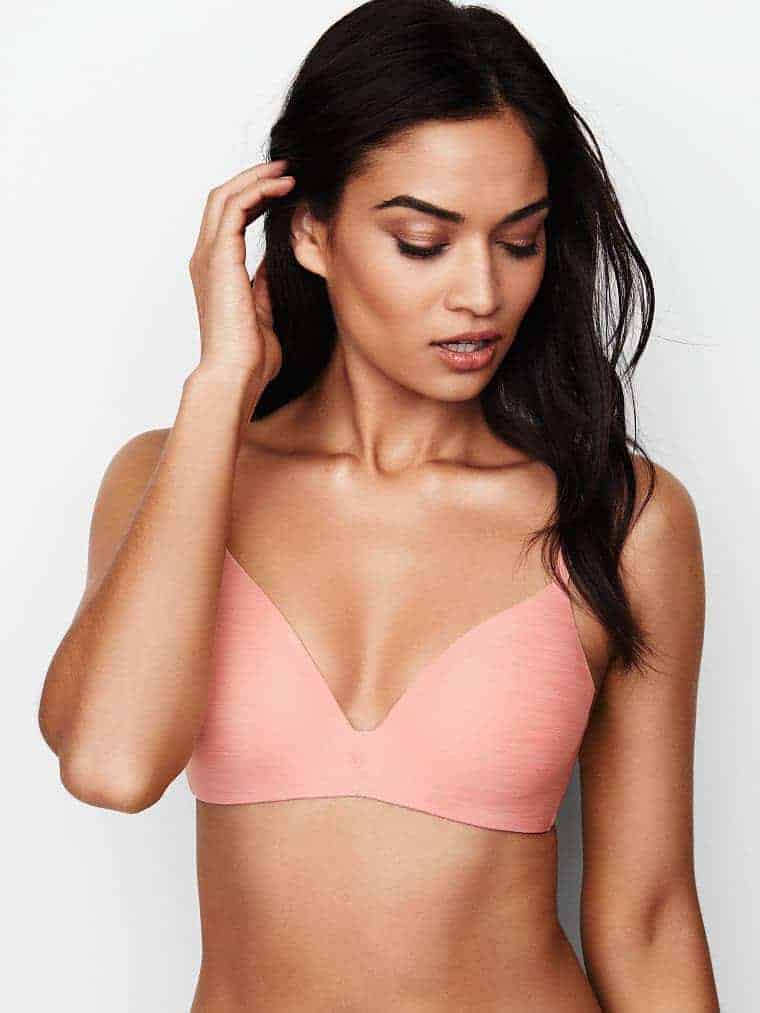 A great t-shirt bra is the best and a great wirefree t-shirt bra is even better. You can't usually go wrong with Victoria Secret and this bra lives up to the hype. It is super comfortable and comes in lots of different colors and patterns. This style is great for every day, and anyone wearing it will love that the soft cups will give a little bit of lift along with a plunging front if you want to enhance the appearance of your cleavage. The straps can be converted to a cross back style.
Available from Victoria's Secret
5. Wacoal How Perfect Soft Cup Bra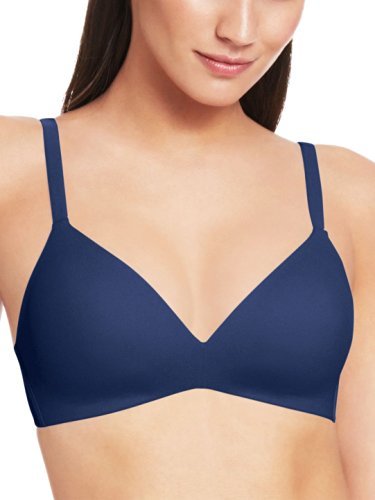 This is one of Wacoal's best-selling wirefree bras. It has a super-soft, brushed, outer fabric with a clean tailored finish at the neckline. The back straps are stretch and adjustable and the back is a smooth leotard material. There is a very light boning on the side seams to help with support.  It comes in a number of standard as well as vibrant colors.
Available at Amazon
6. Bali Women's Comfort Revolution Wirefree Bra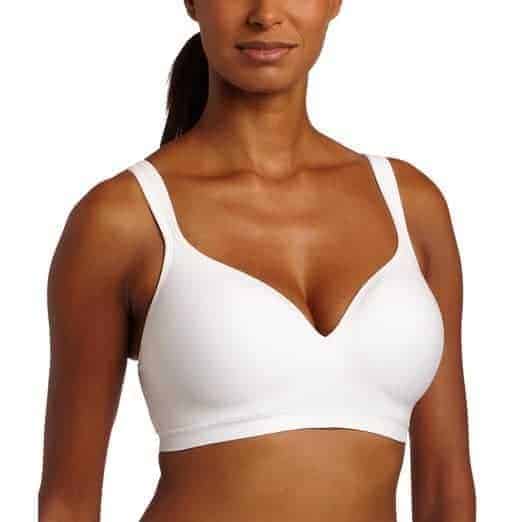 The wildly popular Bali Women's Comfort Revolution range of wirefree bras offer a number of really good wireless options. This style provides lots of support without any of the usual draw backs. As the name suggests, this range of bras was introduced to provide comfortable bras for women. The initial idea behind the Comfort Revolution line is that advancements in fabric and construction have created new ways to make bras more comfortable. This is partly done by making the bra totally seamless and including a soft comfort band. You can also get a better fit with the ultra-thin stretch foam cups that can adjust to your shape. Bali Bras are owned by the same company that owns Hanes.
Available at Amazon.com
7. Rosa Faia by Anita Women's Twin Soft Cup Comfort Bra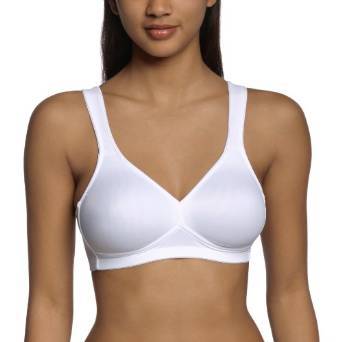 The Twin Soft Comfort Bra is one of the best-selling styles from Anita. This style can't really be beat as far as comfort goes. The double-layer, preformed cups will give you a nice shape, and the thick straps help give great support. This is a super comfortable bra, although if you prefer a lot of padding in your bra this isn't the best option for you. A lot of women love this style as a lounging bra because of the high comfort level.
Available from Amazon
8. Playtex 18 Hour Original Comfort Strap Wire-Free Bra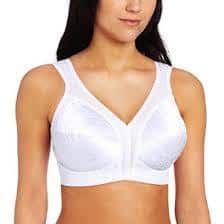 The Playtex 18 Hour line of bras has been around for quite a while now, and is still Playtex's number one best-selling style. The reason they are so popular is that they give great support, look good and are comfortable. Playtex have been making bras for 80 plus years and this bra is a little retro looking, but it still holds up as one of the great wireless bras. One highlight of this bra is the M-frame design that helps to give you a smooth customized fit. It also has padded straps so they won't dig into your shoulders. One other good feature is the wide side (no side boob) and back coverage (smooth back no bulges). Depending on the size you get, the back has either 2 or 4 rows of adjustable hooks and eyes. In order to try and get away from the grandma reputation of the 18 Hour Bra, this style has been updated to include the latest fabrics and it comes in lots of modern colors.
Available from Amazon
*We have only just touched on a very small sampling of wireless bras. If you are looking for a specific type of bra there are many different categories beyond the basic wireless bras listed above including: bralettes, sports bras, nursing bras, and post-surgical bras.
Why wear a wirefree bra?
Obviously as we have mentioned one of the biggest reasons to try out wireless bras is comfort. Many women find underwire bras to be uncomfortable and are looking for other options. Some experts say that if you are finding underwire bras uncomfortable, it may have more to do with a poor fit rather than the wire, so you can keep that in mind if you are unsure about switching over.
Generally wireless bras give you a little more of a natural look, while underwire bras give you more of a lifted look. So it comes down to personal preference on how you prefer your shape to appear.
Wirefree bras are also a great option if you have a medical situation where you need support but would prefer a looser, more comfortable fit.
Bras without wires may be easier to wash and may last longer than underwire, as you don't have to worry about the wire poking out or breaking.
What Else do you Need to Consider?
Bottom Line
The wirefree bras of today are not the same bras you may associate with your mother or grandmother. With advances in fabric technology and design, you can expect to see more and more wireless bras that give you the same kind of lift and shape are underwire but without the discomfort. Not only can you look great and feel comfortable, you can also say goodbye to sagging breasts and wires poking you. There are a multitude of options to choose from high quality brands like Playtex, Warner's, Victoria's Secret, Bali and so many more that you shouldn't have any trouble finding the right fit for your needs.