11 November 2016
Fitness Trackers for Kids
Last Updated on 30 March 2019 by Marie Davis
Products


Best Features

Rating (out of 5)

Price

Garmin Vivofit Jr

1-year battery life, no need to recharge
Good for ages 4-9
Waterproof
Comes in cool a number of cool colors

4.4
Check Pricing

Leapband

Uses a rewards system that exchanges movements for points.
Has 50 challenges for kids
Personalize your pet character
When rewards are earned new pets and pet toys are unlocked

4.2
Check Pricing

Pard Kids Waterproof Sports Fitness Tracker

Touch screen
Has a sleep monitor
Waterproof

3.5
Check Pricing

X-Doria KidFit


App lets you customize daily targets
Comes in 4 kid-friendly colors
Wireless syncing

3.2
Check Pricing

iBitz Kids Activity Tracker

Wireless Pedometer
Features a reward system
Adults can set goals and add rewards for their child
Affiliated with Disney's Club Penguin.

3.0
Check Pricing
With the popularity of fitness trackers skyrocketing, it was inevitable that tech companies would be looking to create a fitness tracker for kids.  Many adults find fitness trackers to be powerful motivators to get them up and moving, and so naturally many assume that it would make a great device for kids to enjoy as well. Fitbit hasn't created a tracker for kids (yet), but there are some other options to consider.


Should you buy one?
Everyone is looking for new ways to combat the childhood obesity epidemic and to help kids get fit, so it isn't a stretch that tech companies are creating new technology to try to solve this problem. Take the idea of a fitness tracker that has been so popular with adults, add a bit of reward-based gamification that kids love and it seems like a sure-fire hit. There are however a lot of people who don't think fitness monitors for kids is such a great idea.
Critics argue that kid shouldn't be monitoring their activity levels and should instead just be encouraged to be active, but for some families that may be easier said than done. If you have a child who struggles with being active and you think they would benefit from having set goals and targets for each day, then you will probably find these types of devices beneficial when used along with assistance from a parent or guardian.
What to look for
Features on kid's trackers are going to be a lot different than adult fitness trackers. You aren't going to find a calorie counter or heart rate monitor on one of these devices. Instead, the primary feature is how does it gauge the activity level and will it motivate your kids to be active and meet goals. Here are a few points to consider when shopping for a monitor:
What type of technology is it using? Most use some type of accelerometer, although the iBitz uses a wireless pedometer.
What are the features? Are there games, does it sync wirelessly, does it have a sleep tracker, will the child find the features fun to use.
How does it gauge fitness levels?
What do kids have to do to meet goals?
What is the cost? Some of these devices can get somewhat pricy, is this good investment for your child, who may be likely to lose it.
How easy is it to use? Obviously, kids will lose interest in any type of device that is too difficult to use, if you are considering skipping trackers designed for kids and getting a Fitbit or Jawbone, make sure your kids are able to use it easily.
How accurate is it?
Are you looking for a device with a sleep tracker?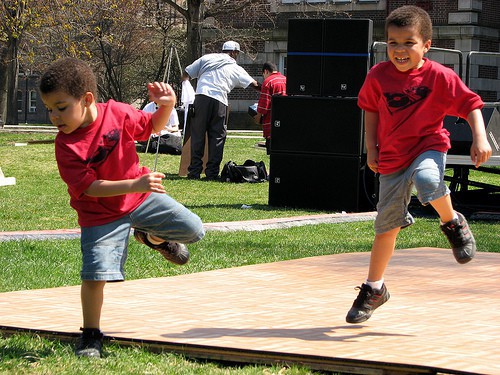 Features
Display
Any device that is made for kids needs to have an engaging display to keep kids interested. It is also helpful to get a device that lets them see their activity level and any reward that they earn should appear right away, rather than having to connect to a parent's phone or computer later on.
Reward System
The main selling features of trackers that are marketed to kids are the games and rewards that are designed with kids in mind. Many users find that having a reward system helps to keep kids using the device and motivated to set and meet new goals.
Battery Life
The longer the battery life the better, most kids aren't going to remember to charge the device on a regular basis.
Step counter
Everyone loves to see how many steps they have taken in a day and kids are no exception. Usually, you enter the child's height and weight, and the device will automatically help you to determine a suitable goal to set.
Sleep tracker
A favorite feature on some adult fitness monitors is a sleep tracker, it is fun to have a report on how long and how well you slept, although you need to be careful with sleep trackers on kids models as  some experts argue that sleep trackers in kids devices probably won't be very accurate as kids are naturally very restless sleepers.
Milestone alerts and reminders
Setting milestones and reward incentives will help your children stay motivated. Usually, you can set a certain number of steps that need to be passed every day or reminders if your child isn't on track to hit their reward goals.
Common issues with fitness trackers for kids
Comfort
A basic issue with some of the kid's trackers that are out right now is that they just aren't comfortable. If the band pinches or is too clunky kids won't wear it. Especially if it has a sleep tracker and they are expected to wear it overnight. If it isn't wearable then kids won't bother with it.
Battery Life
The battery life of many wearables is an important feature to consider, some must be charged frequently, which could be hard for children to remember to do.
Onboard Display
Kid's trackers should have a way for kids to instantly see the data, while also giving parents access to the data. If you decide to get an adult designed tracker many versions track your activity but display your progress on a smartphone app rather than an onboard display.
Data Syncing:
Inability to sync quickly and accurately with its companion app is also a point of contention for some users of children's monitors.
Accuracy
Since kids tend to be involved in many different types of activities they may find the activity trackers aren't tracking everything they are doing. Activities like biking, swimming, and certain classes that don't allow jewelry may also not count, which can be frustrating for a child.
Will it work?
Unfortunately, the children's fitness tracker market is still in its infancy and the quality of the products that are currently available are nowhere near as good as the fitness trackers marketed to adults. A lot of products are coming out, but are failing when they get into the hands of consumers because the technology hasn't been fine-tuned. There are a couple of devices worth having a look at, but honestly unless you are going to be getting the LeapBand for a younger child, you may want to wait for a couple of versions to give the companies time to work out some of the kinks or consider getting a Fitbit Flex or if you would like a cheaper one try the Jawbone Up Move Activity Tracker or Misfit Flash for your kids.
Some of the issues with the fitness tracker for kids are:
Many trackers must be charged frequently, which is hard for children to remember.
Trackers should have a way for kids to instantly see the data, while also giving parents access to it, this isn't the case with a couple of the main products on the market.
Trackers may also underestimate children's sleep, as kids are very active sleepers, and move a lot during the night that may cause inaccurate readings
Kids are active in a lot of different ways that the tracker might not register, (swimming, biking, some organized classes also have a no jewelry policy)
Bottom Line
Fitness trackers for kids come in a range of prices, some being nothing more than elaborate pedometers, while others use more sophisticated technology that some families find work very well for their purpose. Customers really want the technology for these devices to be great, but unfortunately, it just isn't really there yet. If you are looking for a fun device for younger kids, Leapband will work well, but if you are looking for a child version of a Fitbit you may want to wait until some new products come out or consider getting an adult fitness tracker and helping your child to use it.
If you buy something through one of the links in this post, CWB may make a small commission from the sale. Click here to learn more