18 August 2016
Smartwatches for Kids Reviews
Last Updated on 4 February 2020 by Marie Davis
Updated Feb 19, 2019
What makes a good smartwatch for children?
The features that make a good smartwatch for kids aren't going to be the same features that you would look for with an adult. Kids want games, bright colors, touch screens, cameras, videos and voice recorders. Parents want kid trackers, fitness trackers, educational games and some way to contact their kids all rolled into a handy little device you can strap onto your child's wrist. Does such a device exist? Not exactly, at least not at this point, although you can get a lot of different features on the different devices that can have a positive impact on your family's life.
[table id=10 responsive=scroll /]
Standard Features that you can look for:
If you are familiar with smartwatches, you will know that (for the most part) adult smartwatches are designed to serve as companions to your smartphone, sending information from your phone to the watch. Children's smartwatches are designed to be a complete device that doesn't need a cell phone to work. Here are some other things to consider when shopping for this type of device:
Screen/Display
The display screen for a smartwatch is either going to be color or e-link. The e-link screen is good because they use less power and are easy to read in bright sunlight, while color interfaces will be much more appealing for young kids.
Interface
Everyone loves a touch screen; these days they are rapidly becoming the norm, Kidizoom is a touch screen, while Leapband uses buttons at the side of the watch face instead of having a touch screen.
Design
It is essential to choose a model that your children will want to wear. Some kids find smartwatches somewhat clunky. The Kidizoom and the LeapBand are relatively large, and some kids don't like wearing it for long.

Personalization
The ability to customize the look of a watch is a feature that kids love. Both the Kidizoom and the LeapBand allow the user to customize the face or display of the clock with different watch faces.
Waterproof
The Kidizoom and the Leap band are splash proof offering some level of protection; however, they are not waterproof.
Battery Life and Charging
Just like adult smartphones, battery life can be an issue on smartwatches. Even though companies are continually trying to improve the battery life, new functions and cool features can suck the battery dry very quickly. Color displays, games, and cameras all use a tonne of battery, so you may find that your kid's smartwatch will have to be recharged more often than you would like.

Special Features
Downloadable Games and Apps The more games and apps that are available on a smartwatch, the more your kids will use it. Make sure you look into what is available for each watch to avoid disappointment for your child.
Reward System Parents often go for reward systems for their kids in a big way so it is only logical that companies would use this type of system to encourage particular behavior from kids. Most watches for kids use a reward system.
Text Messaging Some watches that are on the market have either one way or both way text messaging. Obviously, this is a useful and cool feature to have, although you start getting into having to sign up for cell plans with text messaging.

Fitness Tracking- Fitness trackers are so big these days it's no surprise that companies that produce products for kids are getting in on the action. The jury is still out on whether it is a good idea to strap a fitness tracker on a child (some people believe it may lead to self-esteem or body image issues), but if you think it will work for your family, there are a few products with this option.
Locators– If you have ever had the misfortune of losing your child at a busy location you will know the fear that kind of experience can cause. Some of these devices can help alleviate some of that fear with GPS tracking and locating functions, although you will need to sign up for extra services for either GSP or cell options.
Voice Calling – A couple of watches allow kids to make and receive phone calls through the watch without having to connect to a cell phone.
Safety Zones and Boundary Alerts Some of the products allow you to set zones where you let your kids roam, and if they leave the zone that you have created, an alarm or alert will notify the parent.
Camera You aren't going to get the greatest camera on a children's smartwatch, but the one offered on the Kidizoom has a 640-by-480 resolution for photos and can take either 320-by-240 or 160-by-120 video at 15 frames per second, which is more than sufficient for kids. You can then download the images and videos to a PC or Mac.
Calendar/Time Management- Calendar and watch functions let kids learn how to tell time as well as re-enforces days of the week and months of the year.
Finders- There are a few start-ups (see below) that include a finder or a child locator on the watch that can help kids locate their parents or parent find their kids usually using GPS technology.
Emergency Button – An emergency button that connects (usually to a pre-programmed number) is another excellent feature to look out for. Flip 2's emergency button will automatically start dialing every contact until someone answers.
Recommendations and Reviews:
VTech Kidizoom Smartwatch DX2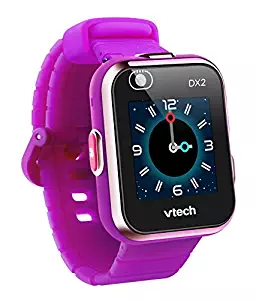 Cost: est. $60
Pros: Has two camera that takes photos and video and allows kids to add filters, frames, and effects. It also has lots of educational games, in addition to a cool voice recorder and a super user-friendly touch screen.
Cons: Not waterproof, but it is splash proof.
The Kidizoom DX2 is the new improved version of the Kidizoom DX. This model has more memory, more activities, and more clock faces. It is a fun watch camera with a bright color touch screen that kids will love to use.  There is a voice recorder that lets your kids change their voice and give it silly effects. It has a lot of different face designs (more than 55), so your kids will be able to personalize the look of the watch to their taste. It is sturdy and is a sort of go-between for a child who wants a smartphone. With this watch, you get the advantages of some smartphone features without having to go the full distance to a smartphone.
Available from Amazon
LeapFrog LeapBand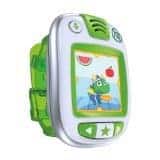 Cost: est. $20
Pros: Inexpensive, help kids get active and learn healthy habits.
Cons: Not waterproof
The Leapfrog Leapband is a kid-themed smartwatch designed for children aged 4-7. Its primary objective is to get kids active through games and challenges. Kids get to choose a "customizable pet pal," there are eight different pets to choose from including a unicorn, robot, dragon and more.
The best part is that the device is under $25 which is relatively cheap compared to some of the other options on this list. Of course, the Leapband isn't a true smartwatch with voice calling or GPS tracking support — so keep that in mind.
The LeapBand sets a series of fun physical challenges – walking, running, jumping and dancing – that the wearer tries to complete to earn credits to spend on their virtual pet: feeding, cleaning, grooming, and clothing the pet as they gain more points. Activity is measured with the built-in accelerometer, just like you'd find in the iPhone or activity trackers.
Read the Full Review
Available from Amazon
Bottom line:
When shopping for a smartwatch for a child, it's worth spending some time thinking about how you want your child to use the watch and what kind of features will be the most useful. If you are looking for a fun gadget for a younger child, Kidizoom is the way to go, if you are looking to get your kids more active then go for a Leapband. These types of products are in their infancy, and so some still need some work to get them working as well as devices that are aimed at adults, but very soon down the road smartwatches have the potential to become handy items for families.