A cool to the touch toaster is a great safety option for parents with small children running around or for those of us who find themselves bumping into kitchen appliances a lot. Cool touch just means the sides are cool touch while the part where the toast comes out will be hot, so you have to still be careful in that area. If you are heating multiple batches of toast or toasting something that takes a while like a bagel, the toaster walls can get very hot and it is easy to burn your hands or plastic bags that are touching the toast can melt  onto the toaster wall (not a big deal but it can be irritating).   Stainless steel toaster walls tend to get the hottest of the different designs, so you will need to look for a toaster that is contained in a plastic housing if you want to avoid having a hot toaster wall. Not to worry though there are lots of good quality toasters that stay cool that will still make great toast while being kid (and adult safe).
Hamilton Beach 2 Slice Cool Touch Toaster (22121)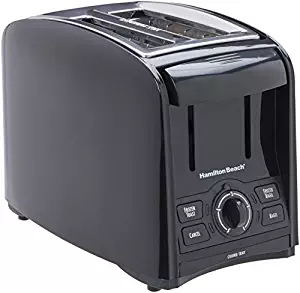 A very basic toaster, that has a cool touch exterior but still reportedly works really well is the Hamilton Beach 2 Slice Cool Touch Toaster (22121). You can get this same model in a 4 slice option with the same features for those who are looking for the higher capacity. The exterior is plastic, so it won't get hot in the same way a metal wall will. The slots are  1.5″, so they are wide enough to fit bagels, waffles & hand-sliced bread and comes with a crumb tray for easy clean u. By most reports it does a great job browning your toast nice and evenly  If you are looking for a design with the wider slots for bagels, it has a bagel toasting option that only toasts on one side and leaving the other side as is.
The lever doesn't lift the toast very high after it has toasted, so you may need toaster tongs when using shorter bread slices or smaller items like English muffins. The settings are pretty clear and are easy for most people to use. The cancel feature on the toaster gives you the option of cutting off the toasting process a little early when you have reached your desired toasting level.
Check pricing on Amazon
Oster – Inspire 2-Slice Wide-Slot Toaster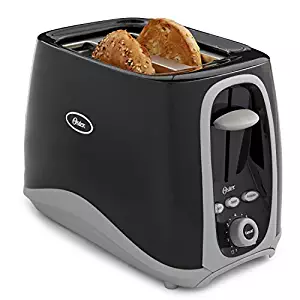 A simple, compact and inexpensive option that is both sleek and stylish is the Oster Inspire 2-Slice Toaster. Despite it's plastic housing, it looks great and has enough features to efficiently heat your toast to your personal preference along with blue backlit LED buttons make it easy to see what you are selecting. As you can see from the picture, it is a 2 slice design. It gives you the choice of 7 shade settings from light to dark, a special setting for bagels and for frozen items, plus extra-wide slots for varying bread sizes. It also has the all important crumb tray for easy clean up and it comes with a 1-year manufacturer's warranty. Overall this Oster model works great, is sturdy, is a good price, and doesn't take up much counter space
Check pricing on Amazon
Proctor Silex Cool-Touch 4 Slice Toaster (24201)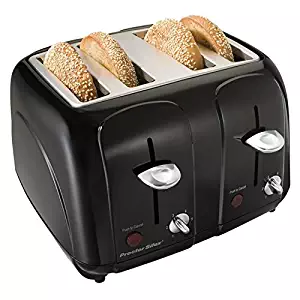 A great option if you are looking for a 4 slice capacity model is the Proctor Silex Cool-Touch 4 Slice Toaster (24201). It has the cool touch exterior and a lot of the same features as the two toasters listed above, including wide slots for bagels and waffles and a removable crumb tray. It does also have a good solid toast boost lever, so it is easy to get smaller toasted items out with tongs or without burning your fingers.This is a nice looking and sturdy toaster that is simple to use and most people find that it will evenly brown your toast. It comes in black as well as white, and is pleasant to look at and well-designed. It has a cancel button that allows you to pop the toast up before the toaster does. Since it is plastic it's really easy to clean and doesn't get finger prints or smudges all over it.
Check pricing on Amazon
Breville BTA630XL Lift and Look Touch Toaster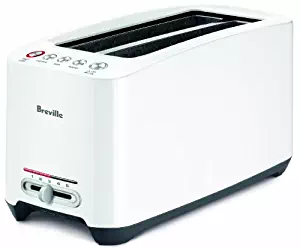 The Breville BTA630XL Lift and Look Touch Toaster is one of the few higher end models that have a cool touch housing. It is a little pricier than other options on this list, but it does have more features included. One of the best features on the Breville is the motorized carriage with push button controls that lowers bread slowly and dramatically into the toaster, it also has a button for 'a bit more' toasting which helps you to get the exact right toast for you.. The other feature that people go crazy for with this toaster is the LED toasting progress indicator which flashes with reducing numbers of bars, so you know exactly when the toast is about to pop up.  Apart from the cool features this toaster reportedly works really well and can handle  many sizes and shapes of bread. It has one odd issue that it may stop working if you don't unplug it on a regular basis.
Check pricing Amazon
Star Wars Toaster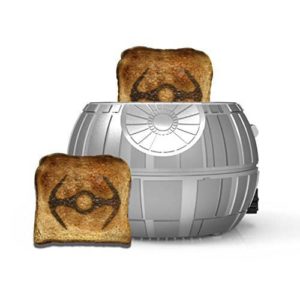 For those who are looking for a novelty toaster that will keep your kids safe and also excited about eating toast, you may want to check out one of the three star wars toaster designs that are available that are all cool touch exterior. They can toast bread, frozen pancakes, hamburger buns or English muffins. The real standout feature though is that they toast a Star Wars logo or design right onto your toast.  These Star Wars toaster are fun item for the kitchen that your kids will love, but they might not be the best option for those folks who are super serious about your toast. They don't have a lot of high end features, although they do have a cancel button and a defrost feature as well as  having a dial to adjust the temperature so you can get the right amount of toasting for your needs. The slots are a little short despite being listed as extra wide and long.
Check pricing on Amazon
What to Look for When Shopping for a Toaster
There are some of basic decisions you need to make when shopping for a toaster. Your first decision is going to be whether you want basic features or do you need something more advanced. Unfortunately most of the higher end or toasters with more advanced features do not have cool touch housing. The following are a few other things to keep in mind.
Two slices or four– A two slice toaster will be sufficient for most people, especially for people who live alone or are the only one in the house who is toasting at a particular time. If you have multiple people in your household who are all eating at the same time, and you have never considered getting a four slice toaster, you may want to give it a bit of thought. You might be surprised how much you like having space to toast four pieces of bread at once. It means that the toast will be done faster, so you can eat at the same time, a small luxury but worth it in some situations.
Size/dimensions– It is a good idea to check the size of any toaster you are considering purchasing. Some toasters can take up way too much room on your counter top, especially when you don't have a big kitchen.
Cancel button– One of the best features to have on a simple toaster is a cancel button so you can make sure you are getting the absolutely most perfectly toasted bread when the original toasting session is going on too long.
Length of cord– Depending on where you are planning on positioning the toaster in your kitchen, you may need to check just how long the cord is and if it is a good length to fit into the power outlet where you are planning on putting it.
Removable Crumb Tray- Most toasters these days have a removable crumb tray (unless you go for one of the really budget brands). For most people who have ever spent any time shaking the heck out of an upside down toaster with crumbs flying everywhere (except where you want them to go) a crumb tray is a must have feature to help keep things clean. A large amount of crumbs in a toaster can actually become a fire hazard because they can ignite into flames.
Length and width of the slots– It you toast bagels and thicker or longer slices of bread you will want to check the size of the slots. For width you will want to look for models that are 1.5″  or wider and for length you should look for designs that features "extra long slots".
Extra-lift levers – This feature just means that you can lift the handle up to elevate the toast once it has been toasted making it a little easier to get out.
Defrost function– A defrost function is a nice to have option when toasting bread right from the freezer or frozen waffles or frozen pancakes.
Wall Material– If getting a cool touch feature is important to you, but you love the look of stainless steel there aren't really a lot of options. Most cool touch designs are housed with plastic walls and come in either white or black. The upside of getting a plastic toaster is that they are easier to keep clean and keep finger prints and smudges off.
Bagel Setting– A bagel setting is one that only heats the bagel on one side while leaving the other side as it was. You can also use the bagel setting for any other items that you only want to toast on one side.
Safety– Never stick a knife or anything metal into a toaster slot as you may get an electric shock. If you find your items are getting stuck in the toaster, invest in a pair of wooden toaster tongs. When cleaning the toaster make sure you unplug it first.