Essential oil diffusers have everything going for them, they are inexpensive, great for your health, nice to look at, they add a nice fragrance to your home or office, and they make a wonderful gift. Because of the huge popularity of these fantastic little gadgets, the market is flooded with devices of all shapes and sizes, making it difficult for consumers to determine which device to buy. We have compiled a list of 9 of the most popular and best rated essential oil diffusers, along with everything you need to know, to help get you started on your search to find the best aromatherapy diffuser for you.
1. InnoGear® 100ml Aromatherapy Essential Oil Diffuser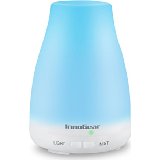 Pros:
A few different LED color options
Inexpensive
Auto Shut off
Quiet
Cons:
Some users find the light too bright
What you need to know
This super popular small capacity (120 ml) option is great for smaller rooms. It has a good number of programming options including intermittent or continuous misting, as well as different color options (rotate through the colors or stay on one color). It is simple to use, you just twist off the top and add your water and your drops of oil into the water chamber. Then you twist the top back on and turn it on. It comes with a one year warranty.
What users love:
Users love that it works well for such an affordable unit. It is also very quiet and easy to clean and the auto shut-off works well when the device runs out of water. Innogear seems to have great customer service, and is very responsive to user complaints or problems.
Check pricing on Amazon
2. Smiley Daisy Hibiscus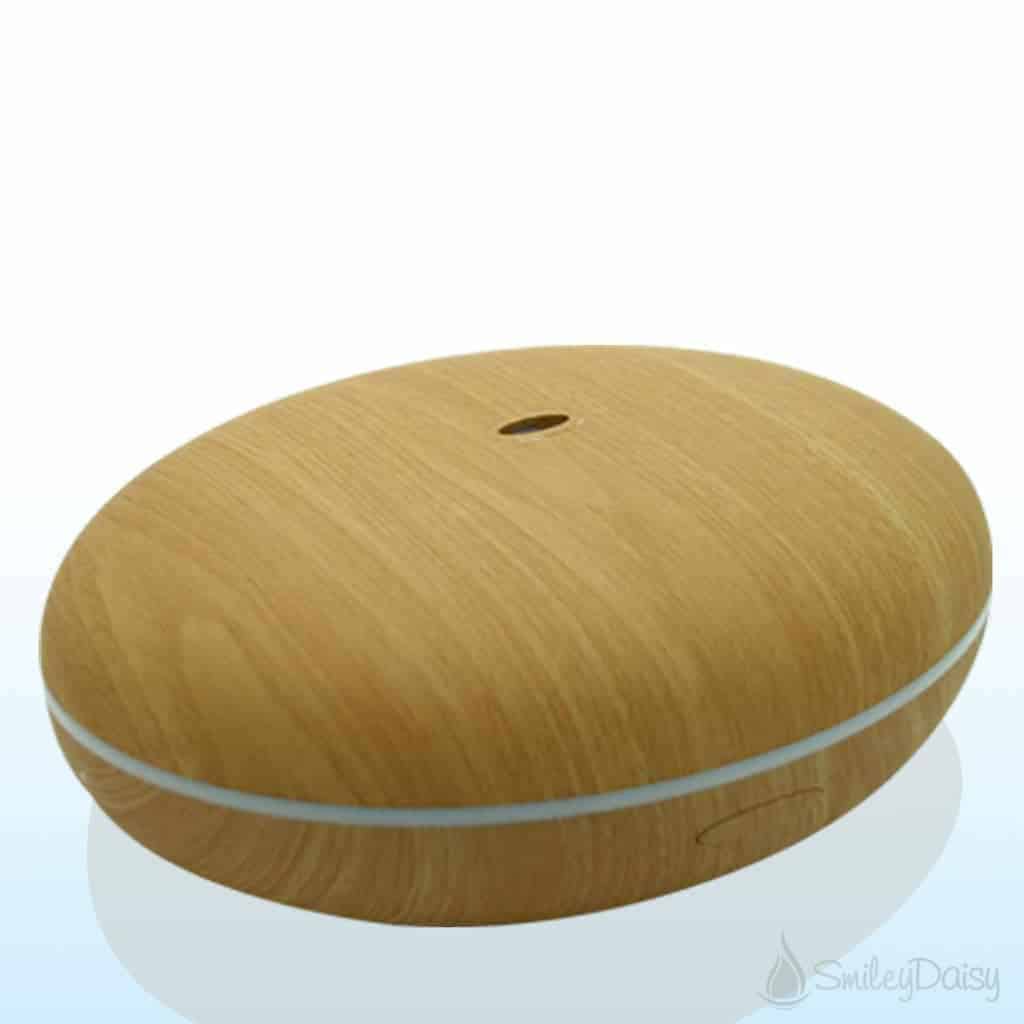 Pros:
Subtle color changing LED light
Runs up to 6 hours
Two mist mode settings
2 hours auto shut-off option.
Attractive, natural look
Cons:
Some users find that the auto shut-off goes on when there is still quite a lot of water in the unit.
What you need to know
This beautiful model is really easy to use, and it has a large capacity of 350 ml. Smiley Daisy also has a great customer service reputation. Hibiscus covers around 10 X 20 square feet, although due to the design shape it does auto shut off while there is still quite a lot of water remaining. It comes with a 180 day product replacement warranty.
What users love:
Users love the more subtle lighting that comes on this unit. Most reviewers comment that it works very well for a relatively inexpensive product. They also like that the no color option truly doesn't show any light at all.  The mist output is strong and it does add more humidity than some of its competitors
Check pricing on Amazon
3. QUOOZ Lull Ultrasonic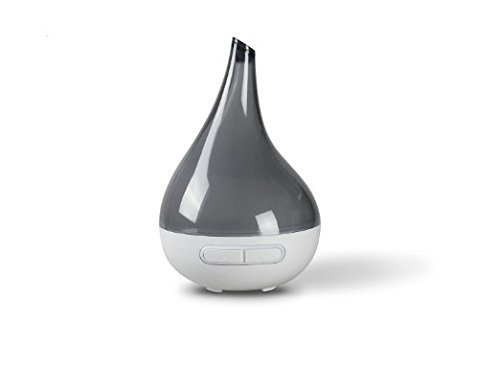 Pros:
Has a high-capacity of 200 ml
Auto Shut off
Soothing Light
Attractive design
Quiet
Cons:
The on/off control has no light, signal or slide location to tell you if you have turned the unit to constant mist, intermittent mist or off.
Fairly large shape, not for small night stands or counters.
What you need to know
Lull by Quooz has an automatic shut-off, is easy to clean, and can hold up to 200 ml water. Having the ultra-high capacity lets you run the unit all night with safety feature of automatically turning off when the water runs low.
The LED light can be adjusted to desired brightness, as well as being turned off completely.  The intermittent mist function lets users adjust the diffusion to 20 seconds on 40 seconds off sequences. It comes with a 12- month warranty.
What users love:
Users love that there are two different settings for diffusing, so it doesn't have to be running constantly. The light function works well as a night-light, since it is not too bright or you can turn all lights off completely. The large capacity is great for filling large rooms, especially those with high ceilings.
Check pricing on Amazon
4. Pilgrim Collection Anton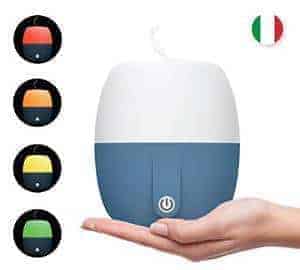 Pros:
Up to 8 Hours running time
140 ml capacity
Quiet
The colors a bright and bold
Cons:
Top comes off easily if you are moving it to different areas
What you need to know
This cute little Italian designed unit can run up to 8 hours (has a 140 ml capacity), so you can run it overnight as you sleep. It comes in either a blue or red rubber base. You have a few different options when using this. You can use this model with or without a light. It also has a continuous run option, or an intermittent option where it runs for 30 seconds and pauses for 30 seconds. The nice, long cord makes it easy to plug-in more places. The colors on this device are much brighter and bold than some of the other units available. This diffuser is also extremely easy to work as you only have to push the power button in order to start it.
What users love:
There are a lot of things about this diffuser that customers love.  It runs extremely quietly and is able to use a small amount of water and oil for a long time. It has a very easy to use display: just three buttons, on, off and lights.  It's light, powerful and simple.
Check pricing on Amazon
5. Urpower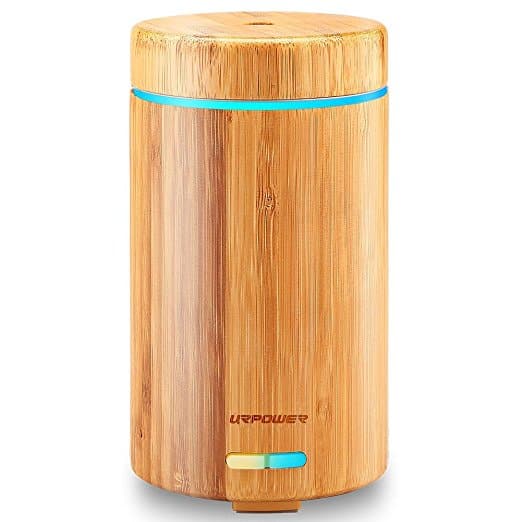 Pros:
Small, compact design
Good price
Easy to use
Easy to clean
Adjustable mist mode
Cons:
It can be hard to grip if you are planning on moving it around
What you need to know
This model is one of the bestsellers on Amazon. It is inexpensive, comes in two colors (light and dark bamboo effect). It runs for up to 6 hours. The capacity of the water chamber is 160mL, so it is perfect for a small to medium size bedroom, office or kitchen. It comes with a 100% satisfaction guarantee.
What users love:
Users love the look and function of the Urpower device. It is a basic model that works really well and does exactly what you want it to. Reviewers also note that it puts out the right amount of steam so that it fills your room, but doesn't completely overpower it. One other thing that many customers mention is that it is a very quiet machine, making it great for using it overnight and not disturbing your sleep.
Check pricing on Amazon
6. doTERRA Petal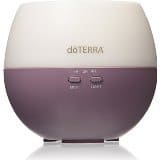 Pros:
Easy to use
Easy to clean
The size is perfect for regular sized rooms
Cons:
Some users found the top a little hard to get off
Only one color option
What you need to know
This small, lightweight and inexpensive model is a great option if you are looking for a simple entry-level products that can help you get used to essential oils. The unit can run up to 7 hours and can cover up to 250 square feet. The LED colored light option that lets you run through a sequence of lights or have no light on at all. It is nearly silent when running.
What users love:
Users love that it is a very basic unit that is easy to use and easy to clean. There aren't a lot of fancy settings or confusing buttons, and it gets the job done very well due to its strong mist output.
Check pricing on Amazon
7. Aromatherapy Essential Oil Diffuser by AromaSoft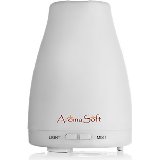 Pros:
Soothing Color Sequence
Good value
Small Size
2 mist options (cycle or continuous)
Easy to use
Cons:
Some users find the colors a little too bright.
What you need to know
This little unit is pretty basic, but it is very popular. It is great to take with you when you are travelling, since it is so small and light.  It has 7 rotating light colors, so it makes a great starter device for most people. The electric ultrasonic diffuser is very quiet and it has the standard auto shut-off safety feature. This device also comes with a life time warranty.
What users love: It is small, so it doesn't take up a lot of space, but it has a wide base, so it doesn't tip over easily like some models. It works quickly, misting as soon as you turn it on. It has two modes – continuous diffusing, or 30 seconds on/30 seconds off. Customers love that in addition to having many-colored light options, there is also the option to turn the light off.
Check pricing on Amazon
8. ZAQ Allay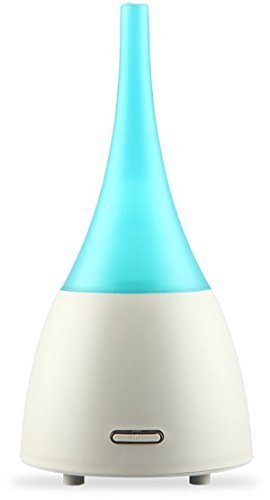 Pros:
BPA Free
Quiet
Small Size
Easy set up and clean up
Immediate steam when you turn it on.
Cons:
Not programmable
Since the water tank is small, you have to refill it often.
You can't turn the light completely off.
What you need to know
You can buy a lot of ZAQ products at Walmart. This particular model is very popular, but is quite small. It runs for about 5 hours and comes with a 1 year limited warranty.
What users love:
Due to the design, the mist from this model goes higher than the other diffusers and seems to make the essential oil scent travel farther.  Since this is a little smaller with a little deeper base, you don't have to worry about spilling water if you need clean the base out.
Check pricing on Amazon
9. ASAKUKI 500ml Premium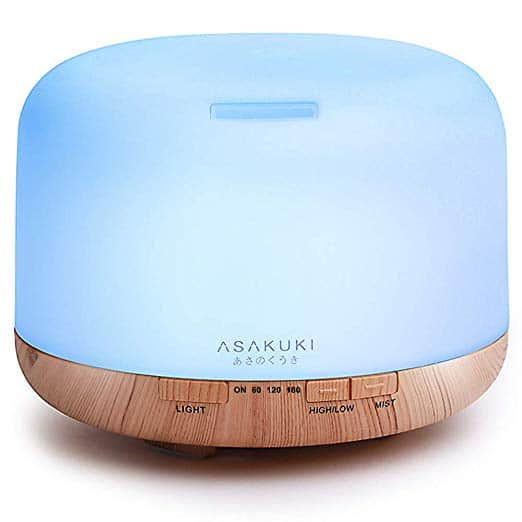 Pros:
Large capacity
5 In 1 Ultrasonic
Easy to clean
7 Led mood lights
Cons:
Some issues with quality control
No lights
What you need to know
This is a popular model if you are looking for something with a large capacity. It has a water capacity of 500 ml and a run time of about 16 hours.
What users love:
Most users mention that these diffusers are a great option if you are looking for a large coverage area and a long run time. They also love the multiple LED colors and timers.
Check pricing on Amazon
How Do they Work?
In general, diffusers work by distributing essential oil molecules into the air. There are quite a few different ways to diffuse; one of the easiest and most effective ways is by using an Ultrasonic model. Ultrasonic devices use electronic frequencies to create vibrations at a very fast rate in water that are then carried to the surface where the essential oils are floating. The vibrations vaporize the essential oils into a micro-fine mist and disperse them into the air without using any kind of heat. It's important to mention that when you heat essential oils, some oils lose their therapeutic properties, so for most consumers it is best to stick with a cold air method of diffusing.
Diffusers are not humidifiers and are not intended to produce the same effect as humidifiers, although most ultrasonic models combine the some of the benefits of a humidifier with aromatherapy.
Benefits
The benefits to using an aromatherapy device are almost too many to mention. Depending on the oil that you choose to use, you can refresh, and deodorize the air, which may help with allergies, asthma. The oil that is diffused can make you feel better if you have cold and flu symptoms, eczema, emphysema, etc. They can also help with increasing the flow of oxygen in your body, that can help eliminate stress, headaches and help you have better concentration and sleep.
The most popular oils are:
Lavender – Can help with relaxation and promotes sleep.
Peppermint – It stimulates the mind and helps with mental alertness.
Eucalyptus – Is good for individuals who have frequent colds or suffer from allergies.
Sweet Orange – Is popular for helping to create feeling of happiness and warmth.
Tea Tree- Is great as an antifungal, and can help kill mold and other bacteria.
Essential Oil Uses
People use essential oils to help themselves heal mentally, physically, and emotionally. Some individuals use them to help with sickness such as flu or allergies or just do help with things like getting a better night's sleep or to help relax. Others are concerned about the toxic chemicals used in plug in air fresheners and scented candles, so they use diffusers as a more natural way to freshen the air and have a nice smelling area.
Cost
There is quite a range of prices for different types of brands, so you can basically get something to fit any type of budget. If you are looking at nebulizers models, they tend to be the most expensive and are generally mostly only used in a professional capacity by certified aroma therapists, trained massage specialists and by skilled professionals in medicine.  The more popular Ultrasonic models range in price from around $25 to $70. You can spend much more if you wish, but you can get a great unit that works well and has a lot of features within this price range. You can find diffusers at stores like Bed Bath and Beyond, Walmart and online through manufacturer's websites or online retailers like Amazon.
Safety
While aromatherapy diffusers are generally consider safe for most people to use, there are a few cautions and things to be aware of before using:
Keep them away from children and pets
Don't clean it unless you have unplugged the device
Be careful using on certain furniture surfaces- in case of leaks.
Only use water and recommended oils
Never clean with harsh abrasive cleaners
Don't use a them or use extreme caution, if you are pregnant or have small children
Don't use them in a house with child or adults who have a respiratory disease (especially kids with asthma)
Research any oils you are using, be especially careful with oils you may be diffusing around children or pets (some pets can have severe reactions to certain oils).
Follow all

manufacturer's

 instructions for safe operation.
Features to Look for
Most customer who are shopping for a diffusers are looking for the same type of features, they want something that works well and has all required safety features. Here are some other features to look for
Water Capacity -The bigger the water capacity is, the longer it will run for. A bigger water capacity also, obviously, means a larger size of unit. You can get capacities from 80 to 300 mL of water.
Timer – Timers are a great feature to have to let you customize how long you are going to run the device for.  Not a lot of models have timers; you usually have to look at some of the higher end models to find this feature.
Automatic Shutoff – Almost all of these types of devices come with an auto shut-off that will give you peace of mind that you can operate the unit without creating a fire hazard. The automatic shut-off works using a sensor that detects when the water level is too low and shuts off the device.
Area Coverage – Area coverage is another important feature to consider. If you are looking to use it in a large room you will need to look for higher area coverage. Areas range from 200-300-square feet up to 500-square feet. Most manufacturers list the coverage area in the specs for the unit.
Cleaning– If you are using the unit on a daily basis you will have to clean it about twice a week, so you will want a device that is easy to clean. Most models just need a wipe down with a clean cloth or a very mild cleaner.
Type of Material it is made of – Diffusers can be made of ceramic, plastic, wood, and glass. The materials that reputable manufacturers use are safe for all types of 100% essential oils.
Operating Time -Smaller units have a lower operating time since they can only hold a certain amount of water. If you are looking to run a unit overnight, make sure you look for a device with a longer operating time.
BPA Free-If you are looking to purchase a plastic unit, ensure that it clearly states that it is BPA free. Bisphenol (BPA) is not something that you want in a diffuser that you are going to be using daily. Some essential oil products do contain this chemical which isn't good for your hormone system.
Variable Airflow Output -Look for devices that have an adjustable mist mode settings, and also the ability to alternate the airflow on and off or have continuous diffusion.
LED Light Effects -Almost all quality models have a built-in light. They can be used as night-lights or just for a nice mood setting effect. Some allow you to change colors or have a rotating array of colors. If you want to run the it at night, but do not light any light when you sleep, ensure that you get a device that lets you turn the light off, some units do not let you do this.
Noise Level -Most consumers do not want a noisy appliance, manufacturers know this so they include things like Whisper Quiet Technology in their devices. If you are worried about noise levels, check reviews, as most users will mention if it is too noisy.
Warranty and Guarantees -The standard is usually a 1-year warranty offered by most manufacturers. You can get longer warranties, but the minimum you should be looking at is 1 year. A few of the manufacturers also offer money back guarantees, which is a useful thing to look for if you aren't sure about a particular product.
Size and Shape -These devices come in a huge range of shapes and sizes to fit almost any type of taste and size of room. The price tends to go up depending on the water capacity of the model. If you are shopping for a model to fit a particular style of decor, there are many different shapes to choose from including cylinders, flower shape, pyramid, candle shape, circular, etc.
Bottom Line
Aromatherapy diffusers are a great addition to any home or office. You can get them for any kind of budget with wide range of beautiful designs make of different materials like ceramic, plastic, wood, glass and even metal. They are easy to clean and maintain, and very easy to operate. Some have LED lights to create a beautiful calming effect.  There are so many diffusers on the market with a bit of research you should be able to find something that fits your needs.  Most consumers find them incredibly beneficial to their lives and overall health and they are well worth the small initial investment.