7 February 2020
7 of the Best Cheap Mouth Guards for Teeth Grinding
There are a lot of inexpensive alternatives to buying a mouthguard from your dentist. An easy way to reduce the cost of custom dental guards for bruxism or teeth grinding is to try an at-home kit. They are commonly known as 'boil and bite' guards, meaning that you heat a mold, put it into your mouth, and bite down to get the right fit.
A $20 at-home kit isn't going to work as well as the $500 custom piece that you get from your dentist, but if you are willing to test them out, you may find that some of these inexpensive at-home kits can help with your bruxism.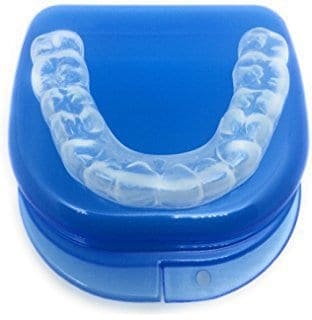 When shopping for a night mouth guard, there are some things you should consider. You want something that will protect your teeth, be comfortable to wear, and will fit into your budget.
The past few years have seen a sharp improvement with the type of boil and bite mouth products that have come to market. Generally, the newer models are much easier to customize for your mouth. Many brands come with a few different sizes of the mold to choose from and are designed in a way that they are easy to trim, so you get the best fit.
Most new products have safer materials than the previous generation of products, and they are easy to find online, at Walmart, or at your local drug stores.
To help get you started, we review what you need to know when shopping for an inexpensive mouth guard and recommend so of the most popular products.
Why Use a Mouth Guard
The main reason is to stop you from grinding your jaw and causing damage to your teeth. Teeth grinding can wear down the surface of your tooth, causing issues like tooth flattening, chipping, cracking the enamel, or breaking a filling. Large portions of the general population are nighttime tooth grinders; grinding is caused by many different things, including stress, anxiety, or taking antidepressants.
If your tooth grinding is left untreated, it can cause things like headaches, pain in the muscles on your face, pain in your jaw, pain in your neck, and insomnia. Nightguards can help to prevent some of the issues that teeth grinding can cause.
What to Look for
Does it help with Bruxism – There are some different uses for mouth guards, so when you are looking around at the available products, make sure you are buying a product that makes specific claims to help with bruxism or teeth grinding. Some are intended to be used for sports protection or teeth whitening. These days there are so many products available that are designed specifically for teeth grinding, there is no need to try to make do with a sports guard.
Cleaning – You should clean your night guard every day after using it since bacteria will grow on it. There are many different ways to clean these type of dental products; you can clean them with:
Toothpaste and brush
Soap and water
Mouth wash
Mouth Guard cleaning tablets
Dental Sanitizers
Material – Since you are going to be putting the guard into your mouth for long periods, it's essential to make sure that the material it is made of is, at the minimum, BPA and latex-free. You should also make sure it is made of FDA-approved material.
The hardness of the Material – If you have severe bruxism, you will need to look for a product that is made of solid, thick acrylic. Unfortunately, it is thick and made with heavy material, and it will be less comfortable. If you have only moderate to mild bruxism, you can probably get away with the types of designs that have a soft inside layer for cushioning and a hard outside layer.
Molding and Fitting Process – If you have never tried an at-home molding kit, you may be surprised to find that they can be a fair bit harder to get a good fit than you expect. Look for products that reviewers say are easy to mold and get a good fit; it will make all of the difference. Many products allow you to re-mold the guard if your first attempt doesn't go well. If you don't get a good fit, you can expect your mouth to feel sore the next day.
Comfort – The word comfort isn't something you usually associate with night guards. To get the most comfortable product, you need to make sure you get a good fit. Some manufacturers offer free replacements if you mess up the molding process. The other problem you may run into is that it may take a bit of time to get used to. This is something that happens even with $500 custom guards from the dentist. You may wear the guard and feel there is some small part of it that doesn't feel right and needs to be adjusted or re-molded, or you may get used to it after a few uses.
Braces or Loose Teeth– Not all products can be worn with braces or loose teeth. Look specifically for products that say they work with dental work or contact the support for the product you are interested in purchasing to double-check that it will work for your particular situation.
How long will they last? The life of a mouth guard depends on the product, how severe your teeth grinding is, and how well you take care of it. Some of the higher-end at-home products will last up to a year.
Who Should Not Use These Products?
As a general guideline, you should check with your dentist before using an at-home mouth guard if:
If you are under 18 years old.
If you have loose teeth.
If you have TMJ.
If you wear dentures, braces, or other dental equipment
If you have severe pain in your jaw.
Side Effects
If the product doesn't fit properly, your tooth grinding may get worse; you may find you have more tooth, jaw, facial, or neck pain or soreness. It is also possible for a night guard to worsen sleep apnea symptoms. If you have pain for more than a week while using a mouth guard, you should consult with your dentist.