2 June 2017
10 of the Most Popular Underwire Sports Bras
Update January 24, 2020
It might seem odd to get a sports bra with underwire, but they are one of the best options if you have larger breasts and are looking for the right amount of support when running or doing other high impact sport. Sports styles tend to get most of their support from compression, which isn't always the most comfortable or best option for larger cup sizes. This is where underwire can be a great alternative. Not only can it provide support, but it can also help avoid the dreaded uni-boob that is common with sports bras and give you a beautiful rounded shape.
We have rounded up some of the best underwire sports that are comfortable, supportive, and can handle a great workout.
Wacoal Women's Underwire Sport Bra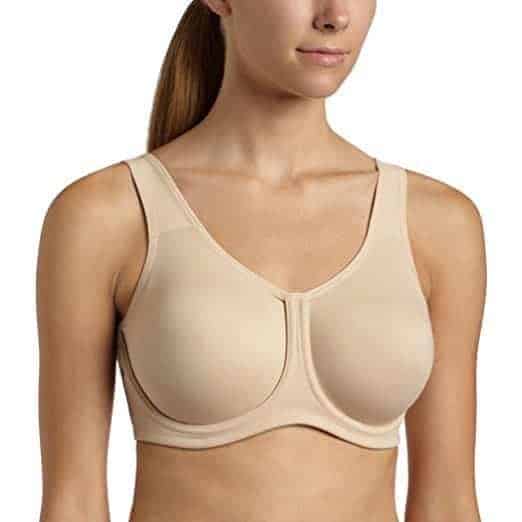 The Wacoal Women's Underwire Sport isn't the most attractive looking option, but it is by far one of the most popular. As with many sports designs (with underwire), the underwire is on the outside of the garment. This Wacoal design is what helps to give it such great support and makes it so comfortable to wear when exercising. There is very little chance of the wires poking into your skin, and it helps to contain the breast, so there is minimal movement when you are exercising. Women with larger breasts love this design because of the amount of support that it gives. It also helps to separate the chest, so you don't have to worry about uni-boob. The other things to note about this design are that it is triple hook-and-eye closure at the back, and the material of the body of the design is a moisture-wicking blend of 80% Nylon/ 20% Spandex/Elastane to help absorb sweat. It also has two-ply fabric cups and with a floating underwire frame. The most significant cups sizes G and H have an inner sling to help provide extra support.
Available from Nordstrom.com
Panache Women's Underwire Sports Bra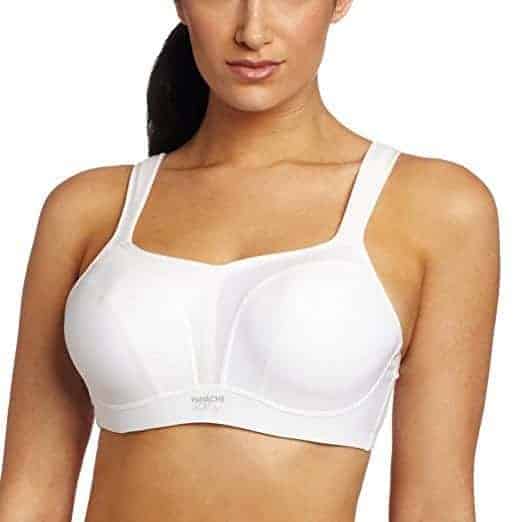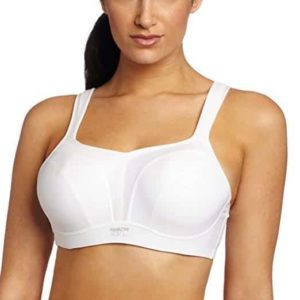 The Panache Women's Underwire Sports Bra is a very popular, heavy-duty sports style that has been designed for full-busted women who are doing high-impact sports. If you are worried about bounce, it can reduce it by around 83%, which is pretty impressive. This Panache style is a little on the pricey side, but it is very high quality and should last quite a while. It has two layers, both using a wicking material to help with sweating. The underwire is metal, not plastic like some of the other options, and is wrapped in silicone and sewn between fabric layers for comfort. You can switch it to a racerback option, to get more support for running or high impact activities. The body is made of a lightweight microfiber fabric blend of 48% Polyamide/38% Polyester/14% Elastane, with mesh panels to help the skin breathe. This Panache design comes in a good range of sizes, as well as lots of different color options to choose from. This style doesn't compress the breasts like a lot of sports styles but instead encapsulates them to lift and help give them better support. The seams are flat, and the shape is very smooth so that it won't show through your clothes.
Available from BareNecessities.com
Natori Women's Cotton Underwire Sports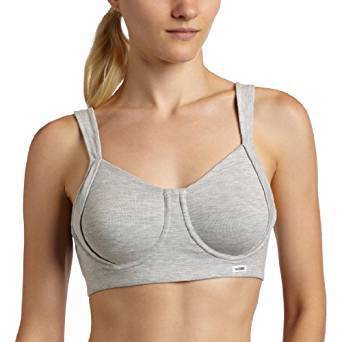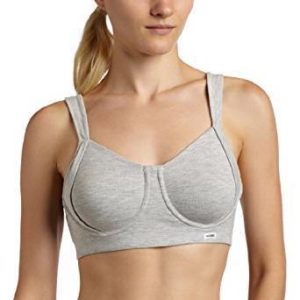 The Natori Women's Cotton Underwire Sports Bra has been around for a while and has quite a loyal following. This Natori design isn't lined, but it is made of slightly heavier 2-ply cotton blend (55% Cotton, 35% Polyester,10% Spandex), so it doesn't need the lining. It also has small extra support panels on the sides and underwire. It is generally regarded as being comfortable and supportive while doing moderate impact sports, so it's probably not the best option for high impact. The straps are nice and thick so that they won't cut into your shoulders. One small issue with this style is that the straps may fall out of the back hooks, so some users end up sewing them into place.
Available from Amazon
Champion Women's Double Dry Distance Underwire Sports Bra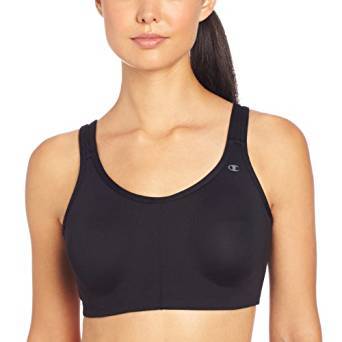 The Champion Women's Double Dry Distance Underwire Sports is another excellent option if you are looking for proper support, but without compression for high impact activities. This design has molded three-layer cups for lift and separation. The molded cup also means no show-through.  This style is designed to stop bounce and help minimize sweating since it uses a limited moisture-wicking stretch fabric.
Available from Amazon
Playtex Women's Play Outgoer Underwire Lightly Lined Sports Bra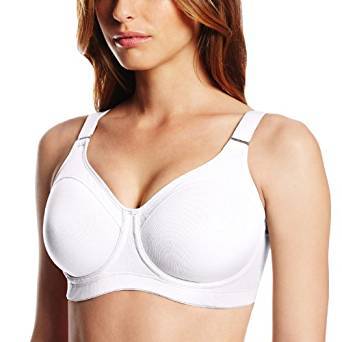 The Playtex Women's Play Outgoer Underwire Lightly Lined Sports Bra is a full coverage, low impact, very comfortable sports design. This isn't a suitable choice for anything high impact. The straps are nice and full to help prevent them from digging into your shoulders. The cups are made with soft, breathable, wicking fabric that helps add to the overall comfort of the fit. The cups also have a bit of padding, so it is unlikely you will get much show-through with this Playtex style.
Available from Amazon
Glamorise Women's Plus Size High Impact Underwire Sport Bra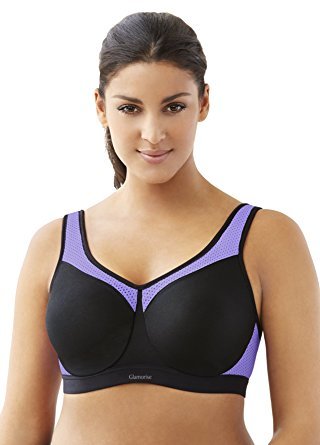 Glamorise is a brand that specializes in designs for full-figured women. They have a couple of styles that have an underwire, this one being the more popular one. This is a very supportive option that gives a beautiful shape, especially for large busts. It has regular comfortable straps that adjust with no option to switch to racerback. It also has a 5-row hook and eye closure, which is a great feature for large sizes. The cups are not padded, although they do offer the right amount of coverage. If you are prone to showing through brassieres, you may want to avoid this one. The fabric is a blend of 47% Nylon, 39% Polyester, 14% Elastane; this fabric blend has moisture-wicking properties to help keep you fresh and dry when you are working out.
Available from Amazon
Elomi Women's Plus-Size Energise Underwire Sport Bra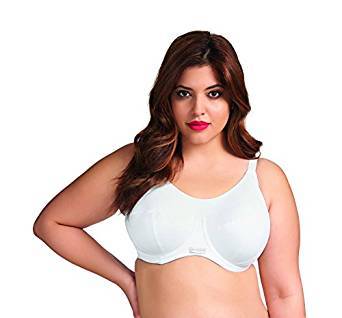 This style from Elomi is another excellent option for larger cup sizes. Elomi is a brand that is owned by Wacoal that is designed for fuller figured women. This design is made from 94% Polyamide, 6% Elastane, so it has a sturdy and kind of tight feel to it, but is still able to wick moisture from the skin. The cup is divided into three sections to give an excellent shape as well as support and separation without the feeling of compression. The straps can be converted into a racerback if you prefer that strap style. One thing to note about this design is the coverage goes quite high, so if you are wearing a lower cut/V-neck shirt, the bra may be visible.
Available from Nordstrom
Freya Women's Active Underwire Molded Sports Bra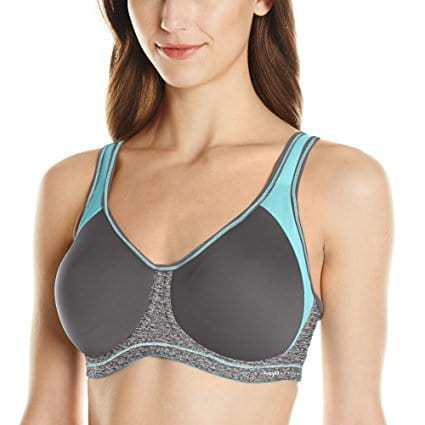 Freya has a few great options for underwire sports bras. This design is comfortable and gives you the option to switch to a racerback for more support. People love it because it gives you a beautiful shape, excellent support, and it lifts and separates well. The material on the cups has some stretch to it, so you get a bit of compression so you can avoid the bounce if you are doing high impact. The molded cups seem to stop most women from showing through. It is made from a moisture-wicking fabric in the inner part of the cup that also has antibacterial fabric technology to help prevent odors.
Available from BareNecessities.com
SYROKAN Women's Underwire Sports Bra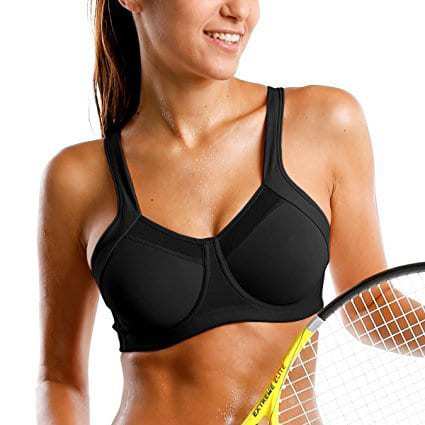 The SYROKAN Women's High Impact Workout Running Powerback Support Underwire Sports Bra is very similar to the much loved but now discontinued Champion Powerback style. It is an inexpensive but outstanding design, especially for running. It can separate and holds everything in place well. Some people find it a little challenging to get on, and you might get some show-through with this style, but overall it is an excellent underwire option.
Available from Amazon
What You Need to Know
Why You Should Always Wear a Sports Bra When Exercising
When you exercise and are doing high impact activities, it is essential to have proper breast support, or you may lose firmness and possibly damage your breasts. When the connective tissue that holds the shape of your breast together moves up and down, ligaments can become elongated, causing the loss of elasticity and, in some cases, stretch marks. Wearing correctly fitted products can help reduce some of these effects
Finding the right size
Sports bra sizing can be a challenge. Most companies will have a sizing chart (with measurements) on their website that you should check out, especially if they are using international sizing and not the U.S. If you aren't sure how a product is going to fit, look for styles that have adjustable straps and hook and eye adjustable back closures. An easy way to test if your bra is fitting well is to jump up and down or run on the spot. That will give you an indication of much bounce you will have when wearing it. You should also make sure the fabric isn't rubbing into your underarm, arms, shoulders, or ribcage since this will become especially unbearable if you are exercising.
Why Have Underwire in Your Sports Bra
Underwire can be beneficial in an active style for the same reasons it works so well in a regular design: shape and support. Most sports bras work by compressing your breasts into your chest, this can be good to help prevent bounce for smaller cup sizes, but it doesn't always work well for larger sizes.
Features to Look For:
Fabric- For active designs, it must be made of a material that will wick any moisture or sweat away from your skin and help keep you comfortable. Most products that are marketed as 'Sports' bras will have wicking fabrics.
Straps- Getting a design that has adjustable straps is an excellent thing to have, especially to help you get the right fit. Most of the wired options do have adjustable straps. Adjustable straps are also great if you want to change the amount of support you need for either a high impact or low impact workout. You should look for straps that won't dig into your skin, but that will give you a lot of support. You don't want to have too much stretch in your straps, so you can avoid having a lot of bounce when you are moving. If you wear a large cup, wider straps will be more comfortable than thin straps and will help support the weight. You can also look for crisscross, tank top, or racerback style if you need more support.
The Underwire – In the products listed above, the underwire for most of the different designs is generally thin and comfortable. When working out, you don't want the underwire to feel too tight or to dig into your skin. Only buy an underwired style if it feels comfortable and supportive. The benefit of underwire in a sports bra is that it supports each breast individually and can help to minimize movement.
Band: A lot of the support in a brassiere comes from the band. If you are looking for a lot of support, look for designs that have full closure. When you are checking the fit, the band should be snug around your ribcage, but loose enough to be able to fit two fingers between the band and your ribcage.
Cup: One of the best things about having underwire in your undergarments is that it gives you a well-proportioned round shape. If you don't like showing through, look for cups that are lined or padded. Some of the cups are made of thick material but are not lined, so there is a decent chance they won't give enough coverage for some people.
Support: One of the most important things about a brassiere is the amount of support that it will give. When trying out different bras, you can jump up and down or run on the spot. Look to see how much bounce or movement side to side is happening. If the breasts are moving too much, you need a different style.
Back closure: While most sports styles are pulled on over your head, some have a back closure with hooks. In addition to being easier to get on and off, this type of design allows you to adjust the fit further.
Cleaning
You are supposed to hand wash most undergarments, especially if they have an underwire if you don't hand wash the wires will probably pop out at some point, and they won't last as long. Hand washing is a pain, but if you want your wired designs to last, it is a necessary evil, especially when some of these brassieres cost $50 +. If you don't want to hand wash your underwear, use a delicate or hand wash cycle on your machine.
The Bottom Line
Hopefully, you have been able to find an underwire sports style that suits your needs. If you don't like any of the underwire bras listed and you have large breasts, you may want to look at the trendy Enell Sports Bra, it isn't underwire, but a lot of people like it.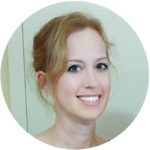 Latest posts by Marie Davis
(see all)