A lot of things go into making a great woman's tee, with one of the most important features being how soft the fabric is. A well-fitting, comfortable, good quality, t-shirt can't be beat, whether you are looking for designer or budget styles, we have gathered up lots of different options that will keep you comfy and looking great.
Everlane The Cotton Crew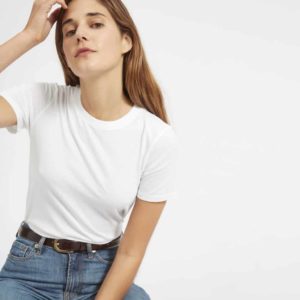 Everlane is an amazing place to shop for women's basics. They have a couple of really good women's t-shirt options including The Cotton Crew, which is great value at only $16. In a lot of ways this is the perfect basic tee. The cotton on this design is very soft and comfortable, with a nice weight to it so it can be worn in all seasons. The fit is a little bit loose, but very flattering on most women's bodies. You can wear this style with everything from dress pants to jeans and it works great as a base layer.  Everlane is a brand whose clothes are ethically and responsibly made, so for the price and the value you are getting, it can't be beat.
Check pricing on Everlane.com
Madewell Whisper Cotton V-Neck Pocket Tee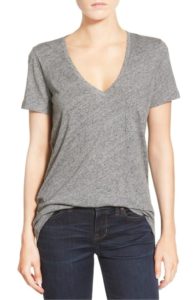 Everyone loves these tees from Madewell. They have a deep V-neck and are made from soft slub cotton that women just adore. This design comes in a few different basic colors. What is great about this t-shirt is the fit is incredibly flattering because it drapes in all the right places. The material is a little bit on the thin side, so you will probably want to wear a cami under it. Despite the thinness of the material, the tee washes and wears really well and won't shrink or pile. Another key feature of this design is the length, it hits just around the hips so you can tuck it in or wear it with leggings and it looks great either way.
Find at Nordstrom
Alternative Apparel- Origin Cotton Modal T-Shirt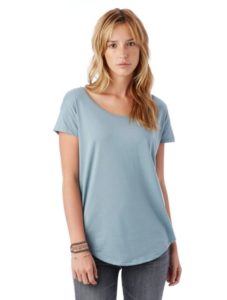 Alternative Apparel are a good brand to check out if you are looking for nice quality, slightly thicker t-shirt option from a sustainable, responsible brand.  Their Origin Tee has a relaxed fit that is a little boxy with a fairly wide scoop neck. It is made from 40% Lenzing™ (which is a type of modal) and 60% cotton, so it is not only soft but comfy as well. It has a curved hem at the bottom, which is a little bit unusual in women's t-shirts, but it would look great with leggings. It comes in 5 nice, subtle colors.
Available from  Alternative Apparel
Uniqlo Women's Drape Crewneck Short-Sleeve T-Shirt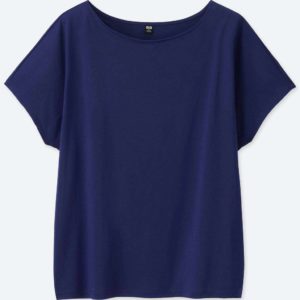 These Uniqlo Women's Drape Crewneck Short-Sleeve T-Shirts are a really nice option that have a draped, yet still flattering cut to the them that are a dream to wear. I have three of them and they are one of my favorite tee's ever. You can easily dress this shirt up or down, so you can wear it for all kinds of occasions. It is made of a polyester and modal blend that is silky soft, that doesn't wrinkle, and that washes and wears well. Currently it comes in about 6 colors, which I think they may change a bit season to season. This is probably quite a flattering fit for almost all women, especially those who have areas that they are trying to conceal. This is also a great style for warm weather as it is very light and breathable, so it is comfortable even in hot sticky weather.
Available from Uniqlo
J.Crew New Perfect Fit T-Shirt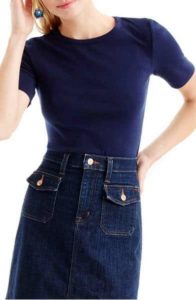 J Crew are known for their top quality men's tees and their women's styles are just as good. They are made from a very soft cotton and come in lots of beautiful colors.  They are also such good quality that you can wear them with anything and still look put together. The sleeves on the J. Crew Perfect Fit T Shirt are a little longer than what you usually find on a women's t-shirt, but it is kind of nice to have the option to have slightly longer sleeves, as a lot of women's designs have very short sleeves. This shirt is comfortable, and works great for summer days or as a base layer. It's made from 100% cotton, but won't shrink or have the color fade in the wash. The neckline is quite high and the fit can be a little bit boxy on some figures, but still a great option for most women.
Find at Nordstrom
Halogen® Modal Jersey V-Neck Tee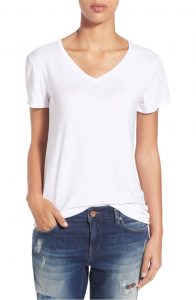 Modal has just exploded in popularity over the last few years, especially as a t-shirt fabric. While it is super soft and silky, it can sometimes be a little bit sheer. If you love the look of a thinner fabric t-shirt, you will want to check out the very popular Halogen® Modal Jersey V-Neck Tee. It has a wide v-neck and is a semi-sheer material. It fits well on most women and has a little bit of length in the body, which is great if you have a long torso or you want to wear it with leggings. The big selling feature of this tee is how soft the modal fabric is, since it makes the shirt really comfortable. This is also quite a versatile style that looks flattering despite being a little loose and drapey. If you want a style that you can dress up, this Halogen is worth a look, as it can work with more formal outfits no problem.
Available from Nordstrom
James Perse Casual T-shirt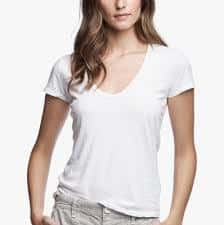 If you love a designer tee, James Perse may be the brand for you. James Perse is the go-to brand for celebrities and silicon valley tech gurus due to the simple, comfortable, and stylish designs. They are also known for their great fit. The Casual T-Shirt is a design that has a really nice drape to it, with a bit of length and a very flattering scoop neck.The Casual Tee is made with 100% cotton, and is cut just short enough to ensure that you don't look sloppy even when it's not tucked in. This is a good tee for layering or for a hot summer night due to the light fabric. James Perse tees are made in the US.
Available from James Perse.com
rag & bone Jean Cotton Crewneck Tee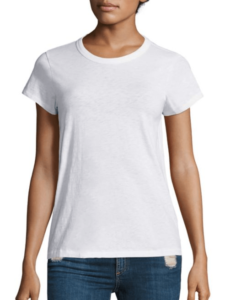 rag & bone are designer label that makes super wearable clothing that has a little bit of an edge to it. This soft cotton tee is a favorite of loyal rag & bone customers since it isn't too form fitting or too loose and unflattering. It does have a seam that runs down the back, that is worth being aware of if you are interested in this design (sometimes people don't love having a seam in the middle of their back). The banded neckline adds a nice sophisticated look to this tee, that makes it easy to wear under a blazer for a more polished style.
Available from Saks Fifth Avenue
Eileen Fisher T-Shirts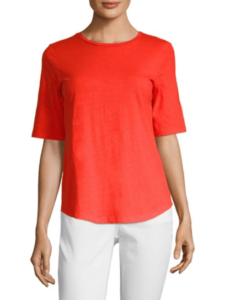 Eileen Fisher is brand worth looking at if you like modern, minimalist fashion that is flattering for all body types. In the last few years Eileen Fisher have been doing incredible work with their recycling efforts and they have become a leader in sustainable fashion. The brand tries to use every bit of the fabrics it creates and it will buy back garments from consumers in return for a $5 gift certificate towards other items. With the items that they buy back they then resell them at reduced prices or create new designs out of them. If you want a good quality, flattering t-shirt that will last a very long time, you will want to have a look at some of the Eileen Fisher t-shirts. They come in a rainbow of colors, and are made from soft to the touch material.
Find at Bloomingdales
Splendid Deep V-NeckTee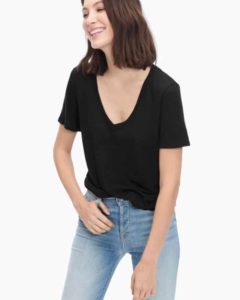 The Deep V Tee from Splendid  is a perfect basic tee that was designed for comfort. It has a deep v-neckline that makes it a pretty sexy and modern style. The fabric is a blend of 50% Supima Cotton and 50% Micro Modal, so you know that it is going to be unbelievably soft.
Splendid is a company that started by trying to create the ultimate t-shirt by focusing on the softness of the fabric. Their tees come in wonderful colors and that can work for casual situations or those where you need to dress up a bit. Their clothes are made in the U.S.A
Find at Splendid.com
ATM Anthony Thomas Melillo 'Schoolboy' Cotton Crewneck Tee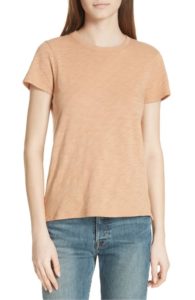 ATM Anthony Thomas Melillo come up a lot as having some of the best t-shirts around. They are very expensive, but if you love to invest in your clothes you may want to check out ATM. The 'Schoolboy' Cotton Crewneck Tee is a casual style that has a slightly masculine boxy cut to it. It is made from a slubbed Peruvian cotton jersey, so it is very soft, light fabric but doesn't have a delicate feel to it. It should last and hold up to washing quite well
Find at Nordstrom
Petit Bateau Women's Flowing Linen T-Shirt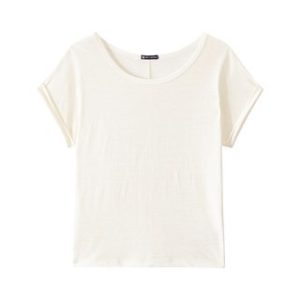 Petit Bateau is a French heritage brand that is primarily for children, but they have some really nice quality and chic tees for women in their adult collection.  They are fairly expensive, but the shirts are very distinctive and very high quality. They are known for their stripes, but check out some of their solid color linen or satiny styles Most of the cuts are loose and billowy and drape nicely on the body.
Available from petit-bateau.com