There is nothing better than a nice pair of thick flannel pajamas to help keep you warm on a cold winter night. Luckily there are a lot of cute, comfy, and flattering flannel options for women that will keep you super warm, and looking amazing. If you are looking for a pair for yourself or as a gift for someone you love, we have done some heavy research to find the best high quality, seriously warm flannel pajamas.
Lands End- Women's Flannel Sleepwear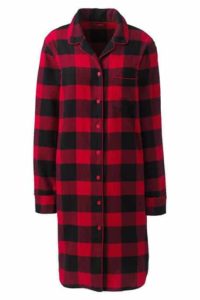 Land's End have a lot of great flannel sleepwear options, they are kind of known for the high quality and softness of their flannel. Many of their pants and sleep shirts are sold separately, so they end up being a little on the pricey side unless you are able to get them on sale. If you don't mind the price, they have some pretty cute patterns, including some seasonal Christmas themed options that make great gifts. The flannel on the sleep shirts and pants is super soft and thick. The pants have a tie and elastic waist with pockets on the side. While the shirt is nicely tailored for a woman's body and isn't too boxy or unflattering.  They also have quite a nice flannel nightshirt (pictured) that I wanted to include just to give a range of flannel options. The nightshirt runs a little small.
Available at Land's End
Garnet Hill's Organic Pima Cotton Flannel Mandarin Tunic Pajamas
If you want a high quality, luxury PJ set with a little bit of a different style, look no further than the Garnet Hill- Organic Pima Cotton Flannel Mandarin Tunic Pajamas. This set comes in a few beautiful pattern options with a very flattering feminine, tunic style. The tunic style is a relaxed fit with quite a wide leg, so most women will find the fit to be comfortable. The Mandarin collar is something you don't see everyday on a flannel pajama set, so that adds to the overall sophisticated look of the set. The flannel is an organic pima cotton flannel that comes from Peru, so it is super soft. It is a lightweight flannel, so if you want a fabric that is very heavy and thick, this is not the set for you. This is more of a fall/spring weight flannel. If you like a more classic style, Garnet Hill also have some regular style PJs that come in pretty floral patterns.
Available from Garnet Hill
What to look for
Inseam Length– If you have had trouble in the past with the length of the pant on pajama sets, measure your inseam and check the measurement of any PJ's you are considering getting.
Check if they are low rise– A design issue that seems to be a bit of a problem with some sets is that the rise is short on the bottoms, so you end up with a pant that is low rise. It is fine for some body types, but not comfortable for everyone. Check reviews to see if this is an issue on styles that you are interested in.
Durability– Obviously you will want a pajama that is going to last though a lot of washing and wear. Most cheaper brands won't last you more than a year or two. If you want a set that is made to last try L.L Bean or Land's End.
Thickness of the Fabric– If you buy a pair of flannel PJs assuming that they will be warm just because they are flannel, you may be disappointed. The weight and thickness of flannel varies quite a lot, so if you want heavyweight, warm sleepwear you will need to double check that the flannel is medium or heavyweight with a reasonable amount of thickness.
Cost– The cost of flannel sets can range from $30 to well over $150. The more expensive brands should last longer due to better quality materials and manufacturing. The more heavyweight flannel also tends to be a little more expensive.
Fit– Most women's styles are a more fitted fit. You can usually find the type of fit in the description of the set. If you love a relaxed fit and are having trouble finding something in women's, you always have the option to look at the men's styles. They are often a little more boxy and loose.
Pockets– A nice to have feature on a set of PJs is a pocket. Many brands offer a chest pocket, but not so many have pockets on the pant. If you are looking for a sleep pant with pockets, you can try Noble Mount, Land's End or the bSoft Bamboo set.