While much of the focus on hair loss is towards men, it can be equally difficult for women to find solutions for their thinning hair. In the U.S approximately one in four women will have hair loss at some point in their lives and companies are finally starting to recognize this. Due to the huge market demand, more and more treatments are coming on the market that claim to help with female hair loss. We have examined some of the most popular and successful brands to find out what you need to know.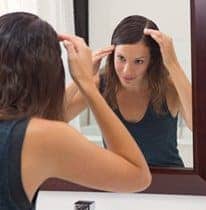 There are many reasons that women will suffer from hair loss including medical conditions, menopause, medications, physical stress, lack of protein, over styling, the regular aging process and of course female-pattern baldness Some hair loss like that which happens with pregnancy or after a traumatic physical event will fix itself without the need for treatment, while other conditions will leave you looking for ways to grow your hair back. Most women will be able to grow their hair back after hair loss, but before looking for a treatment you need to figure out the cause of your hair loss.
When women lose hair they tend to see a reduction in volume, rather than loss of the total number of hair (which is what happens to men). As a result, some products that help with the look of volume and thickness that don't make a difference for men with thinning hair might be an option for some females.
Minoxidil for Females
One of the most successful treatments for both men and women is minoxidil. Minoxidil is the active ingredient in Rogaine®, but you can also get it under various generic brand names including Walmart and Costco's house brands (Equate and Kirkland). Pantene also has a minoxidil product available and another well-known brand is Lipogaine. All of these products listed can be bought over-the-counter. Generally the minoxidil products that are marketed towards women are 2% strength, with the exception of Rogaine for Women which is the only FDA approved 5% strength minoxidil product for women.
Minoxidil is one of the few drugs that has very clear research showing that it does help with hair growth and for most women it is the best option if you are worried about hair loss or thinning hair.
The downside to using a minoxidil product is that to have effective results you will have to commit to using it on an ongoing basis. When you stop using it any results that you have seen will disappear.
Some users do experience side effects including itchy or flaky scalp, eye irritation or unwanted hair growth on other areas of the body.
The treatment itself involves massaging the product into the scalp twice a day either on dry or damp hair. Most instructions for using minoxidil products say to wait until the product is dry before applying any styling products. Most individuals can expect to begin to see results after about 4 months of treatment. The cost averages about $30 per month for the treatment. If you are interested in minoxidil here are the most popular over-the-counter options:
Rogaine for Women Hair Regrowth Treatment Foam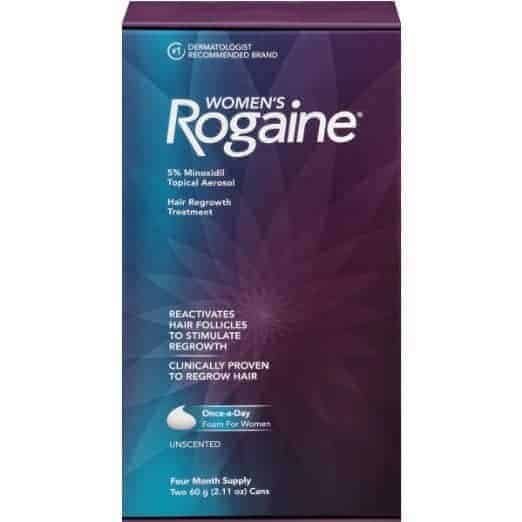 Rogaine is obviously the big name in over-the-counter minoxidil products. Women's Rogaine was introduced in 2014 and was the first FDA‐approved 5% minoxidil foam treatment for women. Before this version came out women were just using the regular Rogaine, which has been sold since 1988. This version is a convenient foam that is very easy to apply. Small clinical trials have shown that the 5% minoxidil solution is much more effective in keeping the hair that you have as well as re-growing the hair in women with androgenetic alopecia than the 2% solution. To use it you just have to massage it into your scalp twice a day and you should then begin to see results around the six month mark. The cost is approximately $50 for a three-month supply.
Available from Amazon
Equate – Hair Regrowth Treatment for Women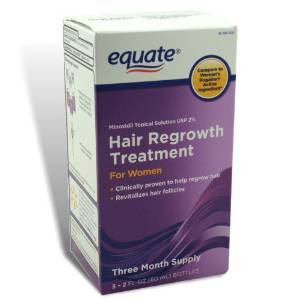 Equate is the Walmart house brand and is a 2% concentration of minoxidil formula. The treatment involves applying one milliliter of the solution directly onto the scalp in the hair loss area twice a day.
Available at Walmart
Lipogaine for Women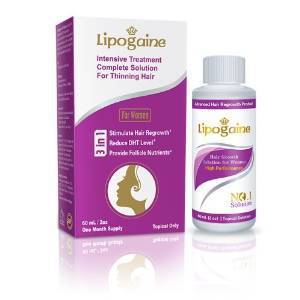 Lipogaine for Women is a little different than some of the other minoxidil products available because it is combined with Biotin. Biotin is a very popular supplement that is believed to be helpful for getting healthy hair. Lipogaine for Women also contains niacin, and other hair nutritious vitamins.
Available from Lipogaine.com
Vitamins and Supplements
Depending your type of hair loss you may find you can get some result with the addition of a few key vitamins or supplements to your diet. Obviously this won't have much effect if your hair loss is caused by female pattern baldness, but if you are looking for treatments for hair loss caused by other types of conditions, you may find some vitamins in the vitamin b family helpful. Specifically biotin has become a big supplement for treating hair loss as studies have shown that it can help strengthen hair's texture and appearance.
Biotin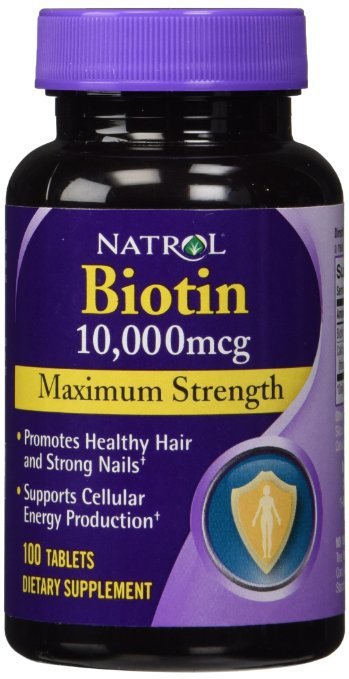 Biotin or Vitamin B7 is also called Vitamin H or Coenzyme R. It is a water-soluble compound and one of the B-complex vitamins. Results from several small studies suggest that biotin supplements may improve thinning hair and brittle nails. There are many different brands of biotin to choose from, a couple to look for are Natrol, and Nature's Bounty.
Available from iHerb.com
Viviscal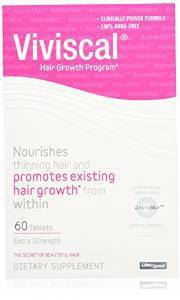 Another very popular product to help treat hair loss is Viviscal. Not only does it contain biotin but it also has fish protein, vitamin C, zinc, iron, horsetail extract and niacin that claim to nourish thinning hair and promote existing hair growth. In studies conducted by Viviscal itself, the subjects of the study seem to indicated hair regrowth and positive results.
Available from Ulta.com
Other Options
Again if you are looking for a product to help with hair re-growth if you have female pattern hair loss, your best bet is to try a product that contains minoxidil as these types of products are what perform best in clinical trials. Although depending on the cause of your hair loss you may find some benefit from other types of products. The following are products that some consumers have had positive results that also have some clinical studies backing up the company's claim.
Caffeine shampoos
There has been some medical research showing the benefits of caffeine to help with fighting against hair loss, particularly for women. Customer feedback also indicates that many users find caffeine shampoos to be effective and easy to use.
Ultrax Labs Hair Surge Caffeine Hair Loss Hair Growth Stimulating Shampoo

Hair Surge is one of the most popular caffeine shampoos around and is a good option if you are interested in trying out a caffeine shampoo. This shampoo contains 0.2% Ketoconazole as well as caffeine and Saw Palmetto. Saw Palmetto is another ingredient that is helpful for treating hair loss. It is an enzyme, 5-alpha-reductase, which is involved with the change of testosterone into DHT. The company is so sure that you will love this shampoo that they offer a 90 day money back guarantee.
Check pricing on Amazon
PURA D'OR Anti-Hair Loss Premium Organic Argan Oil Shampoo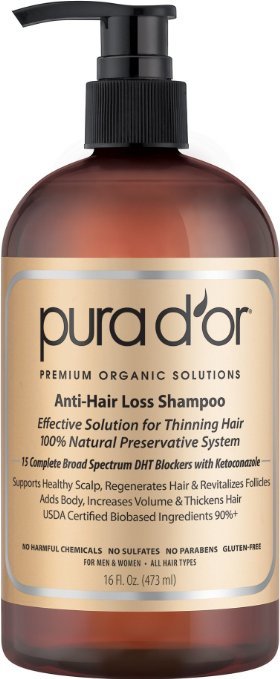 If you are worried about the chemicals that are found in many of the hair loss options, and are a looking for something a little more natural to fight your hair loss, a popular product that has great customer feedback is PURA D'OR. It is a 100% Natural Preservative Anti-Hair Loss Formula that is also certified organic and has no SLS, parabens and no harmful chemicals. What is does have is a mixture of biotin, pumpkin seed, black cumin seed oil, nettle and a DHT blocker blend that the company claims can help reduce shedding, as well as thicken and increase the volume of your hair. It is also hypo-allergenic, cruelty free, and safe for colored hair
Check pricing on Amazon
Nizoral Anti-Dandruff Shampoo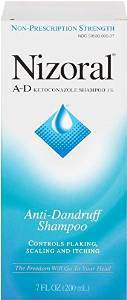 Another interesting product that comes up a lot with regard to hair loss treatments is Nizoral Anti-Dandruff Shampoo. Despite being marketed to help treat dandruff, Nizoral contains ketoconazole which has been found to be effective in helping to reduce the production of testosterone in women (and men) that can be a factor with hair loss. It won't be effective for everyone, but if your hair loss is caused by too much testosterone it may work for you. Check out this study that shows how it works for hair loss.  To use it is pretty simple, for the first two weeks use it twice a week and leave it on for around 5 minutes. After the first two weeks you only have to use it once every two weeks, making it one of the easy treatments to try out. It is also one of the least expensive treatments around at only about $10 per bottle.
Check pricing on Amazon
TOPPIK Hair Building Fibers

If all else fails you may want to have a look at Toppik Hair Building Fibers. Toppik won't help your hair grow, but it will help your hair look thicker and fuller.  Toppok hair fibers are made of colored keratin protein, and they blend in with your existing hair. There are a number of different hair fiber products on the market to choose from, but Toppik is one of the better ones for women. It really only works well if you just have a small patch to fill in. It comes in nine different shades that you mix to find your perfect color and it will wash out when you shampoo your hair.
Check pricing on Amazon
Which Treatments Should Women Avoid?
If you have been reading about hair loss, you may have come across 3 medications that are often mentioned for getting the best result treating male pattern hair loss: minoxidil, finasteride, and dutasteride. Of these three ingredients only minoxidil is generally recommended for women to use.
Finasteride doesn't work in women because the way that it works for men is that it keeps the male sex hormone testosterone from forming its DHT by-product. It is especially important that women don't use finasteride if they are pregnant as it may cause birth defects. In some rare cases it has been used to treat female-pattern hair loss, but it is generally not approved for women.
Dutasteride should also not be used by women who are pregnant as it may cause birth defects.