4 February 2020
The Best Products to Get Rid of Chest Wrinkles
While we spend a lot of time and money trying to rid our faces of wrinkles, one sign of aging that may sneak up on you is the dreaded chest wrinkle, sometimes called cleavage wrinkles, or "clinkles."
They commonly appear as a V-shape on the décolletage, and you may not even notice them until you wear a low-cut top, and they have already begun to take root.
to worry though, there are some ingenious products and remedies you can use at home to get rid of unsightly chest wrinkles.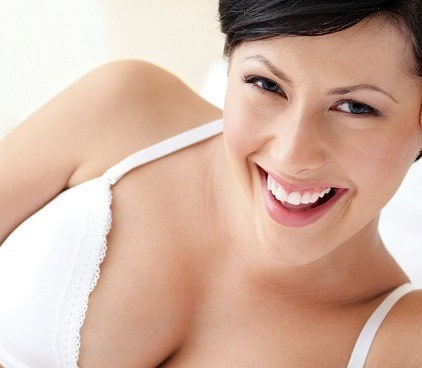 Causes
You get chest wrinkles because of many of the same reasons you get lines on other parts of your body. The loss of collagen because of the natural aging process is one of the main factors. Collagen is a naturally-occurring protein in your skin that lets it stay firm even when it is pushed into different shapes.
That leads us to our next cause of chest wrinkles, sleeping on your side. When you sleep on your side, your breasts are pushed together, and the pressure from one breast against the other causes it to wrinkle. Since your body isn't producing as much collagen, what once wouldn't have been a problem because your skin would adjust back to its normal shape, now causes wrinkles to form.
Another major factor that causes chest wrinkles to form is skin damage from exposure to the sun; this causes premature aging and leads to the formation of lines.
Read More: 10 of the Best Over the Counter Creams to Stop Turkey Neck
Products that Can Help
Silicon Chest Pads
If you haven't already encountered them, you may be surprised to learn that an easy way to get rid of chest wrinkles is to use a silicon pad that has a light adhesive that you stick onto your chest while you sleep.
It sounds a little sketchy, I know, but these pads are becoming very popular because they do work. They are affordable for most people, non-invasive (compare to professional treatments that are available to reduce wrinkles), and they are super easy to apply.
They are so light and comfortable; it is hard even to feel them when you are wearing them. The only downside is they have a short lifespan and need to be replaced relatively often.
Another possible issue for some users is that they may find that the pad makes them sweat a bit, depending on various factors. How exactly silicone helps to heal scars is still up for debate, but experts do agree that it does help to improve the skin and can be beneficial for reducing the appearance of fine lines.
Here are a few of the most popular silicone breast pads:
SILCÍOR 2 PACK Anti Wrinkle Chest Pads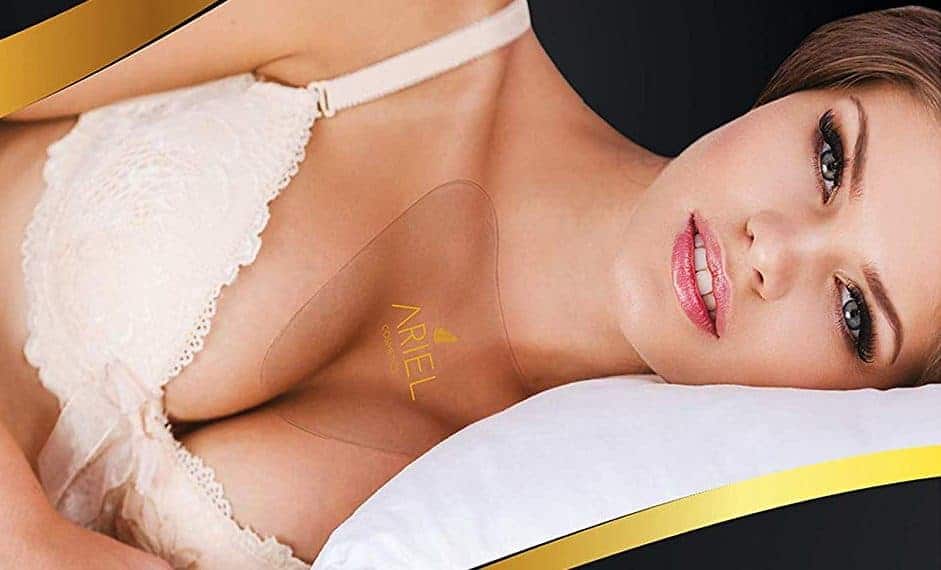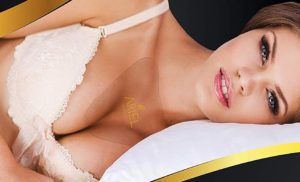 The SILCÍOR 2 PACK Anti Wrinkle Chest Pads are probably your best option if you want a product that is comfortable to wear, and that will work.
Women who use this product swear by it and find it very useful to help get rid of chest wrinkles. It is 100% medical-grade silicone that is extra-thin, so it is comfortable to wear overnight. It is also easy to apply and easy to clean. You can even use this Décolleté Pad to help wounds and scars.
Cleverfy 2 PACK of Chest Wrinkle Pads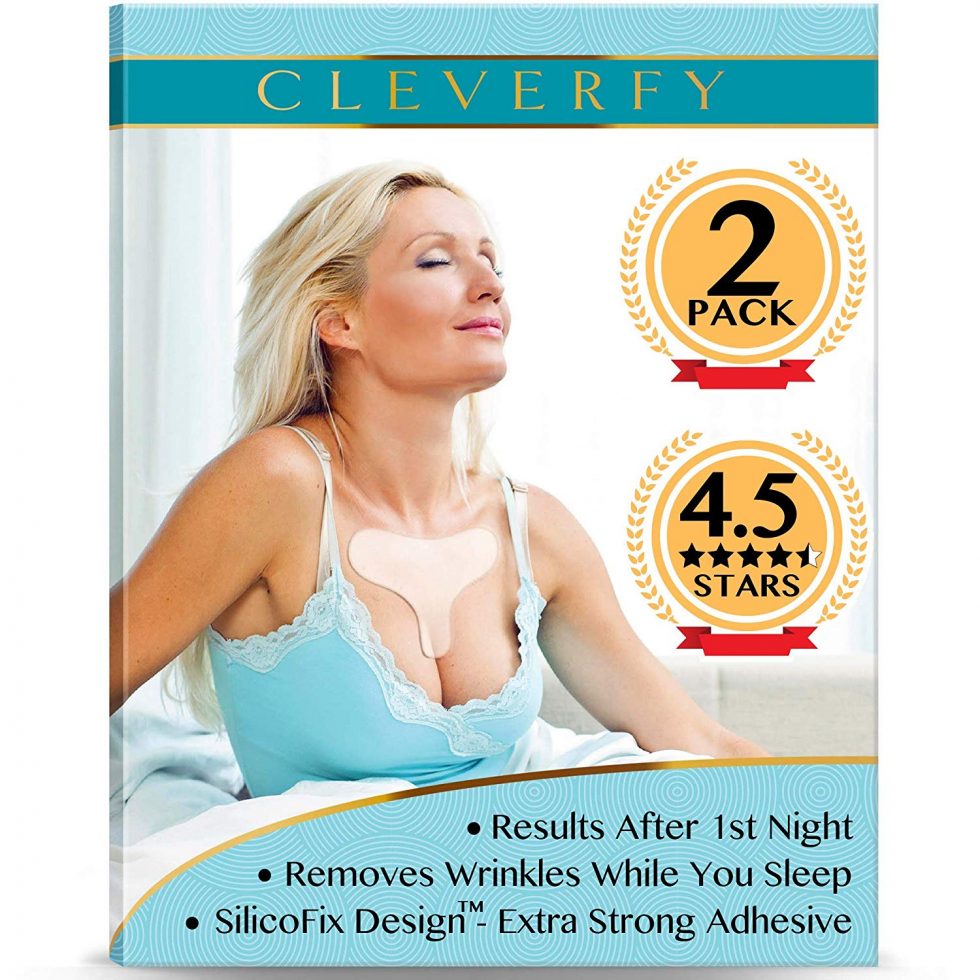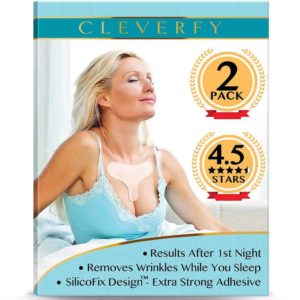 If you haven't tried any of these types of silicone pads before and you don't want to spend a lot of money, these Cleverfy pads are another great product to start with.
There are a lot of very similar-looking pads that are available, but these are pretty cheap and perform in the same way as more expensive brands.
Most users find that they work well, and you get two pads for the price that you would pay for one pad from other brands. These pads are washable and reusable, and they don't contain latex or urethanes.
SilcSkin Decollette Pad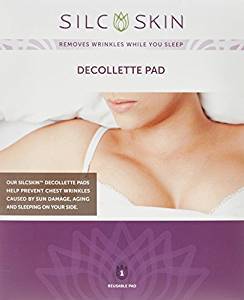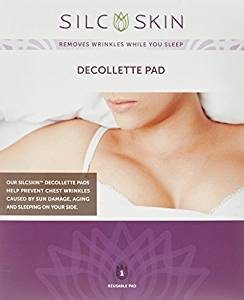 SilcSkin Decollette Pads are another popular option if you are interested in silicon pads. They are a little more expensive than other options, but you are getting a product made of 100% medical-grade silicone.
They work by using the electrostatic energy in the pads to improve the collagen structure of your skin and to help increase the blood flow. After applying for a few days, you should notice an improvement in your skin tone.
The silicone should help to moisturize and hydrate your skin.  SilcSkin has no latex, urethanes, or adhesives. The pad is self-adhesive but will begin to lose adhesive qualities after around 30-60 days. Once this happens, you will have to start using a new pad. SilcSkin Decollette Pads come with only one pad per box.
Skywee Anti Wrinkle Chest Silicone Pad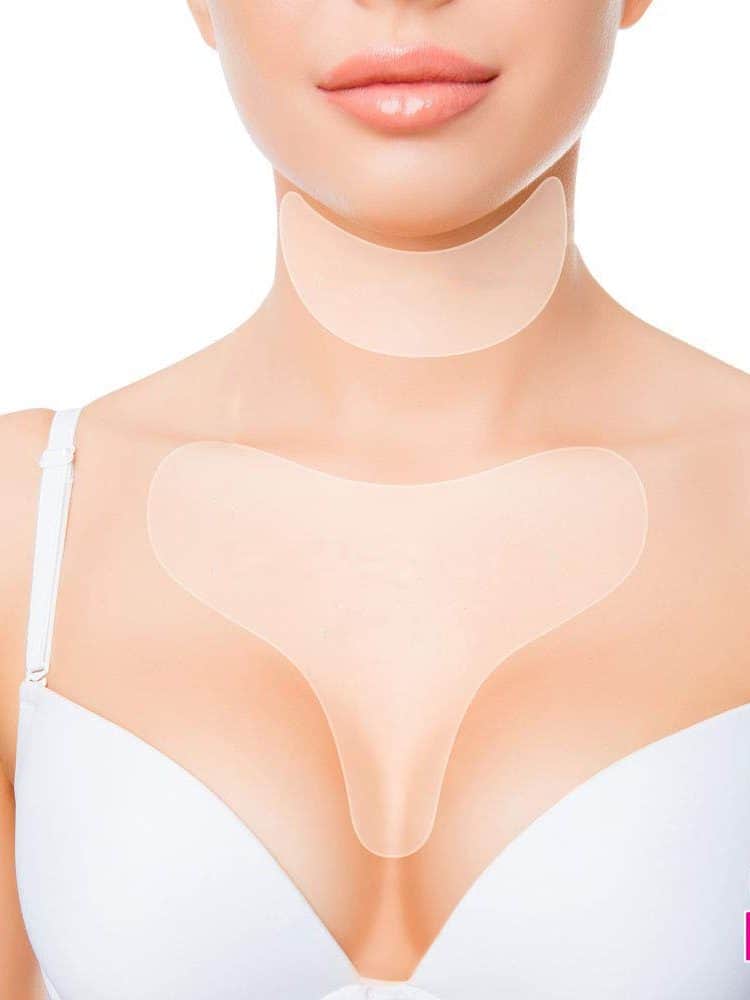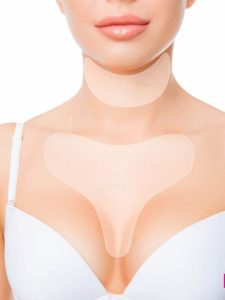 The Skywee Anti Wrinkle Chest Silicone Pad is a popular option that also includes a neck pad. This is a great design since the neck, and the chest is so connected and has the same kind of issues with wrinkling.
This is also an inexpensive option, so if you find that it doesn't work for you, there isn't a lot of risks that you are wasting a large amount of money.
How to Use the Silicone Pads:
Silicone pads are very easy to use. Generally, you use them at night before you go to bed, although you can also use them during the day.
For the pad to stick correctly, you must make sure your chest area is clean and free from moisturizers or oils.
You then remove the pad from the packaging; it will have some self-adhesive. You position the pad onto your décolleté area and then go to bed. In the morning, you carefully remove the pad from your chest, and you should have a smoother, softer chest area with hopefully fewer fine lines.
The pad should then be placed into the storage bag that it comes with.
The life-span of the various pads range from around 15 days to 60 days, and you can wash the pad occasionally in between uses if you find the adhesive not working as it should. You can tell you need to replace the pad when it starts to lose its sticking power even after cleaning and won't stay on your chest anymore.
If you sweat heavily at night, you may have trouble with the adhesive and may want to try the breast pillow (see below) instead.
If you have cuts, burned, or irritated skin, do not use a silicone pad. Also, stop using the pad if a rash or irritation starts.
Breast Pillows
Intimia Breast Pillow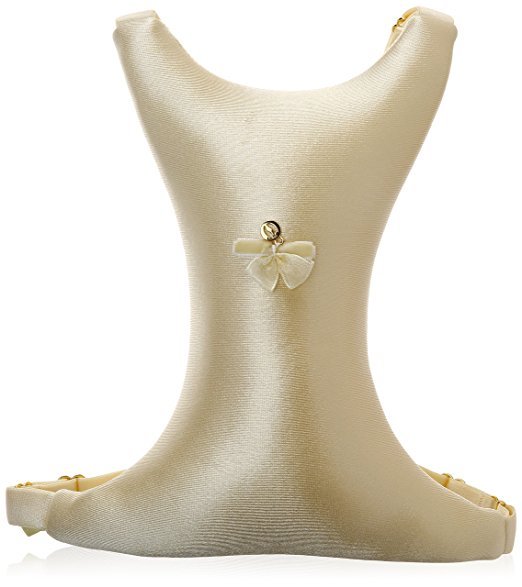 The Intimia Breast pillow is an excellent alternative if you don't like the silicone pads or find that they make you sweat. You use this pillow at night when you are sleeping, and it helps to gradually smooth out your chest wrinkles and stop new ones from forming. It works by separating the breasts to prevent the pressure that can lead to chest wrinkles. It is super soft and has a shape that fits well with breast of all sizes
This pillow can also work well if you are nursing or recovering after any breast-related or cardiac surgeries. Some users find that it can even help reduce discomfort from tender breasts. The pillow works well, whether you sleep on your side, back, or stomach. It is made of 90% nylon and 10% spandex. One significant advantage that it has over the pads is that it is re-useable.
Top Creams for Décolleté Wrinkles
If you would prefer to use a cream for your check wrinkles, look for creams that contain retinol. There are lots of over-the-counter options available in every price range.
Creams for the face and the neck are generally also good for the chest area. There are also many creams that are made especially for the décolleté. The following are some of the most popular options:
SkinCeuticals Neck, Chest & Hand Repair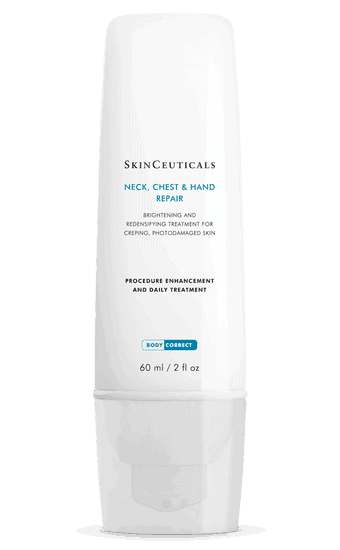 This luxury cream from SkinCeuticals is specially formulated for the neck, chest, and hand areas. It contains skin brightening ingredients that can help fade age spots, lessen the look of damaged skin, and improves the texture of the skin to look more youthful. It contains no parabens or fragrances.
Available from SkinCeuticals $70
L'Oreal Paris RevitaLift Anti-Wrinkle & Firming Face & Neck Moisturizer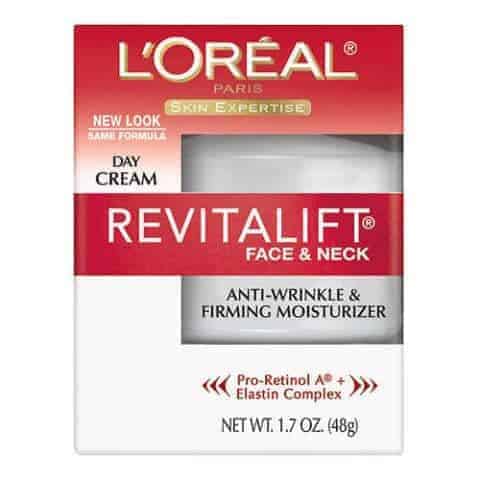 A great budget option to check out is the very popular L'Oreal Paris RevitaLift Anti-Wrinkle & Firming Face & Neck Moisturizer.
It is a daily moisturizer formulated for the face and the neck, but it also works well for the chest. It contains Pro-Retinol A and Stimuplex, which will help get rid of the wrinkles and firm the skin.
Available from Amazon
What else can you do to lessen chest wrinkles?
Two of the easiest things to do to help you prevent chest wrinkles are to sleep on your back and to use sunscreen. Sleeping on your back will stop your breasts from pressing together and forming lines.
Sunscreen will prevent damage to your skin, which as you probably already know is one of the main reasons that wrinkles form. Always wear sunscreen if your chest area is exposed to the sun.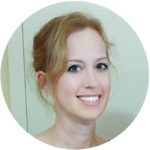 Latest posts by Marie Davis
(see all)