12 May 2015
Sunbeam Microplush Throw Review
Quick Summary:
This Sunbeam Microplush Throw Blanket has been one of Amazons top selling throws for quite some time now. It is super soft and has all of the standard features that you would expect from a throw in this price range (meets all safety requirements, 3 hour auto-shutoff, super soft fabric, 5 year warranty, etc.)
Back to: The Ultimate Heated Throw Buying Guide
What Reviewers and Experts love about this throw
Even though it is a common feature users love the three hour auto -shut off. Most users report that the blanket heats up evenly and doesn't get hot spots, which is a must have on a heated throw these days. Sunbeam uses something they call a 'ThermoFine Warming System' which allows the blanket to adjust to body and room temperatures.
Reviewers say that blanket itself is very attractive and very soft. The quality is good and while you can feel the wires through the blanket, it doesn't get in the way of comfort since the softness of the fabric cancels out the feel of the wires.
Most customers report that it warms up quickly and it keeps a constant heat all the time that it is on. It is also reported that it hold up well to multiple washing and extended use.
What some of the things that could be improved
A few users have reported that they find the position of the connecting plug to be slightly awkward as it is at the bottom of the blanket in the middle. The problem with electric blankets is that you have to put the plug somewhere, so some users will be fine with the position, others would prefer it to be somewhere else.
A lot of users mention the size of this blanket as an issue, but it is meant to be a throw not a full sized electric blanket. If you are tall and want to make sure your feet are covered, you could try out the Biddeford Heated Micro Mink/Sherpa Throw which is slightly longer at (50 X 62 inches, instead of 50 X 60 inches). If you are using it for a bed you should look at electric blankets rather than electric throws.
Who should get this throw?
This is a great product for anyone who wants to save on heating costs while watching TV or working at a desk, or who just needs a little bit of extra warmth when relaxing on the couch.
Its super soft and luxurious fabric would make this a great gift for almost anyone, as it looks great and is extremely comfortable.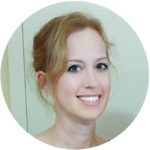 Latest posts by Marie Davis
(see all)