As consumers become aware of the dangers of chemicals that can leach from plastic that is exposed to hot liquid, more and more people are looking for plastic-free kettles.  There aren't a lot of electric kettles that are fully without plastic, as some have plastic on the upper parts of the body that don't directly touch the boiling water, but there are a few new options that have come on the market in recent years. We have created a list of some of the best kettles including those that are fully plastic-free and a few that have BPA-free plastic that doesn't come into contact with the boiling water.
Read More: 6 of the Best Reusable and Compostable Straws
Secura The Original Stainless Steel Double Wall Electric Water Kettle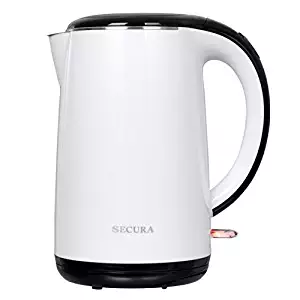 Probably your best option if you are looking for an all around solid option that doesn't have any plastic that comes in contact with the boiling water is Secura's The Original Stainless Steel Double Wall Electric Kettle. All of the inner parts of this design are 100% Stainless Steel including the lid, spout, and filter. This model has is a double wall, so the outer walls includes a BPA-free cool touch plastic that makes it easy to hold the body with two hands and it is safe around small children. Another benefit of a double wall is that the water will boil more quickly and it will stay warm longer. The capacity is 1.7 liter or 1.8 quarts.
Aicok Electric Kettle with LED Display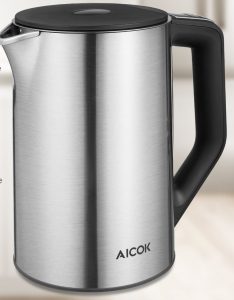 Another popular design without any plastic parts in the interior is the Aicok Electric Kettle Stainless Steel Electric Teapots with LED Display. All of the parts in the interior that touch water are made of food grade stainless steel, including the lid and the spout. This model has an LED display that makes it easy to change the temperature of the water from 90℉-212℉ depending on what you are making. It also has all of the standard features you would expect in good kettle like a keep warm function and an auto shut off.
IBAMA Ceramic Electric Teapot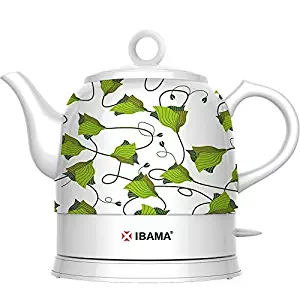 If you want a fully plastic-free interior you may want to check out ceramic kettles. This one from Ibama has a 1.3 L capacity and boil-dry protection. This line also has pretty patterned designs (including the leaf design above) in a ceramic finish that are a little bit unique. The ceramic material is on all the part of the body, so no plastic is touching the water.  This is a fairly simple design with just the on/off switch and a cord slot for storage. The handle is ceramic and it stays cool to touch (just the handle not the body). Ceramic is always going to be hot to the touch, including the lid so you have to be a little bit more careful around ceramic kettles than cool touch options.
If you are considering a ceramic design, you should just make sure the glaze is lead-free. If it is sold in the US it most likely is, but just be careful with some imported products.
BELLA 1.2L Electric Ceramic Tea Kettle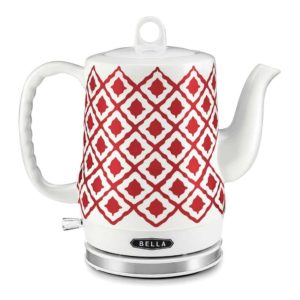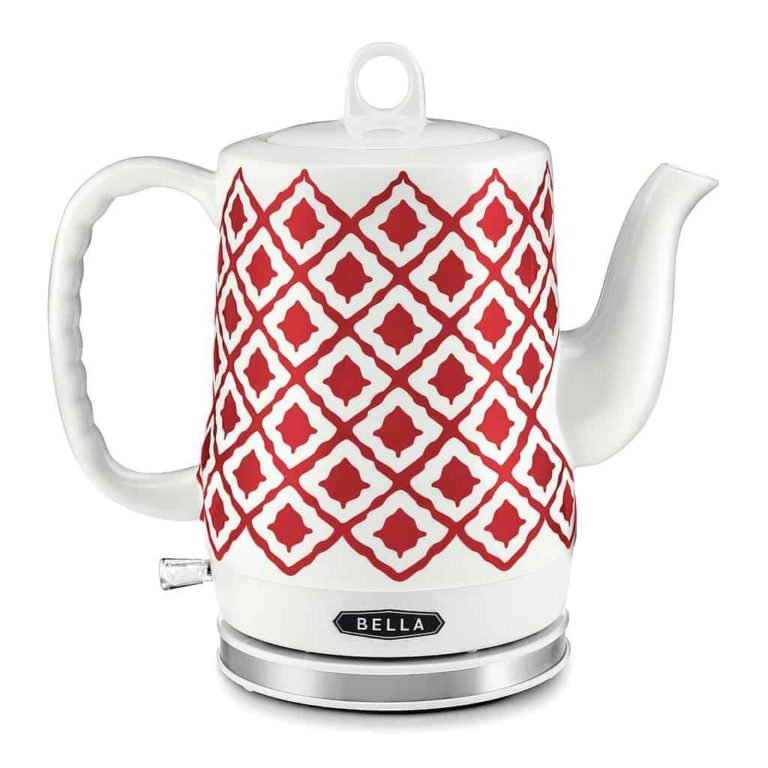 Another ceramic style worth considering if you are concerned about plastic is the Bella 1.2 L Ceramic Electric.  It has a 1200 watt heating element with boil dry protection and auto shutoff ensure. It also has a blue LED light that appears when you switch it on. This is a gooseneck style, so it is good if you have trouble with spills when you pour or if you like to use the slow pour over method when making coffee and tea in order to extract the most flavor. Ceramic styles can, be a little heavy, especially when they are full of water, so if you find it difficult to lift a full teapot ceramic probably isn't for you.
Willow & Everett Electric Gooseneck Kettle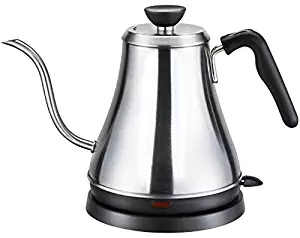 Another gooseneck style that is extremely popular, especially if you are a coffee aficionado, is Willow & Everett Electric Gooseneck Kettle for Pour Over Coffee. This design is great for doing the pour-over method with your coffee and tea, and it is also plastic-free. This gooseneck will boil quickly with its 1000 watt, 120 volt electric base and will shut down when boiled because of the auto shut-off feature. Willow & Everett use 100% food-grade stainless steel with no Teflon or chemical linings. They have also made the handle and a plastic knob at the top of the lid out of BPA-free plastic so no plastic touches the water.
Epica Cordless Stainless Steel Electric Kettle 1.7 Liter Stay-Cool Double Wall

A design that is similar to the Secura and the Aicok listed above is the Epica Cordless Stainless Steel Electric Kettle 1.7 Liter Stay-Cool Double Wall. This is another top option for a decent quality model that can boil quickly, has a good sized capacity (1.7 liters), and has a cool touch exterior. As mentioned above the dual wall has advantages like not burning your hands if you accidentally touch it after it has boiled, the water will also boil faster and stay hotter for longer.  The interior is stainless steel and there are no plastic parts. This is a great choice if you need to move your kettle around your home to a different room from the kitchen.
Asani Stainless Steel Electric Kettle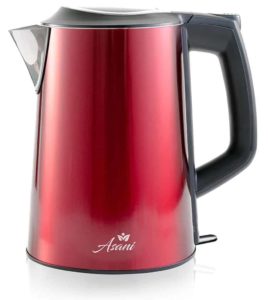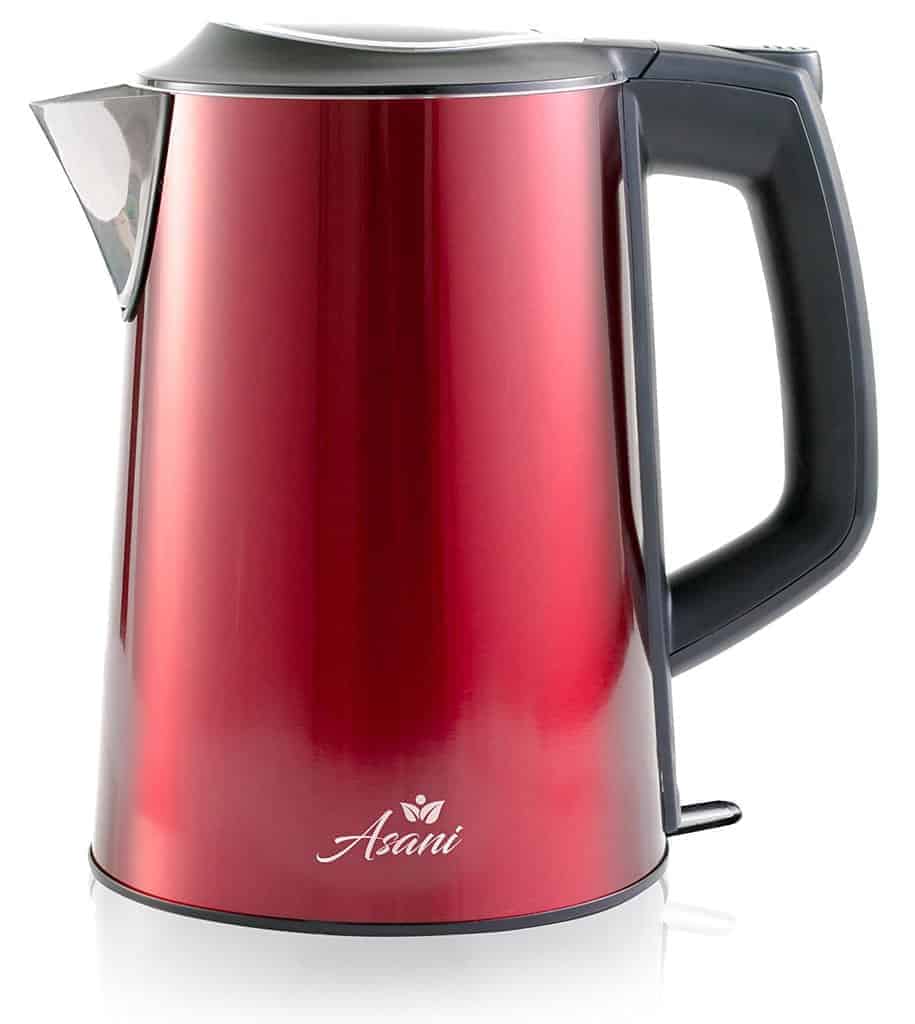 A budget option that you may want to consider is the Asani Stainless Steel Electric Kettle. It costs less than $20 and has a thin stainless steel interior. Everything on the interior is made from 18/10 food grade stainless steel.The best thing about this design (apart from the price) is that it heats the water quickly and it has the extra insulation to keep the water warm for longer. For a budget option it avoids some of the problems that you can run into with inexpensive brands like dripping spout or designs that are difficult to clean.  It also comes with a lifetime warranty, which is pretty unusual for this price point.
Kitchen Gizmo Stainless Steel Double-Walled Electric Kettle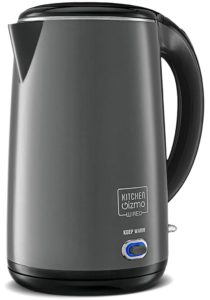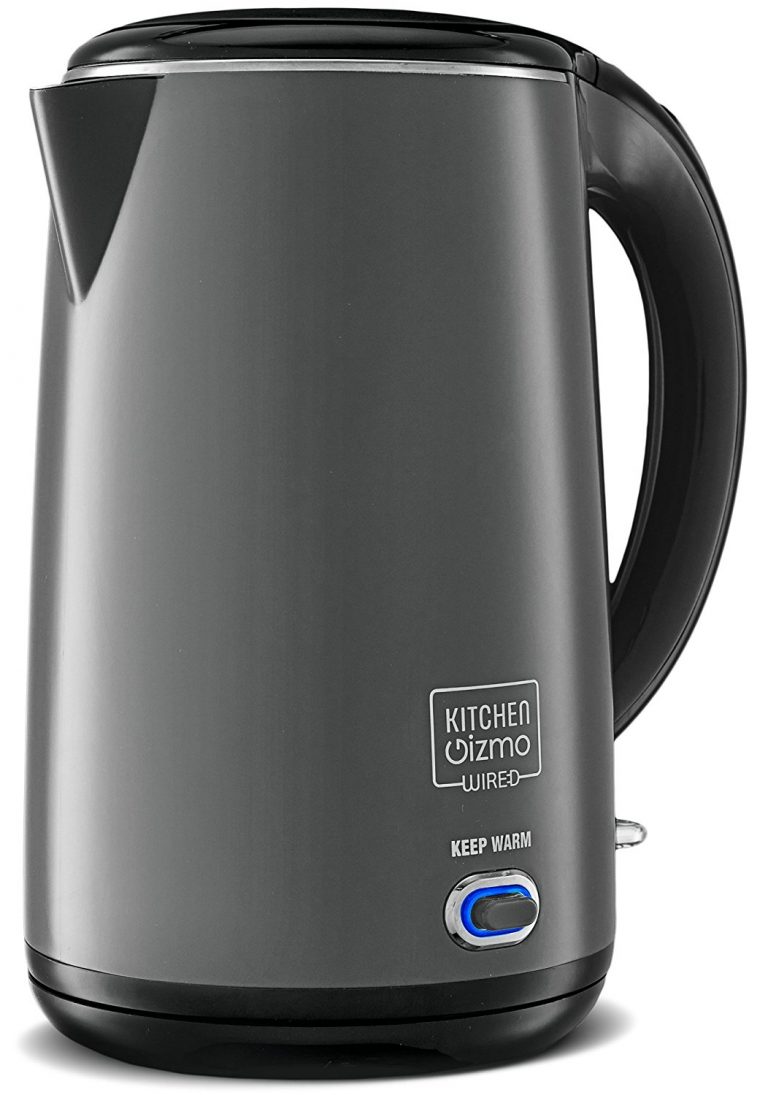 The Kitchen Gizmo Stainless Steel Double-Walled Electric Kettle is one of the newer options that is made from stainless steel and is free of plastic on the interior. There do seem to be some issues with this design for some users who are getting rust spots. This is a bit odd because stainless steel doesn't generally rust. Anyway it is fairly inexpensive option that a lot of reviewers seem to really like. It has the popular double wall feature, so it is cool touch and will keep the water warm for longer than standard one wall designs. You can also keep the water warm using the keep warm function.
Kettles with small amount of BPA-free plastic
It is fairly difficult to find a fully plastic-free design that looks and performs exactly as you want it to. There are quite a few options that have a minimal amount of plastic that comes in contact with the water. Usually there are only a few small parts that have plastic that are above the water line. We found a couple of kettles that are really nice and better options than those that contain a lot of  plastic.
Kitchenaid 1.25-Liter Electric Kettle In Stainless Steel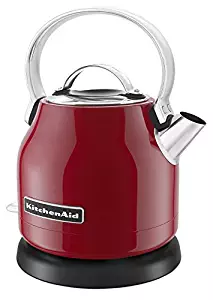 A beautiful, retro style, very popular design is the Kitchenaid 1.25-Liter Electric Kettle In Stainless Steel. It does have a little bit of BPA-free plastic on the inside of the body including rivets for the handle and the lid that do not come in contact with the boiling water. It does have a water filter that has BPA-free plastic around the wire mesh that can be removed easily. There is also a piece of plastic that holds the filter in place that you cannot remove and that comes in contact with the water when it is being poured. Otherwise, the interior is all stainless steel.
KINDEN Glass Electric Kettle (BPA Free)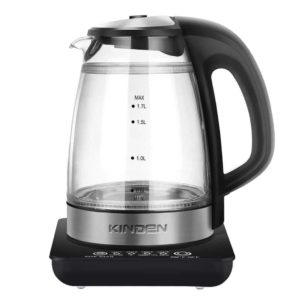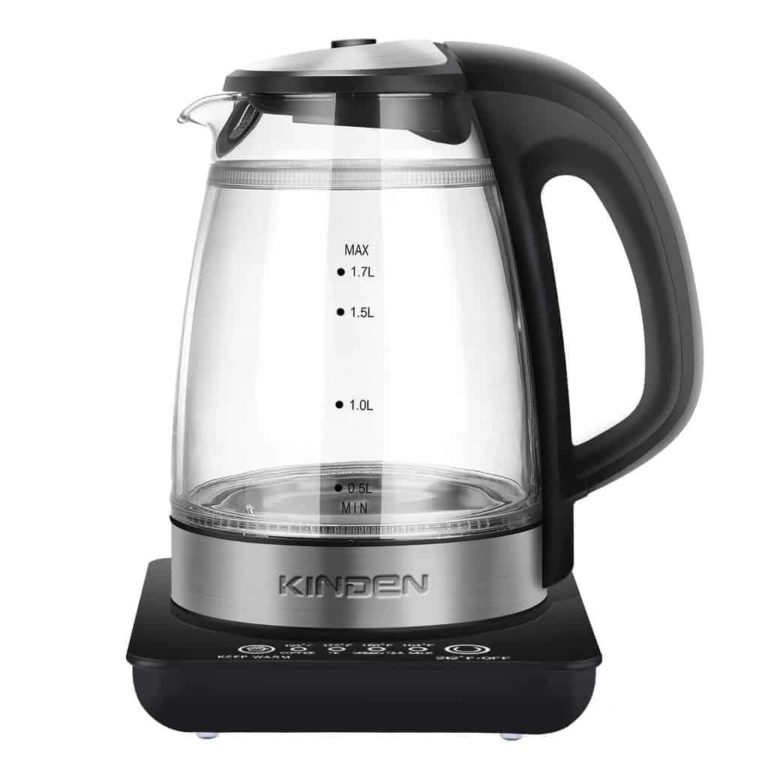 This KINDEN Glass Electric Kettle is almost plastic-free on the interior, but there is a small rim of BPA-free plastic around a mesh stainless steel filter that comes in contact with the boiling water. Other than that this is a great glass design for the price. It has a capacity of 1.7 liters, with 3 temperature modes and a nice blue LED light that lights up when it is boiling. The handle is stay-cool and non-slip. The body is made from Borosilicate Glass and stainless steel, and the above internal cap is made with metal.
Plastic in Kettles
If you find a model of kettle that you like and it looks like it doesn't have any plastic, just make sure there isn't a plastic fill indicator, a spout filter, or any plastic on the inside of the lid as those areas tend to be places that you will commonly find plastic on glass or stainless steel designs.  Having plastic parts above the water level isn't as bad as having them where the water is being boiled, but there is still a chance of chemicals leaching into the water from steam condensation.
If you do choose a model that has minimal plastic parts, it is important to ensure that the plastic is BPA-free, since sometimes a little bit of plastic is unavoidable in an electric kettle if other features are also important to you. Or if you want the models with the best reviews or best performance. You may have to contact the company directly for confirmation as to whether the plastic used is BPA-free products or not.
Another thing to be aware of is that some models are sealed with silicone to avoid leaks. Silicone is considered more of a rubber than a plastic and is generally believed to be safe when heated or cooled, as it won't leach any chemicals and contaminant the water.
What else to look for:
When buying any kettle,the following are features and issues to look for:
Cool Touch-Cool touch is a nice to have feature if you have kids or you have difficulty lifting the kettle with just one hand. Cool touch allows you to put your hand on the body that would normally be hot when it is boiling or has just been boiled to help you pour. It is also great if you have to carry it around to another room.
Handle-You may be surprised how a good handle can make a huge difference toward how you ultimately feel about the kettle. You want a handle that is going to be comfortable to hold while you are pouring boiling water. You should also look for a style that is non-slip and has a good grip. It also needs to create a good balance while you are pouring.
Auto Shut-off– Auto shut-off comes as a standard feature for pretty much all electric kettles. If you find one without an auto shut-off it is probably best avoided since it is very easy to forget about boiling water and having a kettle boil dry.
Time it takes to boil the water– An important feature for many consumers is how fast the the water come to a boil. Most kettles average about 4 1/2 minutes to fully boil.  Most brands claim to heat water faster than stove top options or by using microwaves.
Material-Electric kettles can be made of steel, iron, silver, aluminum, glass, plastic, ceramic or a combination of plastic and metal.
Durability– Modern electric kettles aren't typically known for their longevity. The most common problems you will encounter are leakage or a complete failure to turn on. It is difficult to determine how long a particular model will last, they do seem to be an appliance with a fairly high failure rate.It is best to read others reviews to get a general idea of what a typical lifespan of a particular brand may be.
Cords – Almost all of the most popular designs are cordless. This means that the cord doesn't plug into the body of the kettle but rather it plugs into a base that you put the body onto and turn on. When the water has boiled you lift the body off the base and it is easy to pour with no cord getting in the way.
Water Filter- If you choose a style with a water filter on the interior near the spout, there is a higher chance that the kettle will contain plastic as the filter attachment is often plastic.
Size/ Capacity – Obviously if you get a large kettle with a high capacity you will be able to boil more water at once. If you are just boiling one or two cups you may want to consider a smaller capacity as it will be easier to store, take up less room on your counter and boil quicker. Although if you have a large family or entertain often, a larger capacity is probably the better choice.
Base– Many of the best models are designed with a 360 swivel base. This means that you don't have to position the kettle in a certain point in order to turn it on to boil. It comes of the base really easily. A 360 base is particularly popular with left handed users, it just makes it much easier to use.
Bell – Some budget models just switch off with no bell to alert you that the water has boiled. I would assume that most people would prefer some kind of bell or indication that the water has come to a boil and the switch has gone off, so a bell may be a feature that you will want to look for.
Lid– A good safety feature on a lot of the newer models a slow opening lid. The purpose is to avoid the steam from the boiling water rushing out quickly and burning your hands or possibly your face.
Safety– As far as safety goes, make sure you only buy designs that have auto-shut off and/or boil dry protection. You also want to ensure that there are no other parts that touch the water that could contaminate the water (ie. glass that leaches chemicals or glaze on ceramic designs that may contain lead).
If you find that you are having difficulty finding the right style for your needs that doesn't have any plastic, you can also try stove top kettles as they tend to be easier to find designs that don't have any plastic in them.