29 January 2020
The Best Shapewear for Tummy Control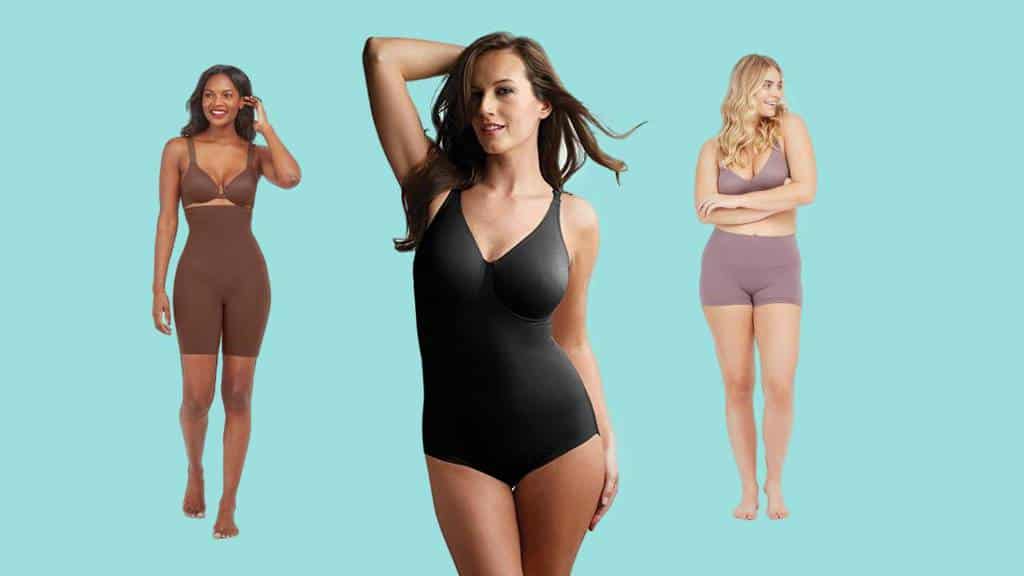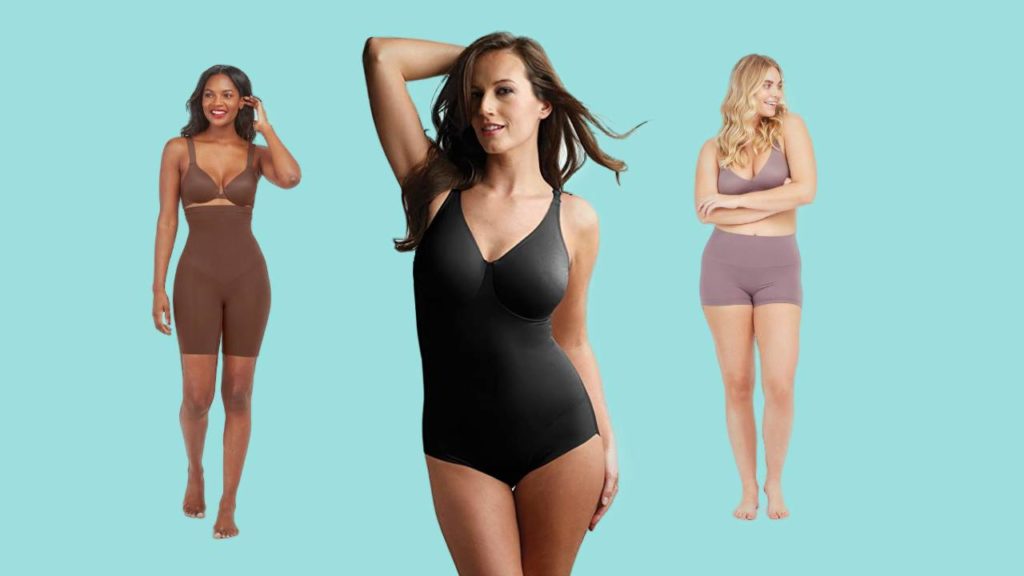 There are a lot of great options for women who are looking for shapewear that can help control the lower stomach or a belly pooch. Whether you are looking for an everyday tummy shaper or something for a special occasion outfit, there many different styles available.
To get the most out of your body shaper, you need to figure out a couple of things to find the style that will work best for you. A lot of the shapewear is expensive, so it's worth taking a few minutes to think about how you are going to wear it, what is most important to you (comfort, look, price, etc.).
There isn't one style that works best for the tummy, but rather many different options that will work great depending on how you are going to be wearing it.
Read More: Best Inexpensive Shapewear
Before you Shop
Before you start shopping there are a couple of things to consider to get the best design for your needs:
How Often Will the Shapewear be Worn– Body shaping garments come with different levels of control. If you want tummy support for a special occasion under a bodycon dress, you may be able to tolerate a much higher level of support for a few hours than if you are looking for an everyday, all-day shaper.
Levels of Control- For the most part, there are three levels of control in shapewear: light, moderate, and firm. Some brands also offer an ultra-firm.
If you are looking for a garment that you want to wear every day, you will look for a light or moderate firmness level.
If you are going to a wedding or have a special occasion outfit that you want to look amazing in, you will probably want to look for shapewear that is firm or ultra-firm.
Light to moderate control will just smooth everything out (perhaps stop cellulite from showing through,) but it won't shape your figure.
Firm or ultra-firm will shape your figure into a more hourglass or conventionally desired form using compression and solid fabrics.  All shapewear comes in different support levels,  so make sure you know the level you are looking for and read item descriptions before buying.
Shaper Types That Will Help With Your Tummy
If you are looking specifically for a style that will help smooth out your stomach, you are going to want to narrow your choices down to one of the following styles.
Body Suits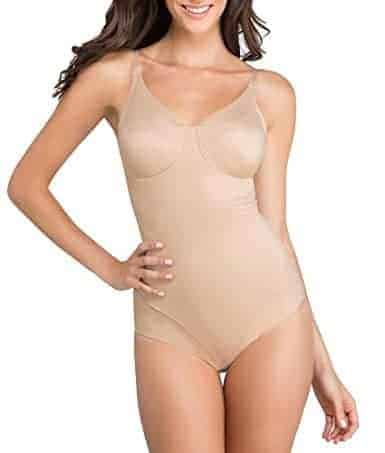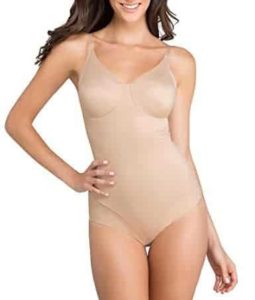 Bodysuit styles look kind of like a modest one-piece bathing suit, they are sometimes called body briefers and help shape the area from bust (if it includes a built-in bra) to the hip. They work well to smooth out and hold in problem areas; the only downside is that they can be kind of a pain if you have to go to the restroom (although many do have snaps in the crotch area).
Pictured Extra Firm Control Comfort Leg Bodysuit
Tummy Control Shaping Panties/Shorts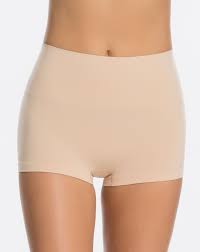 Shaping panties can be one of the most inexpensive and effective options if you want something that you can wear every day that will help avoid a tummy bulge. They come in all levels of firming control, and they have the bonus of shaping and lifting your behind, as well as you controlling your tummy. You can wear them under almost any type of clothing.
Pictured Everyday Shaping Panties Boyshort
Camisoles and Tanks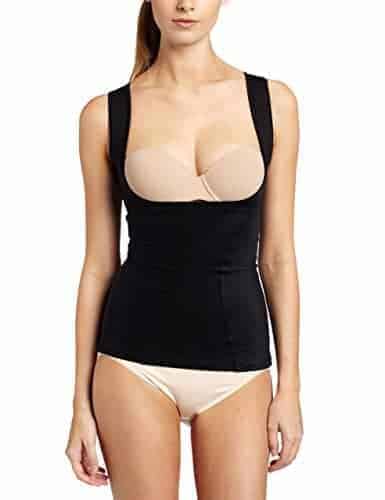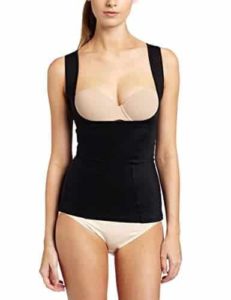 One of my favorite types of shapewear to help control the tummy is the camisole style. They look like a regular tank top (not the wear your own bra styles obviously), but they can help create a flattened, more defined look, not only in the tummy but in the bust as well. It is one of the most relaxed styles to wear and the most comfortable.
Pictured Flexees by Maidenform Women's Dream Shapewear Wear Your Own Bra Torsette
Slip Shapers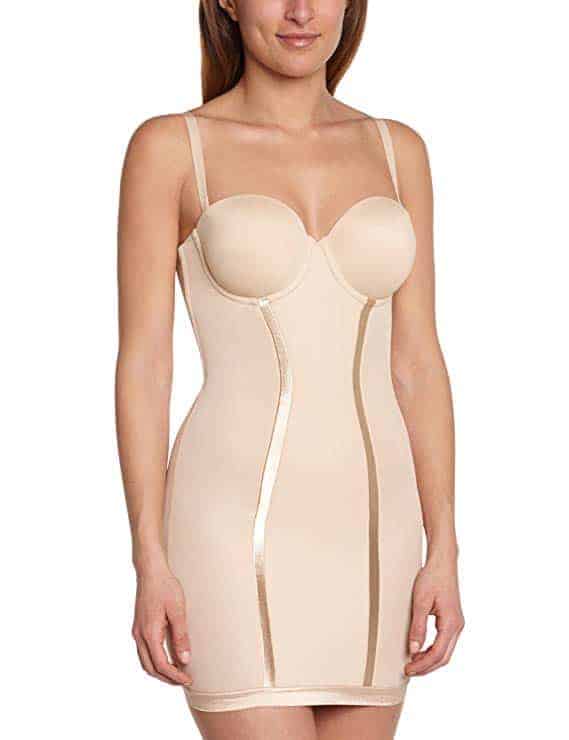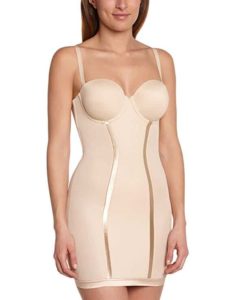 If you wear a lot of tight dresses, a slip shaper may be the way to go. They are great for creating a toned look on the abdomen, rear, hips, and thighs. You can get a half-slip or a design where you can wear a separate bra or have a built-in bra (pictured). Some of these slips with firm control are excellent for slimming down the waistline.
Pictured Maidenform Flexees Women's Shapewear Strapless Full Slip
Waist Cincher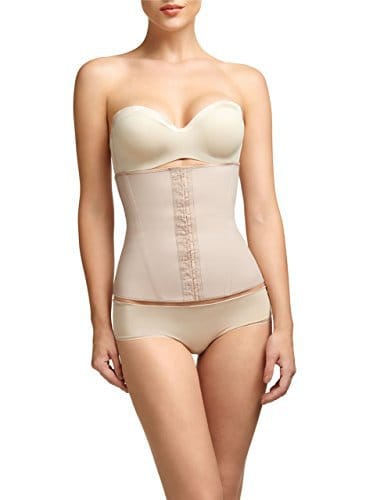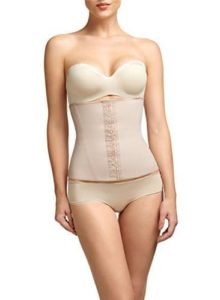 Waist cinchers have become extremely popular in recent years, in part due to celebrities like the Kardashians bringing them into the mainstream. A lot of people get them confused with corsets, but they are less expensive and more comfortable to wear than a full corset.
Corsets tend to be much bulkier and less flexible than a waist cincher. A waist cincher is excellent for tummy control because it runs from the hips to just below the breasts, so they work well to keep the tummy tucked in. They can also give you a subtle lift in the chest.
Pictured Squeem 'Perfect Waist' Contouring Cincher Underwear
Thigh Slimmer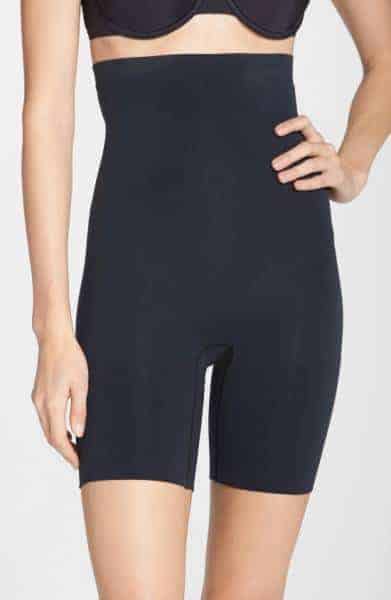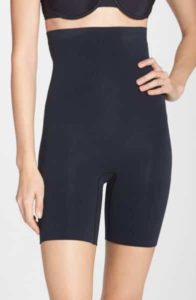 Thigh slimmers are one of the most popular styles of shapewear for women. They can help firm up the tummy (if you get a high waist), rear, hips, thighs. They usually have medium to firm control and are a great option to wear under your pants, long skirts, or dresses. Thigh slimmer are one of the best options for flattening your waist and tummy and lifting your rear.
Pictured Spanx Higher Power Short
Best Shapewear Brands
If you have figured out the style of shapewear that you want to get, you then have to decide what brand is right for you. By far, the most popular shapewear brand is Spanx. It has been so successful that the number of new companies designing shapewear has gone through the roof trying to achieve similar success. Older established underwear and intimate apparel companies now all pretty much make some form of shapewear.
Spanx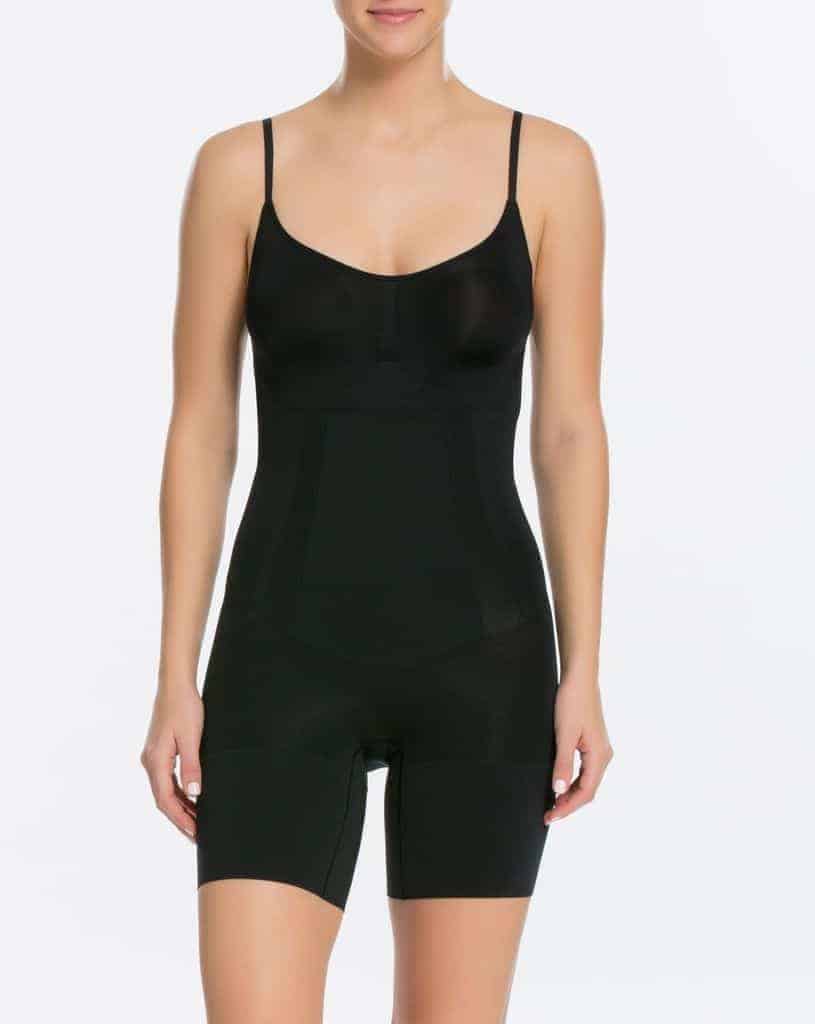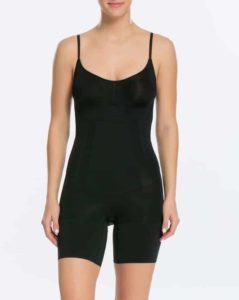 Everyone knows about Spanx; they are THE brand that is synonymous with shapewear. They pioneered and made famous the use of shapewear, and have pretty much any kind of style and control level that you might ever need.
They are one of the best brands to check out; the only downside is that they are a little on the pricey side. They do have a cheaper line called Assets By Spanx that is available at Target, JC Penny, and some other places that you may want to have a look at if the regular line is a little out of your budget.
Skims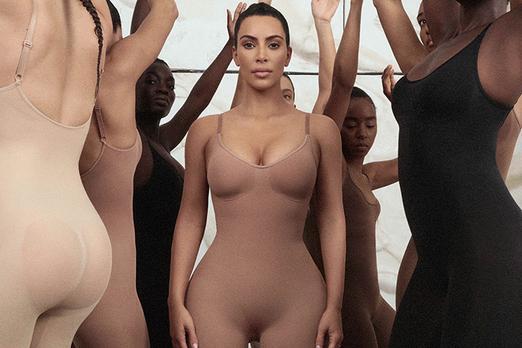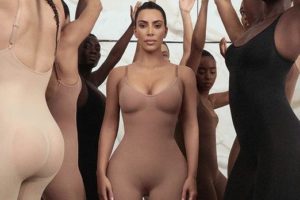 Skims is Kim Kardashian's brand that started out in shapewear, but has now branched out into underwear and loungewear. Women love the wide choice of tones offered in the various styles that makes it much more inclusive than what you generally find in most shapewear. They also have designs that are great for lots of different body types.
Find at Skims.com
MiracleSuit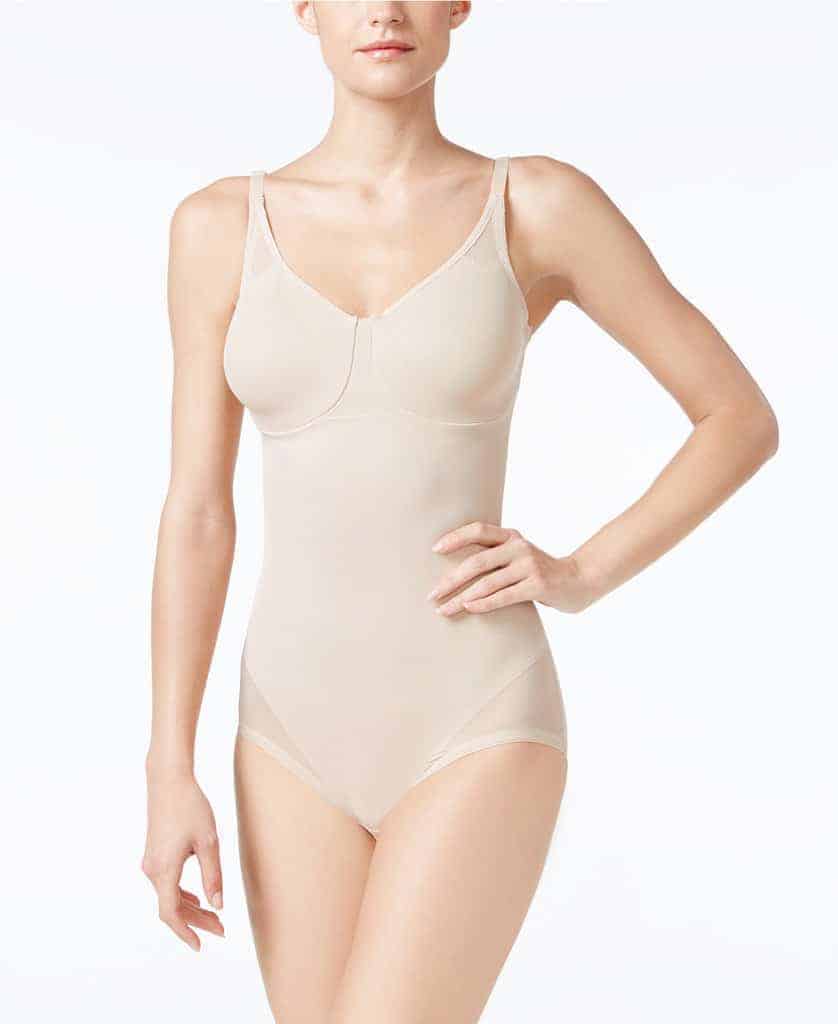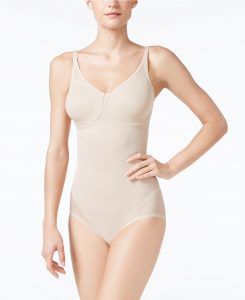 MiracleSuit is a company that created a bathing suit that makes women look 10 lbs lighter. After the success of the bathing suit, they quickly moved into the shapewear market. Their body shapers are very popular and have an excellent reputation for their shaping and slimming effect while still being comfortable and breathable.
They offer different styles for Missy, Plus, and Long Torso customers. One of their most famous pieces is the Extra Firm Control Sheer Trim Body Shaper.
Maidenform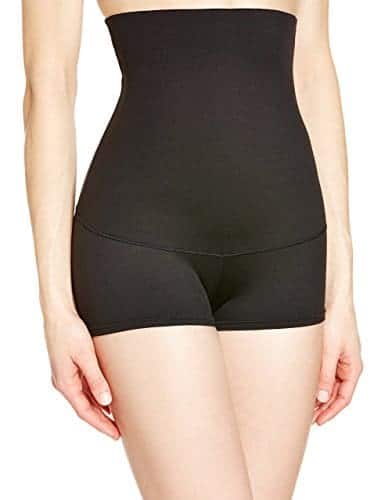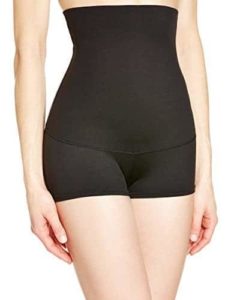 Maidenform is a great brand to check out if you need some good quality but not overly expensive shapewear. They have a very reasonably priced line called Flexees that offers firm control pieces that aren't super expensive. Maidenform has also just created a line called Curvy that is designed specifically for plus sizes.
Pictured Maidenform Firm Control Fat-Free Dressing High Waist Shaping
Commando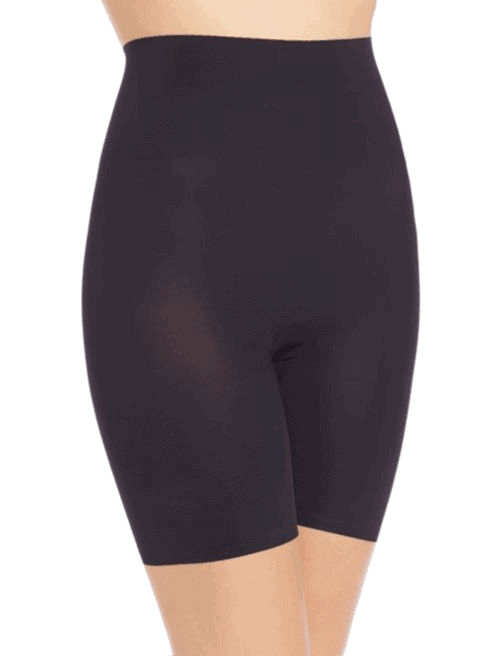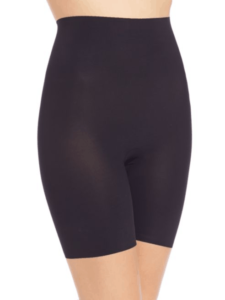 Commando has become a big hit with celebrities for its thin seamless underwear. They use a high-tech cotton blend microfiber fabric and have raw edges that don't leave any indents or lines that will show through your clothes. They smooth everything out and aren't constricting. They are made in the USA, are super thin, and are pretty much invisible under your clothes. They sell a bunch of different underwear styles, but their best option for control shorts is their Commando's Classic Control Shorts.
Pictured Commando Classic Control Short
Wacoal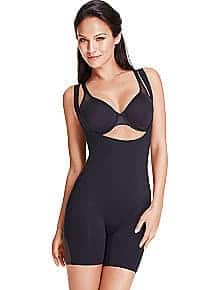 Wacoal is another well-established intimates brand that is known for its high quality and comfortable bras. Not surprisingly, they expanded into Shapewear bringing the fit, quality, and comfort that they are known for with it. They offer bodysuits, torsettes, high-waisted briefs, long leg shapers, and camisoles that will all work well to flatten your tummy.
Available from Barenecessities.com
Read More: 29 of the Best Places to Buy Amazing Women's Bathing Suits
Other Considerations
Comfort- If you are someone who loves comfort you may want to avoid shapewear altogether since it isn't generally known for being comfortable. If you are getting a garment with a lightweight level of control, you will be more comfortable than something that is ultra-firm. One rule of thumb, if you are concerned about comfort, is to go for a style that gives you the least amount of coverage possible, while still dealing with your tummy.  Assess your body and determine if you can get away with just wearing a waist cincher or high-waisted shorts, rather than a full bodysuit.
Cleaning and Care- The cost of some of these shapers can be pretty high, so you are going to want them to last as long as possible. It is essential to keep the garment in good shape, by following all of the washing instructions on the label so it can maintain shape and control. Some of the material in these types of products like rubber, spandex, and silicone can break down if it isn't cleaned properly,  in most cases that will mean hand washing or washing the garment on the delicate cycle and not putting into the dryer.
Sizing – If you are using shapewear to appear smaller, you may be tempted to get a smaller size than you usually wear.  It is generally not considered a good idea because buying a smaller size garment will not make you look smaller; it will just make you incredibly uncomfortable. It can also cut off your circulation and create unsightly bulges where you aren't expecting them.
Conversely, getting a larger size than what you usually wear won't make the garments more comfortable. Instead, it will probably be more uncomfortable because it will move around and bunch up in odd ways. Also, it won't do what it supposed to do, and it will be pointless to wear.
Do your best to find the right fit for your body by taking your measurements and comparing them against the manufacturer's sizing charts.
Where to Find – Shapewear is available at all major department stores, lingerie stores, and online.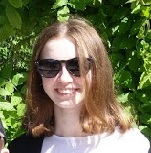 Latest posts by Jane Snyder
(see all)