Keeping dogs and cats safe and warm during winter months can be difficult in certain circumstances, especially if you are trying to keep the heat in your house low to save on energy costs, or you have an outdoor pet who needs a way to stay warm. A lot of people turn to electric blankets and mats that are intended to be used on humans to keep their pet warm. Standard heating pads designed for humans can be quite dangerous for pets for a variety of reasons. Luckily there are a lot of electric pet heating pads that are designed specifically for your cat or dog, that are inexpensive, work well and do wonders keeping your pets warm. The following brands and products are the safest and best options if you are looking for a heating pad for your cat or dog.
Read More: The 10 Best Pet Self-Warming Pads
K & H Heated Indoor and Outdoor Beds and Mats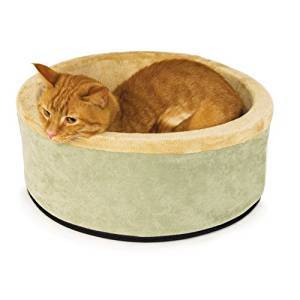 An excellent place to start is with the K and H Pet Products website. They have pretty much any kind of heated outdoor or indoor mats for cats, dogs or other small animals. They also have a wide array of self-warming cat and dog beds. I would highly recommend looking through their site, as you will probably be able to find what you are looking for. K and H products are also sold online at Amazon and PetSmart. A couple of standout products include the K & H Thermo-Kitty Bed, the Pet Bed Warmer, and the Lectro-Soft Outdoor Heated Bed(for pets who are in sheds, garages, and barns).
Farm Innovators Heated Pet Mat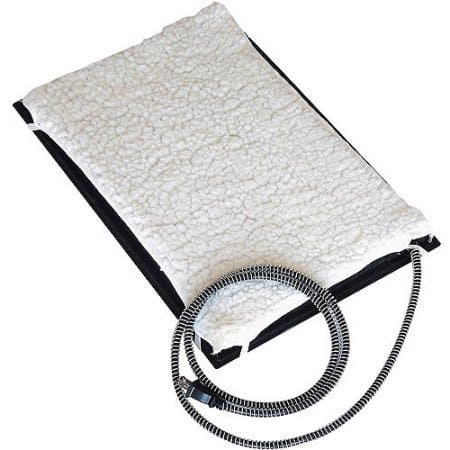 Another high-quality brand to look for is Farm Innovators, they make some different products to keep farm animals warm and comfortable, but they also make a very popular indoor/outdoor heated pet mat that comes in three sizes. The materials are durable and weather resistant high impact ABS plastic, and they have a faux lambskin fleece cover. They also come with a heavy-duty "anti-chew" cord protector. You can find them at Walmart or online at Amazon.
Snuggle Safe Pet Bed Microwave Heating Pad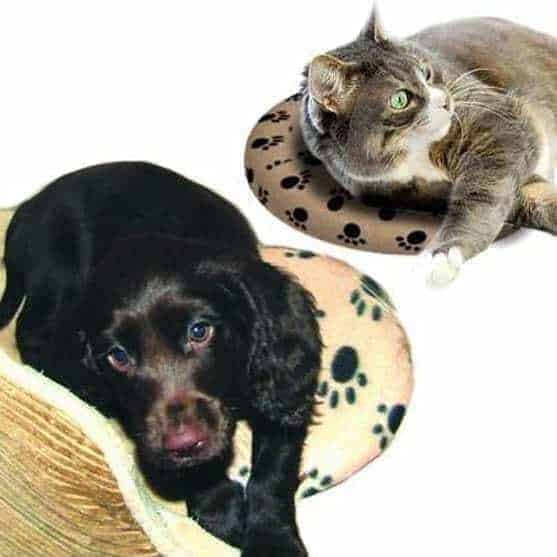 If you are worried about using an electrical product to keep your pet warm, an excellent option for cats and smaller dogs is the VERY popular Snuggle Safe Pet Bed Microwave Heating Pad. It has been around for quite a while now (16 years), is very easy to use and your pet will love it. It is pretty small, around the size of a plate, so it works best for smaller animals. You just put it in the microwave for a few minutes, and it will provide up to 10 hours of heat for your pet. What is excellent about these heating pads is that you can use them at home or take them if you are traveling somewhere that your pet may get cold. The best thing is that you don't have to worry about any safety hazard that may come about from using an electric pad (wires!).  Snuggly Safe beds are used widely by vets, breeders, and rescue centers. If you have a pet who loves to chew stuff, this isn't the right product for you, since you aren't supposed to let your pets chew it.
Other Options
If you are shopping for a mat for a pet that has health issues like inflammation, arthritis, or hip dysplasia, you may want to have a look at WarmPet: Therapeutic Waterproof Infrared Heated Dog & Cat Pet Mat. It is a new product that uses infrared technology that may be able to help with some health problems. It doesn't produce any EMF radiation that standard electric heating pads do, (many people try to avoid or limit their exposure to EMFs).   The WarmPet is also durable, waterproof and has a "chew proof" cord. You can use it indoors or outdoors.
If you aren't sold on electric heating pads in general but need something to keep your indoor or outdoor pet warm then check out thermal warming mats sometimes called self- heating mats. These types of mats don't require any electricity. Instead, they have reflective inserts that use the pets own body heat to keep them warm. These are a great idea because you don't have to worry about the safety issues that are associated with electric mats. They are also good at protecting furniture from cat and dog hair.
Safety
When using any electric heating products, it is essential that you read all of the safety instructions and only use the products as they are intended to be used. Electric mats can become a safety hazard, so it is especially important that you pay close attention to your pet's heating pad to avoid any injury to your pet or damage to your home. Here are a few of the necessary safety guidelines to follow:
If the product shows any sign of damage discontinue use immediately.
Don't puncture the pad.
Don't fold the pad.
Make sure the cord is in such a position that it cannot become entangled with the pet.
Never use anything metal (like safety pins) to fasten the pad into a particular position.
Unplug the mat when not in use
Never cover pads with anything other than is recommended by the manufacturer (it could cause it to overheat and become a fire hazard).
Consult your veterinarian before using these types of products with puppies/kittens, convalescent pets, or pets who are in recovery from surgery
Don't use with pets who can't move off the pad.
Features to Look For
Waterproof– If you are getting a mat for an outdoor pet, you will most likely want a product that is waterproof because of the different types of weather elements. If your pet is prone to accidents you will also most likely want to look for a waterproof pad.
Anti-Bite Features– If you have a dog or cat who loves to chew and destroy whatever they can sink their teeth into, you will want to ensure that you get a product that can stand up to whatever your pet may put it through. There are a few different products that claim to have anti-chew features, but if you have a pet who is a real shredder, you may want to avoid electric mats altogether and have a look at the self-heating mats.
Indoors or Outdoors– Generally most mats are made to be used indoors or outdoors, not both. It is crucial that you buy a mat that is intended for the situation that you are planning on using it for, whether that is inside or outside.
Temperature – Most pads have an internal thermostat to regulate its temperature, keeping it around 102 degrees F.
Wattage– The wattage may vary with different sizes of mat because the more extensive the mat, the more wattage is needed to keep it warm. The wattage of the pad doesn't mean that the temperature of the pad will get hotter. Most pads are kept to 102 degrees F which is what is recommended by vets.
Therapeutic Benefits-Many pet parents are looking for heating pads to help with various health conditions that their pet may be suffering from. The warmth from the mat can help soothe your pet's aches and pains. If you want to take it a step further and invest in an infrared mat, it may be able to help with blood flow and circulation to your pet's joints that in turn may be able to ease their pain and stiffness.
Energy Efficient– Most pads that are made today are very energy efficient, some costing less than an average night light to run. Generally, the mats with lower wattage will cost less to run.
Safety– You may want to check that any product you are considering has been tested by the MET Laboratory to assure safe products for pets and homes.
The Bottom Line
Most pets love a bit of heat when sleeping or resting; it is soothing and comfortable and helps keep them cozy. You can buy virtually any kind of heated mat for whatever your situation may need. You can get outdoor and indoor mats or beds that come in a variety of sizes that your pet will love. As long as you follow the safety instructions, you will be able to keep your pets happy, warm and comfortable year round.