Underwire bras are by far the most popular type of bras that are sold. Women love them because they give you the best support, lift, and they help give your breasts a nice shape. Unfortunately underwire bras aren't generally known for being comfortable, especially for women who wear larger cup sizes.
In order to help you find the best underwire bra, we have rounded up 11 of the most popular underwire bras on the market that are known for their comfort, quality and price.
Bali Women's Passion for Comfort Underwire Bra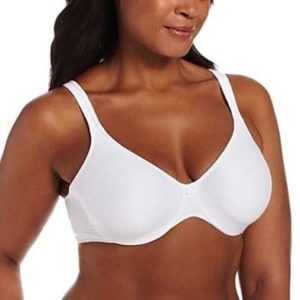 Bali has a number of comfortable underwire bras to choose from, with this Passion for Comfort bra being one of the most popular. It comes in a wide range of colors and sizes. The cups aren't padded, but instead have a double layer of fabric made from 76% nylon and 24% spandex, so the cups have a little bit of stretch to them. The cup lining is made from polyester and spandex, which should assist with modesty. It has a hook and eye closure; the smaller sizes have 2 rows of hooks and the larger sizes having 3 rows of hooks. This Bali bra also looks great under clothes because it seamless and very smooth. The straps are light and cushioned, making them very comfortable on the shoulders.  Part of the magic to this bra is that the underwire is encased in a way that makes them difficult to notice or feel while wearing, making it super comfortable.
Maidenform Women's Comfort Devotion Embellished Bra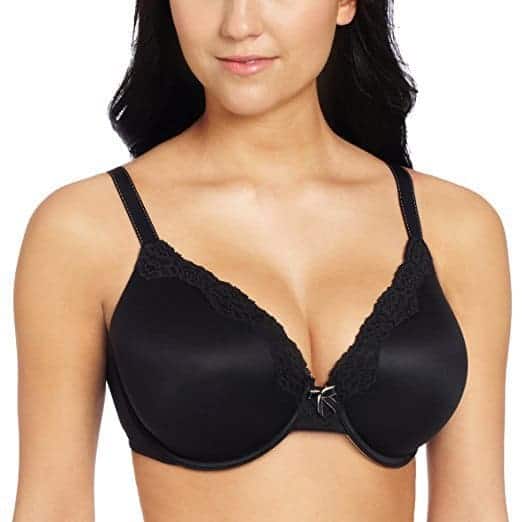 This is a popular Maidenform underwire t-shirt bra. Maidenform also make a lot of great underwire bras that are known for being comfortable, providing good support and lasting for a long time. The Comfort Devotion Embellished Bra has a light foam lining, which gives it a good amount of protection so you don't get any show through if you are wearing a thin top. It is very pretty with a center bow and lace trim that also won't show through your shirts.  The band and cups are soft with a bit of stretch to them, which helps prevents any bulging out at the back or the underarms. It is a hook and eye closure with adjustable shoulder straps (adjusts at the back not the front).
Warner's Women's This is Not a Bra Full-Coverage Underwire Bra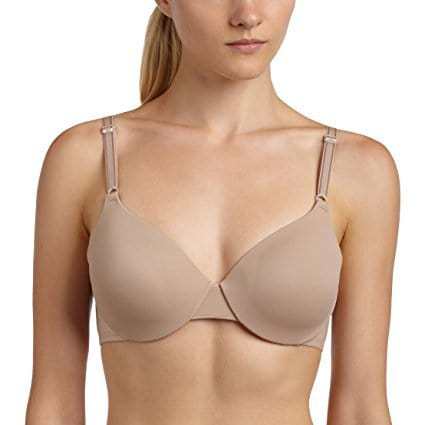 The Warner's Women's This is Not a Bra Full-Coverage Underwire Bra is a great option if you are looking for comfort, especially for larger cup sizes. It is inexpensive and looks great under t-shirts or thin tops. If it is fitted properly, you won't get any spill over because of the full coverage cup. You also shouldn't get any back bulge issues due to the Nylon and Elastane mix fabric in the band. What makes this bra work so well is that it has a little bit of padding and structure at the bottom of the cup, which helps with support and lift. The cup itself has a light to medium padding and is known for being very comfortable. The underwire is designed to prevent any kind of digging or poking.
Vanity Fair Women's Body Caress Full Coverage Underwire Bra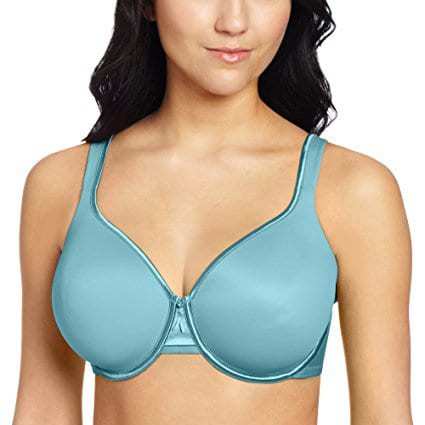 Another really good full coverage bra to consider is Vanity Fair Women's Body Caress Full Coverage Underwire Bra. This design has formed soft cups that give you great shape and lift, while also being super comfortable. The microfiber in the band helps to give a good stretch so you can avoid bulges and smooth out the back area. The bra is well made with a pretty satin trim outline on the cups and the straps. You can convert the straps to crisscross for more support or leave them as regular style, depending on what you find the most comfortable. It comes in lots of different colors and sizes.
Wacoal Women's Awareness Underwire Bra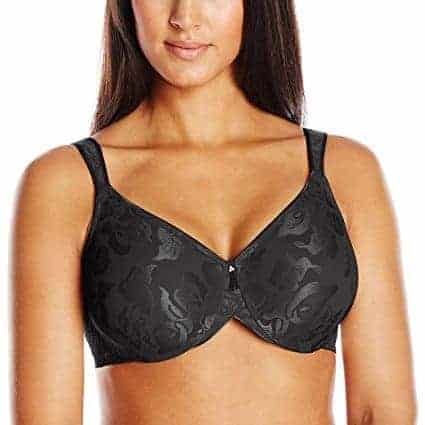 The Wacoal Women's Awareness Underwire Bra is another popular choice for larger sizes. It provides good support and shape, which is sometimes hard to find for bigger cup sizes. The quality is so good that most women find that this style will last a long time if washed and cared for properly. The one downside to this bra is that there isn't any padding; it just has two layers of fabric, so some users may find it not enough to stop from showing through. It is a hook and eye closure, with the number of hooks varying from between two and four depending on the size of the bra. You can see in the picture the straps are nice and wide for comfort, and they adjust in the back.
Elomi Women's Caitlyn Underwire Side-Support Bra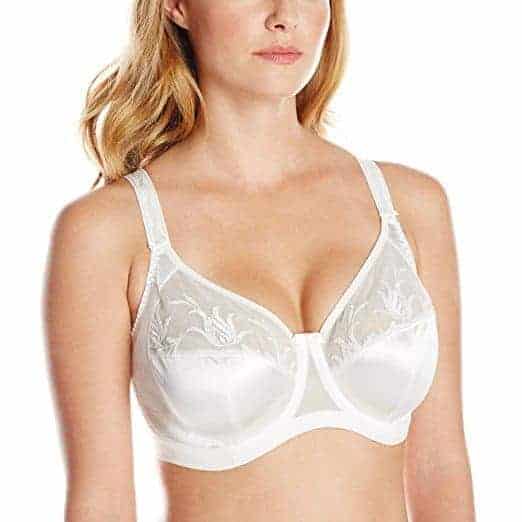 The Elomi Women's Caitlyn Underwire Side-Support Bra is one of the prettier underwire bras that also offers great support. There is no padding in the cup, so there is some chance of show through with this design. The fabric is satin on the lower half of the cup with the top bit being an embroidered sheer material. By most accounts the fabric is incredibly comfortable to wear with none of the itching that can sometimes be an issue with the prettier lace style bras. From the image you might think this bra might look a bit lumpy under your shirt, but many reviewers note that it is surprisingly smooth. It has great side support and is known for being very comfortable.
Body by Victoria Secret Perfect Coverage Bra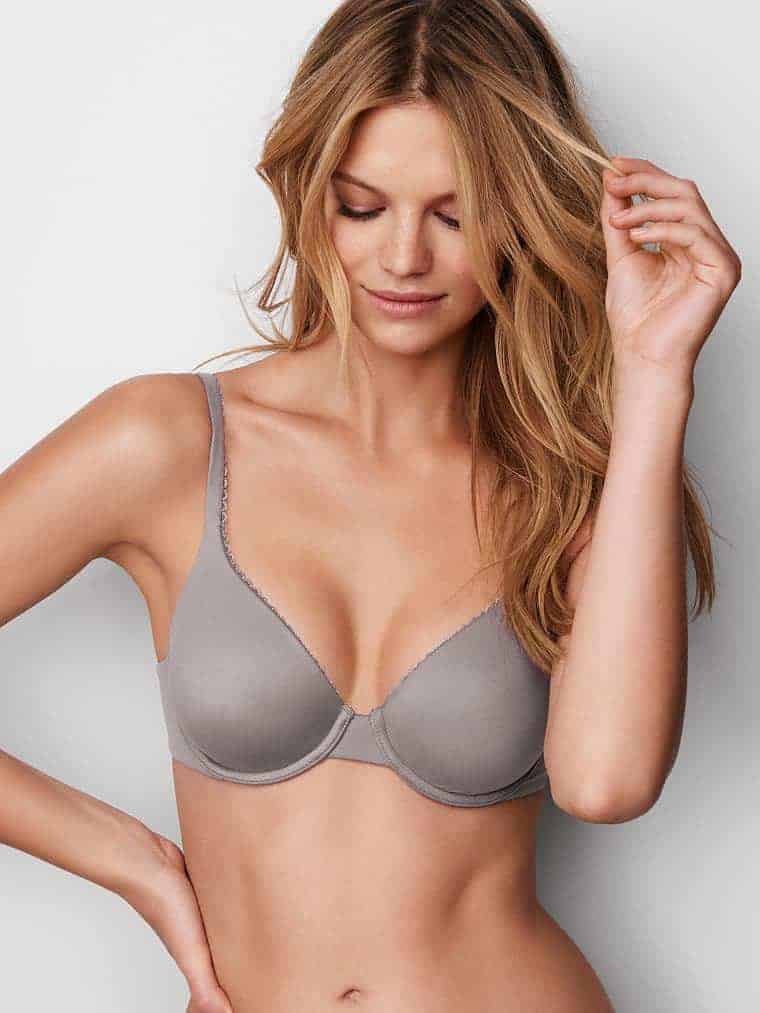 You can't do a post on underwire bras without including at least one from Victoria's Secret. Your best bet if you are looking for a design that is comfortable for medium to smaller sizes is the Body by Victoria Secret Perfect Coverage Bra. This bra comes in lots of different colors and material options. The cups have light memory foam lining to help prevent poking through; also the full coverage cups should help stop overflow at the front. The straps can convert to cross back and are adjustable at the back. It has 2 or 3 rows of hook and eye closures depending on the size of the bra. The back has a u-shaped design, so it shouldn't ride up and should give you smooth coverage.
Hanes Barely There Women's Invisible Look Underwire Bra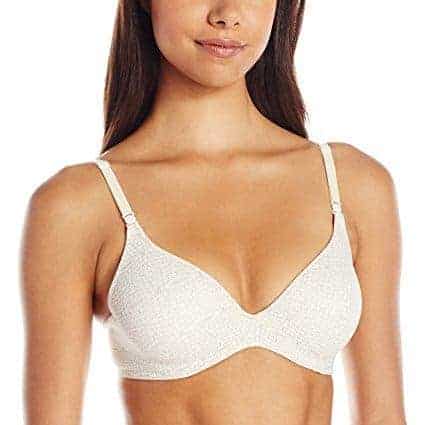 If you are looking for an inexpensive option and you are a smaller cup size, a very popular bra to look at is the Hanes Barely There Women's Invisible Look Underwire Bra. This bra gives a natural look with a very thin layer of padding to help with shape (not size) for smaller cup sizes. The straps are convertible and can be adjusted in the front. If you have a larger cup size, I'd skip this bra as it probably won't give you enough support.
Prima Donna Women's Madison Full Cup Bra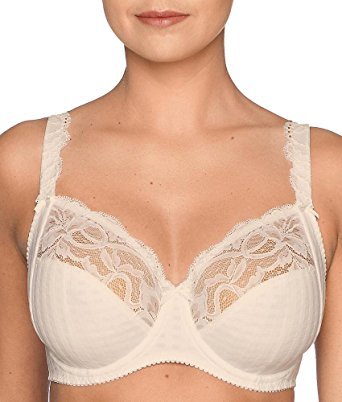 Often when you are looking for a comfortable, supportive bra, you have to stick with basic plan designs that aren't the most attractive options. If you like a little bit of lace on your bras, check out the Madison Full Cup Bra from Prima Donna. Prima Donna markets themselves as experts on larger cup sizes, so not only is this bra designed for support of larger breast, it looks amazing and has great shaping qualities. The Madison comes in a number of cute colors with checks on the cups and lace on the straps. The elastic lace is smooth and can be worn under most fabrics, although if you are looking for a totally smooth t-shirt style this isn't it. It is a little pricier than other options, but it will last a long time and many women find the cost to be worth the results that you get from this bra. Be careful if you order this bra online, it goes by European sizing which is quite different than US sizes
Goddess Keira Banded Satin Bra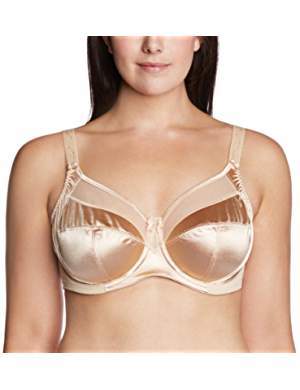 If you are looking for a slightly different style, check out the very popular Goddess Keira Banded Satin Bra. Goddess bras have a huge following; they are known for making good quality bras for larger sizes that lift, separate and give a natural shape while still being comfortable. If you wear tight or thin tops, there is some show through on this design since there isn't any additional foam or padding.
Olga Signature Support® Satin Bra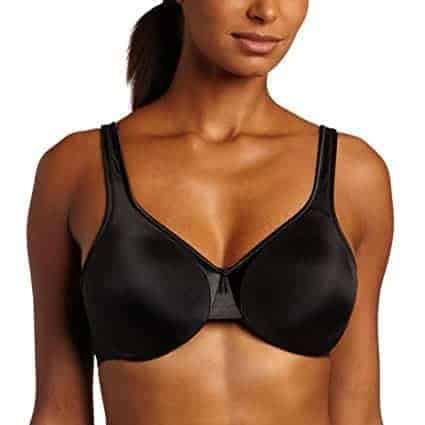 Customers are very loyal to their Olga bras. The brand has a reputation for being well made, comfortable and having good support (especially for larger breasted women). The Olga Signature Support Satin Bra doesn't have any padding in the middle cups, just two layers of a soft, cool and comfortable material, so there is some chance of show through.  It does have padding around the cup, just not in the center part of the cup. The straps are thick and won't dig into your shoulders and the cushioning on the underwire stops any digging or poking into your ribs.
Benefits to Wearing an Underwire Bra
Underwire bras are by far the most popular and best-selling type of bra on the market.  The reason for this is that they give you better support, lift, and shape compared to most wire free bras. Although still called underwire, the ridged material that is sewn into the underside of the bra cup can be made of wire, plastic or resin.
Women with larger breasts that need more support often turn to underwire to help avoid the discomfort that can occur when your bra isn't providing the amount of support that you need.
Problems to watch out for with Underwire
Lack of comfort is the main problem that you will encounter when wearing an underwire bra. Discomfort is usually caused by bras that don't fit properly. When you are selecting a bra you will obviously want avoid anything that is going to dig into your skin, which is a common occurrence with ill-fitting underwire bras.
Sometimes over the life of the bra the wire may gradually begin to dig into your skin or become bent, even if it has been fitted properly. If this happens, the bra will need to be replaced.
If the bra is poorly made, you may have problems with the underwire popping out. This shouldn't happen, but if it does and you have some basic sewing skills you can sew up the area that the wire has popped out from.
You should not wear an underwire bra if you are lactating or breastfeeding, as the pressure from the underwire could potentially lead to clogged milk ducts.
What to Consider before Buying
Fit– The most important thing to get right when buying any type of bra is the fit.   If you get the right fit, the bra itself will be much more comfortable. If you are trying on bras you will want to make sure that your breasts fill the cup, the bra gives you some lift and the straps feel comfortable. The band should lay flat against your breastbone without squishing your breasts. The band should also be comfortable, the underwire should not dig in, and there should be no bulges under your arms or at the back.
Sizing– Another obstacle in getting the right fit is sizing. Unfortunately bra sizing isn't as straight forward as it should be. Some bras are US size, some UK size, and some European. There is even a big variation within the different US company brand sizing. Because of this, the first thing you need to clarify is what country's sizing the brand is using and compare it to sizing charts that are available. You should also check reviews to see if the bra fits as expected.
Padding– Unless you are looking for a push up bra, you will probably only want enough padding (light to medium) so that you don't show through.
Straps– Most underwire bras have adjustable stretch straps. If you are larger chested you will want to look for styles with thicker straps so you get more support. You should also look for styles that have straps that are easy to adjust, for some that may mean you want straps that you can adjust in the front.
How will the bra look through thin tops– This is one of the most pressing concerns when buying a bra. You will want a style that is comfortable, lightweight, and feel like you aren't wearing a bra, but most women also don't want to show through their bra. In order to not poke through, it may require that you buy a bra with a light padding or a foam cup.
Hooks -Underwire bras generally have adjustable hook and eye back closures. There are usually between 2 and 4 rows of hooks. The number of rows of hooks goes up depending on the size of the bra.
Last Word
We have barely scraped the surface on the kinds of underwire bras that are available. There are so many different types of underwire bras that are available including t-shirt bras, push-up bras, demi cup, minimizer bras just to name a few. The bras that are listed above are some of the best quality for the money, most popular and most comfortable bras that you can buy. Just make sure you get the right fit.