Magnifying glasses for reading are an inexpensive and very useful device for anyone with age related macular degeneration, low vision, cataracts, or glaucoma as well as many other types of visual impairments. They are also great if you do an activity or have a hobby in which you need to see fine detail.
The best type of magnifier tends to be different for different people, the best products for you will depend on what your needs are and the type of vision issue you may be having. Because of this, you may need to look carefully at the different magnifying options that are available for reading and weight the pros and the cons of each design. We have rounded up some of the best reading magnifiers with various styles including: full page, with lights, dome, hand-held and hands-free.
Recommendations:
Magnifier Styles
What is great about reading magnifiers these days is that they come in all different kinds of styles and magnification powers. There is such a big selection to choose from, you shouldn't have any trouble finding something best for your situation and your vision needs.
Some of the different styles include round and rectangular hand-held designs of all different sizes and magnification levels that are ideal for reading of simple text like product labels or mail. You can also get designs that you wear around your neck, so they are available and hands free whenever you might need it. There are many different types of domed styles, which are also great for reading simple text. Along with the basic magnifying features, many of the new models of magnifiers come with LED lights that make a huge difference with how well you can see what you are reading.
One of the best styles for an avid reader is the full page lighted stand. They cost a lot more than regular magnifiers, but many people find this style to be very good if you do a lot of reading. These types generally have a heavy base with a long flexible neck, so the reader can bring them closer or further from their text. These lamp-style magnifiers are ideal for reading because you can magnify nearly an entire page of text at once.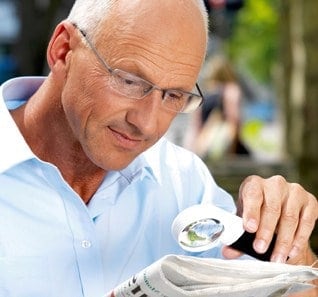 Electronic or Video Digital Magnifiers
Another style that you may be aware of is the digital reader. They tend to be pricier than regular magnifiers, but are considered by many experts to be the best option for help with reading for low vision.
There are two main types of inexpensive digital magnifiers. One type you use a small device that looks like a computer mouse that you scan over what you are trying to read, it then appears magnified onto a TV screen so you are able to read it clearly. It works great for reading magazines or newspapers. Some users may find that in some cases these types of magnifiers don't display enough of the page to be useful, but most users get a lot out of these devices.
Another popular type of digital magnifier is a portable electronic magnifier like this one from ViSee.  These types are handy to keep in your pocket or purse so you can pull it out whenever you may need it. They give you the option to magnify whatever you are looking at with different magnification levels and color modes. The various options for customization make them ideal to for many individuals vision needs.
You can spend quite a lot of money on digital magnifiers. Some run up to $1000 -$1300. That is obviously a lot of money for a product that you may not end up using. If you want to test out a digital magnifier there are a number of low cost options available on Amazon. They are generally Chinese imports, but many individuals find that do an adequate job allowing users to read fine prints very easily. Most of these types of devices have an LCD display, variable magnification levels, and rechargeable batteries. They also have features like autofocus, either color or black and white display and glare and contrast controls.
Uses
It is easy to forget just how much your vision plays a role in your life. When you start to have trouble reading small print, it can become very frustrating very quickly. Magnifiers can be a great help for all kinds of everyday tasks including reading mail, prescriptions, instructions for cooking food, reading books, magazines, TV guides, maps and newspapers.
Features to Look for
Not all magnifiers will work for all types of vision loss. It may take a bit of trial and error before you find the right device for your needs. Since there are so many different types of options to choose from, is important to consider some of the different features and how they may affect how well you will enjoy using the product. Here are some of the most important features to consider:
Lighted or Illuminated option
It is pretty common to be able to get any of the different styles with an inexpensive LED light option. Having a light on the magnifier is great because it helps to make what you are trying to read clearer. If you haven't already tried a magnifier with an LED light, you may want something that is dimmable so you can adjust the light to your preference. Designs that have lights also act as small reading lamps.
Size of the Lens
Another very important feature to consider is the size of the lens. Depending on what you are reading. you may want to look for a lens that is a mid to large size. There are pros and cons to having a small size versus having a large size. Large sizes generally make it easier to read a larger width document without having to move it too much, the downside is that with the larger sized lens the magnification may not be as good or as strong. If you choose a smaller sized lens you may get a stronger magnification, but you will end up having to move the magnifier more than you would with a larger lens. Some of the larger lenses come with a bifocal insert.
Stand Magnifiers
A great product, especially for reading a novel or magazine, is a stand magnifier with a built in light. They work really well if you are trying to read a full a page, they often have adjustable heights and come with "Gooseneck" attachment so you can move it around to get the right position  for your specific needs.
How heavy is the magnifier
The weight of the magnifier is something you should also consider when deciding between products. If you are looking for a hand held item, you will want a product that is lightweight so it is easy to hold. If you are shopping for a floor magnifier that you will want to move to various locations in your home, the weight would also be something you are going to want to think about.
Level of magnification
Many people like to go for the higher level of magnification assuming that it will be the best option. This isn't necessarily the case. Getting a magnifier with a higher power will mean that you will see a smaller area. Most experts recommend finding a magnifier that has the lowest power that you can use to see, but with the largest area that is in focus. You may want to try out different products with different levels of magnification to find what will work best for you. You can generally find magnifiers with magnification levels from 2X up to 25X depending on the type of product you select
Batteries
One of the disadvantages of getting a handheld magnifier that includes a light is that you may also have to get batteries. The floor lamps usually include a power source. Some products come with rechargeable batteries or you have to purchase separate batteries.
Other options
Another product you may want to check out that may be helpful for low vision is the KNFB Reader app.  It is an app you can download if you use a smartphone that lets you read almost any type of printed text. There is also a screen-reading computer program called Jaws that gives you speech or braille output for whatever shows up on your computer screen.