Pet owners who like to keep their house clean and tidy know how difficult it can be to find cleaning products that work well and that aren't harmful to your pets. Unfortunately many of the most popular cleaners that are commonly available contain chemicals that are not safe for your pets to consume. If you have a pet who is licking and chewing anything and everything in sight, this can quickly become a concern.
Since dogs and cats spend much of their days on the floors and carpets of our homes and sometime sneak a drink from toilet bowls, we have put together a list the safest brands of pet cleaning products that are best for the health of your furry companions.
Seventh Generation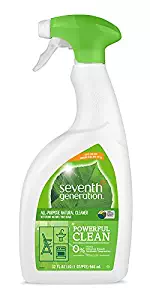 Seventh Generation are a great company to check out if you are looking for safer options that won't harm your pets. What makes them so popular is that many of their solutions are able to kill 99.99% of bacteria with cleaners that are made of natural ingredients. Most of their cleaners are plant-based and are able to disinfect using something called *CleanWell™ patented disinfecting that is EPA registered. One of the best things about this brand is that they have an ingredients glossary on their site, so you know exactly what is in the products. Not all of the safer options for cats and dogs list the ingredients, but rather they just say they are safe.
Available from Amazon and Seventh Generation
Ecover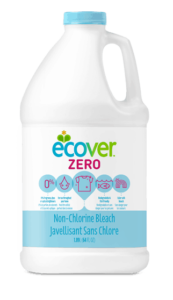 Ecover is a Belgium-based company that has been in business about 30 years. They manufacture ecologically sound cleaners that, like Seventh Generation, are made from plant-based and mineral ingredients.They are very careful with their ingredients to ensure that they biodegrade not just quickly, but also completely.They use raw material from lots of different natural sources like plants, herbs, starch, wood fibers and mineral derivatives and only use only natural fragrances, rather than artificial fragrances that disappear quickly. Ecover is also concerned about aquatic life, so they ensure that all of their ingredient have minimum impact on oceans and freshwater.  All of the Ecover products are safe and suitable to use around furry family members.
Puracy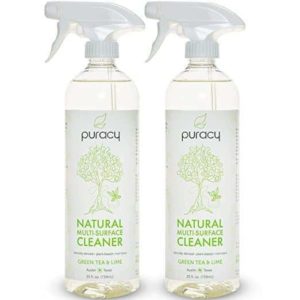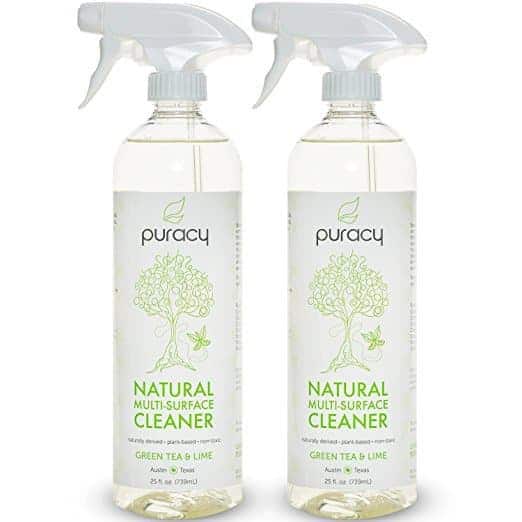 The Austin based brand Puracy creates good quality, safe and stylish natural household cleaners. They are gentle and safe enough to use around cats and dogs, but they still work well and are effective at disinfecting. One of the interesting features of this brand is that the products are made so you can use less cleaner to get the desired results. This means less package and they will last longer. All of their cleaning products are made with biodegradable ingredients made from plants, minerals, and natural fragrances. They also guarantee their ingredients to be hypoallergenic and safe for kids and pets.Since the ingredients are all natural they safely break down in the environment.  All of Puracy's products are made in the USA. You can find the ingredients they use on their site.
Available from Amazon and Puracy
Naturally It's Clean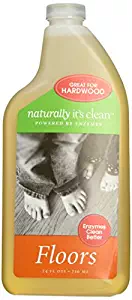 Naturally It's Clean™ use enzymes as the primary ingredient in their floor cleaners. Enzyme cleaners are all natural, don't release harmful gases, are non-toxic and hypoallergenic, making them safe for people, animals and plants.
Enzymes are one of the most popular options if you are looking for a safe household cleaner. They work by targeting inert, organic materials like dirt and stains and breaking them down.  They don't disinfect, but they do leave the surface perfectly clean.
Naturally It's Clean™ is a great brand for sustainability as they try to only use only post-consumer waste recycled paper where they can, and grade 2 or better re-cycle class plastics for their packaging. They also sell refill packets,so you can reuse the bottles and sprayer to save on plastic consumption.
In addition to their recycling strategies, the company supports a wide array of social, health and environmental causes. If you aren't happy with their cleaners they come with a money back guarantee.
Absolutely Clean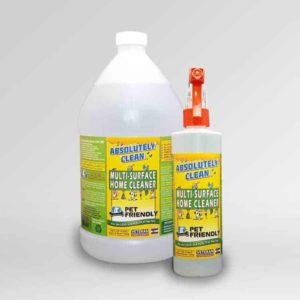 Absolutely Clean are focused on creating products that are safe for your family (including your pets) and also protecting the environment. What is cool about Absolutely Clean is that their enzyme-based cleaners can be used for all types of animals, not just regular household animals like cats and dogs. They sell cleaners for bird cages, a saddle and tacks cleaner, a skunk odor eliminator, as well as a small animal cage cleaner. One of their most popular options is their pet stain and odor remover.
Eco-Me

The Eco-Me brand is another good option if you are looking for cleaning products that are safe for your whole family including your animals. Eco-Me cleaners are made in the USA and they use only ingredients that are safe and natural. For fragrance they use pure plant essential oils . This brand stresses that they do not use any chemicals or surfactants. They also don't contain any parabens, or any SLS/SLES/ALS.  Along with a wide range of household cleaners they have safe line of grooming products for dogs.
Available from Amazon and Eco-me
Sun & Earth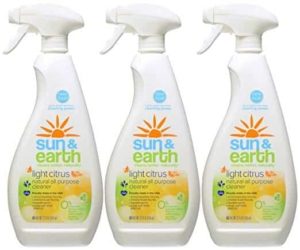 Sun & Earth have a really good all purpose cleaner that is great for cleaning almost anything.  It is non-toxic and will work on a lot of different surfaces and household area. Sun & Earth cleaners are work really well while still being safe for the whole family as well as the planet. They are hypoallergenic and also don't contain any dyes, synthetic fragrances or any chemical preservatives.
Grab Green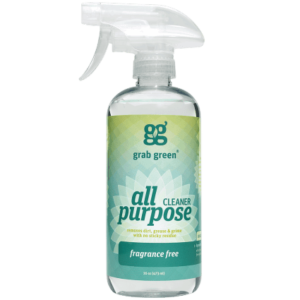 Grab Green are a cool option if you love essential oils, as you can choose an all purpose cleaner with different oils like tangerine, thyme, red pear or, if you prefer, fragrance free. In addition to Grab Green's pleasant scent, their all purpose cleaner made from plants and minerals is able to clean dirt and grime effectively.  The all purpose cleaner won't discolor and can be used on pretty much any type of surface including granite, laminate, countertops, appliances, glass, tubs, toilets, sinks, tiles, floors, walls, and carpet. Their products are never tested on animals and contain no phosphates, ammonia, or formaldehyde, so they are safe for everyone. Grab Green also have a range of laundry and dishwasher pods that are very popular.
Bean & Lily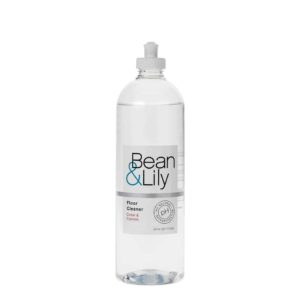 Bean & Lily have a good plant based cleaner that works well for hard floors and finishes. They can also be used on other wood and stone floors, as well as surfaces like ceramic and laminate. The solution is pH neutral and is labeled as being safe for both people as well as the planet.They are listed as being gluten free, biodegradable, and septic and grey water safe.They also do no contain any synthetic fragrances or sulfates. Bean & Lily never test their products and on animals.
Nature's Miracle Stain & Odor Remover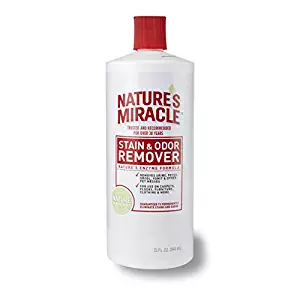 A very popular stain remover that a lot of pet owners love is the Nature's Miracle Stain & Odor Remover. This is a particularly good cleaner that uses enzymes to help get rid of the unpleasant stains and odors caused by pets, including urine, feces and vomit. It is safe to use on both your carpets and upholstery. The enzymes also do a really good job helping to eliminate smells from carpets, furniture. If you have an issue with cat stains Nature's Miracle also sell an Advanced Stain And Odor Formula which gets great reviews and appears to work very well on those difficult to remove hairball vomit stains.
What to look for in a pet safe cleaning product?
If you are concerned about using cleaning products around your pets, there are a few thing to consider before purchasing and using any cleaner.
Ingredients
First and foremost you are going to want to find brands that contain ingredients that will be safe if your pet ingests the cleaner through licking or just due to their close proximity to floors or surfaces that the cleaning product is used on.
Look for brands that have easy to find ingredient lists. If the ingredients aren't on the containers, they should be listed on the manufacturers website.
Ingredients that you want to avoid in any cleaners that come into contact with pets are:
Isopropyl alcohol
Formaldehyde
Phthalates
Dye
Synthetic Fragrances
Sulfates
Ethoxylates
Petroleum-Based Cleaning Agents
Petrochemical Solvents
Instead look for brands that use natural ingredients or enzymes.
A lot of the natural ingredients are plant based, and they are usually hypoallergenic and non toxic.  Many of the bigger brands claim to be environmentally friendly and say they are using natural ingredients, but some of the marketing can be misleading.  In particular, solvents like alcohol can be considered plant-based, but aren't necessarily the healthiest option for you or your animals.
Some of the best and safest options use enzymes as their primary ingredient. Enzymes are all natural, non-toxic, non-caustic, hypoallergenic, biodegradable and safe for human, animal, and plant life. If you aren't familiar with enzymes they are large protein molecules that are catalysts for chemical reactions. As far as how they are used in cleaning products, they basically react with biological molecules and break them down so they are great for getting rid of nasty pet stains. Enzymes only work on organic materials things like starch, fats, food, grease, and oil and react only with their target. This makes them safe to use around pets, with no side effects. Since they only work on organic materials they may not clean all types of messes that you need them to.
Scents– Some pets can be sensitive to fragrance, in the same way that humans, are especially if the fragrance is synthetic. You probably won't notice the sensitivity unless it manifests in sneezing or rashes on the skin. If you like scented cleaners a safer option is one that uses essential oils.  Essential oils have a low potential for toxicity. If you do get a cleaner that uses essential oils ensure that they are 100% plant-derived.
Safety– All of the brands we have listed can be used around pets. Although you should take the usual precautions that you would with any cleaner and ensure that they are stored properly away from animals and children. Also when you are using any of these types of cleaners you should let the surface dry before allowing your pet to lick or walk over it. You may also want to give areas that you have cleaned a rinse with water so none of the cleaner can be ingested by your pet.
Other Things to Consider
In addition to safety you may also want to buy from brands that offer options that are:
Cruelty-free
Biodegradable
Safe for waterways and marine life
Packaged in recyclable containers
Killing Bacteria and Disinfecting
As a pet owner you are most likely concerned about how effective at killing bacteria and disinfecting a cleaning product you are using is going to be. Often the more natural options don't disinfect as well as the harsher chemical filled cleaners. When you keep chemicals out of a solution it has a huge amount of health and environmental benefits, but unfortunately it may not give you the level of disinfecting you may be used to if you have been using big brand chemical filled cleaners.
What is interesting is that in order to use the term "disinfect" a product must contain certain chemicals. If you are concerned that your "safe for pets" cleaning product isn't disinfecting, you could try Seventh Generation Disinfecting Cleaners, they are registered disinfectants that clean, disinfect and kill over 99.99% of household germs botanically.
Surfaces
Most pet owners are, for the most part, concerned with cleaners that are used on surfaces that the pet is exposed to. Generally this means floors, furniture, upholstery, carpets and toilet bowls. There are a multitudes of options for cleaning each of these types of surfaces. All of the options that we listed above are safe for pets, but you will need to consult each products description to ensure that it is safe for the type of surface you are looking to clean.