Updated December 12, 2018
The best way to help your kids stay safe when sleeping is to use a bed rail. Not only are they perfect for toddlers who are transitioning from a crib or toddler bed to an adult size bed, they are also great for travelling when you may not have access to a crib or your usual bed setup.
On this page

Find out what you need to know before buying
Learn about the different type of safety rails for kids
Find out about the features to look for
Review of the top brands
There are a number of different types of bed safety rails for kids with slightly different features. Here is a list of some of the top sellers that have the best reviews and ratings.
Reviews and Recommendations:
What Parents Need to Know Before Buying
When it is time for your child to switch from a crib to a larger bed, most parents will worry about their child falling out of the bed and hurting themselves. While using a rail is a great way to prevent injury, there are a few things that you need to keep in mind before using one of these types of products.
If you are planning on co-sleeping, it is important that you don't use a rail that could possibly trap your baby between the rail and mattress. Look for a top-of the mattress or certain bumper styles that state they are safe for co-sleeping.
If you are looking for a rail to prevent your child from falling out of bed, it is important that you get a rail that will fit the bed properly and is properly secured. To ensure that you get a secure fit, measure your mattresses height and length and then check the specs of any product you are considering purchasing.
Children and infants have died from becoming trapped in the gap between rails and mattresses. While safety standards have dramatically improved in the last ten years, if not used correctly there is still some chance of injury. It is very important that you spend a bit of time researching what will fit your bed properly in order to keep your kids safe.
Types
There are a few different style and types of bed rail to be aware of. The three main types are:
Drop Down
Probably the most common type of rail, this style allow you to have the rail up at night and then take it down during the day if your child likes to play on or around their bed. They are also useful if you read in bed with your child, making it easier to get in and out of the bed. They are often made of steel and mesh fabric and they have a hinge where you press a button and the device either releases down or locks in place upright. When shopping for this style, you will need to confirm that you have the right type/size of mattress for any model that you are considering.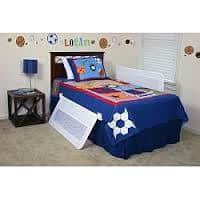 Top-of-the Mattress
Top of the mattress styles look similar to the drop down style but they are fixed in place and do not drop down. The rail also doesn't sit flush with the edge of the bed, so there is no chance of a child or a baby getting caught in a gap between the edge of the bed and the rail, making them he safest type of bed rail if you are planning on using it to co-sleep. The downside to a top of the mattress style is that is the rail is positioned a few inches in towards the mattress, so you loose some of the mattress area, making your sleeping area a bit smaller.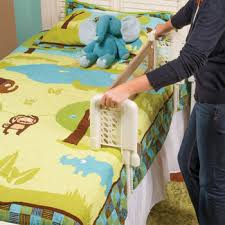 Bumper Style
This style is great for users who don't have a standard mattress size because you don't need the mattress to be a certain width to hold the rail in place. They are also a nice alternative if you aren't keen on the metal rail style. Bumper styles are often foam with fabric overlay, they can also be inflatable.  They work well if you don't have a box spring, have wooden slats, a platform bed or you have a thin mattress that won't hold the weight the metal style rails.  The best bumper styles have a steep slope and are high enough to stop your kids from rolling out of the bed. They are the easiest to install and easiest to take when travelling.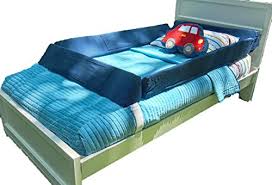 Features to consider
Type of Bed
Obviously there are many different types of bed that you can buy, the bed that work best with the metal bed rail style are beds with a standard mattress size and a box spring. If you don't have a standard bed you will probably want to consider a bumper style of rail.
Height
The standard height of metal bed rails is 20″ (this includes the part that covers the mattress), which is fine for most children. Bumper style bed rails can range in height from about 4.5″ to around 6″.
Length
For drop down and top-of-the mattress styles the lengths can vary quite a bit, the smaller ones are about 30″ in length while the extra-long ones are about 56.   Bumpers styles range from about 24″ to about 56″ in length. When you are deciding on what length would be right for your child, measure your mattress length and think about how much of a gap you would like to leave at the end of the bed to allow your child to get in and out.
Portability
If you are planning on using the rail for traveling, you will want to consider how easy it is to set up and take apart, also how big or how much space the rail will take up when moving it from place to place. If you are taking a plane and have limited space a great option is the Shrunks Inflatable Bed Rail, as it takes up very little space when deflated.
Price
You can find a bed rail to match any type of budget, from the very popular Regalo Swing Down Bedrail, that costs approximately $20, up to $80 for some of the higher end models. Most products are sold as single side, so if you want to use a rail on both sides of your child's bed, you will have to take that into consideration. There are a number of products that are sold as a double-sided option, but the standard is usually just one rail.
Hide-Away
If you don't like the look of bed rails and would prefer not to have it displayed during the day, some products (like the Regalo Hide Away Extra Long Bed Rail) have a hide-away feature. The hide away feature just means that you are able to easily hide the bed rail under the mattress when it isn't in use. This feature makes it much easier to make the bed, as well as use the bed, during the day when not sleeping.

Safety Certification
Don't buy any rails that are not JPM Certified for safety, quality and performance. Look for a certification sticker from the Juvenile Products Manufacturers Association (JPMA) on the rail or the packaging.
Easy Assembly
No one wants to spend hours assembling a bed rail; most manufacturers realize this and, for the most part, the major brands require very little assembly with no tools required.
Safety
Safety is the most important thing to consider when researching bed rails. Despite being a product that is designed to help keep your kids safe, if they are used incorrectly they could lead to injury, so it is very important that you follow all of the manufacturer's instruction and warning labels when using.
Bed rails are intended to only be used with adult mattresses and box springs. They are not meant to be used on cribs or toddler beds (unless specifically stated), because the mattresses are too small to support the bed rail. They should also not be used on bunk beds, waterbeds, inflatable mattresses, or a bed without a box spring.  Unless you are using them to co-sleep, the general recommend age for use is from around 2 until about age 5. Children should not use bed rails unless they are able to get in and out of an adult bed without help.  Experts recommend that you do not use a wall as a bed rail, especially for very young children as the child could get trapped between the mattress and the wall.
Co-sleeping
A lot of parents who like to co-sleep like to have the extra safety of a bed rail that can help prevent your child from rolling off the bed. When shopping for a bed rail for co-sleeping, experts say that you should use a rail where there is no gap between the mattress and the rail. The best type of mattress to avoid having a gap is the top of mattress style that doesn't fold down. A few of the bumper style rails also claim to be safe for so-sleeping including the Wall Bumpi.
Convertible Cribs
Most metal children bed rails are designed to be used on a full sized adult bed, so if you are looking for a bed rail for a convertible crib you will need to get a rail that is specifically designed for a convertible crib. There are a few options to choose from, one of the most popular being the dexbaby Safe Sleeper Convertible Crib Bed Rail. It is important that you don't use the wrong type of rail on a convertible crib, as it could in increase the risk of injury if the rail isn't secured properly. Crib mattresses aren't heavy enough to keep a regular sized rail in place.
The Bottom Line
Moving from a crib or toddler bed to a full sized bed can be an exciting transition for a child, but a nerve wracking one for a parent. To help make this transition easier for everyone, children's bed safety rails are a great investment. They are easy to set up, inexpensive and extremely helpful product that can help prevent injury and help you kids get a good night's sleep. You can buy rails that work with different type of bed styles, but you need to make sure that any device you are considering purchasing is safe to use and will work with your current setup.