Advances in technology have helped to create a plethora of really fun and useful new products for pet owners, one of the most useful being the wireless pet camera. These cameras basically stream video of your pet to a cell phone, computer or tablet so pet owners are able to see what their dogs or cats get up to when they are out.  They also have features that let you dispense treats to your furry friends, play games and speak to them. Some of these cameras can be a huge help for animals who suffer from separation anxiety, giving owners peace of mind their pets are safe and happy.
Most of these cameras are pretty new and still have some kinks to work out, but we have searched through the expert and consumer reviews and have broken down what you need to look out for to help you find the best wireless camera to suit you and your pet's needs.
The Top 5 Best Pet Cameras
What to Look for when Shopping for a Wireless Pet Camera
Features
The basic idea of these cameras is that you are able view your furry friend when they are at home alone so you can see what they are getting up to. The most simple pet camera will just have video streaming that you can watch live. Not surprisingly, the more you spend, the better the quality and the more features you get. What makes some of these products especially useful for pet owners are the extra features that include:
Two Way Voice: Most of the devices have at least one way voice, but some of the pet cameras offer a two way voice option. This just means that not only can you hear any sounds that your pet is making, but you can also talk to them.
Night Vision: If you are leaving your pet at night, you may want to consider looking for a product that has night vision. Night vision doesn't tend to be a standard feature with these devices, so don't assume that you will be able to watch your pet in low light, unless it is specifically mentioned in the specs.
Motion Detection: Motion detection is useful if you are going to be recording your pet to playback later or you want an email alert when you pet is moving about. The use of motion detection technology allows users to avoid taping hours of inactivity.
Treat Dispenser: One of the best features of these types of device is the treat dispenser option. If you have a pet who is overweight then you will probably want to skip this feature, but pet owners who purchase products with this feature tend to love the ability to give a treat while they are away.
The Camera
The camera itself is obviously the most important feature of any of these devices. You will want to pay close attention to reviews about resolution of the different cameras. A common complaint of these pet cams is that the resolution isn't great. Companies generally tend to list the cameras as HD quality video streaming, although how companies are classifying this isn't clear. The highest resolution that can be captured and stored is 704 x 480 (NTSC for the United States). Although trying to find the resolution specs on any of these devices is somewhat tricky, so it is hard to confirm exactly the resolution you are getting for each of these products.
Delay
Another common complaint regarding pet cams is that there is a delay or a lag when viewing the streaming video. All of these types of camera (similar to security cameras) have some delay versus real time; you can't really avoid it even if you buy a higher end product.
Light
In most cases you will need a decent amount of light to get a good quality image, so before you set up the camera you should think about your lighting conditions and how much light is available where you want to set up the camera.
Durability
Depending on where you are planning on positioning the camera and the temperament of your pet, you may need to think about how durable the device will be if your dog or cat tried to chew on it (to get at the treats if it has that feature). If you are planning on putting it in a crate, choose a unit that is made of durable material. Obviously avoid a camera that has corners, edges or electrical cords that can be chewed.
Security
Security is something that you need to think about when putting any kind of wireless camera into your home, as it is possible to hack a Wi-Fi camera. Most companies know that this is an issue, and have included different layers of security to ensure that your camera cannot be hacked. Although users need to make sure that they follow all recommended security precautions that companies suggest (i.e. use a long complicated password).
System Requirements
Generally you will be able to watch the live feed from your desktop or via an app on your smartphone. The chart above lists the minimum system requirements for each of our recommended products. All of these camera use Wi-Fi, so you will need to have internet access with Wi-Fi in order for them to work. You should also be aware of the type of broadband that you will need. Generally high speed (broadband) internet access is required to support two-way video
Reviews
Petzi Treat Cam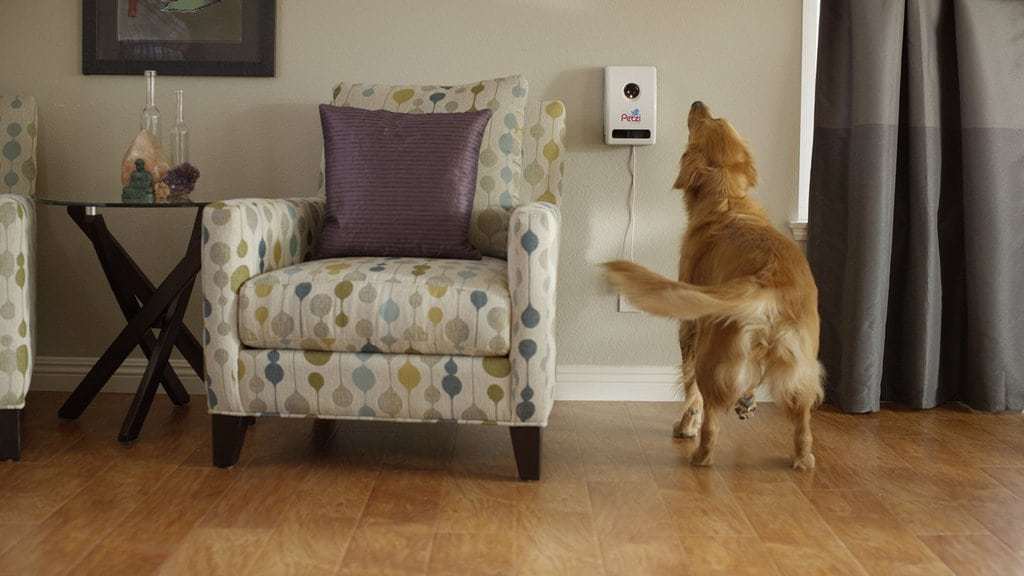 Pros:
You are able to see, talk to and give your pet treats while you are away from home.
The company has excellent customer support.
It includes a night vision feature.
Free secure App and interaction
30Fps HD camera delivers up to 720p
Cons:
The treats have to be a certain size.
The camera doesn't move and has a limited view.
Overview: This device is exactly what the name suggests, it is a camera that lets you watch your pet through streaming video or you can take snapshots of your fur baby. It also shoots out treats when you click a button on an app that you have installed on your smart phone. It helps relieve both the dog's anxiety when parents are away from the house, as well as owners anxiety of what the dogs might get up to.

What do users love about Petzi? Reviews for the Petzi are generally very good. Pet owners love the ability to be able to connect to pet anytime, anywhere. Many users mention that they get a kick out of being able to talk to their dog or cat over the Petzi. Reviews also note that the customer service for the Petzi is overwhelmingly good. Of course almost all the pets (just guessing) and owners enjoy the ability to give treats while away.
What could be improved? The treat dispensing function can sometimes be a bit uneven. Sometimes treats get stuck or more than one treat gets dispensed. The audio is only one-way right now,so you can't hear your dog they can only hear you. Petzi's camera only saves still photos, not the motion activated video.
System Requirements: Requires iOS 7.0 or later. Android 4.0 and up.
Furbo Dog Camera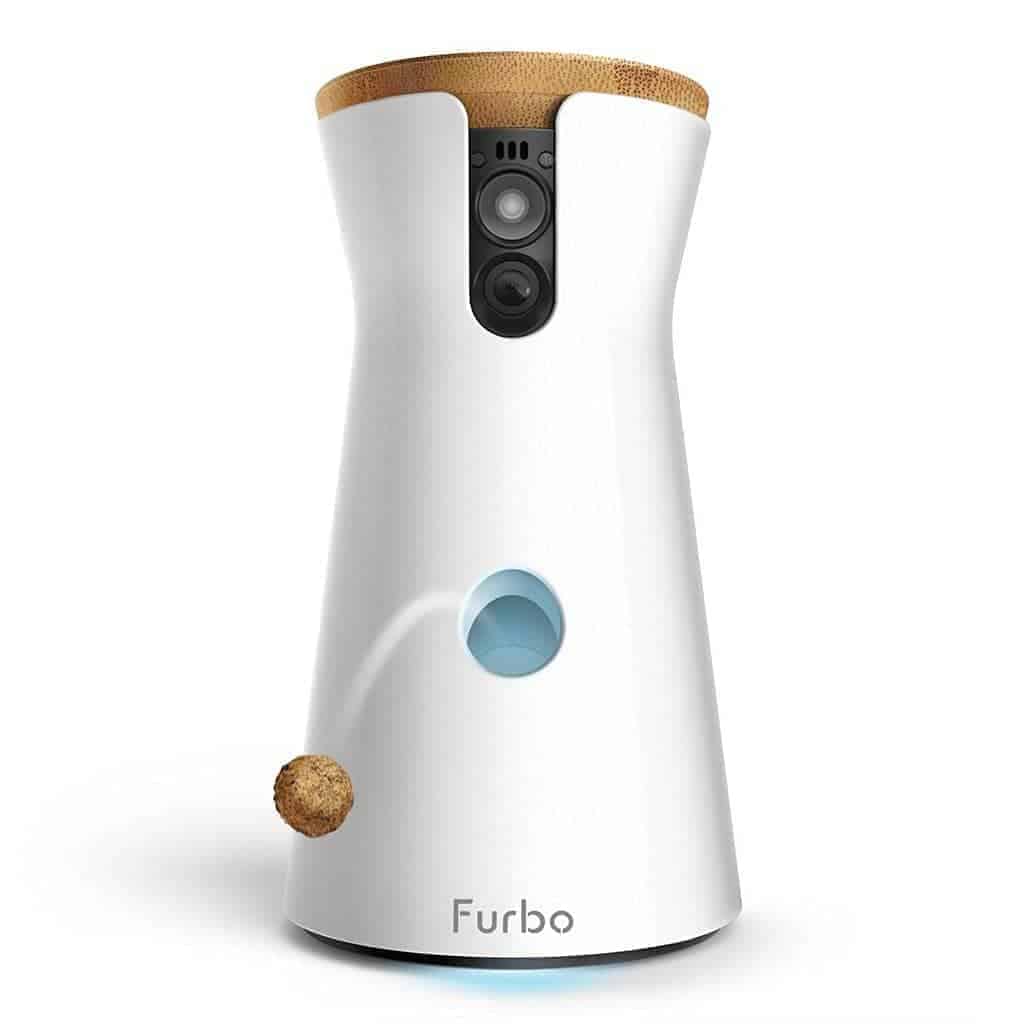 Pros:
Live streaming HD video
2 way audio
Interactive treat tossing
Barking alert
Photo and video
Cons: Treat dispenser is prone to becoming jammed.
Overview
The Furbo is a great pet camera camera that lets you stream video to your smartphone, tablet, or computer so you can watch your pet while you are away.
Furbo.com | Amazon
PetChatz Greet & Treat Videophone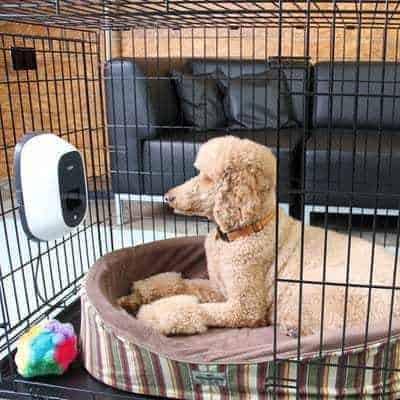 Pros: Has two-way video and audio call. You can use it from your pc, mobile or tablet. It has sound and motion detection. Treat and scent dispenser.
Cons: Some users complain of choppy video and audio and find the camera to be kind of low resolution. There is also no night vision. It is a little pricier than some of its competitors.
Overview: This is another option if you are looking for a treat dispensing camera that lets you communicate with your pet while you are away. With PetChatz you can give your pet treats remotely as well as have a calming scent sprayed out. The PetChatz Greet & Treat Videophone has been out for a few years now, but they have a new model coming out in Jan/Feb 2016 called PetChatz HD that you can use with another product called PawCall which looks AMAZING. Essentially your pet will be able to call you by pressing on the Pawcall device (see picture below). Who knows how well it will work, but the concept is awesome.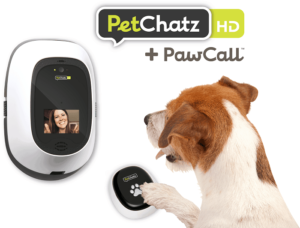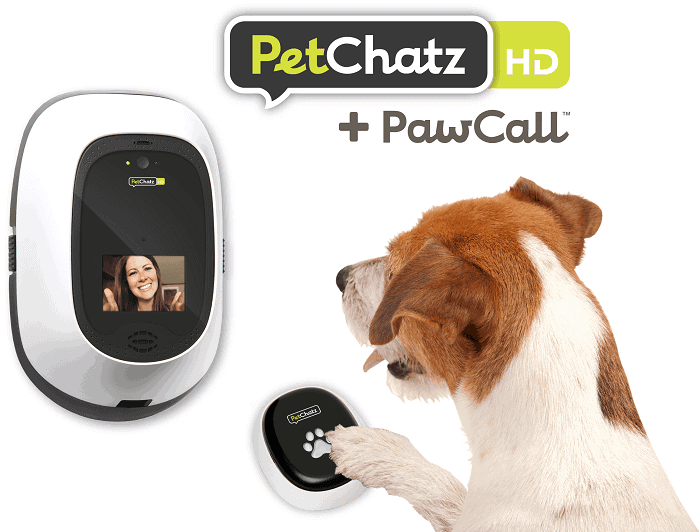 What do users love about PetChatz? Users love the ability to calm and connect with their pets using treats and the scent. Reviewers love that the device rings when you are calling your furry friend. It is easy to set up and the company offers great customer service if you run into problems.
What could be improved?
Some of the issues like the camera being somewhat low resolution will most likely be fixed with the PetChatz HD newer version, although it still doesn't seem to have night vision so you may have to keep a light on if you want to watch your pet at night.
System Requirements: Need a pc, tablet or smart phone that has webcam capabilities. If you are using the app to view on smartphone they currently only have an app for IOS you will need iOS 8.1.1 or later.
PetChatz.com| Amazon
Pawbo Wi-Fi Pet Camera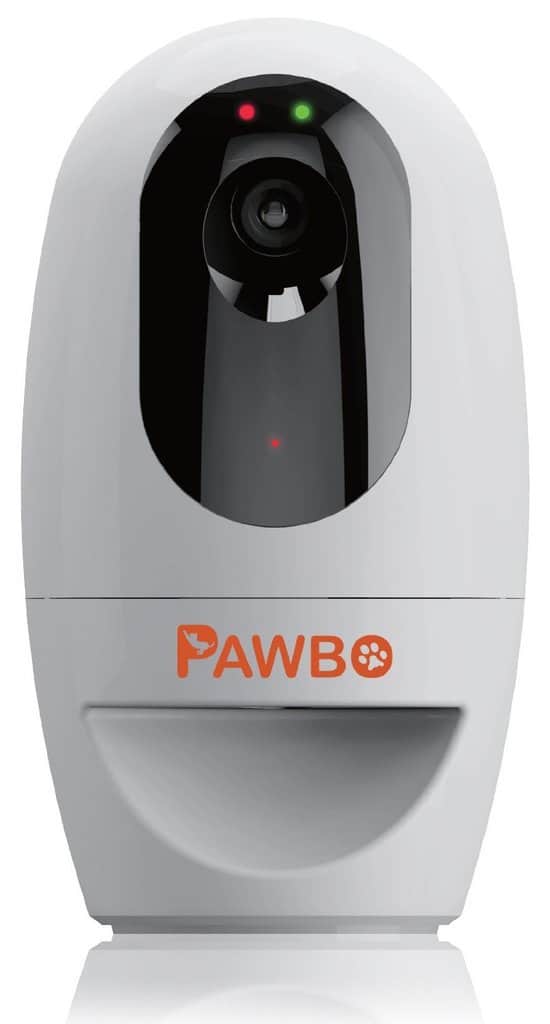 Pros: 
Two-way communication capability
720p streaming
Video recording capability
Laser dot chasing game as well as sound effects
Treat dispensing system
Cons:Poor sound quality on some units

Overview
This pet cam has all of the bells and whistles of the best pet cameras including the ability to video chat with your pet on a 720p camera. It has also has lasers that you can control or set on automatic. It has a 110° ultra-wide-angle view, snap shot function, video recording capability and a treat dispensing system.
What do users love about the Pawbo?
Reviewers mention that the camera works well and they love the cool features on this device.  The camera is also easy to setup.
What could be improved?
Sound quality.
System requirements: The Pawbo app support iOS 6 or above (iPhone, iPad, iPod) and android 4 or above (smartphones & tablets).
Pawbo | Amazon
PetCube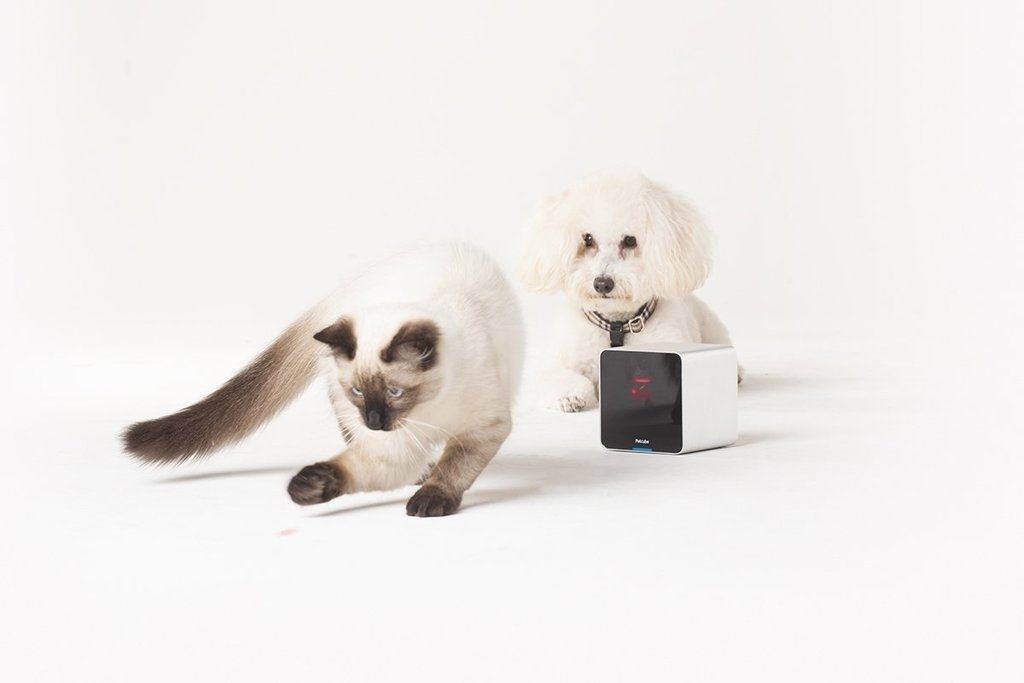 Pros: Lets you play laser games as well as watch and talk to your pets. It has an attractive design.
Cons: Reports of crashing users Wi-Fi and trouble connecting the camera to the Wi-Fi network.
Overview: The PetCube has a wide-angle camera along with real time HD video so you can view your pet when you are away from home. You can also talk to your pet as the camera has a built-in microphone and speaker. The unique feature of the PetCube is the laser pointer toy you can play with your pet from your smartphone.
What do owners love about PetCube?
The camera has a sleek modern design.
What could be improved?
Users have reported issues with system crashing their WI-FI as well as connectivity problems.
System Requirements: OS and Android compatible. Android should have version 4.0 or greater.
The Bottom Line
If you have a pet who suffers from separation anxiety or you just love your dog or cat so much that you just want to be able to check in with them through the day when you are away, these pet cameras are a great investment. They let you play games, give treats, talk to them, hear any sounds that they may be making and best of all, watch them as they go about their day. While these pet cameras may have some flaws that will hopefully be fixed in future models, these are a fun way to connect with your furry friend that will bring you and your pet many hours of enjoyment and peace of mind.
If you buy something through one of the links in this post, CWB may make a small commission from the sale. Click here to learn more.