Buying your child a pair of wireless headphones can be a great investment, especially for long plane or car rides where you don't want to have to hear what your kids are watching or listening to. Getting headphones that are wireless can be particularly useful for kids because it means that you don't have to worry about wires getting tangled or becoming a safety hazard. Headphones that are designed for kids are also good  because they usually come in a number of different cool color options that kids love, they have volume limiting options to help prevent hearing loss, and they are built to be durable so they will last.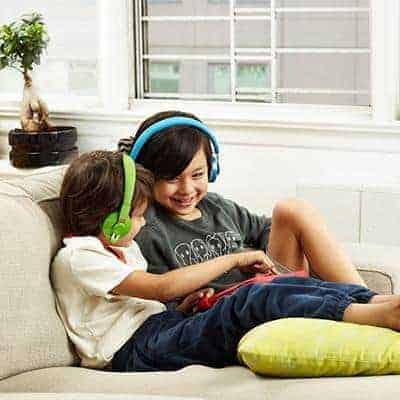 Why buy wireless headphones for kids?
There are a number of good reasons to go for wireless headphones that are designed especially for children rather than using a wired product that is made for an adult:
The smaller fit make them much more comfortable for kids to wear, particularly for longer periods of time, like while watching a movie on a flight or long car rides. The smaller size also means that they won't constantly fall off, which is what usually happens when kids wear adult sizes.
They have a volume limiting feature, so you don't have to worry as much about endangering their hearing.
If you are buying headphones for a very small child, there is some chance that corded/wired headphones could pose a strangulation risk. (It is recommended that kids under age 3 not wear wired earphones unsupervised).
They are also great if you have a child who is prone to get wires tangled and/or caught in various things.
Reasons for not choosing Wireless
While wireless models are great for many situations, there are a few reasons that you may want to consider going for wired earphones instead:
Budget– Wireless headphones generally cost more than their wired equivalent.
If you don't like having to recharge batteries-Wireless models require regular battery charging using a USB connector.
The wireless option may not work with the device you want to use it with. To use the wireless function, the device will need to be able to connect via a Bluetooth connection. All of the wireless headphones that we recommend also come with an auxiliary cable that you can use for direct connection to your devices.
If you have multiple kids who will be using the same device- If you have two children with wireless headphones who want to watch the same device, it becomes a little bit more complex to make that work. Lilgadgets has a work around that connects the two headphones allowing two children to watch/listen to one device, but with the other headphones on our list this becomes more difficult to set up.
You may run into problems if you want to sync the headphones with more than one device at a time. Each new device that you add to use the earphones will require a re-sync. Although, after you have done it once, the devices should sync automatically.
What should you look for in wireless headphones for kids?
Before buying any kind of wireless headphones for children there are a couple of things to keep in mind while you are shopping. In order to find the best product for your needs, you will want to consider things like fit, sound quality, ease of use, as well as the following features:
Noise Limiting Volume
For any headphones you are considering letting children use, one of the most important features to look for is a noise limiting volume. Most experts recommend that the highest noise level the headphones should go to is 85 decibels (dB). The Lilgadgets model goes a little higher than that to 93dB, but most of the other brands stick to 85dB limit. Adult headphones tend to go to around 115 dBs. It is important to note that experts warn that children should not listen to earphones for more than 2 hours a day, even if the volume is limited to 85dB. Listening for more than 2 hours may damage your child's hearing. Some experts even warn against children using headphones entirely, since their ears are more sensitive to noise damage.
Size
If you have ever tried putting adult sized headphones on a child, you will know that they don't tend to work all that well, they usually fall off and don't generally fit the ears. The models that are designed for kids are just like adult models, but on a smaller scale. Often they have flexible bands so they can adjust to fit growing head sizes, making them useful as your child grows. The ear pads are smaller and have more of snug fit, so they can block out more of the background noise.
Comfort
To ensure you get a comfortable fit, look for headphones with a good amount of padding on the ear cups since that plays a huge part in comfort level. You should also look for an adjustable band, so the earphones can grow with your child as their head gets bigger. The weight of the product can also play a big role in just how comfortable the headphones are, generally lighter is better for kids.
Durability
Whenever you are looking for any gadgets for kids you will want to make sure they are durable enough to take whatever treatment your kids will put them through. Lightweight aluminum or a heavy duty plastic are good materials to look for.
5 Best Wireless Headphones for Children
Wireless headphones can be slightly more expensive than corded headphones, so you will want to make sure you are getting the most for your money. LilGadgets, Puro, Sonixx, Brainwavz, and Contixo are the companies that produce the five best products to purchase. They each have volume limiting ear protection, a great assortment of colors to choose from, and are considered very durable. Here are reviews of these five best wireless headphones for children.
1. LilGadgets Untangled Pro Premium Children's Wireless Bluetooth Headphones
Features:
SharePort feature lets you pair the headphones to the device and then lets you plug another set of headphones into the first set and share audio (great for multiple kids using one device)
Volume limited feature (won't go higher than 93db)
12 hour battery life and 180 hour standby
Small size for kids (ages 4+)
Compatible with most Bluetooth devices
These very popular multi award winning Bluetooth wireless children's headphone are one of your best options if you want great quality for a reasonable price. One of the best features is the integrated SharePort that makes it easy to have two children watching one device with two sets of headphones. The Untangled Pro comes with a microfiber travel pouch to help with storage, as well as an audio cable (in case the battery wears out). It also comes with an inline microphone and a micro-USB charging cable. The Untangled Pro is made out of stainless steel and has a soft fabric covering, making them both durable and comfortable.
2. Puro Sound Labs, The Premium Kids Headphone
Features:
Volume limiting ear protection (85 dB)
Balanced response studio grade audio
Up to 18 hours of battery life with 200 hours standby
Durable lightweight aluminum construction
Can block a lot of the background noise
If you are an audiophile you will probably want to take a look at the Puro Premium Kids Headphone. It is the only studio grade kid's wireless Bluetooth headphone model. It comes with healthy ears hearing protection, so the volume is limited to 85dB. As with other wireless headphones, it uses Bluetooth wireless or if the battery is dead you can use the audio cable that comes with the set. They are made from aluminum, so they are able to withstand some of the rougher treatment your kids might put them through. The ear cushion design is also able to block out 82% of sound at 1 kHz, so while they aren't fully noise cancelling they are pretty great at being able to cancel outside noise.  They come with a 1 year full warranty and 30 day money back guarantee.
3. Sonixx BTX1 Kids Bluetooth Headphones
Features:
High quality sound and wireless connectivity
Omnidirectional inline microphone
Universal compatibility with any device with a standard 3.5mm headphone jack
Wireless Bluetooth connectivity
Extremely durable, with soft and comfortable ear pads
The Sonixx BTX1 are inexpensive headphones that with work with just about any device: smartphones, tablets, gaming systems, desktop and laptops etc. using its standard 3.5mm headphone jack. Or you can also use the wireless feature and connect to any Bluetooth-enabled device. The inline microphone and phone control lets your kids answer calls and talk on the phone while wearing the headphones.  The headphone frame is made of a tough durable plastic and this model is available in pink or blue.
4. Brainwavz Kidwavz KV-100
Features:
Bluetooth Wireless
Durable
Cushioned headband fit good for kids ages 4 – 14 years
Volume limited to 85 dB
10 hour playback after being fully charged
Brainwavz can be used wirelessly with devices that support Bluetooth transmission or they can be plugged in to most standard devices using the wire that comes with it. It has the very important volume limiting option set to 85dB when used in Bluetooth mode, although when in wired mode the volume limiting features doesn't work and you have to reduce the volume manually. It also has audio drivers that lower the bass and enable a better vocal to help ensure sound quality.
The headband is adjustable and is designed to fit children's smaller head size, it is generally recommended for ages 4-14. It comes with a 24 month warranty. The battery should last up to 6 hours if playing music and up to 10 hours for talking.
5. Contixo KB-300 Kid Safe
Features:
Noise isolation ear cups
Built-in volume limiting to 85dB.
Lightweight(4.8oz)
Support Bluetooth has a MicroSD Card Player
FM Radio
Microphone
Colorful LED Lights.
Fits children ages 3+
Compatible with nearly all Bluetooth devices
The Contixo KB-300 Kid Safe headphones are another good budget option to consider. They come in a variety of fun color combinations that kids will love. They have the volume limiting safety feature that automatically lowers the volume to 80 percent of the original maximum volume. The headset has a comfortable cushion and the design blocks out most ambient noise. The headset will connect to most Bluetooth enabled wireless devices, or you can use the cord to connect to non-Bluetooth enabled devices. It has a built-in microphone, so your kids can answer phone calls wirelessly. The battery life is around 8-10 hours with 150 hours of standby time.
Precautions when Kids are using headphones
To help prevent any kind of hearing loss related to headphone use, please keep the following in mind:
Don't use the bud style of headphones, they can potentially damage children ears more than the over the ear style.
Don't let them listen to any device too loud. Children's growing ears are more easily damaged than adults, so it is important to monitor the volume of anything that they are listening to.
Don't let them listen to anything longer than 1 hour without taking a break.