Not only are automatic cat feeders a godsend for anyone who has ever been woken up at 4 am with incessant meowing for food, but they are also great for pet owners who have cats with weight or health concerns who need to be fed several small portion throughout the day. If you have a cat that is anxious about food, these devices can also be a tremendous help to overcoming anxiety and the fear of not being fed. They are especially useful for busy working cat parents who spend long hours away from the home and have to worry about getting home to feed their pet. Whatever your need there is no shortage of choice when looking for an automatic feeder for your cat, from the most basic feeder to feeders that incorporate the latest technology there are devices to help with every type feeding issue that pet owners face.
Within this post you'll find information on:
Comparisons of the best rated products
Features to look for
Common issues with auto cat dispensers
In depth reviews and recommendations
2017 Best Automatic Cat Feeders
| Product | Summary | Rank | Price | |
| --- | --- | --- | --- | --- |
| Petsafe Healthy Pet Simply Feed | Can program up to 12 dry food meals a day, dishwasher-safe. | #1 | Check Pricing | |
| Super Feeder Csf-3 Automatic Cat Feeder | Program 8 dry food meals a day, option to increase capacity. | #2 | Check Pricing | |
| Pet Feedster Automatic Pet Feeder | Kibble theft proof, large capacity with a battery backup. | #3 | Check Pricing | |
| PetSafe Eatwell Electronic Pet Feeder | 5 1-cup-capacity chambers, good for either wet or dry pet food. | #4 | Check Pricing | |
| Feed and Go Smart Pet Feeder | Has a webcam that lets you monitor that wet/dry food has been dispensed properly. | #5 | Check Pricing | |
Important Features to Consider
Capacity
There are two basic types of auto dispenser, one has a large hopper that allows you to fill with dry kibble and let it go for weeks before you have to refill it. The other type is a circular style that has 5 or 6 compartments that you will have to refill every 1-3 days depending on your feeding schedule. If you are looking for something for wet food you will have to use a circular type model.
Size
Depending on your living arrangements you will most likely want to consider the size of any model that you may purchase. Obviously the models that hold the most kibble will be the largest, if you don't have a lot of extra living space you may want to stick to the circular flat style of feeder.
Number of Feedings per day
There is quite a range of number of times you can feed your feline using an automatic dispenser. Some units let you schedule up to 12 feeding per day, although 5 is a more standard option (especially on the circular models).
Serving Size
If you are looking for a product that lets you do a very small or very large serving sizes (some go as small as a tablespoon of kibble) the option to adjust the feeding size is available on most products, although the accuracy of serving size can sometimes be an issue.
Type of Food
These dispensers generally work best for dry kibble, but there are options if you are using wet food. If you are looking for wet food dispenser you can try: PetSafe Eatwell Electronic Pet Feeder or Feed and Go Smart Pet Feeder.
Power Type
Auto dispensers run on either battery power or an AC adapter (you just plug it in). There are positives and negatives to both types. If it is battery powered you don't have to worry about a power outage, although you do have to make sure your batteries don't run out and leave your pet stranded with nothing to eat. If you go for a model that plugs in, you may be concerned that your pet may chew the cord or the power may go out, leaving your pet with no food. Unfortunately only one feeder has a battery backup and that is the Pet Feedster.
Water
Some users are looking for a combo water and food dispenser. Generally it is not recommend putting water into one of these devices, unless it is specifically stated that it is designed for water as well as food. It is best to get a separate automatic watering bowl to avoid any damage to the device.
Microchip
If you are looking for help for animals on prescription diets or weight management programs, you may want to look at SureFeed Microchip Pet Feeder. It ensures that only the designated pets access their own food, you can use it for multiple pets as it can store up to 32 memory microchip identifiers.
Webcam
There are a number of pet products that are coming out that have included a webcam. Including one in a feeder is great idea as it lets you supervise your pet eating when you are away from the home. This lets you know exactly who ate the food and that it was dispensed properly.
Smart Phone Enabled
Many of the newer companies are using some of the best wireless and smartphone technology to allow users to stay connected to their pets and let you control the device from your phones. For some users it can provide a bit more peace of mind controlling the feeds from a smartphone. Check out the Petnet SmartFeeder if you are interested in this type.
Material
Cat food bowls are generally ceramic, stainless steel or plastic. Ceramic doesn't tend to work well in auto dispensers because of the weight, so most use a stainless steel or plastic bowl. Stainless steel is a good option, although some users find the kibble dropping into the bowl can be loud enough to wake the owner up. Plastic is the other option and is okay if it is BPA free and is a safe plastic to use with cats. Some plastic cause cats to develop acne, which is as unappealing as it sounds.
Cat Proof
Felines are smart creatures and have a lot of free time on their hands. Many make it their mission to figure out exactly how to break into the supply of food. Most will only get a bit of kibble, but some go so far as to knock the unit over the unit or shake it until kibble falls out. If you have a furry friend who is a bit of a cat burglar, you may have to spend a bit more money to get something that they aren't able to break into.
Warning Indicators
If you are interested in one of the larger capacity models that can store a few weeks' worth of kibble, a handy feature to have for this style is a low food indicator as well as a low battery indicator( if it is running on batteries). These are pretty important features to have to avoid your pet from accidently going without anything to eat.
Performance
Some of the most common performance issue are:
The unit jamming and nothing getting out. This tends to be solved by changing the food type or making sure you aren't overfilling the hopper.
Pets breaking into or moving the trays to access more food is another pretty common issue that kind of defeats the purpose of the product.
Not being reliable and giving your pet the food when it isn't supposed to.
If you are using a dispenser for wet food, you will want to look for feeders that keep the wet food fresh so it doesn't go hard in the way that it would if it is just sitting in a dish over a number of hours.
Return Policy
Unfortunately the return policies on most of the feeders on the market are not great. Generally companies won't accept returns on these types of products due to health and safety reasons. If the product is defective and doesn't work you will most likely be able to return it, but if it turns out that you have used it and found that wasn't quite what you wanted, there is a good chance you won't be able to return it. Make sure you do your research before purchasing.
Warranty
You will want to ensure you check over the warranty of any products you are interested in purchasing. Most of the companies offer a one limited manufacturer warranty. Since some models cost well over $100, you should be familiar with what the warranty will cover (usually defects in workmanship and material) and make sure that you are only using it for its intended purchase (i.e. don't use an indoor device outside).
How long can you leave cats if you are using an automatic cat feeder?
If you are leaving your feline alone for more than a couple of days, it would be best not to rely on an auto dispenser, in case it should fail or something unexpected happens. If you have no choice but to leave for more than a few days there are a couple of things that you can do to ensure the safety of your cat. One is to install a camera focused on the dispenser, so you can tell if it isn't working properly, or can use the Feed and Go that has a webcam installed. If you see a problem, you can have someone come and check in.
The other thing that you can do is have two feeders programmed to go off at alternate times, so if one fails you will at least have the backup to prevent your cat from going without anything to eat for too long of a period. These machines aren't designed to let you leave your pet home alone unsupervised for extended periods of time, so you really shouldn't rely on them for more than a couple of days.
Problems with dominant pets eating everything
A common problem if you have more than one pet is the dominant personality eating all of the food, while the grazer or submissive animal will go hungry. If you are facing this type of situation, you may want to have a look at the Wireless Whiskers. It uses a wireless tag that the device reads and the doors shut whenever a pet reaches its allowance of food, so all pets are guaranteed their fair share. Another option is the SureFeed Microchip Pet Feeder that reads your pet's microchip and only gives the set amount of food for that cat.
Reviews and Recommendations
Super Feeder Csf-3 Automatic Cat Feeder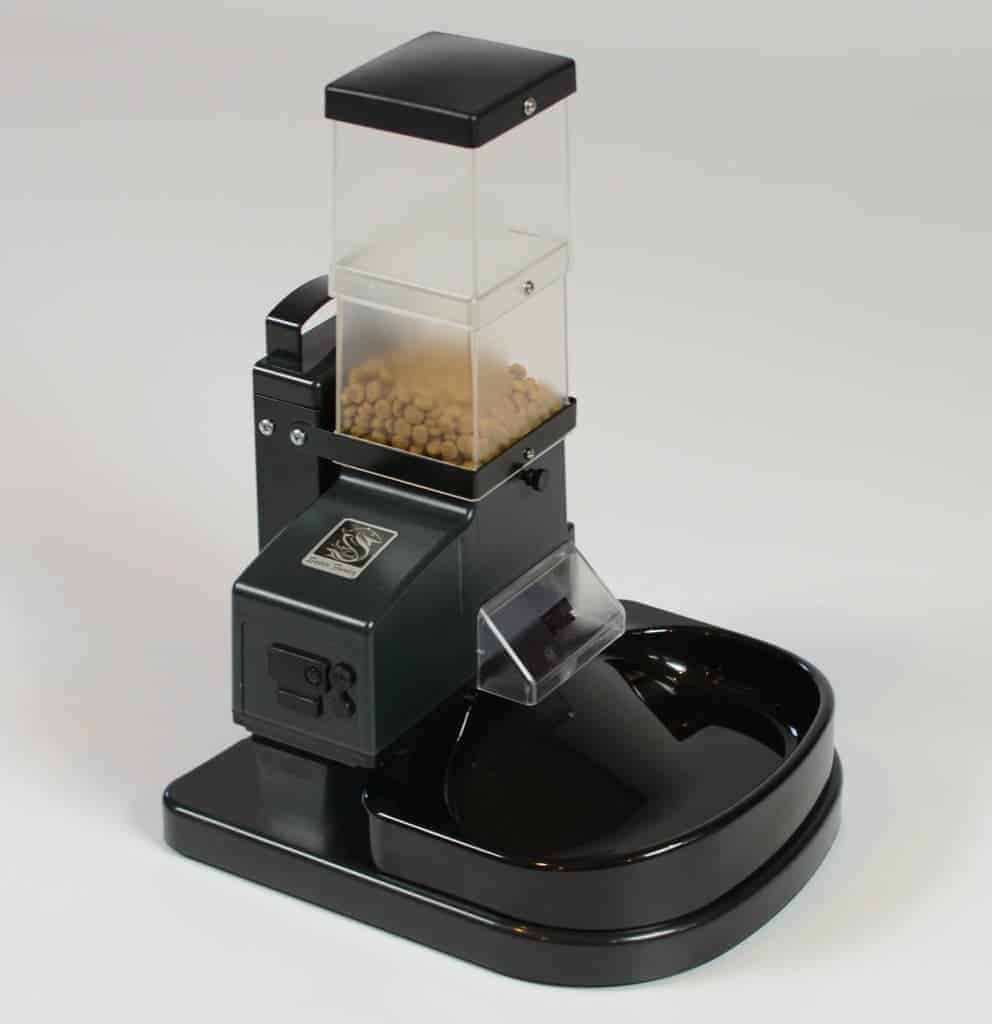 Pros: 
Dishwasher-safe
Curved wide food distribution
Holds 4 and 3/4 cups of kibble
Can increase capacity by buying an additional 1.5 gallon hopper
Can feed up to eight times a day.
Cons:
Some assembly required
Not 100% intrusion or break proof
Overview: This very popular dispenser has a dishwasher-safe bowl made with a high-grade kitchenware material. It also features a supplied external digital timer which can provide for up to 8 feed cycles per day. It holds 4 and 3/4 cups, but if you find that it doesn't have quite enough capacity to meet your needs there is an option to add a 1.5 gallon hopper (purchased separately). The food type that works best with the Super Feeder are the 1/4 inch spherical/square kibbles, although you can use other types, but they may affect performance. It is made in the USA, and its size is 10 x 11 x 15 inches tall. It is meant for indoor use only and uses a power adapter not a battery.
What do users love about the Super Feeder Csf-3?The feeding schedule is very flexible, so you can really customize it for your cat's needs, particularly the ability to feed really small amounts up to eight times a day (great option for overeaters who gorge and then vomit). Many users commented that it is a very well built device, once you get it put together. It is one of the more accurate and reliable dispensers on the market. Users of multiple cats like that the dish is wide enough for two cats to eat from at once.
What could be improved? There is some set-up involved with the Super Feeder, but reviewers suggest going right to the videos on the manufacturer website which will make they set up straight forward. The timer also takes a little bit of effort to master as it allows for so much customization. Most users figure out the timer through trial and error (although again there is a helpful video on how to use it) . The return policy could also be improved.
Petsafe Healthy Pet Simply Feed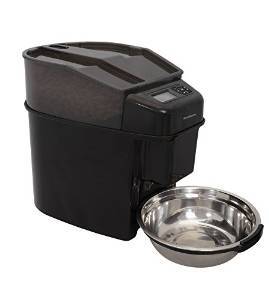 Pros: 
Guaranteed against breakage under normal use
Can program up to 12 meals a day
Dishwasher-safe
All parts in this unit can be easily repaired or replaced
Feed from a fraction of a cup to several cups of kibbles per day up to 8 times per day
Slow Feed option allows kibble to be dispensed over 15 minutes
Cons:
The metal bowl can be a little loud when food drops.
Overview: The Petsafe Healthy Pet is another really solid option if you are looking for a good quality dispenser. By most accounts, it is well made and performs well with most dry food. It gives you the option to schedule up to 12 meals a day of portions from 1/8 of a cup all the way up to 4 cups in a single serving. It also has a couple of cool modes including a slow feed mode and a pause feed mode that will stop the food temporarily. The kibble is dispensed by gravity, using a kind of conveyor-belt elevator, protected by a large plastic hood that is very reliable and seems well suited for different sizes of dry food.
What do users love about the Petsafe Healthy Pet? Most users agree that this is a well-designed product that works great. Similar to the Super Feeder, the Petsafe Healthly Pet lets pet owners dispense very precise amounts of food in multiple feedings. The majority of reviewers find it easy to program and quite flexible. The slow feed option is great for fast eaters; it helps to avoid any after effects of eating too quickly. Reviewers comment that the battery life is pretty good and they also like that it can be scheduled at asynchronous intervals (e.g., 4AM, 5AM, and 8PM) as opposed to having feedings every 24, 12, 8, or 6 hours.
What could be improved? It does not come with a power adapter (sold separately). Some users find the kibble hitting the metal bowl is too loud. There is also no warning indicator or light when the food is running low.
Pet Feedster Automatic Pet Feeder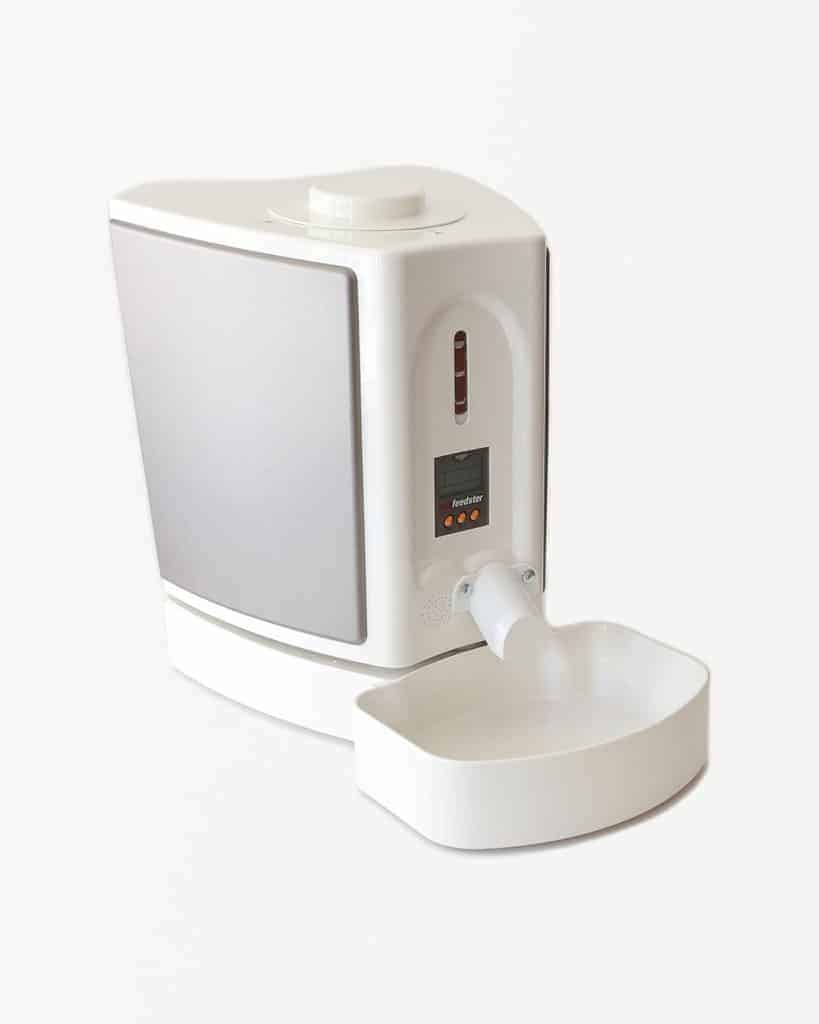 Pros: 
Kibble theft proof
Large capacity
Can dispense 1 tablespoon up to 6 cups in one meal
Battery Backup
Ant/Insect proof
Can be used with a variety of food sizes
Cons:
Because it has such a large capacity, the unit is a little large and bulky.
Plastic may cause acne for some cats.
Overview: The Pet Feedster can serve up to 5 meals per day of any portion you choose. It is also reportedly ant proof, if that is a problem that you have faced with other models. One of the best things about this unit is that it can be powered by AC adapter or 6 x "D" batteries, so if the power goes out, you have the battery backup so you don't have to worry about your cat not being fed.
What do users love about the Pet Feedster? This really does appear to be cat proof, cats can't reach the kibble through the discharge chute or knock over the feeder. The Pet Feedster works well both on AC and Battery. It holds a good amount of food and most reviewers report that setting up the feed schedule is easy.
Some users find this to be a great option if you are feeding multiple cats and need to be away for a couple of days ( because of the high capacity + peace of mind having the battery backup). One other thing that many users like about the Pet Feedster is that the amounts of kibble dispensed are pretty accurate.
What could be improved? The clock may run slow and you might have to adjust it every month or so.
PetSafe Eatwell Electronic Pet Feeder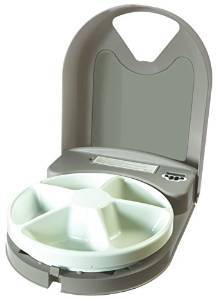 Pros:
5 1-cup-capacity chambers
Can use it for either wet or dry pet food
Easy-to-set digital timer
Dishwasher-safe tray
Inexpensive
Has a good battery life
Cons:
Can be confusing to program, if you don't keep the instructions.
Some cats can break into this model.
Plastic may cause cat acne.
Overview: This is a great option if you want to space food out over the day. It has five compartments, and you will have refill it more often that the models that have the large compartments that store big amount of food.  This wouldn't be a good feeder if you were looking to leave for a few days. This model doesn't have the flexibility of some other models, as the electronic timer allows you to set the times each new meal is presented in one hour increments and you can only program 4 feedings (not 5) because your pet has immediate access to the first bowl. It runs on 4 D-cell batteries (not included).
What do users love about the Eatwell? The low price point is a major plus for this model, some reviewer's find that the basic features suit their needs very well, and there is no need to get the features of the more expensive models. The performance is also noted by many reviewers as being very good (as long as the tray is positioned correctly).
What could be improved? If the batteries go dead, once you replace them, you need to reprogram the unit. You also need to ensure that when you remove the tray for cleaning, you have to position it correctly when you put it back on or it won't work properly.
Feed and Go Smart Pet Feeder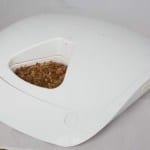 Pros:
Uses Wi-Fi, and has Built In Webcam
Can use on Unlimited Pets
Each of 6 compartments can holds up to An 8oz cup size.
Can use with wet or dry food.
Made from a cat friendly plastic
Handy option to play a message to call pet over to the feeder.
Cons:
No battery backup,
You need Wi-Fi to use it.
Overview:  This is one of the most expensive feeders available, but if you read any of the reviews users seem to think it is well worth the price. What makes this dispenser a great option for pet owners is first and foremost the webcam. Not only does it let you watch your cat eat, it lets you see who is eating the food (if you have multiple cats), if the food has been dispensed properly and if your cat eats it. It really is the next best thing to being at home and being able to supervise the feeding, especially if they have special diets or medicine they need to be taking.
Feed and Go connects to your Wi-Fi router so you can control the feedings from your smartphone, as well as watching your pet.  It also has the option to record a voice message to your pet, so you can call your pet over so you can watch them on the webcam.  The Feed and Go lets you use wet food, but you shouldn't be leaving it in the Feed and Go for more than 48 hours or it may go off. Some users freeze the food or use ice packs to buy themselves more time.  This is pretty much cat proof, since there's a locking mechanism between the trays and no one seems to have reported their cats breaking into it (at least not yet).

What do users love about Feed and Go? Reviewers really seem to love this product. They rave about the customer support, many mentioning that if a problem comes up the company pretty much won't stop until the problem is fixed and the customer satisfied.
What could be improved?
Possibly consider adding a battery backup.
Summary
Auto Feeders are a great help to pet owners struggling with many different food related issues. Not only do they help pet owners get more sleep, but they may also help pets with feeding anxiety problems, dietary issues, help with dispensing medicine and they give owners peace of mind when they are away from the home and are unable to feed their pets. There are a lot of great, innovative products on the market for a wide range of budgets that can help improve life with your cat. As long as you supervise and test your feeder on a daily or weekly basic, they are much more convenient than hand-feeding, but be aware that they do require some level of monitoring to ensure that your cat is being fed when they are supposed to be.