If you are looking for different options to use as a travel bed for infants, toddlers and kids, there are lots of great cots and portable travel beds available. The beds that are designed specifically for kids are study, durable and great for temporary use. Children's cots and travel beds are useful when staying in hotels, for camping, and also for sleepovers with family or friends.
The following are some of our favorite styles that are perfect for travelling with kids. Not only are they best sellers, they are also highly rated by consumers and experts.
The Shrunks Toddler and Child Travel Beds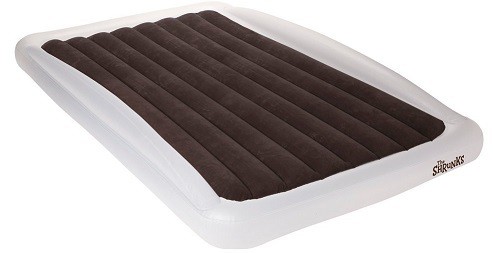 The Shrunks Travel beds are a great option if you are looking for a bed that you can easily take on a plane. You can get them in a few different sizes, including a Toddler size which is about the size of a crib mattress for kids 2 to 6 years old, and also a child's size which is about the size of a twin mattress. For those individuals who are looking for a mattress for camping, they also have a special outdoor version that comes with a foot pump rather than the electric pump. You can inflate all of the different Shrunks beds in about 30 seconds, so the setup couldn't be easier.
One of the cool features in these Shrunks products is that the mattress is separate on the sides from the bolster (white) portion, so you can tuck sheets and blankets to help them stay put. The mattress itself is also not slippery, so you can use a sleeping bag without worrying about sliding off. The toddler version of this bed has inflated bumper with side rails allows to help keep your from rolling out of bed. The PVS material that is used is phthalate-safe, BPA-safe and lead-safe. One downside of this mattress is that your kids are going to want to jump on it like crazy. Luckily it is very durable, and will be able to withstand some pretty rough treatment
AeroBed Airbed for Kids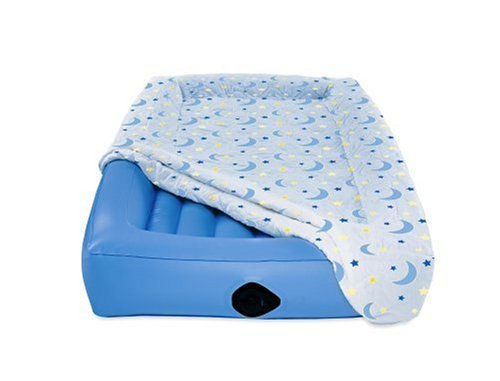 The Aerobed for Kids is another great option if you are looking for a good quality air mattress for your kids to sleep comfortably while away in a hotel, camping, or for an overnight visit at the grandparents. The size of this mattress is equivalent to a regular twin size mattress, but there is a 4 inch bumper that surrounds the entire mattress to help keep your kids from rolling onto the floor.
Aerobeds are one of the leading companies in 'airbeds', so you can rest assured this model is made with high quality materials and uses some of the innovation that Aerobeds are known for. The Material that is used is heavy duty PVC and it also has electronically welded seams to help avoid leaking and punctures. It comes with an electric pump, as well as the thick fitted sheet that is shown in the image (the design may be slightly different depending on where you buy it from). It can inflate in under a minute and can deflate in 15 seconds. It is designed for kids ages 4 and up.
Regalo My Cot Portable Bed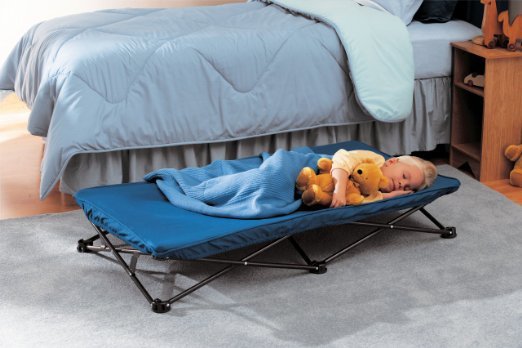 The Regalo Portable Children's cot is great, inexpensive solution for sleepovers, hotel or even naps at daycares. This cot is pretty small, so it's only good for kid's ages about 2 to 5 who weigh up to 75 pounds and are less than 52 inches tall. It is an extremely popular option, main due to its low price. If you have one of those foldable canvas chairs, it is a little bit like that. Depending on how much you need to use it and how rough it is treated, you may be able to get a fair amount of use out of it.
Some kids find this cot a bit uncomfortable due to a strap that runs down the middle of the cot, but if you child doesn't have trouble getting comfortable when sleeping, they may not notice the strap. If you are planning on using this cot occasionally then it will probably work out well. If, however, you are using it frequently, you may want to invest in something a little sturdier. The cot cover is machine washable, so it's quick and easy to clean after each use.
Lotus Travel Crib and Portable Baby Playard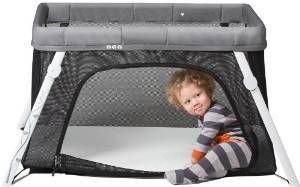 If you are shopping for a temporary bed for an infant, there are a number of different options, one of the most popular is the Lotus Travel Crib (its main competitor is the also very popular BABYBJORN Travel Crib Light). It offers a safe, secure, temporary crib setup to use in hotels or on overnight trips, to help ensure that you baby is kept safe while sleeping. The Lotus Travel Crib meets the dimensions to fit as carry-on luggage when it is not set up, making it a great option if you are travelling by plane. It is relatively light at only 13 lbs and you can set it up in only 5 seconds.
It is much more portable than a standard pack in play, due to its easy setup and light weight, but can serve much the same purpose. When your baby isn't using it to sleep, the side mesh panel unzips, so your child can climb in and out giving them a safe secure space of their own. It exceeds all safety standards and has been tested to ensure it is free of PVC, Lead, Phthalates, Formaldehyde, and Heavy Metals. If you have ever tried using a crib that is supplied by a hotel chain, you will know that investing in your own portable crib is well worth it.
 Kid-O-Bunk with Organizers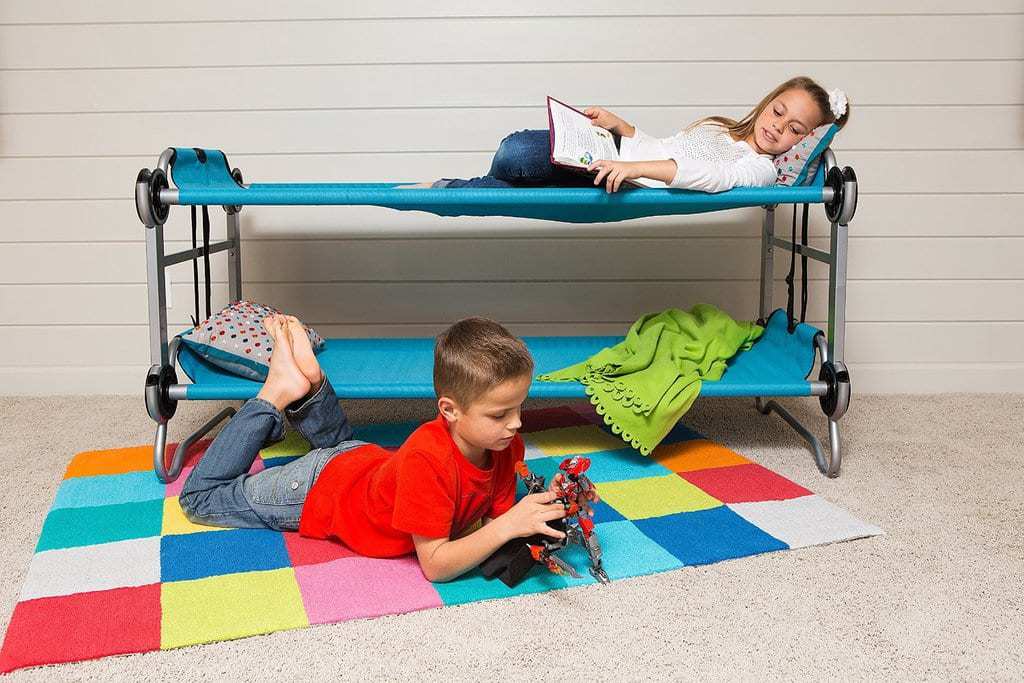 The Kid-O-Bunk is a unique design that could be perfect for a lot of different types of temporary sleeping situations. You can use it as a bunk bed, two single beds or you can turn it into a sitting bench. It is durable enough to be used indoors and out. Most kids find it comfortable, especially since there is no middle bar or strap (unlike other cots) to interfere with comfort. Surprisingly the setup is even relatively easy, with no tools required. It can hold up to 200 lbs per cot, and comes with 2 zippered storage bags.
Some users find the cots to be somewhat heavy, so you wouldn't get the Kid-O-Bunk for anything that you would need to be carrying it long distances like for hiking or a plane ride. It would work well for overnight trips to grandparents' house, vacations or hotel stays, and camping (if parked close to site).  Some users find that the option to turn the Kid-O-Bunk into a bench doesn't work that well, and can be somewhat uncomfortable as a sitting option, but for use as a cot the quality and durability of the Kid-O-Bunk can't be beat.
Types of Beds that are Available:
The two most common types of temporary beds are inflatable or cot style. Both types are very convenient and are portable enough to take travelling. Here are a few more positives and negatives to each type.
Inflatable
Pros:
Comfortable
Usually come with electric pumps making them very easy to set up
Very compact when deflated
Some models have toddler guard rails to prevent children from rolling onto the floor
Close to the ground, so kids won't be hurt if they roll of
Cons
Will have to fully deflate before packing or it may not fit back in bag (may take extra time)
Since it is inflatable, there is a chance of having a leak or a puncture
Some inflatable mattress can be noisy if you move around a lot when sleeping
May have a strong rubber smell when new
You need use (usually an electric) pump.
Travel Cots
Pros
Low to the ground
Easy to set up and put away
Don't take up much space
Easy to pack and store.
Cons
Not usually much padding on cots
Might not have as much support as some kids need in order to be comfortable.
Features
Ages and Weight Limits – Most products clearly state the age that it is marketed to, as well as the weight restrictions.  You will want to consider how long your child will be able to use the bed before they grow out of it.
Dimensions – When you are looking at dimensions you will want to look at the sleeping area dimensions as well as the overall dimensions. If your child is tall for their age you should pay particular attention to the length of the bed to ensure that you get the right size, making sure you will be able to have many years use out of it. You will also want to note the dimensions of the product when it is folded up or collapsed if you are interested in using it for travel, especially airline travel.
Weight of the bed – If you are planning on using a travel bed for hiking, camping or for air travel, look for bed that are under 15 lbs when folded up and put in a travel bag. Anything heavier will be difficult to transport comfortably.
Material – The inflatable mattress are usually made from a heavy duty PVC material, while the cots are made of steel frame with a canvas bed liner. The infant travel beds may have a light weight mesh and may have some kind of UV protection. Ensure any material is Pthalate, Lead and BPS free.
Warranty– The warranties for the different product range quite a bit in length. The lower priced options, not surprisingly, have the shorter 90 day warranties, while the higher end products have 1 or 2 year warranty.
Safety Rails– Both the Aerobed and the Shrunks bed have slightly raised sides on the mattress that act as safety rails to help stop your child from rolling of the mattress onto the floor.
Portable travel beds for kids are a great investment, whether you are staying in a hotel and need extra sleeping options, or for overnight visits with friends and family. They are inexpensive, easy to store and are comfortable for kids to sleep on.