4 February 2020
The Best Summer Slippers for Men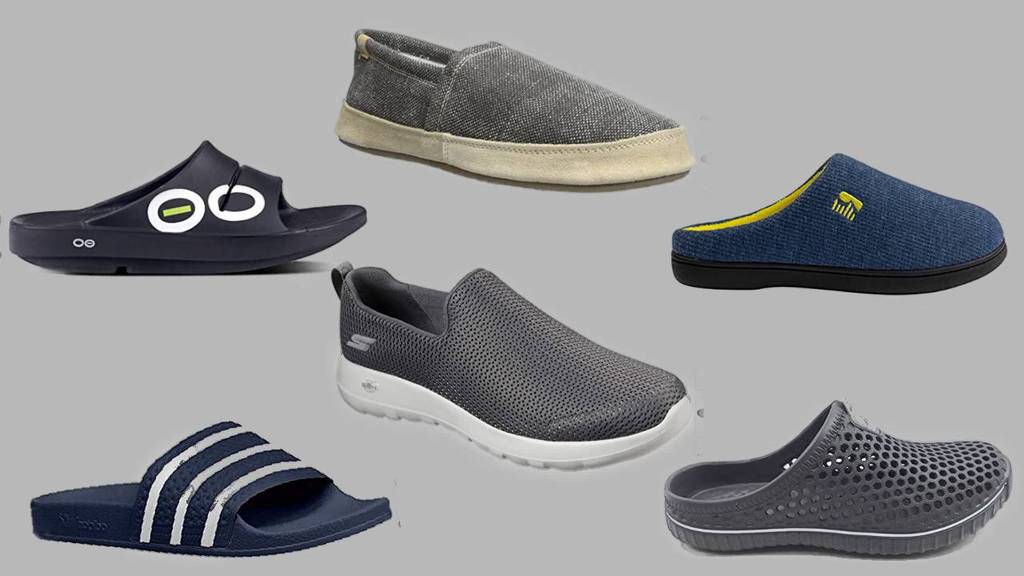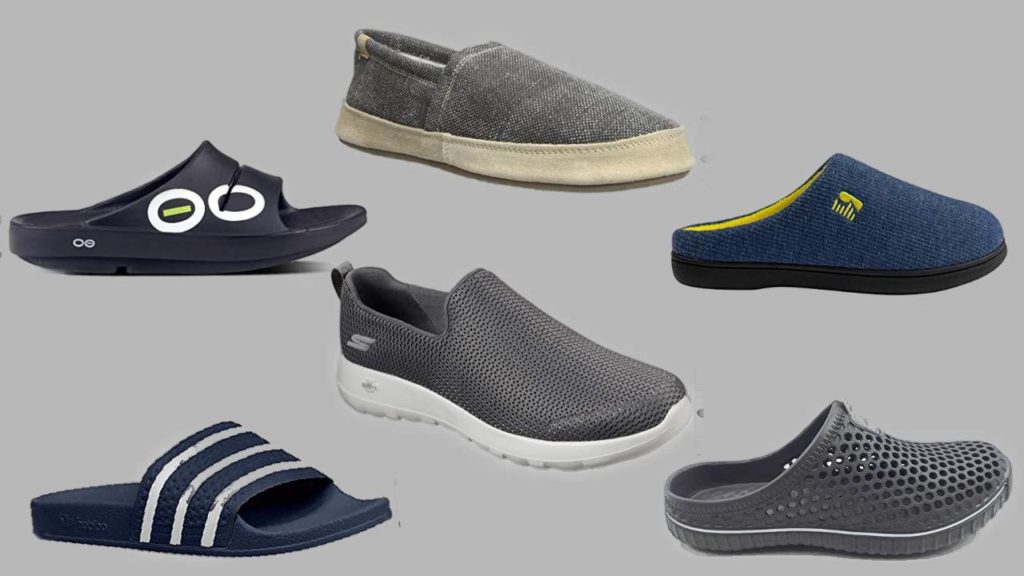 If you have been finding your slippers or house shoes too hot for the summer, you might want to try out a pair of lightweight men's slippers.
Sometimes called summer slippers, they are generally made of breathable materials and don't have the thick lining that is used in most slippers to keep your feet warm in the winter.
There are a variety of styles that are great for warmer months or for those who live in tropical climates, and we have rounded up a few of the best summer slippers for men.
OOFOS OOahh Slide Sandal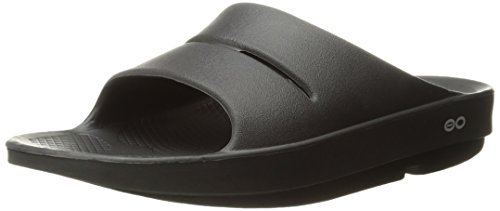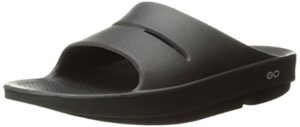 The OOFOS OOahh Slide Sandal isn't your traditional-looking slipper, but a lot of men love to wear this style as a summer slipper or house shoe.
The key to the popularity of this design is the extreme comfort that you will feel sliding your foot into the shoe.  Men that get foot pain when walking in bare feet love this style.
As you can see from the picture, they aren't the most attractive-looking slide, but if you are looking for something comfy to wear around the house that won't overheat your feet in warm weather, this may be the style for you.
They are a unisex design, so you will want to be careful with sizing if you purchase this shoe.
Available from Amazon
Nike Benassi JDI Slide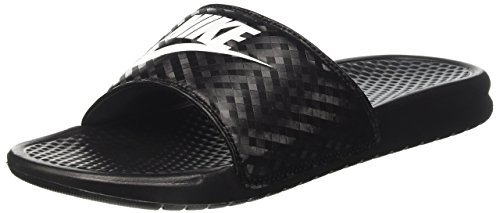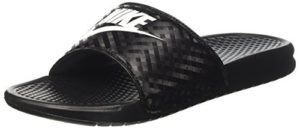 Another hugely popular summer slide that a lot of men wear as a slipper is the Nike Benassi JDI Slide. It is fresh, comfortable, and relatively fashionable.
These are some of the most popular of the versatile sports slides that men wear for many different activities, including shower shoes and everyday shoes. Where this style excels is as a house summer slipper as they can let your feet breathe, are easy to get on and off, and are easy to clean.
Available from Zappos
DL Adjustable Mens Slippers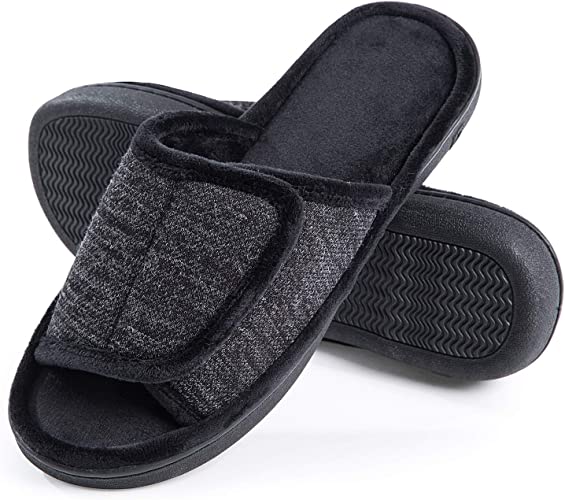 One of the most popular styles for warmer weather is the DL Adjustable Mens Slippers. They are a simple yet very comfy design with a breathable terry cloth material on the upper part of the slipper and a moisture-wicking terry lining that works well to keep your feet fresh.
The top fabric may be a little less flexible than what you are used to in a slipper, but it will soften up after a few days of wear.
The DL slipper is also washable, which is an excellent feature in a summer style to help get rid of the odor caused when your feet sweat. You can get them in six different colors, and they have a non-slip rubber sole, so you can wear them outside if you need to.
Available from Amazon
RockDove Two-Tone Memory Foam Slippers for Men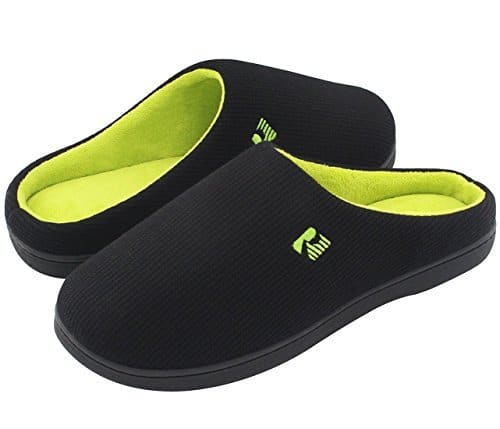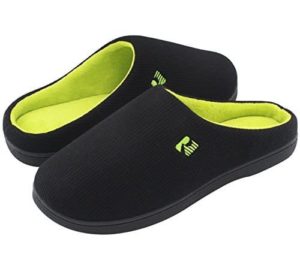 RockDove's Two-Tone Memory Foam Slippers are an inexpensive option that is perfect for warm-weather wear. They are made of a 95% cotton upper material (cotton is known to be a comfortable, breathable fabric), with a terry cloth lining that will wick the moisture from your feet and stop them from feeling sweaty.
You can machine wash them if needed, although you probably don't want to clean them too often because it may wear down the memory foam. They may take a few days to break in, but once broken in, most people find them to be very comfortable, especially for the low price.
Available from Amazon
Skechers Men's Go Max-Athletic Air Mesh Slip on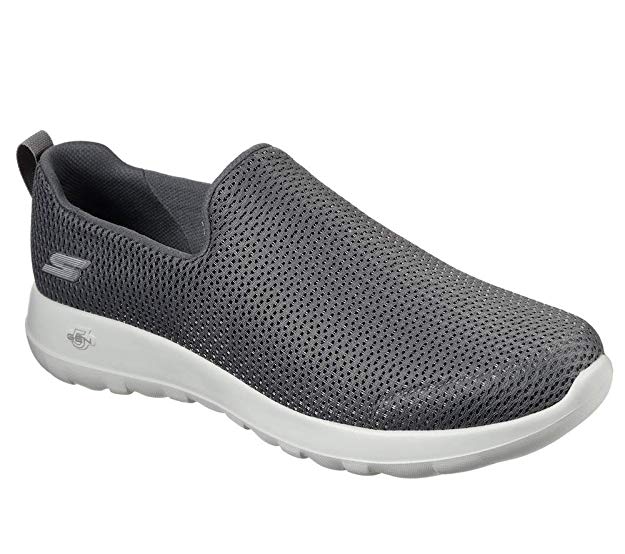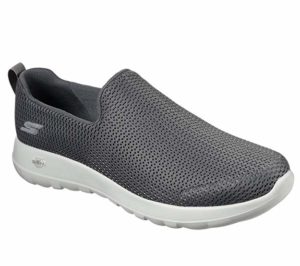 A style that a lot of men love to wear around the house in the summer is the Skechers Men's Go Max-Athletic Air Mesh Slip-on.
They don't look like traditional slippers, but they work great as an excellent lightweight summer option. Not only do they look good, but they are also easy to slip on and off, and they don't leave scuff marks.
They are cool due to the upper lightweight nylon mesh that allows your feet to breathe. The sole of the shoe is heavily padded and gives a comfortable feel. They are a nice-looking style that you can wear out of the house if you want to.
Available from Amazon
Adidas Originals Men's Adissage Sandal


Adidas has a few similar sandal styles that work well as an indoor/outdoor slippers. They are incredibly popular because they are comfortable, easy to get on, and very versatile. You can wear them around the house, in the shower, running out for errands, at the beach, etc.
The style pictured above is the Adissage design; it has been around for so long now that it is considered a classic. It is mainly notable for the massaging nubs on the sole of the sandal. The nubs take a little bit of getting used to, but once you have worn them for a few days, most wearers grow to love the massaging action they create.
These are great for people whose feet get very warm and who want something comfortable to wear around the house. Since it has a Velcro strap, you can even wear these with socks in the winter if you love the feel of the shoe and want to wear them year-round.
The only problem with these sandals is that the nubs will break off as the shoe wears in, so depending on how much you wear them, you may have to replace the sandals a little quicker than you would with a regular good quality flip flop.
Available from Amazon
V.J Men's Summer Breathable Leather House Slippers Casual Beach Sandals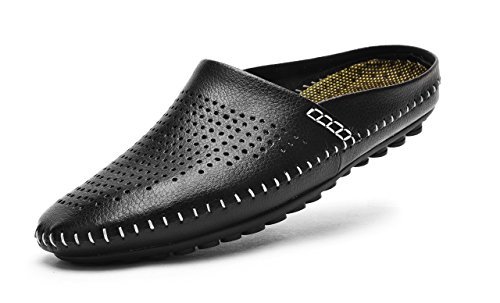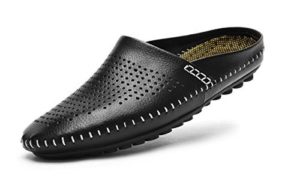 These V.J Leather House shoes are a great option if you love a leather slip-on. Sometimes leather can be a little hot in the summer, but this design has holes in the leather that allow your feet to breathe and stay cool.
The inside of the slipper has an antimicrobial lining to help stop odor and to absorb moisture. The soles are rubber and have excellent anti-slip traction, which can sometimes be lacking in leather mule styles. These also work well if you want to wear them with socks in the colder months.
Available from Amazon
Amoji Unisex Garden Clogs Shoes Slippers Sandals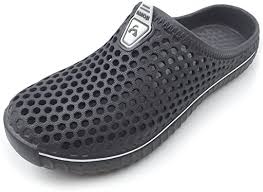 This inexpensive, versatile shoe from Amoji works well for many different types of situations but excels as a summer slipper.
The breathable lightweight EVA material is comfy comfortable and the drainage holes help keep them cool. There are some complaints about the heel of the design, but most reviewers find the cost and quality to be well worth trying this style out
Available from Amazon
What to Look for in a Summer Slipper
For most men, what makes a great summer slipper is a design that won't make their feet feel hot like a traditional slipper built for warmth. Some other things you may want to consider when finding an excellent option for the warmer months:
Comfort– Obviously, no one is going to want to wear a style for long periods that is uncomfortable. Look for memory foam, a soft sole, sponge, and arch support (if you need it) to help find the most comfortable options.
Lightweight – The weight of the slipper can also be related to how comfortable it is going to be. For a house shoe generally, people want a style that they aren't going to notice that they are wearing, this means finding something that is lightweight and isn't clunky to wear.
Sizing- Getting the right size and fit is also extremely important. Unfortunately, sizing isn't standard across different brands, so if you are buying online, it is essential to read any sizing information posted by the manufacturer or check reviews to see if the product sizing is accurate.
Easy to put on- Most people want a slipper that they can slip on without any trouble. The most comfortable design to get on is a mule style that doesn't have a back. The downside to an easy-to-get-on slipper is that they are also easy to get off, so they may fall off more than a snug slipper that has a back is works more like a shoe.
Construction-Slippers generally don't have a long life to them. Depending on the construction, inexpensive house slippers with a soft sole tend not to last more than a year or two if you are lucky.
Materials-The best material in a summer slipper is a breathable fabric. Look for cotton blends, Terry (for wicking), microfibers, or rubber if you are going for a flip flop style.
Sole– These days most slippers come with a non-slip grip on the bottom of the sole. If you are planning on wearing the shoe outside, ensure that you find a style that has a rubber sole so it is more durable and won't become ruined if it is exposed to rain or other outside elements.
Washable– A significant advantage that summer slippers have over winter slippers is that for the most part, they are much easier to clean. Slippers for colder weather are often made of materials like suede with sheepskin linings, so cleaning them can be difficult. Almost all of the slippers on our list above can be machine or hand washed.
Latest posts by Ollie Stern
(see all)