19 March 2019
5 of the Best Men's Shaping Underwear
Men's enhancing underwear is specially designed shapewear that comes with features like padding or compression fabrics that you can wear to make your body look better.
Whether you are looking for a style that will lift and shape your behind or you would like a little extra padding in the front, there are lots of options that can quickly and easily give you the shape that you would like. They can also help you get into clothes that might be a tight squeeze otherwise.
We have found a few of the best options in men's shaping underwear.
Spanx for Men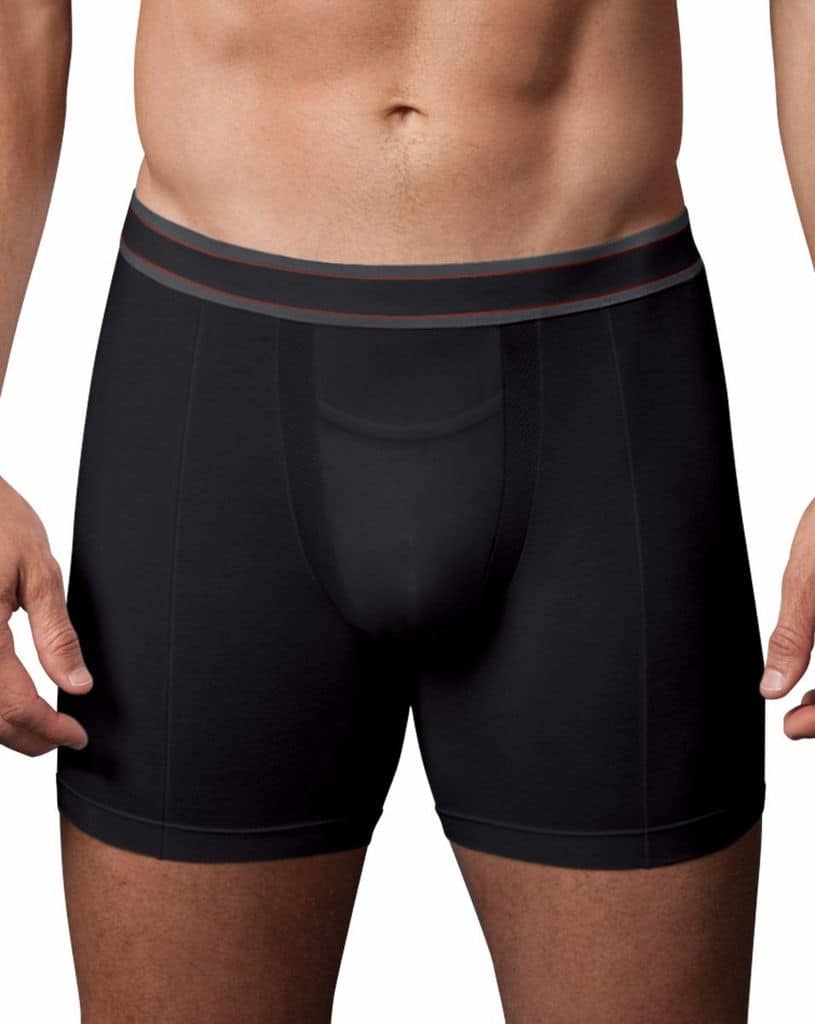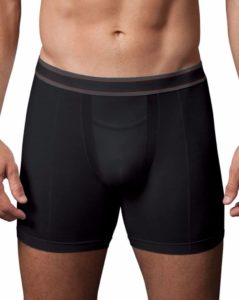 Not only is Spanx one of the best women's shapewear brands, but they also have innovative and good quality options for men as well. Spanx has been in the business of shapewear for almost twenty years, and they have a good handle on what both men and women are looking for with enhancing underwear.
Most of their designs offer comfort and performance by using breathable fabrics that will lift and improve, while also being something that you can wear all day. They have a few different designs for men's underwear with the option to get either trunk, brief, or boxer brief styles. The most popular are the men's comfort options, but if you are looking for a little extra help with your gut, they also have a trunk or a boxer brief that will hold in your stomach.
The Spanx men's options have features like 3D pouch cups, breath-easy mesh zones wick to keep you fresh, and the fabric blend doesn't sag. The other notable feature is that the Spanx underwear has a horizontal fly for easy access and a secure feel.
Available from Spanx
Saxx Underwear Men's Vibe Boxer Brief with BallPark Pouch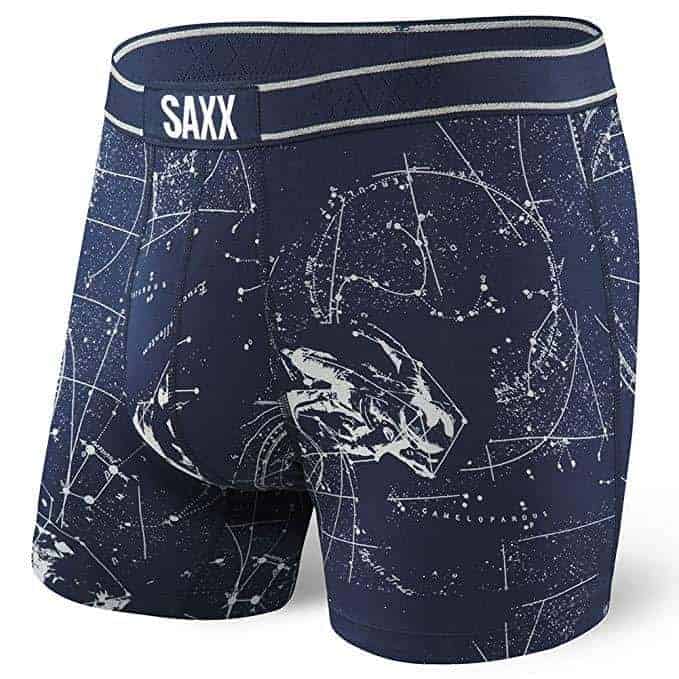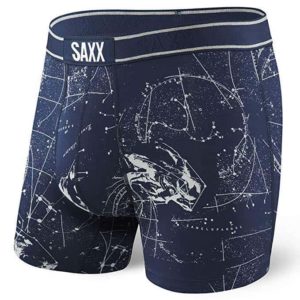 Saxx's super popular Vibe Boxer Brief is another good option if you want a little bit of shaping, but not quite as much compression as you would get with Spanx. The Vibe is designed to give you shaping around your glutes, thighs, quads, and hamstrings, to provide you with an overall attractive shape.
The most noteworthy feature of the Vibe is the BallPark Pouch that is famous for its friction-free support that will make sure everything stays where it is supposed to. A lot of men getting pretty hooked on this style, and find it hard to go back to regular underwear after wearing them. They also come in some fairly wild fabric patterns, so if you like a little more personality in your underwear, they may be the style for you.
The Vibe is a slim fit and offers a little bit of shaping, but if you want more compression, you may want to check out the Saxx Kinetic that is a semi-compression fit and is generally recommended to wear when you are participating in sports or more active pursuits.
Available from Amazon
2xist Shapewear Maximize No-Show Trunk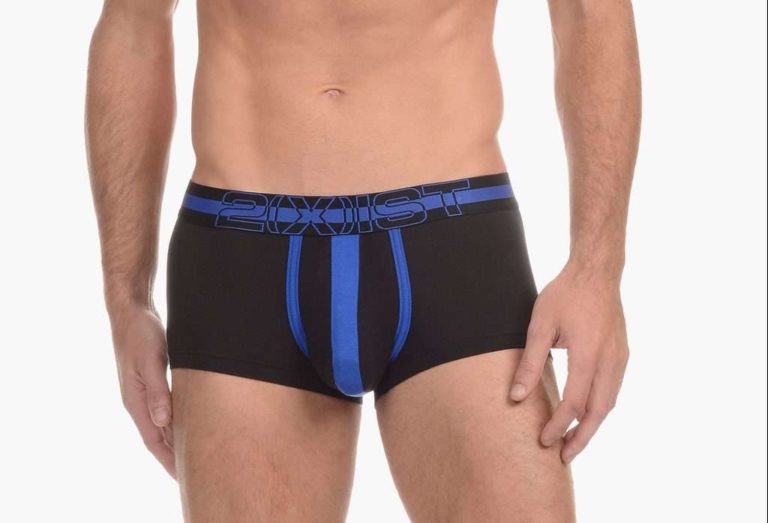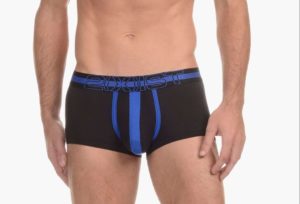 Another good brand to check out if you are looking for enhancement is 2xist. Their Maximize No-Show Trunk design helps enhance the look of the pouch and gives it a bit of lift along with some good support in that area. The body of the underwear isn't super-shaping but instead more of a comfortable fit. The material is a blend of 96% modal (which is a very soft fabric) and 4% spandex.
The main feature is the pouch and the no-show design.  It also has a colorful elastic waistband with the 2xist logo. They look very sexy and can be worn all day due to their comfort level.
Available from 2xist.com
Leo Men's Padded Butt Enhhancer Brief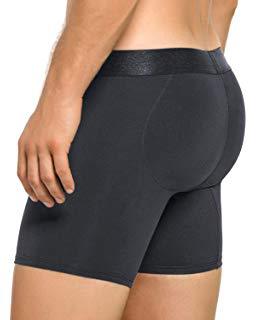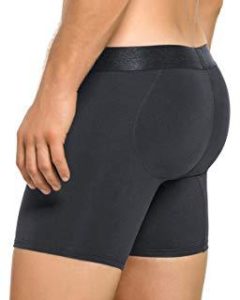 If your goal is to enhance your butt, you are going to want to check out the Leo Men's Padded Butt Enhancer Boxer Brief. They come with removable padding that can give you a little bit of shape if needed. Or, if you prefer, you can wear them without the filling still giving you a little bit of lift, but they mostly feel like a typical boxer brief. The padding can also work well if you extra comfort if you are sitting or riding for long periods.
This design also includes something called PowerSlim®  and DuraFit® that is made to give the effect of muscle tone on the legs. They are reportedly very comfortable, and the increase due to the padding is the right amount for most men if you are looking for a more enhanced buttocks look.
Available from Leonisa
Rounderbum Basic Package Enhancing Trunk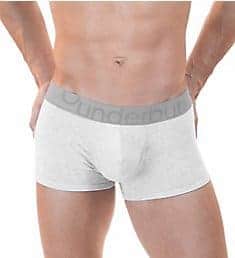 Another option if you are looking to enhance the look of the pouch is the Rounderbum Basic Package Enhancing Trunk. Despite the name, this design doesn't make your butt look more prominent, but instead focuses on the pouch area by including a compartment in the pouch that has removable padding.
The fabric of this trunk is a blend of knit cotton and elastane (93% cotton, 7% elastane), so it is soft with a little bit of stretch to it. The back is seamless, making it a good option if you are bothered by seams, it is also tagless which is pretty standard these days. The design is low-rise, which some men don't like and it is worth being aware of if you are interested in this style.
Available from Hisroom.com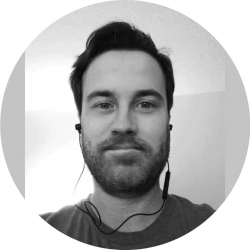 Latest posts by Mike MacDonald
(see all)