26 October 2016
The 4 Most Popular Overbed Tables Review
Whether you are limited to a bed for medical reasons or you enjoy spending a lot of time in bed, overbed tables are an excellent investment to help make activities like eating, reading, watching TV, doing crosswords or using a computer easier. Overbed designs generally have a rectangular shaped top that is attached to a four-wheeled rolling base. You can adjust the height of the top to fit your mattress, while the base slides under your bed. Since these models have wheels or casters on the bottom, they are easy to move into position, or away from the bed when not in use. To help you find the best table for the best value, we have rounded up the most popular options for whatever your needs may be.
Top Picks:
Features to look for
The features that you will find most useful will depend on how you use the table. Here are a few things to consider when looking at different products.
Easy to use – If you are buying for someone who may have limited mobility or only has the use of one arm, make sure you look for products that have adjustment mechanisms that are easy to use and to lock into place.
Easy to clean – Most models have stainless steel on the base, and easy to clean laminated tops.
Easy to assemble – All of the models that we have recommended can be assembled in 30 minutes or less. Some can be put together in less than 5 minutes.
Wheels- The wheels are an important component of overbed tables. You will want to ensure any product that you buy has a locking mechanism on the wheels to make sure it stays in place. You will also want to check reviews to ensure that the wheels work well on all floor surfaces including carpet (if you will be using it on carpet).
Swivel- Being able to swivel the top away from the bed is a great feature to have. It lets the user quickly move from the bed without the table getting in the way. The Kist model has a swivel feature. 
Tilt- Some designs offer the option to tilt the tabletop, giving you a little bit more versatility with what you can do with it. The tilt feature is something you will look for if you are going to be using it for reading or writing. If you do choose a product with a tilt feature, you may also want also to ensure that it has a raised edge or a lip along the bottom edge that can hold your book or other reading material in place.
Drawer – Surprisingly there aren't many options with drawers and storage. One of the few models that have a drawer is the AmFab Table With Vanity.
Raised edge or lip – If you are placing small items on the top that could roll off, you may want to look for a model that has a raised edge or a lip around the perimeter.
Weight capacity– Take note of the weight limit that the tabletop surface can handle; it is usually somewhere between 25 and 50 pounds.
Things to be aware of:
Before buying any table, it is essential that you measure the amount of clearance under the bed. Most models should fit most beds, but it is worth checking all of the measurements before purchase.
You should also consider the amount of surface top space that you are likely to need. If you are only going to be using it just for reading and eating, you won't need a large surface, but if you are buying it to use as a stand-up desk, then you may want to get the biggest surface that you can find (Kist).
Uses
An overbed table is a pretty useful item to have in your home. Most commonly they are used during illness when it becomes difficult for an individual to leave their bed, but they can be used for much more including reading, using a computer, eating, as a stand-up desk, using while doing a crossword or crafts.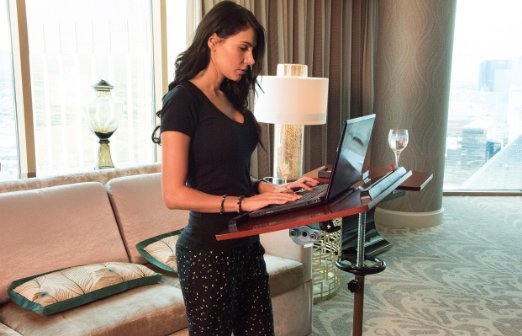 FAQ
Q: What do I need to know about the height of the base?
A: Before buying any product check the measurement listing for the height of the base and compare it to the measurement of clearance that you have between the bottom of your bed and the floor. Or if you are looking for a design that will work with a particular chair measure the distance between the bottom of the chair and the floor to ensure that you will be able to get the base under the chair.
Q: Are there any overbeds that fold down and hide under the mattress?
A: No, unfortunately, there are not any models that you can fold down and put away.  You would have to disassemble most products to hide them away.
Q: Why do some designs have a lip or raised border around the top?
A: A raised lip is just an easy way to stop items from sliding off. They are especially useful for tables that tilt.
Q: What types of colors and materials do they come in?
A: Most are made from a wood grained laminated top with a stainless steel base. You can get them in different types of laminated wood grained finishes. Or if you buy a product with a plastic top, they are most commonly white or gray.
Q: How can I tell if a particular model will it work with a recliner or a wheelchair?
A: Most tables won't work with a wheelchair unless you get one that is explicitly designed for a wheelchair (like the Carex Overbed Table). Otherwise, the base would conflict with the wheelchair's wheel. If your recliner has a clearance underneath that is bigger than the dimension of the base of an overbed table then you will be able to use it with that recliner.
Q: How much weight do they support?
A: The range of the most popular models goes from about 25 lbs to around 40 pounds. Heavy duty hospital grade tables (that cost $600+) can hold up to 500lbs. Do not expect to use the table as a support for getting in and out of bed, as it will not be sturdy enough for that.