It can sometimes be difficult to find a good women's sun hat that will protect your face from the sun, while still looking fashionable and cute and won't leave you feeling self conscious. Whether you need a women's sun protection options for hiking, a floppy beach styles or something packable for travel, we have got you covered (up) with a list of some of the best hats that can help protect your skin.
Read more: 12 of the Top Men's Sun Protection Hats
Brixton 'Joanna' Straw Hat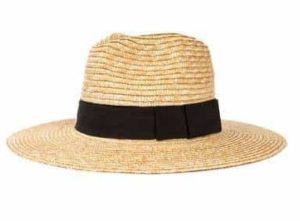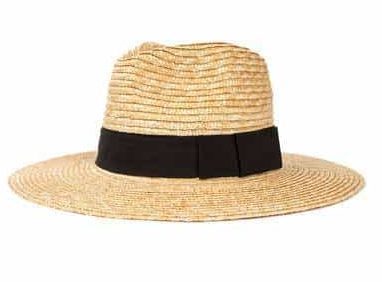 The Brixton 'Joanna' Straw Hat is a very popular, stylish design women love for travel or for wearing to the beach or the pool. It has a wide brim that will cover your face from the sun. The entire hat is a little stiff, so you have to be careful when packing this hat, it should be packed flat and the crown should be filled with other clothing items to help it keep its shape. It will provide a good amount of shade without feeling too big. It comes in different head sizes so you have to measure your head to ensure you are getting the correct sizing.
Find at Nordstrom 
Scala Women's Cotton Big Brim Hat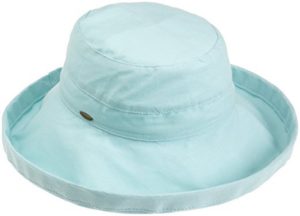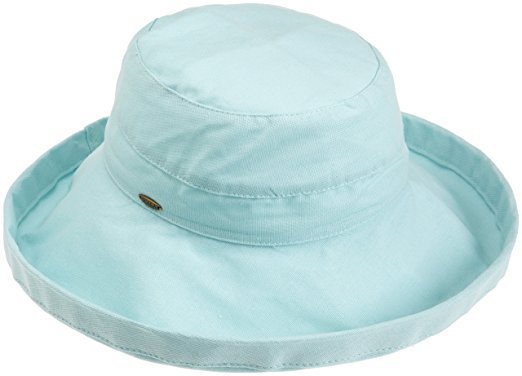 This popular design from Scala is a fantastic choice to help protect you from the sun. It is so versatile you can wear it for a lot of different outdoor activities like going to the beach, gardening, and hiking. It also works well for traveling since you can pack and fold it up, and it will still look great when you pull it out. This design will keep your head cool and and keep the sun off your face, neck, and shoulders. It comes in 35 colors and works well for head sizes up to about 22 inches circumference (see below for info on how to measure your head size). The brim size is 2.5 inches, which is on the shorter side for sun protection (I usually like at least a 3 inch brim), but it is slanted downwards and can be shaped and styled so you can get the maximum sun protection. The fabric is a fairly heavyweight cotton with a UPF 50+ rating. The interior has a tie string in the sweatband that allows you to tighten it if you are finding it is too big.  This design is easy to take care of as it holds up well to hand washing or washing on a delicate cycle in your machine. When the hat is air drying all you need to do is work it back into its original shape. If you are going on a cruise or somewhere you may encounter a lot of wind, this style isn't the best option as it it does not have a chin strap.
Check pricing on Amazon
Wallaroo Women's Victoria Poly-Straw Hat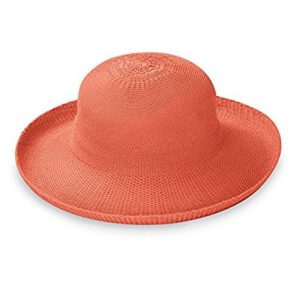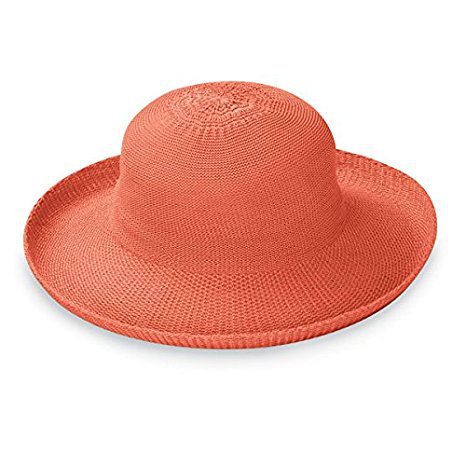 If you are looking for colorful, stylish straw hat, the Wallaroo Women's Victoria Poly-Straw Hatis well worth a look. It has a 3.5″ shaped brim, so you will get plenty of cover from the sun. It also has an internal drawstring, so you have room to adjust the sizing if it is a little big for you. It comes in a 19 beautiful colors, so you will likely find a color to match any kind of outfit.  This would make a nice style for travelling since it is packable and lightweight. The only caveat is you have to pack it flat or by filling the crown with something like socks or other clothes to maintain the shape of the hat. It can be hand washed in cold water, but it probably won't need much cleaning if it is well taken care of. The Victoria hat has a 22 ⅝ inch circumference size, so it will work for those with larger sized heads. If your head is a smaller size Wallaroo also has a petite version you can find here.
Check pricing on Amazon
Outdoor Research Sombriolet Sun Hat – Unisex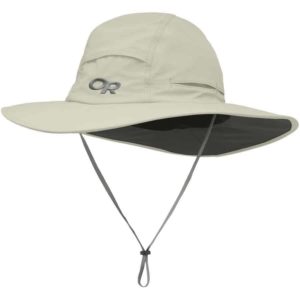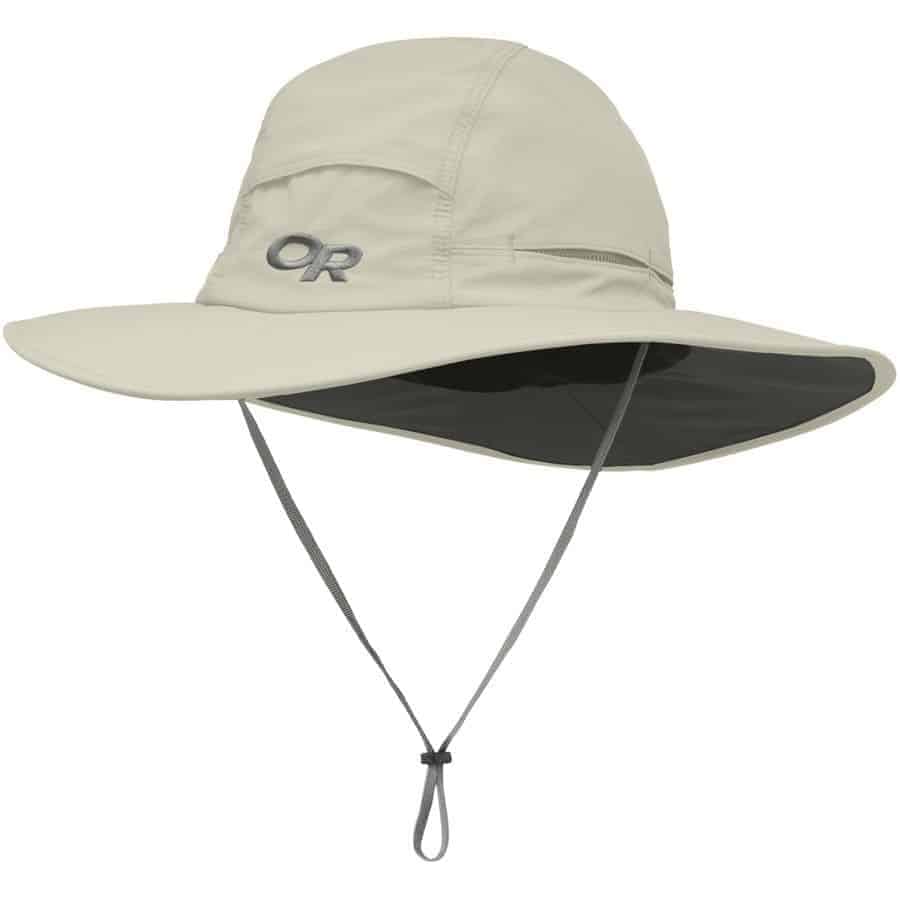 Outdoor Research have a lot of great options to choose from, one of their most popular styles is the Sombriolet Sun Hat. It is similar to the Columbia Booney listed above as it has the nylon and polyester with UPF 50+, the moisture wicking headband and a drawcord to customize the fit. One difference from the Columbia is the brim is a little wider so you will get a bit more coverage with this style. What is great about this style is it works well not just in the sun but also in the wind and the rain.This style is made of a light-weight material, with nicely placed vents to allow air in, and heat out. The brim has a foam insert, so it will float if it is dropped in the water.
Find at Backcountry.com
Sloggers Women's Wide Brim Braided Sun Hat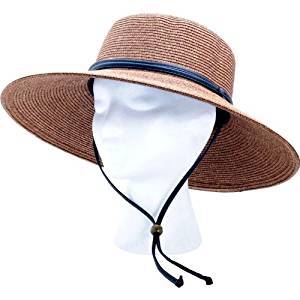 A popular style a lot of women really like for gardening is the Sloggers Women's Wide Brim Braided Sun Hat. Not only will this Slogger style protect your face and neck because of the wide 4.15 inch brim, it also has a wind lanyard so you can wear it when it is windy. It has an elegant modern design that can be worn on a cruise, to the beach or with a beautiful dress at a garden party. The material is 65 % paper and 35% polyester, making it feel solid and durable while at the same time being soft and providing a UPF 50 rating. The lanyard is a soft material with a bead  you can adjust up and down. This design is 22.5 inches, so it won't fit if your head if larger than that in circumference.  This style probably isn't the best option for travelling since it doesn't pack easily. It can be packed, but you will have to take precautions to ensure it doesn't get crushed in your luggage. One issue some women have run into with this style is it can get a little hot, as there are no vent holes in the top for cooling.
Available from Amazon
Columbia Sportswear Bora Bora Booney II Sun Hats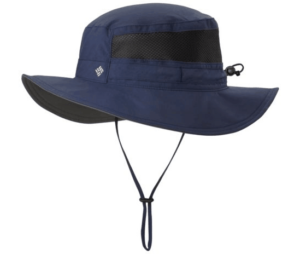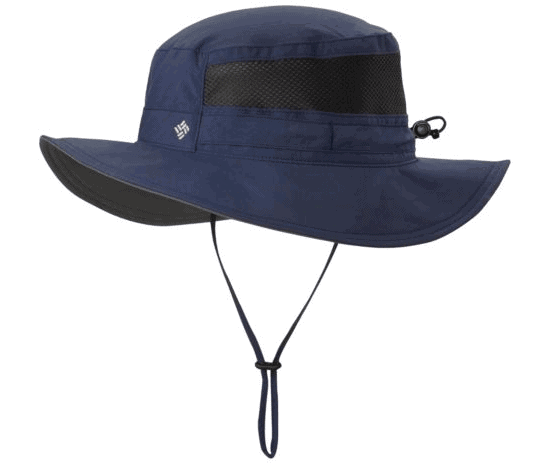 Booney hats are a well loved style for fishing, hiking and for going to the beach.  The Bora Bora Booney II Sun Hat from Columbia is a favorite booney style for many because it offers great sun protection for your face, neck, and ears with its UPF 50 fabrication. This style runs a little big so it is good for those who have a big head or thick hair. It is also unisex, so you need to be careful with sizing. Most people find Bora Bora Booney II to be comfortable and breathable because of the fabric and the ventilation allows a good amount of air flow, so your head doesn't get too hot.  It comes with a drawstring to keep it secured in the wind, as well as a string to adjust the fit if the sizing is too big or too small. One other feature to note is it has an Omni-Wick® sweatband to keep you cool and the sweat from dripping in your eyes.
Available from Columbia.com
L.L.Bean Tropicwear Outback Hat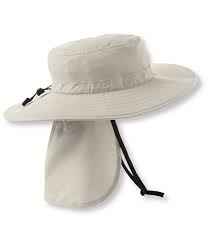 The L.L.Bean Tropicwear Outback Hat is a lightweight enough to help keep you cool and comfortable in hot weather. It is made of a quick-drying nylon/polyester blend with a UPF 50+. Like most of L.L Beans products, this is a well made, durable option with lots of great features.  It has a moisture wicking sweatband to stop sweat from dripping onto your face. This is another design with a foam insert to ensure the hat will float if it is dropped in the water. If you like to have extra protection for your neck this is a great option, as it has the back flap you can roll out if you need it or tuck it into a hidden pocket if you don't.  It also has a chin strap and an adjustable head strap, that are helpful if you are in windy conditions.  The only downside to this design is  is there isn't much ventilation and it may get hot in the sun.
Find at L.L Bean
Eric Javits Hampton' Straw Sun Hat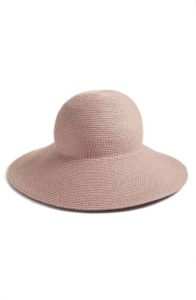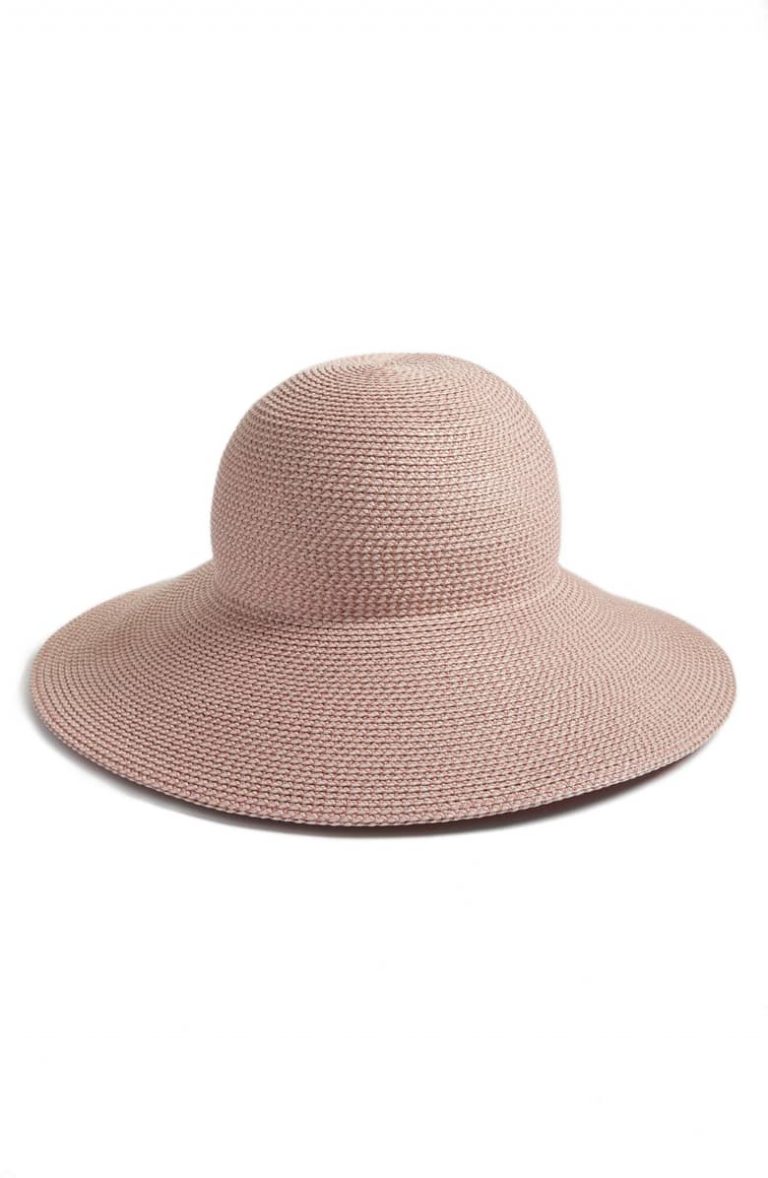 The Eric Javits Hampton' Straw Sun Hat is the most expensive on our list, but it is very popular as one of the best designer options. It is reportedly very comfortable, well made and good for travelling. The fashionable, yet practical, design makes it versatile enough to wear almost anywhere. It only comes in the 'one size fits most' option, so it may be a little small for some women. The brim is 4.5 inches, which should provide good coverage from the sun for most women. It isn't the biggest beach style, but rather a more subtle and practical option you can wear for most activities. It does come with an inner adjustable tie so you can tighten it on windy days. If you can get past the high price tag, a lot of women feel this brand is well worth the cost due to the quality, style and versatility of the hat.
Available from Nordstrom
Sunday Afternoons Adventure Hat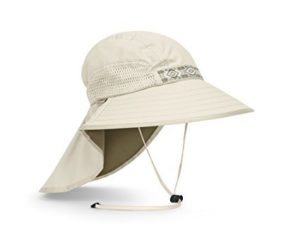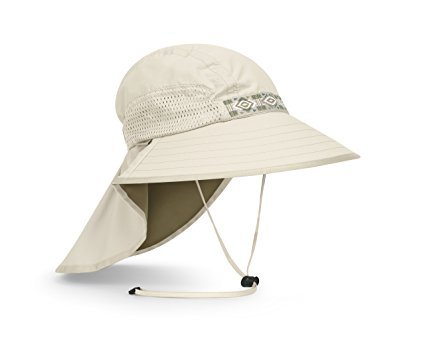 The Sunday Afternoons Adventure Hat is one of the most beloved and well known sun styles you are going to find.  It has great sun protection with it's 4″ brim and 7½" neck cape. The Nylon Polyester blend fabric is  UPF 50+, so you will definitely be getting a lot of protection from the sun with this style . It's a little dorky looking, but people love this hat for the protection it offer and how good it is in different weather conditions. When it is hot it has ventilation and a wicking sweatband, so you don't get drenched in sweat. When it is windy and raining, there is the neck lanyard to keep it on and the fabric is water resistant to help keep your head dry.
Check pricing on Amazon
Tilley Women's Hemp Cloche Hat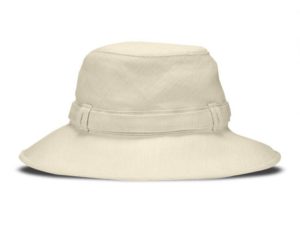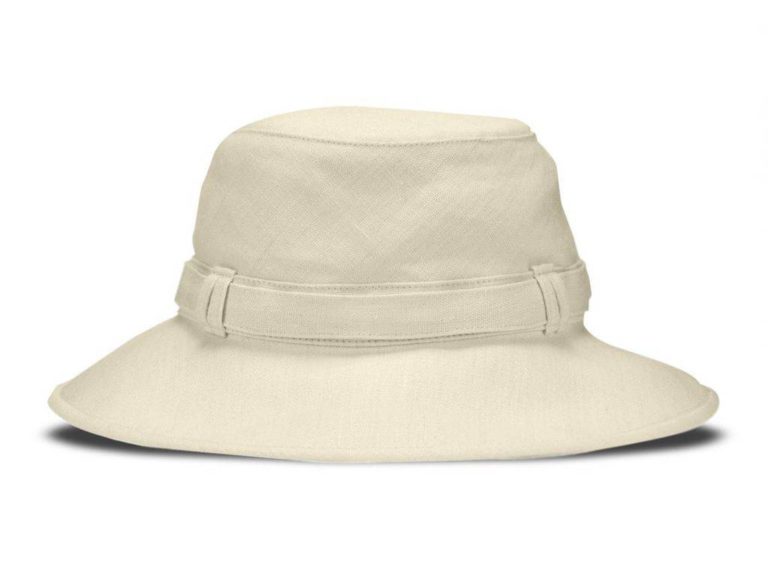 Tilley Hats are another much loved option if you are looking for a good quality, long lasting style to keep the sun off. The Tilley Women's Hemp Cloche Hat is a beautiful design that is elegant, but will also protect your face. It has a 3 inch brim and comes with a wind cord. It has a secret pocket you can hide your money and credit cards, or you can tuck the wind cord in if you aren't using it. This is a great design for adventure and travel as it's water resistant and easy to clean, you can fold it up, pack it and it will still look great when you take it out.
Find at Tilley
What to Look for:
Sizing
>When buying a hat, it is very important you measure your head circumference,  especially if you are ordering online. A rough sizing guide is if your head circumference is 20″ – 21″ it will be a medium size,  21″ – 23″ will be a large size, and 23″ – 25″ will be extra large.
To measure your head, use either a measuring tape, a piece of string or dental floss and place it around the crown of your head above the eyebrows and ears (the largest part of your head). Try not to hold it too tight or too loose. Then just check the measurement or measure the length of the string. Most hats will say the circumference in the description of the product. Some hats have adjustable sizing using an adjustable head strap on the inner part of the hat you tighten or loosen depending on your preference.
If your measurement comes up in between sizes, go for the larger size, and look for a style with an adjustable sizing strap.
Brim Size
For good sun protection you will want to look for hats which have a brim with a minimum of 2.5 inches, but a 3 inch brim is a good place to start. You can get much larger brims that go into 4.5 inches or more, but there are some downsides to getting a style with a huge brim. While they will give you great sun protection, they can be a bit distracting and difficult to see out of. You will also want to consider the angle of the brim. Brims that are angled downwards will give you a little more sun protection than those that go straight out from the crown.
Rated
If you are looking to protect your skin from the sun you should make sure you know how much protection you are getting. It is a good idea to get a design with a UPF (Ultraviolet Protection Factor) rating of at least 50+. The UPF rating measures how much UV radiation is going through the fabric. A fabric with a UV radiation of 50+ should block at least 98% of the harmful UVA and UVB rays. FYI not all of the hats we listed above have been measured for their UPF rating.
Packable
Most people are going to be wearing their sun hats while they are travelling, so it's a good idea to look for hats that will it retain their shape when they are packed in a suitcase. Most hats will get a bit wrinkled when packed, but if the product is described as being packable, the wrinkles should be able to be smoothed out once the hat is outside of the suitcase.
Wind
One annoying problem with larger brimmed hats is they love to blow off in the wind. The obvious solution to this problem is to get a design with a chin/neck strap.This will stop it from blowing off, and when not in use most straps can be tucked away into the hat.
Cleaning
Depending on when and where you are wearing them, sun hats can get pretty dirty or stained with sweat, which is never a good look. If your hats tend to get dirty quickly, look for fabrics which can be hand washed or washed on the delicate cycle in your machine. You will probably want to avoid straw designs. Usually when you are washing a hat you will air dry it and then take some time to shape it into the proper shape while it is drying.
Breathability
A key factor in finding a great sun hats is how breathable it feels on a hot day. If the design is made of a breathable fabric, you will have a better chance of staying cool and not overheating when the weather gets really warm.  If you are doing a lot of physical activities you will also want to look for styles with mesh ventilation.
Comfort
Obviously comfort is another key factor to getting a good hat. Sizing and fabric are important to getting a comfortable fit, but you should also think about the activities you are going to be doing while wearing your hat and choose a brim width and style accordingly. If you are planning on hiking, a huge brimmed design might be great for the beach won't be very practical when trying to see your way on a trail.  Or if you are looking for something for activities with a lot of wind, you will need to get a hat with a chin strap.
Color
If you have ever worn black fabric in the summer you will know it doesn't tend to do a good job at keeping you cool. The most popular styles are light colored for obvious reasons. Light colored fabrics help reflect heat rather than absorb it like dark colored fabric do. Lighter colors get dirty faster, while dark colors may fade quicker than lighter colors.
Style
The most useful sun protection hats don't tend to the most fashionable. It can be difficult to get something you feel comfortable in that also protects your skin. A weird design or a huge floppy style can make a lot of people really self conscious, no matter how much protection they are getting from the sun. Look for styles that suits your face or at least you can live with when wearing out in public.