Whether you are looking for shapewear for a big event or everyday wear, thigh slimmers can help trim look of the upper part of your legs and will stop problems that occur due to chaffing.  There are different types of designs that work well for thighs with varying levels of support. You can get lighter shapewear that can help smooth out the look of your clothes,  or stronger compression options that shape and sculpt your body. We have found some of the best shapewear for thighs to help give your clothes a seamless and smooth look with no lines or bulges anywhere.
Spanx Thigh Slimmers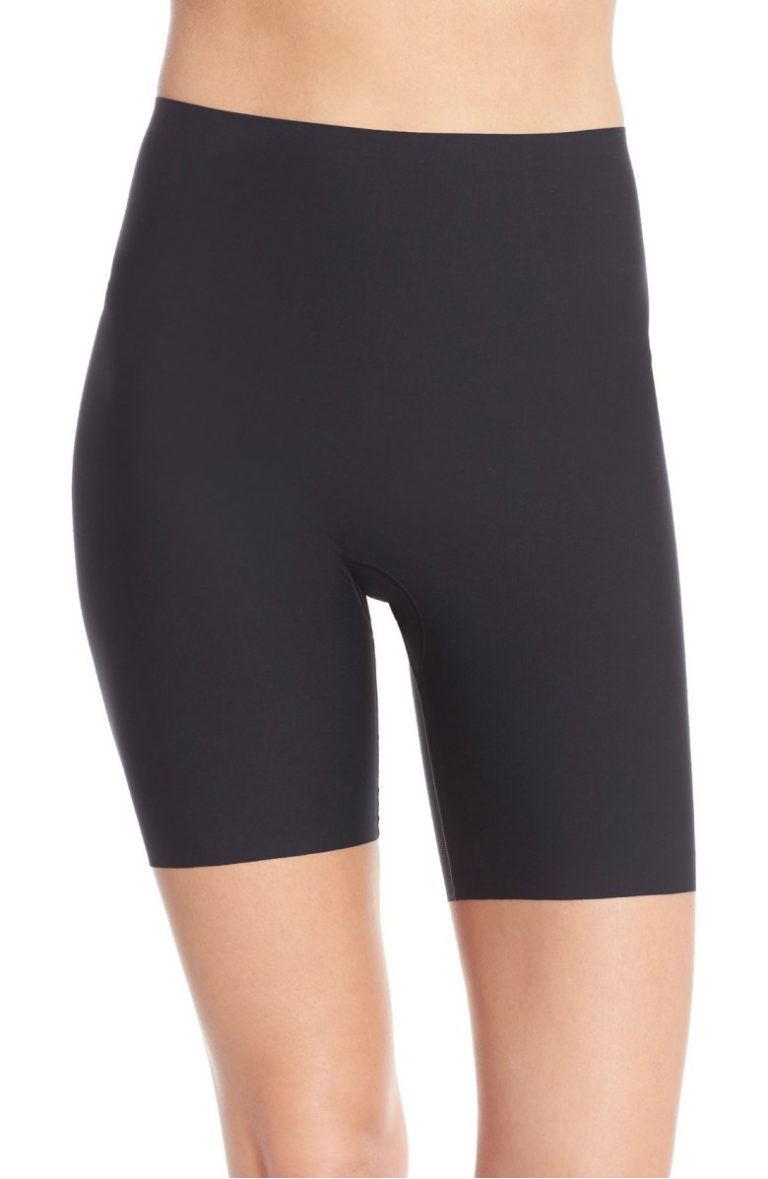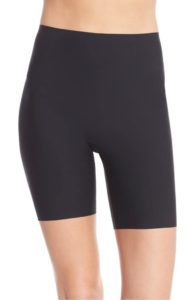 Spanx has quite a few options for thigh slimmers with slightly different lengths and levels of support.
Level 1 is the lowest level of support, and it is intended to smooth out the look of your clothes
Level 2 is the medium level of support that is meant to shape
Level 3 is the highest level Spanx offers and is intended to sculpt the body
If you are looking for light compression try the Skinny Britches® High-Waisted Mid-Thigh Short. They are an excellent option for summer when you don't want to wear anything substantial, but would still like support. If you would like a medium amount of support, have a look at the very popular Power Conceal-Her™ Mid-Thigh Short, it is light and comfy to wear but is still strong enough to hide bumps and bulges. If you want a high level of support then you are going to want to check out the OnCore Mid-Thigh Short, they are a support level 3, so they will give you a more sculpted lifted look.
Remember that most of the Spanx shorts come in a high-waisted option if you need extra help with the tummy. Also, some styles come in a longer leg length, and many of the designs can be worn every day due to their high comfort level.
MIRACLESUIT- Back Magic® Extra Firm Control High-Waist Thigh Slimmer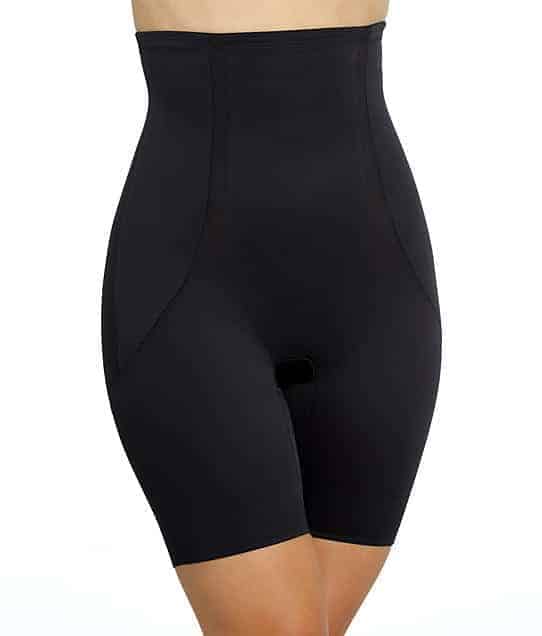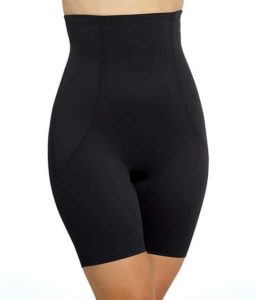 A brand that a lot of women love for its effective shaping is Miraclesuit. Miraclesuit started by creating a bathing suit that made women look 10lbs lighter; then they moved into the shapewear market by using the same technology on other types of garments. One of Miraclesuit's best designs that can help to make your thighs look slimmer is the Back Magic® Extra Firm Control High-Waist Thigh Slimmer. It has extra firm control, so it is quite a tight shaper, but it does a great job sucking everything in. It wears in such a way that it won't roll up or bunch in unwanted areas, partly due to the silicone edging on the legs. Not only does it take care of your upper thighs, but you get the added benefit of your tummy getting smoothed out, and because it is such a high waist you will avoid any muffin top type of situations. The high waist also means you will get a little bit of extra back support.
Check the price at Bare Necessities
TC Fine Intimates Firm Control Open-Bust Torsette Thigh Slimmer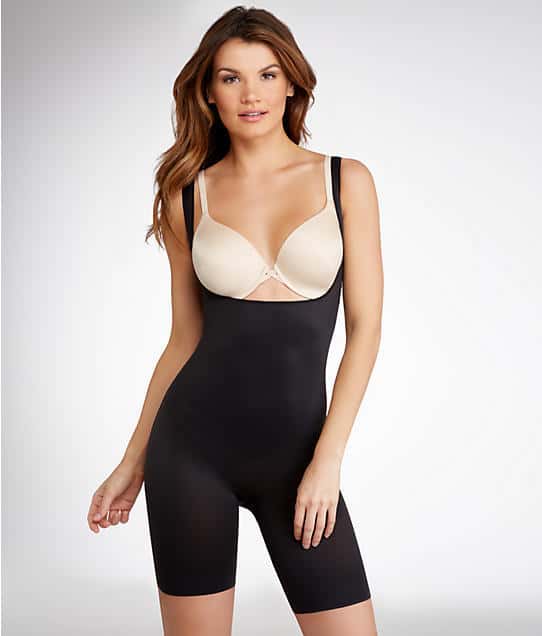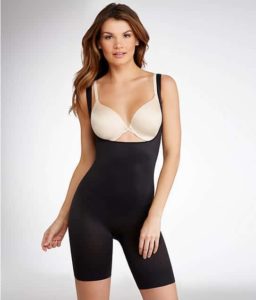 One style that may be overlooked when looking for a leg slimmer is an open-bust torsette, they are great because they give you the extra support in the tummy area and they won't slip down, and you are still able to wear your regular bra with it. A good one to check out is the TC Fine Intimates Firm Control Open-Bust Torsette Thigh Slimmer. It is a firm control style, so it is going to be tight and do a good job of tucking you in and keeping you looking slim. Since it is so strong, it is a little tricky to get in and out of, but it has a functional opening for going to the restroom to make it a bit more convenient. The legs shouldn't ride up, thanks to the gripping rubber that helps keeps it in place. This torsette smooths the lumps and bumps while firming up the belly and thigh area. You also get the support in the lower back and the help to correct posture. The only downside to this style is that on some women the straps may cut into the shoulders, but that depends on the shape of your body and the sizing.
Check the price at Bare Necessities.com
Maidenform Flexees Easy-Up Firm Control Mid-Thigh Shaper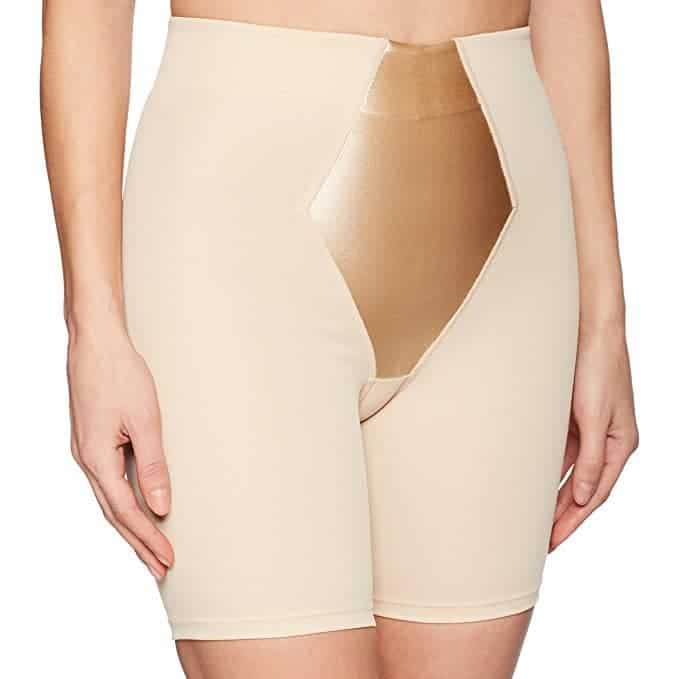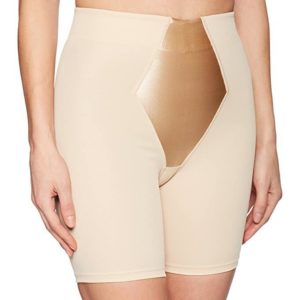 One of the most challenging things when wearing compression garments is getting it on. Sometimes it can be a real struggle, and you may end up giving up before you have even put it on. Maidenform Flexees have solved this problem by using a specific finish on the fabric that makes it easier to slide over the skin.  The material is also super soft to the touch while still giving you a shaping and smoothing effect. It has a medium amount of support(level 2) with a firm panel to keep the lower tummy tucked in. What a lot of women like about this style is that it will create a clean line under your clothes while still being comfortable. It doesn't ride up on the legs and will help hold things in without feeling too tight.
Check the price on Amazon
Vassarette Comfortably Smooth Slip Short Panty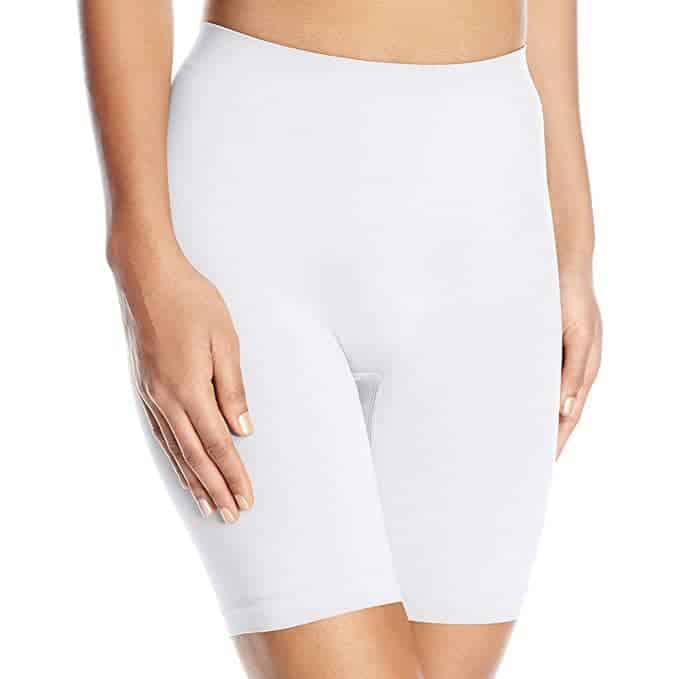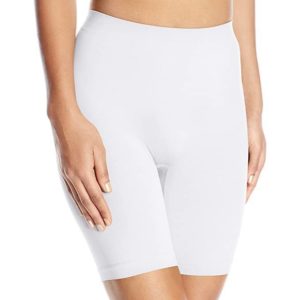 Shapewear is pretty pricey for the most part, so it's nice to have a few less expensive options. The Vassarette Comfortably Smooth Slip Short Panty has very light support, but a lot of women find that it is excellent if you have an issue with chaffing on the inner thighs. The reason for its popularity is the low price along with the comfort and feel of the shorts. They won't pinch or ride up your legs, and they can keep their shape even after repeated washing. Since they only have very light control, they won't shape or sculpt like some of the more expensive brands, but they will smooth out the look of your clothes. The best thing about them is that they are beautiful and lightweight, so they are great for preventing chafing and can still stay relatively fresh in the warmer months.
Commando 'Control' High Waist Shaping Shorts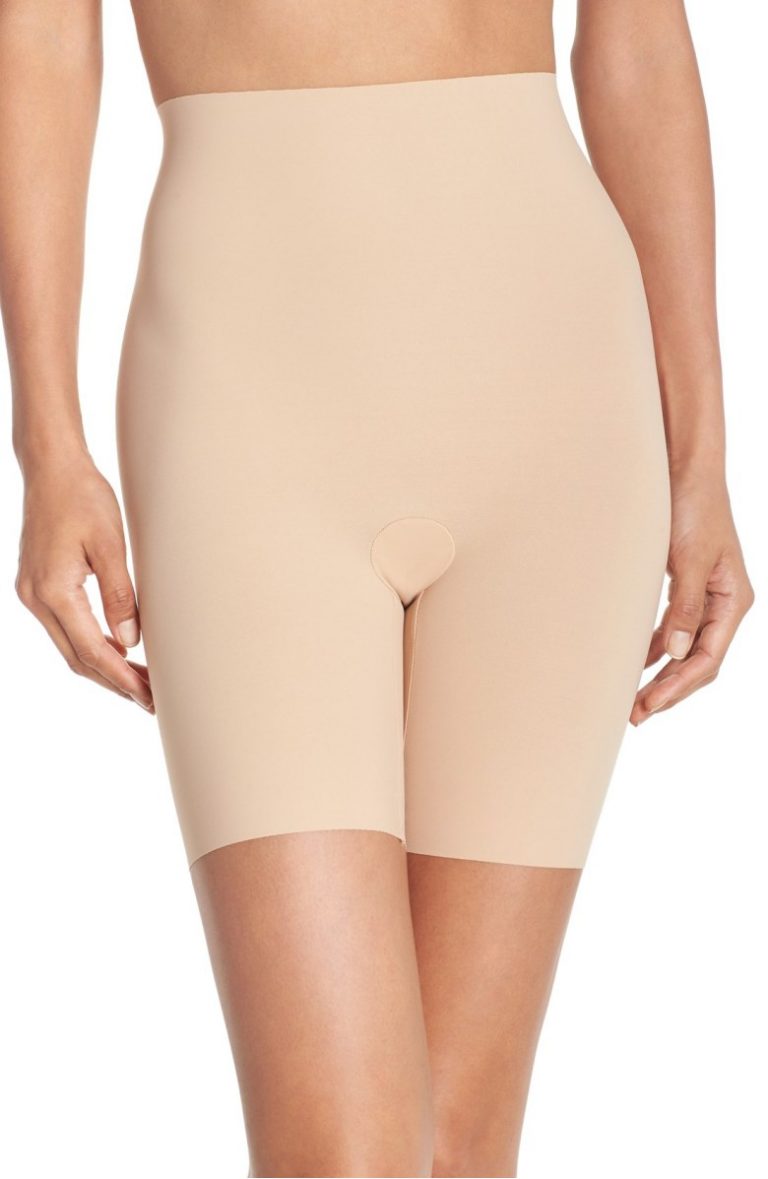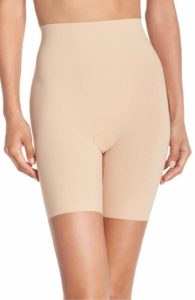 A lot of women like Commando as a good quality alternative to Spanx. They have a lighter control than Spanx, but the material is silky soft while still being durable. Commando thigh shapers won't roll up your legs or waist, which can sometimes be an issue with the light control shorts that are seamless. What they will do is give you a nice, smooth look without any static problems. One of the critical features of this design is the seamless, laser-cut edges which means you shouldn't have any lines showing under your clothes anywhere.
Check the price at Nordstrom
Maidenform Firm Foundations Curvy Plus Size Firm Control High Waist Thigh Slimmer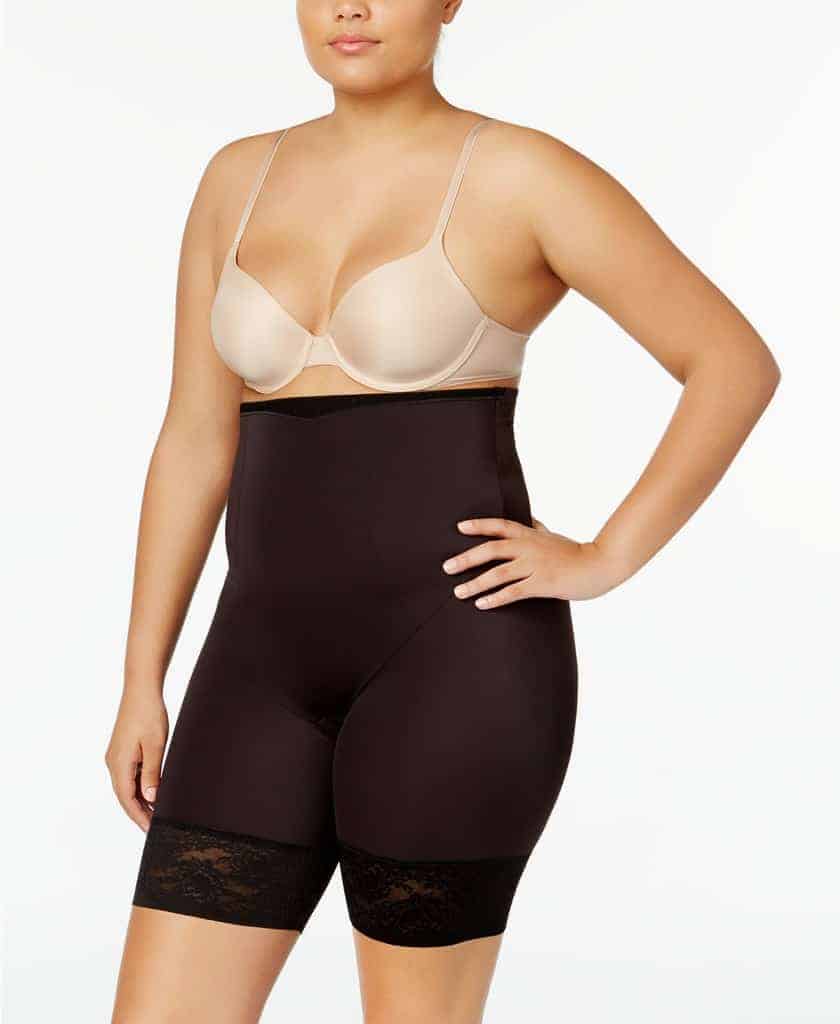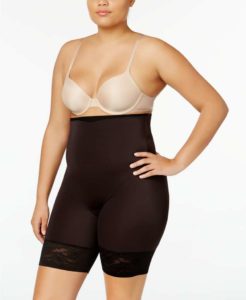 If you are having trouble finding a good plus size option, the Maidenform Firm Foundations line is well worth checking out. They have rubber inserts that help keep it in place, so you don't have to pull it up or down constantly.  Its design has a pretty lace detailing, which you don't usually find on shapewear that manages to remain nearly invisible under clothing. It is a very high-waisted style that will reach just below the bra on most women. It only has a lightweight compression, so they are easy to get off and on and are great for everyday wear.
Check the price at Macy's
Slim Me Double Agent High Waist Shaping Capris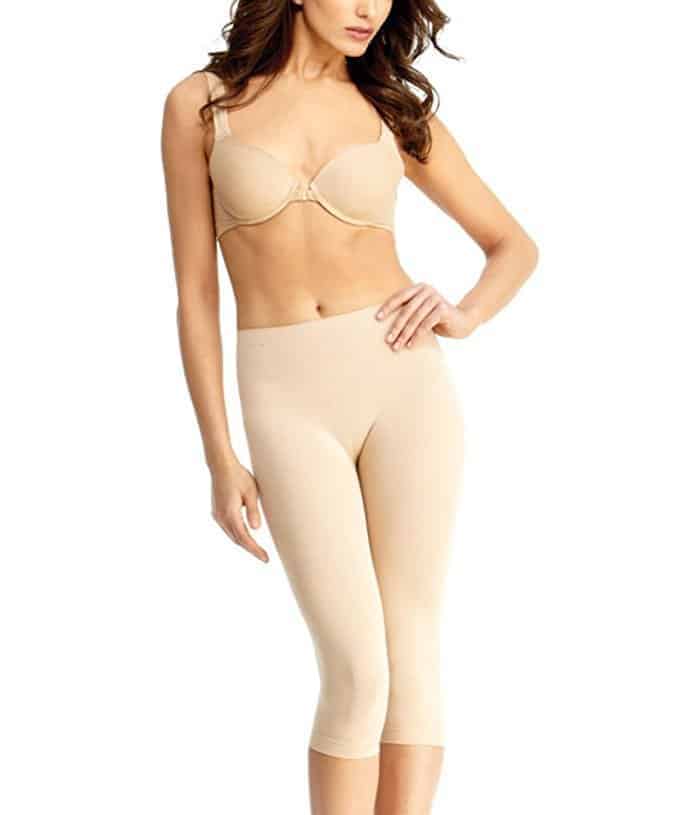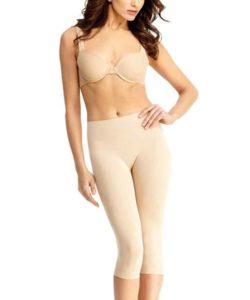 Sometimes you need a longer length to get the control and the feel that you need on the legs, especially if you are wearing skinny jeans or very tight pants. One inexpensive option that can help get you the more extended look is the Slim Me Double Agent High Waist Shaping Capris. It is an affordable brand that comes in quite a lot of colors that some women just wear as leggings, but they are designed as lightweight shapewear. They are a regular waisted design that can smooth your figure under your clothes. You won't get any lines with these capris, as it is seamless and tagless.
Check the price on Amazon
Oroblu Shock Up Shaping Pantyhose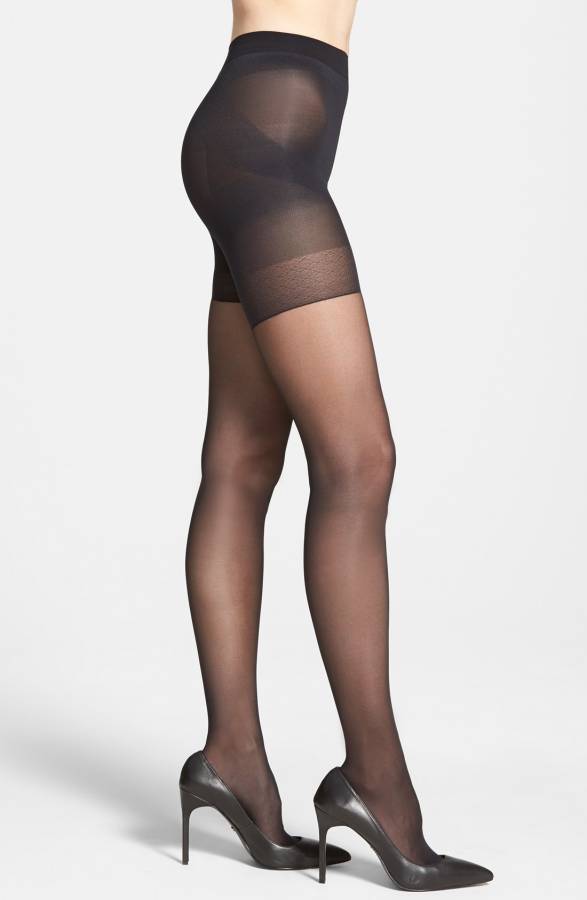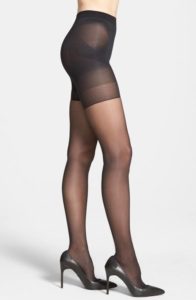 Depending on what you are wearing, you may also want to consider a shaping pantyhose, one excellent quality style to look out for is the Oroblu Shock Up Shaping Pantyhose. Women love this Italian brand for not only being a durable, great looking pantyhose but also for the shape that it gives you when wearing it. It is also reportedly very comfortable and should last longer than your average pair of pantyhose.
Check the price on Nordstrom
A Few Things to Keep in Mind
Level of Support
Before you buy any shaper, it is a good idea to understand the levels of support and figure out what the result you are looking for is. The levels go from light support (level 1) to a medium (level 2) to firm support (level 3), some brands also offer an extra firm. If you are just looking to smooth out the look of your undergarments and you should go for light support. If you want to shape your look, then you should go for medium support that will give you a slimming effect. If your goal is to sculpt your look and do things like lifting your behind, removing in any stomach bulges, and trimming your overall shape, then you would go for a firm support level.
The Restroom
When you are wearing shapewear on the lower part of your body if you go for a high control level, it may be a problem going to the bathroom. Some options offer an opening, so you don't have to remove the whole garment, so you may want to look out for that depending on what you are wearing the shapewear for, how long you are planning on wearing it, and how much of an issue that may be for you.
Easy on and off
Unfortunately, compression garments aren't the easiest thing to get on and off; luckily thigh shapers are usually not too bad to get on with brands improving the material that is used, so they are a bit better than previous generations of shapewear. One bit of advice is don't try putting on shapewear right out of the shower, give your skin a bit of time to dry off and it will be a whole lot easier.
Edges on the leg
One problem you may run into with shapers is too much compression mid-thigh, so you get a bulge that some people have described as a thigh muffin top or just a bulging line on the leg. It becomes an issue if you are wearing pants as the line can usually be seen. Sometimes this line happens because of sizing, so if you are running into this issue, you may need to go up a size or consider seamless designs like the Commando options.
All day wear
If you like to wear shapewear to work, you may want to consider lighter support, as it will give you smoothing features but won't be as uncomfortable as the firm control garments. Also if you sit all day, some women find the compression to be very painful so you might want to look at one of the options like the shaping pantyhose instead. You can save your firm support level item for special events that you don't have to wear all day.