There are a few different reasons for wearing a belly support band when you are pregnant; some women use them to help manage back or pelvic pain, while others would like extra support for their pregnant belly while exercising. You can also use some types of these bands to help keep you in your pre-pregnancy clothes for longer. Whatever your reason for getting a belly support band, we have rounded up the best bands on the market for lower back and abdomen pain, extra support for exercise or just for some help with looking great while pregnant.
1. Gabrialla Elastic Maternity Support Belt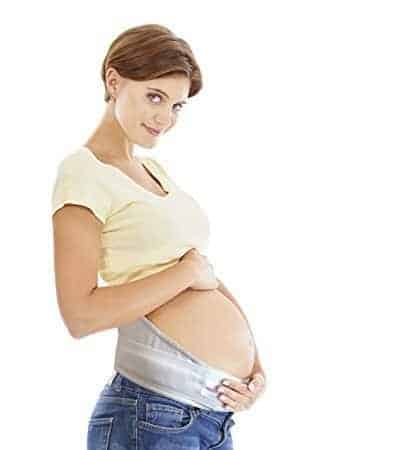 Gabrialla is one of the most popular belly bands on the market to help with back pain and uterus support; it has won multiple national awards and is a consistent best seller. The company offers a few different variations on the band, with different levels of support and different types of materials. Their medium support band (pictured above) is a great option if you are suffering from back pain, since it has a back pocket that you can put either a hot or cold pack into. It comes in 3 colors (white , black and beige) and 5 different sizes. The width in back of the belt is 6 inches, which is quite big. The bigger the band is at the back, the more support it will give you, but it makes it a little more bulky. The material that it is made of is 80% Polyester and 20% Lycra, so it is pretty stretchy. A couple of other things about this belt that are kind of cool is that it can help to promote proper posture and helps to prevent stretch marks. It is made in USA.
Available from Amazon
2. AZMED Maternity Belt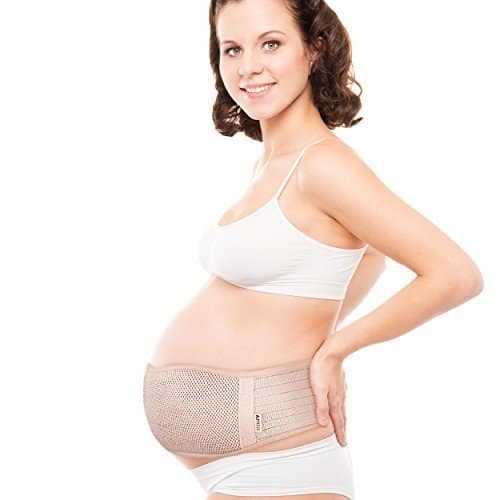 The Azmed belt is another very popular belly support product that can help with hip and pelvic pains. Since it helps to support the weight of the belly, it will take some of the pressure off your back alleviating some of the pain you may feel on your spine or strain on your back.  It can also help correct your posture and support your abdominal muscles. This belt is made of a soft, elastic, breathable material that is comfortable enough to be worn directly on the skin, and it is designed in such a way that it can hardly be seen under your clothes. It is one size fits all, with the length of it going up to 46 inches around the belly. If you need extra support for your growing uterus to help with lower back pain, this band is a good option.
Available from Amazon
3. Bracoo Adjustable Maternity Support Belt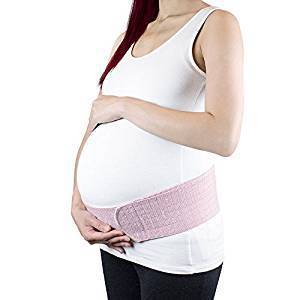 Bracoo is another very well-known brand that produces a great adjustable maternity support belt that works especially well for spine, lower back, and pelvis support during pregnancy. This Bracoo style has large Velcro straps that are easy to adjust. The band itself is thick enough to give a good amount of support both for the belly and the lower back. The design is also great for helping to correct your posture. There are some complaints that the material is a little itchy, but this can easily be resolved by wearing the belt with a tank top or t-shirt (like in the picture above). After you have had your baby, this belt will also work well for postpartum pelvic support, or you can just use it as a body shaper.  The Bracoo band is adjustable and can fit a hip circumference of up to 46 inches.
Available from Amazon
4. NEOtech Care Maternity Belt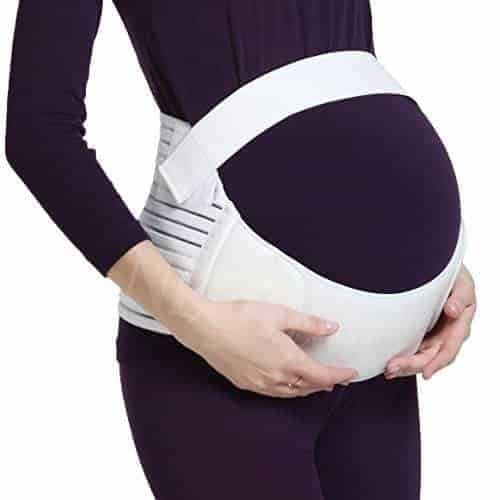 This NeoTech belt is great if you have tried other one size fits all belts and found them not to work well. This style comes in 5 different sizes, so you can get a much more customized fit than some of its competitors. It is adjustable, so it can change as your baby grows. It is made of a material that is a multi-layered laminate with a cotton/nylon elastic lining (40% Polyester, 60% Nylon). This means that it can give a good amount of support, but it is also breathable, so if it is a hot day you don't get drenched in sweat.
This particular design comes with an abdominal lift attachment that can lift the belly, hold the belt in place (some belts may slide down) and prevent rolling. Before buying this belt, you need to measure the circumference of your belly to ensure you select the right size.
Available from Amazon
5. Uarter Maternity Belt Pregnancy Support Belt Breathable Belly Band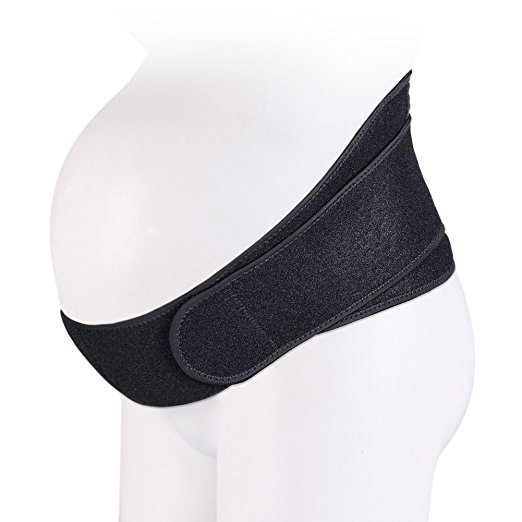 The Uarter Maternity Belt is made of a very comfortable and breathable light cotton and spandex mix. It works well as a support for lumbar and abdominal areas that will help with some of the pain that can be associated with pregnancy. You can also use this belt for postpartum as a shape enhancer. It is one size fits all and it has a thick width at the back (6.3″) with a large Velcro strap that is easy to adjust throughout the day.
Available from Amazon
6. La Reve Maternity Belly Band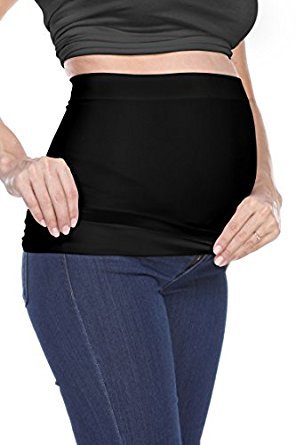 With the La Reve band we are getting into what is considered a fashion belly band. These are much different that the belts that are listed above because their main purpose is to help you keep you in your regular clothes while you  are pregnant. The longer you can wear your regular clothes, the less money you will have to spend on maternity clothes. These types of bands do offer a little bit of support for minor pregnancy discomforts, but they won't help with major back and abdominal pain that can be very difficult to deal with when you are pregnant. The biggest use for these belly bands is to keep you in your pre-pregnancy pants for longer. You just keep your regular pants unzipped and you place the band around your waist to conceal your unzipped zipper. When you baby gets bigger they also work well to cover your belly if you are wearing a shirt that is a little short. These types of bands are also great post pregnancy to help you transition back to your regular clothes.   The La Reve has a stay-put silicone strip that stops the band from slipping down or riding up. The material that it is made of is a blend of nylon and spandex that is lightweight and breathable. It comes in 4 sizes and 2 different colors (white and black).
Available from Amazon.
7. Ingrid & Isabel Women's Maternity Everyday Bellaband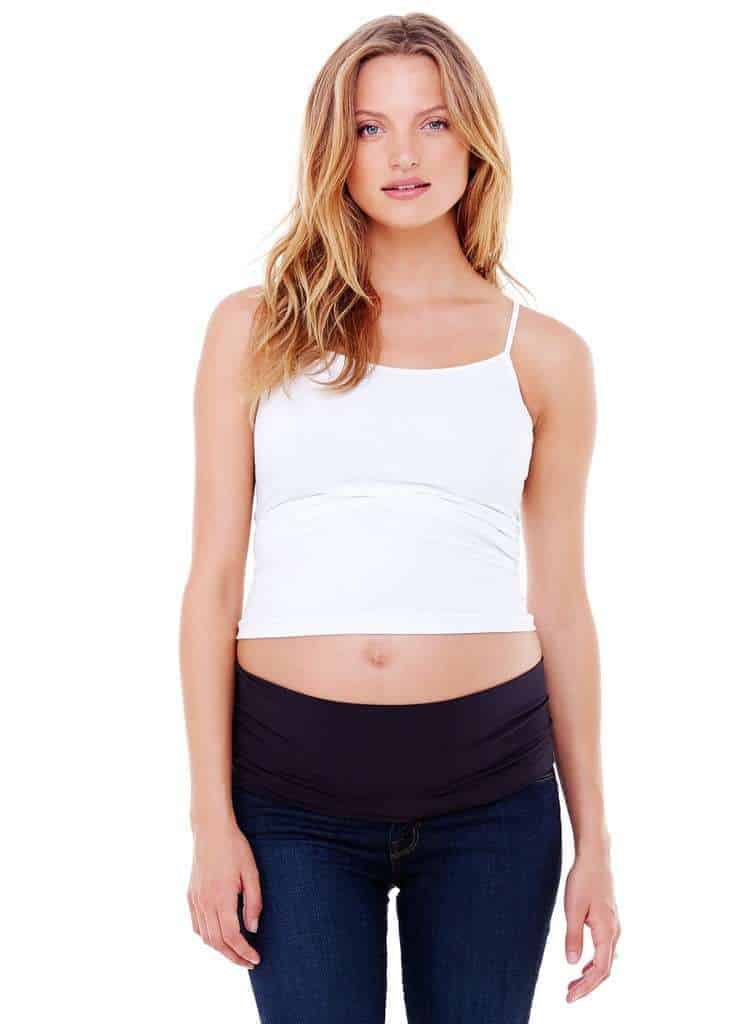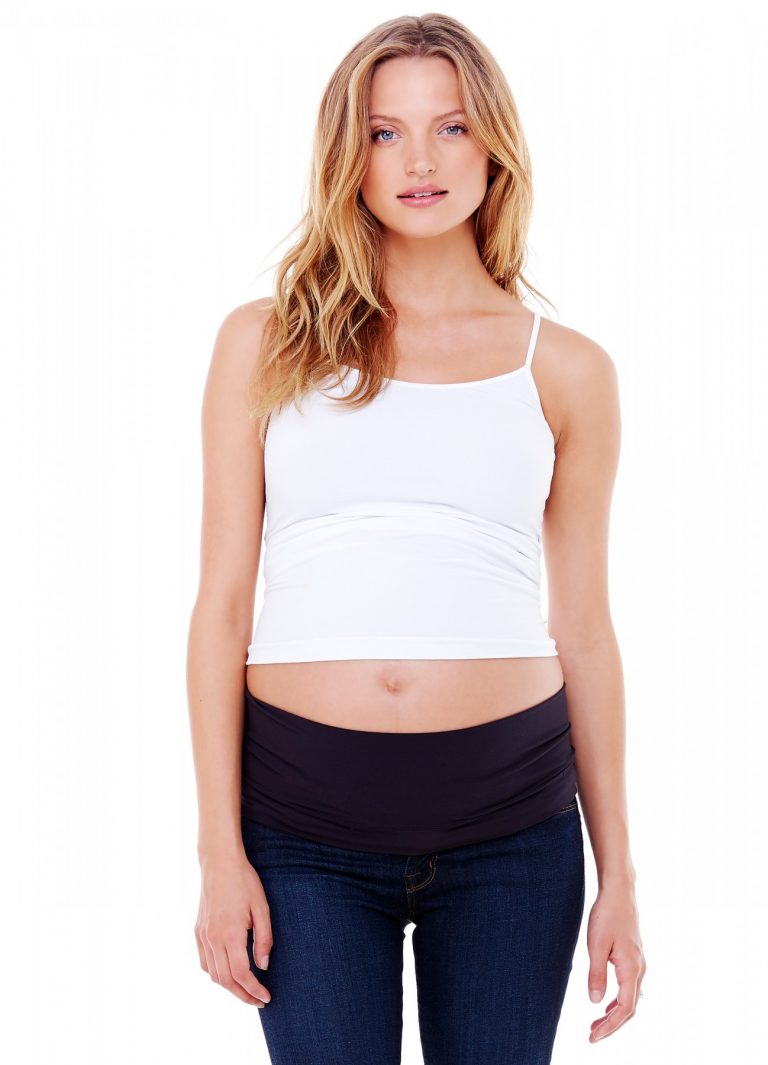 The Ingrid & Isabel Bellaband is also a fashion band and it is probably one of your best option if you are looking for this style of belt because of the color choice and the type of material that is used. This style is great at keeping your pants up and works well when you are transitioning back into your regular clothes. The Bellaband original comes in four different colors (black, white, nude and midnight) and four different sizes. It has a stay put silicone strip and will work well throughout your pregnancy.
Available from Amazon
8. Cabea Baby Belly Band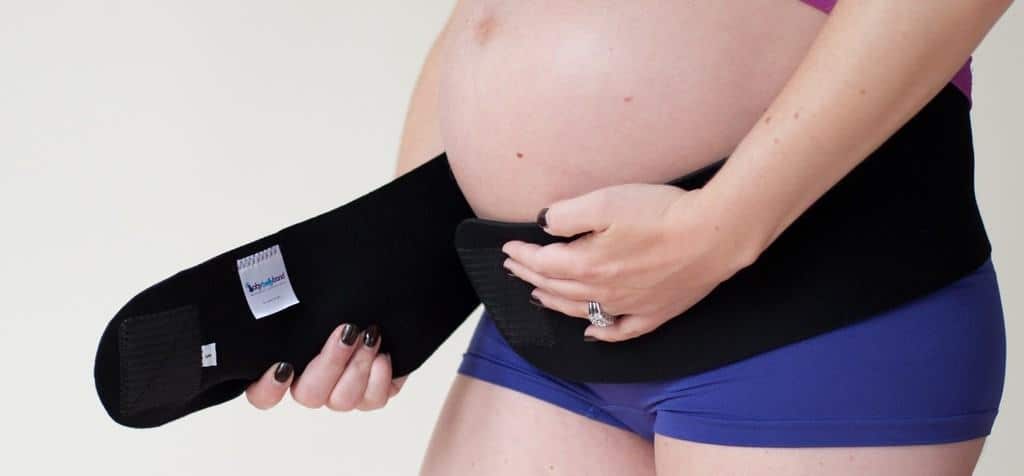 If you have pretty serious back, hip, hernia, pelvic floor or abdominal pain during your pregnancy, you should have a look at the Cabea Baby Belly Band. The basic band is pretty standard and very similar to the other belts for support; however Cabea also sell add-ons for the belt that can help with many more pregnancy discomforts than standard bands. The two most notable add-ons that you can get for this belt are the "Compression Therapy Groin Band" and the "Babybellyband® Shoulder Straps". They are both sold separately.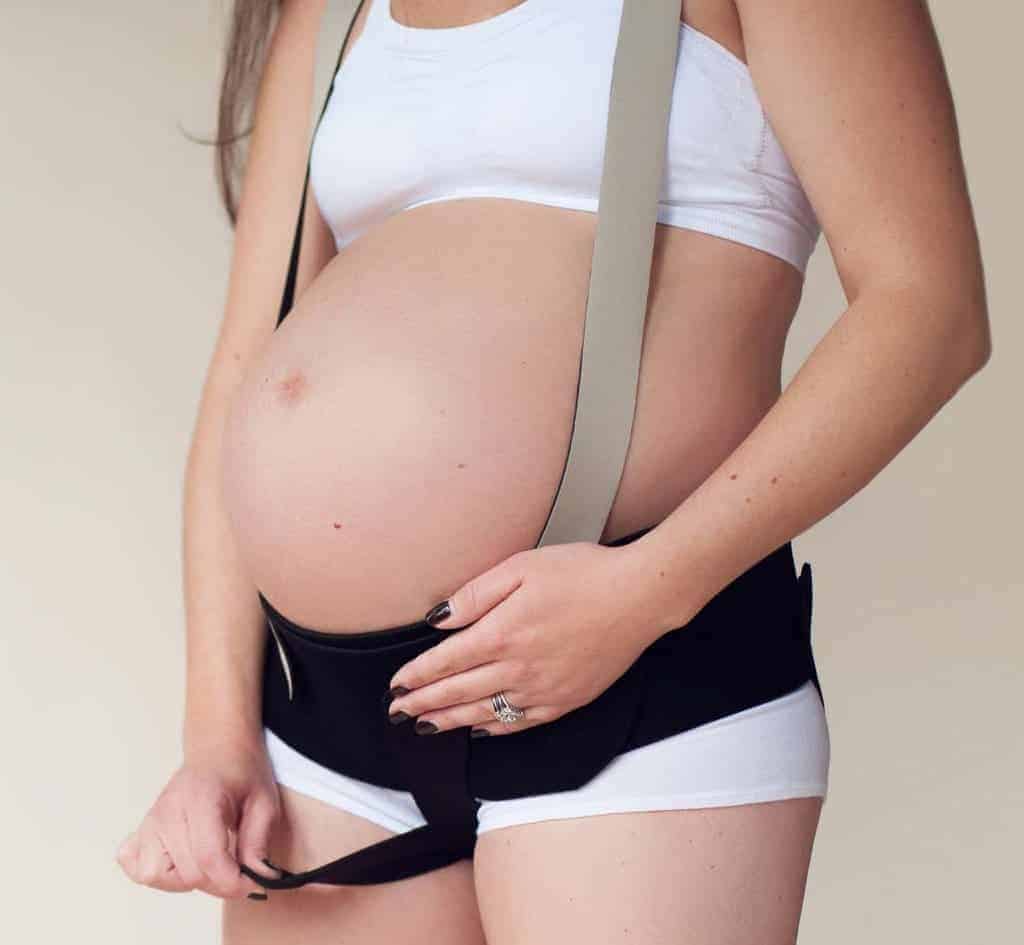 These add-ons can help with things like hip, back or abdominal pain, PSD, ligament pain, and are great if you are having multiples. There is a whole list of things that the add-ons can help with, check their website for more info.
Available from Amazon
9. Cabea Baby Belly Band – Sport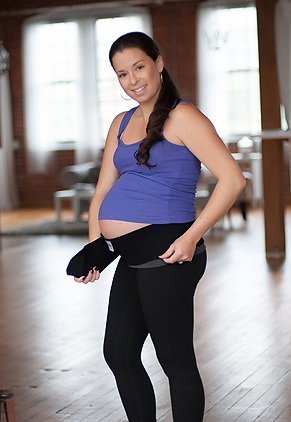 If you are continuing with running or working out while you are pregnant and would like a belt that is designed for that specific purpose, then check out the Cabea Baby Band Sport. This style is designed to provide pelvic and abdominal support during exercise and to stabilize hip and lower back joints. I think the fabric that is used in the Sport version is a little more comfortable if you are wearing the belt while exercising than the original Cabea belt (listed above) since it is a lightweight, breathable, antimicrobial and is free of latex. It is also designed for ease of movement, so it is comfortable for exercising while wearing it. Babybellyband Sport is compatible with the Babybellyband Compression Therapy Groin Bands, or the Shoulder Straps (sold separately).
Available from Amazon.
10. It's You Babe Mini Cradle, Small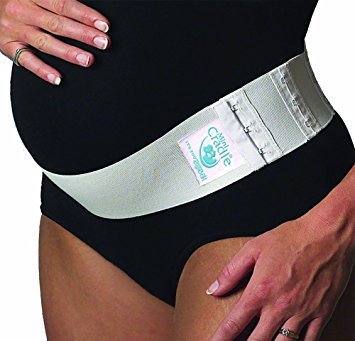 The Mini Cradle by It's You Babe is a great product for smaller pregnant women. It provides a gentle support and lift that can help with minor aches and pains. It uses three sets of hook and eye closures, rather than the Velcro that most other belts use. This belt isn't very noticeable under clothes and is pretty comfortable, but doesn't give you a lot of support, although it may help some women with circulation and reducing leg and ankle swelling. The small size is 31-43″ (79-109cm).
Available from Amazon
What you need to know before buying
Purpose– Since these bands or belts have very similar sounding names but often different purposes (fashion vs support for pain relief), ensure that whatever band that you choose will suit your specific need. If you want a band for exercise, look for the Cabea Sport Band. If you are looking for a medium support for back pain try the Gabrialla belt. If you are looking for a band that can let you wear your regular clothes try the Ingrid & Isabel band. If you are having serious pelvic pain, have a look at the Cabea Belly Band with the groin or shoulder add-ons.
Washing the bands– Because of the material that they are made of, almost all of the belly bands will have to be hand washed, or at the very minimum washed on a gentle cycle and air dried. Many of the bands have Velcro that may snag other clothes, so you will probably want to wash them separately.
Postpartum– If you think you may need extra support after the baby is born some of the bands will also work as a postpartum belly wrap or shape enhancer.
How long are they worn for? Generally the belts that are worn for support are intended to be worn during the day while you need the support. They are great for individuals who are on their feet or moving around a lot of the day. They are also great to wear when you are walking or exercising. Some people wear them while they are sitting, but you shouldn't need the same kind of support when you are sitting as when you are standing.
Sleeping– These types of belts or bands are not meant to be worn while sleeping.
Features to Look for
Will it stay in place– A problem that you may run into with some of the belts is that they don't stay in place very well. Part of the reason for this is that the fit isn't right. For the fashion belly belts, look for styles that have a silicon strip to help the band stay in place.
Breathable fabric– If you are planning on wearing the belt for any extended period of time, make sure that the material that it is made of is breathable (it will say 'breathable fabric' in the write-up for the belt). This is very important, especially in the summer months.
Durability– Since you will most likely be wearing the belt for extended periods during the day for a number of months and perhaps post pregnancy, it is worth looking for the best quality belt that will suit your needs. You can get some very inexpensive belts that may work okay, but may not wear well with repeated washing. If you are reading reviews take note if reviewers think that a particular belt is durable and will last throughout the pregnancy.
Will it help with lower back/hip pain? One of the most common complaints during pregnancy is lower back or hip pain and one of the best reasons to get one of these types of pregnancy supports is to help alleviate this type of pain. Most of the belts that have medium to strong support will help take some of the strain away. It won't get rid of all of your pain, but it should help make your pregnancy more bearable, especially if you are on your feet a lot.
Sizing– Some of the belts are a one size fits all with a heavy reliance on using a large Velcro strip to get the best fit. Other belts have a 4 or 5 different sizes to choose from. Finding the correct size can be a little difficult for different types of belts. You should make sure you check the sizing guidelines for each product you may be considering buying, depending on how far along you are you will probably have to measure you belly to get the best fit. Most belts use some kind of elastic material so it will grow with your belly. If you do choose a one size fits all, make sure you check the maximum belly circumference that the belt will fit, it is usually somewhere around 45 inches.
Will it show under your clothes– Another consideration, especially if you will be wearing the belt for work, is whether it will show under your clothing. Having a bunch of bumps or straps showing under a fitted shirt isn't they greatest look, so, depending on the style of clothes that you favor, you may want ensure that you get a belt that will be discreet.
Colors– Generally these belts come in the basic colors of black, white, or nude.
Material – The belts are usually made from a combination of materials like Polyester, Cotton, Breathable Elastic, Nylon and Spandex. Most belts claim to be comfortable enough to be worn directly on the skin, although if you have very sensitive skin you may have to wear them over an undershirt or t-shirt.
Width of the back of the belt- A good indicator of the amount of support that you may get from a belt is the size of the width at the back of the belt. If the back of the belt is too narrow you aren't going to get a lot of support and the belt may cut into your skin as the belly grows. If the band is too wide at the back it may cause discomfort by rolling up or being hard to sit while wearing the band. If you are looking for a medium amount of support, try a band with 4-5 inches at the back. Some belts are comfy when you are standing up, but have to be removed to sit.
Cold Heat Pack-If you need additional help for back pain a few styles (Cabea and Gabrialla) include a cold/hot heat pack pocket at the back of the belt that can decrease your pain.
The Bottom Line
Belly bands can be a great addition to your changing body while you are expecting, whether you need extra support while walking or running, support to help with back or pelvis pain or you just want to avoid buying maternity clothes. A small investment in one of these belts can be a huge help during pregnancy. Belly bands help decrease your pain while also helping you look and feel your best.