Shopping for a plus sized nursing bra that is supportive and comfortable can be difficult. There are lots of nursing bras to choose from, but unfortunately many of the most popular styles and brands don't work that well for larger cup sizes. Before your milk comes in it is hard to know exactly how much your breast size will change, so getting the best bra for your body takes a little bit of trial and error. To help get you started, we have rounded up some of the best bra options for cup sizes D to M.
What You Need to Know Before you buy
Most moms to be start shopping for nursing bras in the later months of their pregnancy. Your cup size has already changed and you are starting to think about what you are going to need after the birth. What is great about many styles of nursing bras is that they come in very stretchy fabrics, so they can generally fit one to two size of growth of the cup size.
Generally women like to have a few comfortable nursing bras that they wear around the house. If you are working or going out a lot, you will want to get a couple of bras that have strong support and that give you good shape. Some women also like to have a sleep bra that gives them support during the night (as well being able to hold nursing pads). Sleep bras are often the most comfortable and easy to wear because they don`t have any snaps or hooks to mess around with in the middle of the night.
Here are a few other things you many want to think about before you shop for a nursing or maternity bra.
Support – If you are wearing the bra during the day, you are going to want to have a decent about of support. Nursing bras are usual not the most supportive bras, instead they are designed to be comfortable, to keep your breast healthy and to be easy to undo. It is pretty hard to find a nursing bra that is going to lift and shape.  If you need a lot of support try Bravado's Bliss Nursing Bra or Elomi Women's Smoothing Underwire Molded Nursing Bra.
Sizing – Sizing is one of the most confusing parts of buying a maternity bra. Since you often shop for bras before the baby is born, it is difficult to know what your cup size will be when your milk comes in. A general rule is that most women will go up one band size and 1 to 2 cup sizes during pregnancy. Then when your milk comes in it is possible that you could go up to 3 cup sizes (from pre-pregnancy). Initially your breasts will be very swollen, but as your body adjusts the amount of milk your baby needs, the size of your breasts should come down a bit.
When you are trying to determine your size, the first thing that you need to do is check the sizing information from the company that you are buying the bra from. Most companies selling nursing and maternity bras will have comprehensive sizing advice and info on their website. If you are in-between sizes it is generally advisable to size up. Before purchasing, it is important to check if the sizes run big or small, you can usually find this info in reviews for the bra.  Also, be aware that some of the most popular maternity bras are from the UK, and they use UK sizing not US sizing.
Padding– Padding doesn't tend to play a huge part in most nursing bra designs. Depending on what you are wearing, you may find the material a little thinner than what you are used to. If you are worried about how things may look if you are wearing a fitted shirt, you can always add nursing pads to give you a bit more padding and coverage.
Adjustable straps– Adjustable straps are a great feature to look for because they can help give you a bit more support. You may want to look for straps that can be adjusted in the front.
Safety of Fabric– If you are concerned about harmful substances being in the material of the bra, look for bras that are tested and certified in accordance with Oeko-Tex Standard 100 requirements. Bravado, Cake Maternity, and Medela have bras that meet Oeko-Tex standard 100 requirements.
Underwire – A lot of women are used to wearing underwire and love the support that an underwire style can give.  Generally, the most comfortable nursing bras don't have underwire, but if you are not ready to give up your underwire, check out the Elomi Women's Smoothing Underwire Molded Nursing Bra
Extenders – When your bra starts to feel a little snug around your ribcage, don't worry, all you need to do is find yourself a package of bra extenders. They are an inexpensive, easy to get item that lets you adapt your maternity and nursing bras to fit better as your bust line changes. You can find them in maternity clothing stores.
Pocket for removable nursing pad– Another 'nice to have' feature is a little pocket on the inside of the bra that you can slip a removable nursing pad into. It helps to stop the pad from moving around or bunching up.
Recommendations
There are many different types of nursing bras including: sports, underwire, molded, padded, really pretty lace ones, ones for sleeping, and styles that are designed if you are going to be pumping. We have included a range of all different types of plus size nursing bras are great options.
Bravado Nursing Bras
Bravado has three excellent plus size nursing bras: the Bravado Bliss Nursing Bra, the Original Nursing Bra Double Plus and the Women's Maternity Body Silk Seamless Nursing Bra. All three have advantages and disadvantages depending on where you are in your pregnancy or nursing stage. The Body Silk is super popular, but gives the best support for women with average bust sizes, so if you get that one it might be more of a really great 'at home bra', ditto for the Original Nursing Double Plus. Pictured below are the Original and the Body Silk Seamless.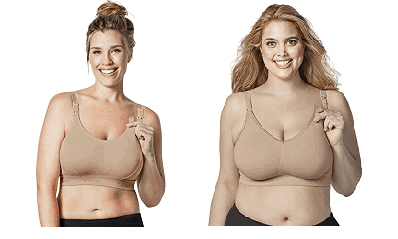 My favorite of the three for support of larger cup sizing is the 'Bliss' (pictured below). The Bliss is great because it comes in 3 colors (chai, ivory and black) and works well as a bra that you can actually wear out of the house. It gives great support; the fit and the lift are really good – especially since there is no underwire. The cups have a light, foam lining, so you don't have to worry about anything popping out. It comes with a bra extender, as well as a conversion kit, so when you are finished with nursing you can convert the bra to a regular bra. The band size goes from 32 to 40 with a two cup size range (D/E, F/G, H/I cup size options).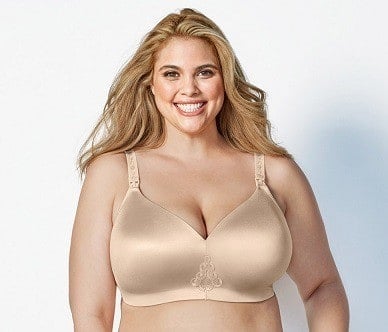 Elomi Women's Smoothing Underwire Molded Nursing Bra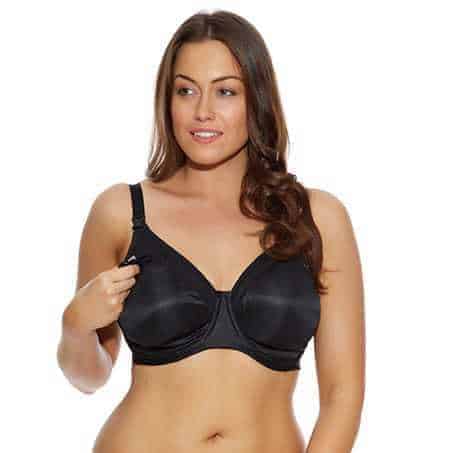 For those who are looking for an underwire nursing bra that will give you great support, this is the bra for you. There aren't a lot of underwire nursing bras available, especially for larger sizes, so this one is a really great option for wearing to work or just out and about. It is made of 91% Polyester, 6% Nylon, 3% Elastane, and it has a hook and eye closure at the back. Elomi is a UK based company, so be aware of UK sizing. You will have to convert the sizing to US sizing to get the right fit (if you are in the US).
Available from Amazon.
Leading Lady Women's Nursing Wireless Sports Bra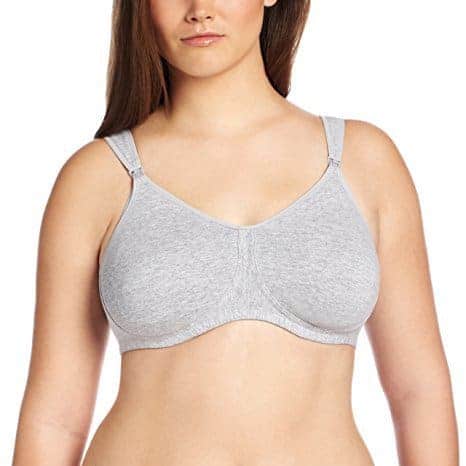 If you are looking for a sports nursing bra for larger sizes, a good one to check out is this Leading Lady Women's Nursing Wireless Sports Bra. It has nice wide straps that are great to help with support. The fabric mix is different for the two different color options (White is 46% Cotton, 46% Polyester, 8% Spandex; while the Grey is 86% Cotton, 10% Polyester, 4% Spandex) . The fabric for both colors is designed to be soft, flexible yet breathable, which is perfect for exercising. The design includes a full inner sling that works well for giving support while exercising and also while breastfeeding or pumping. It goes up to sizes 46DD.
Available from Amazon.
Hot Milk Women's Luminous Maternity and Nursing Bra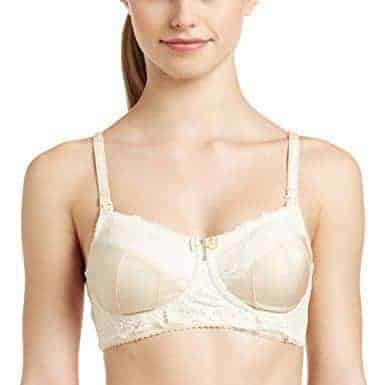 If you want to treat yourself to a pretty, feminine style of design have a look at some of the Hotmilk Lingerie styles. Their Luminous Maternity and Nursing Bra is the company's longest running style, nursing moms love it because it gives lots of lift and support even though it is underwire free. Obviously it is a lot more stylish than some of the other options out there; although it is kind of a unique style and it isn't for everyone (some find it a little too grandma-ish).  Be aware that Hotmilk bras tend to run a little small in the cup. This style goes up to a 40c-42h (Sorry about the image, I couldn't find a picture of a larger cup size). The material is a lace and microfiber shell with 100% cotton lining. It also has 6 rows of hook and eyes to give you more options to help get a comfortable fit around the ribcage.
Available from Amazon.
Soft French Terry Nursing Sleep Bra for Maternity / Breastfeeding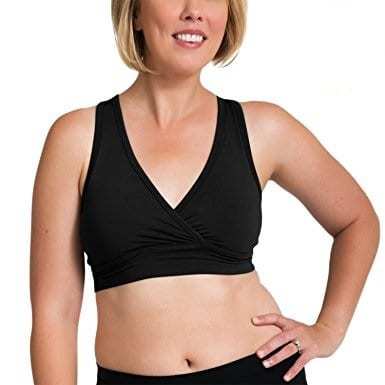 As your bust line grows, wearing a bra while you sleep can be a good way to have some support at night. This sleep bra from Kindred Bravely is one of the best ones to get. It is relatively cheap, comes in five different colors and works really well for most women. It doesn't have any clasps or hooks to fiddle with, you just pull it to the side for nursing.  It is great for changing breast sizes because it is made of 92% Rayon of Bamboo and 8% Spandex, so not only is it comfortable and soft, it still has that elasticity that you need for support and as your body changes. It comes in a good range of sizes that should be able to fit up to an I cup.
Available from Amazon.
Kindred Bravely

Seamless Sublime Nursing Bra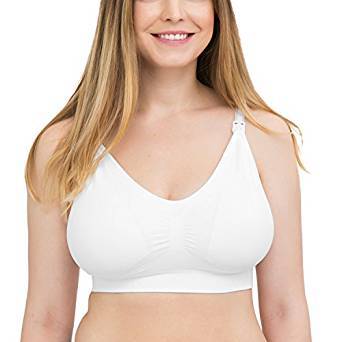 Another Kindred Bravely bra that you may want to check out is this Seamless bra; it is a relatively affordable option if you want a comfortable bra to wear around the house. For larger sizes this style doesn't give the best support, but it is very easy to pull down the cups for breastfeeding or pumping so it is great for around the house. It is also a great price for what you are getting. It comes with removable padding, so you don't have to worry about showing throw. The stretchy elastic material means that you should be able to get a decent amount of wear from it as your body changes. It comes in 5 colors with sizes up to XL that should be able to fit up to an F cup.
Available from Amazon
Cake Lingerie Maternity Nursing Croissant Smoothing Seamfree Flexi-wire Bra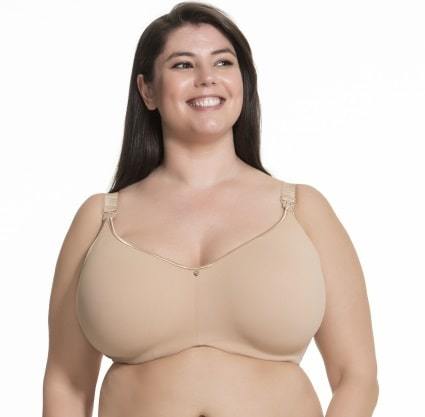 This is a bit of a pricey option, but if you are looking for a good quality product for larger cup sizes the Cake Maternity Nursing Croissant Smoothing Seam free Flexi-wire Bra is well worth a look. It will give you a lot of support and great shape, with a good amount of lift. Cake Lingerie offer a good range for bigger sizes since they go up to 40 M. FYI this style fits slightly bigger in the cup, which could be a positive or a negative depending on where you are at with your pregnancy. It has a 6 hook and eye closure, so it works well as your ribcage expands. Be aware that it is an Australian brand, so you should double check any sizes that you are considering (they may be in UK sizing).
Available from Amazon.
Motherhood Plus Size Seamless Clip Down Nursing Bra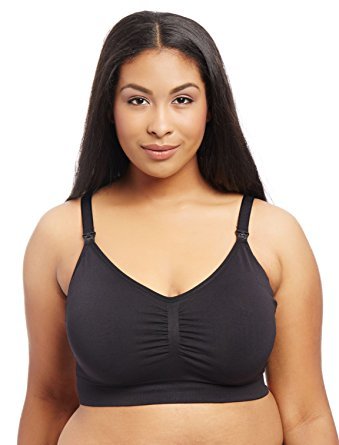 This is the most popular of the Motherhood Maternity Bras for plus sizes. It comes in 4 colors (black, nude, pink and white) and goes up to 46 band with a cup size H. This bra has a reputation for being comfortable, breathable, and easy to unsnap and use. It works well for nursing, lounging around house, and sleeping. It's not the best choice if you are looking for something for work or going out because it doesn`t have enough support for most women with larger busts.
Available from Motherhood Maternity.
Rumina Hands-Free Pump and Nursing Bra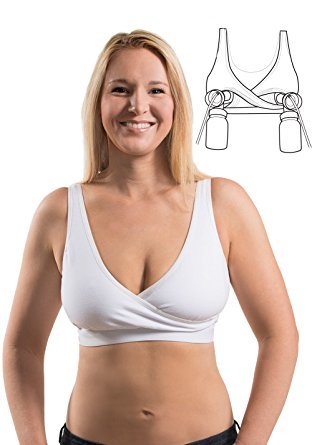 If you are looking for a bra that will work well for pumping, have a look at Rumina's website. They have a number of options to choose from, including tanks and a few different styles of bra that work really well for pumping. Two of the most popular to check out are the Classic Nursing Bra and the Rumina Relaxed Nursing Bra. The difference between the Relaxed Bra and Classic Bra is basically just the amount of support that is offered. The Relaxed Bra is a light to moderate support that is best for newly postpartum moms or to use as a sleep bra. The Classic Bra is a moderate to firm support bra that works best for moms who are six weeks or more postpartum.
Brands to look for
There are a lot of great brands to choose from: Bravado, Cake Lingerie, Elomi, Medela and Hotmilk all have a range of different styles and choices for nursing bras. Playtex have an inexpensive nursing bra that is easy to get at Walmart. Lane Bryant is another good place to look for plus size nursing bras.
Hopefully you will be able to find a fantastic nursing bra that will help get you through this special phase of your baby's life. Remember that it may take a few tries to find the right bra, so be prepared to return products that aren't working for you. Also, since there is no standard sizing, double check any sizing charts that the bra companies offer before you purchase anything.