Everyone has different ideal dress socks; some women want a style that stays up; some want options that don't give them sweaty feet, while others are just looking for something comfortable to wear. The perfect dress sock tends to be one of the hardest types of styles to find since it needs to be many things; fashionable, appropriate for work, have a good fit, the right color and pleasant to wear. Since dress socks are an essential part of many women's wardrobes, we have taken some time to find some of the best options around and researched what you need to know to help you find your perfect style.
Gold Toe Women's Floral Diamonds And Leaf Pattern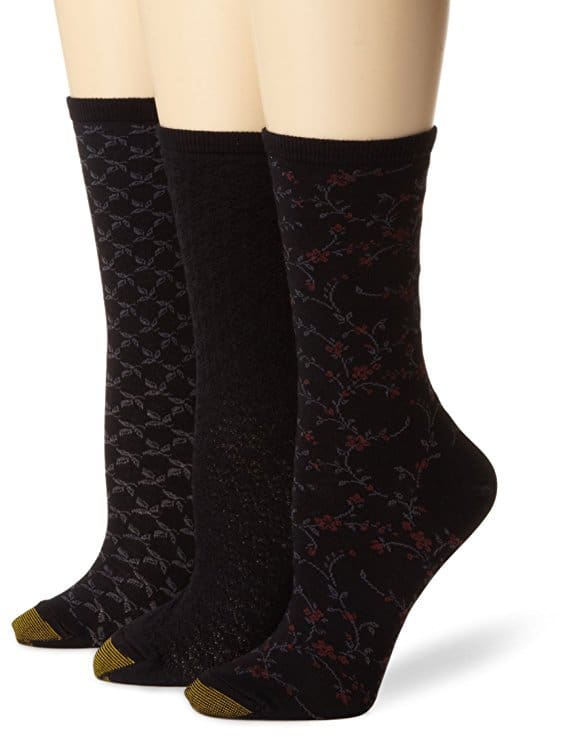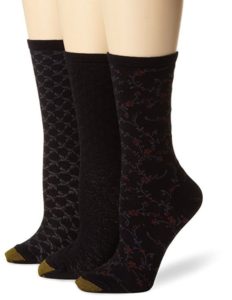 Gold Toe is a lot of people's favorite brand of sock. They have a reputation for being good quality, durable, and comfortable to wear. You can spot them by their distinctive 'Gold Toe.' Many of the most popular styles of Gold Toe are quite thick and won't work well as an office attire option. The Floral Diamonds And Leaf Pattern Dress Socks, however, are very soft and somewhat thin (although not as light as a nylon trouser style), so they make a great everyday dress sock for many different types of situations. You probably won't want to wear this style if it is freezing out and you want something to keep your feet warm; you will want to look for something a little thicker. Most wearers don't find them too loose or too restrictive. They will hold up well to washing, and they aren't prone to getting a lot of holes. You can get this three pack in a few different color combos, and the fabric mix is 71% Cotton/27% Nylon/2% Spandex. If you have very thin ankles, they may slip down and probably aren't the best option for you. If this style isn't right for you, Gold Toe do have other dress, trouser, crew, and knee-high options.
Calvin Klein Women's Roll-Tops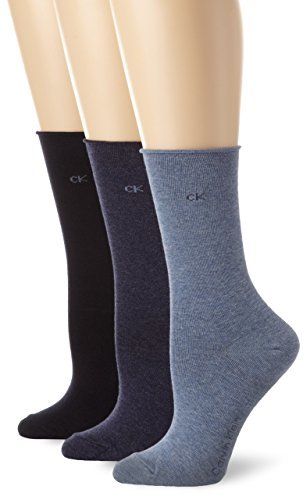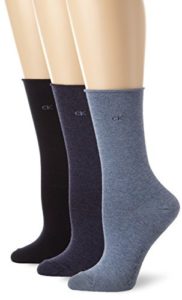 Until recently I couldn't quite see the appeal of a roll top style, but after getting tired of socks that leave elastic impressions on my skin and investing in a pair of these Calvin Klein Roll-Tops, the benefits are much more apparent. You would expect a roll-top to slide down your ankle and become uncomfortable, not so much with this style. They are very comfy and have the perfect level of thickness to them, not too thick just enough to keep you warm in the winter. The colors and the texture (silky) will work well for most work attire.
HUE Women's Flat Knit Knee Socks


Some may find these knee socks from Hue to be an odd choice to include for dress styles, but they are useful for a lot of different types of situations. Apart from the different kinds of fashion looks you can get with this design, they also work well for a teen's school uniform, or you can wear them under pants for a little bit of extra warmth on the leg. The material is a comfortable mix of 40% Cotton, 33% Rayon, 25% Nylon, and 2% Spandex (unless you get the gray color that has a slightly different fabric mix). One downside to this style is that if you are petite they may be a little too long for you, but they are easy to fold down. They should work well with most dress shoes or boots. They are particularly good option to wear with boots as they breathable, they aren't too thick but will help to keep your feet warm. Many reviewers comment on how well they stay up. If you have larger calves, they may be a little too snug for you, since they are a bit on the thicker side (compared to trouser styles) and may not have as much stretch as you expect.
Uniqlo Women's Socks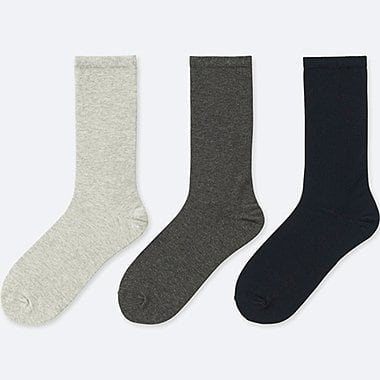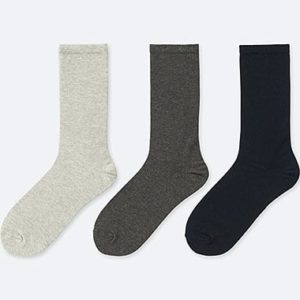 If you haven't discovered them yet, a great place to get socks is from Uniqlo. They have a lot to choose from, and they are changing their styles constantly. For the most part, Uniqlo designs are made of very comfortable fabric, they fit true to size, and they last a long time. They are also an excellent price for the quality and comfort you are getting. You can get them in a wide variety of lengths from footies to ankle to knee lengths. Like most socks, they are usually sold in packs of two or three with various patterns and colors.
Silky Toes Pairs Women's Bamboo Ribbed Dress Socks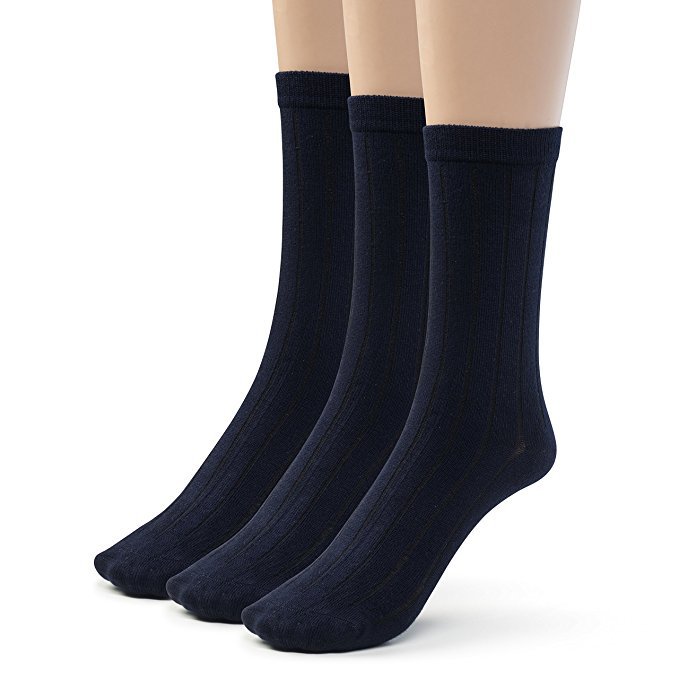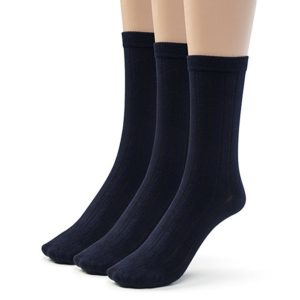 A  high-quality bamboo style that gets excellent reviews is the Silky Toes 3-6 Pairs Women's Bamboo Ribbed Dress Socks. They come in a beautiful array of colors and sell in 3 or 6 packs, so they end up being pretty inexpensive for what you are getting. People mention that this design is durable, yet very comfortable to wear. Many reviews also comment on how high the quality of the material is (80% Rayon from Bamboo, 10% Polyester, 5% Nylon, 5% Spandex) and the excellent design of the sock.
Smartwool Women's Cable II
SmartWool makes styles mainly from treated merino wool. Smartwool garments are known for being itch-free, resistant to shrinking, moisture-wicking, and odor-reducing. SmartWool is most famous for hiking or other outdoor pursuits, but they do have a few dress sock options like the Smartwool Women's Cable II Socks. They will keep your feet warm without being bulky, which is a good combo for a dress sock. They come in a wide variety of colors and patterns.
Flora&Fred Women's Cotton Crew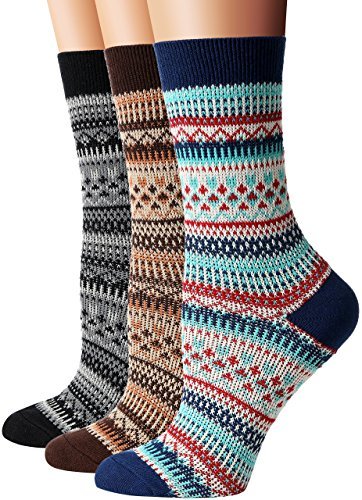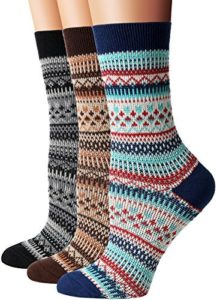 Most of the dress socks we have on this list are pretty dull, but if you love a pattern, you can get a great vintage style from Flora & Fred (don't worry this style also comes in standard colors). What is great about this product is that it is primarily a cotton fabric, so it is very comfortable and thin enough to wear as a dress sock with most footwear. Because of the cotton, it shouldn't make your feet overheat and should wick moisture away so your feet shouldn't feel sweaty. The fabric mix is 85% cotton, 13% polyester, and 2% spandex, which gives them a slightly silky yet stretchy feel. They are not very thick or warm and are generally considered to be more of a medium to lightweight thickness.
What to Look for
Most people will wear dress or trouser socks for the workplace and dressy occasions. Here are some of the things to keep in mind while you are shopping:
Color – Dress sock colors tend to be on the more conservative side. Black, navy, and gray styles are what you will usually find in most business environments. Generally, if you are wearing a dark pant, you wear a dark product, and if you are wearing a light-colored pant, you wear a light style. If you don't love basic colors, there are lots of bright colored or patterned options that can help you show a bit of your personality and personal style that are available.
Sizing – Most women's designs come in one size that usually fits shoe sizes from 6-9. If you fall outside standard sizing, some brands do offer bigger or petite sizing (try Gold Toe). The lack of different sizes makes it a little difficult to find a perfect fit. If you have small feet (less than size 7) and have a difficult time getting good fitting styles, you may want to try children sizes of socks. If your feet are large, you may have more luck with men's sizes.
Style – There are many different types of dress styles: no-show, knee-high, crew, roll tops, etc. Everyone has different preferences depending on the kind of shoe or boot they are wearing and what they feel most comfortable in as far as different lengths that are available.   Mid-calf and knee-length are great for winter to help keep your ankles and calves warm, while crew or no-show are good for summer.
Pattern – A subtle pattern can be a nice touch to add to a dress sock. Basic black can get pretty dull if you are wearing it day after day. If you want something that can help express your unique individuality, there are a lot of bold patterns available.
Comfort – Obviously no one is going to purposely buy a product that isn't comfortable. Some of the factors that determine how comfortable an item will be include design, quality, material, fit, style (roll top may be more comfortable if you dislike the feel of elastic above your ankles). How warm or cold they are can also contribute to comfort.
Material – Most people like a dress sock that is comfortable to the skin, won't make your feet sweat, and that have a bit of stretch to them. To get this type of style, you probably want to look for a fabric mix that has a decent amount of cotton with a little bit of spandex (for stretch) with lesser amounts of rayon or nylon. You will want to avoid cheap synthetic materials that don't absorb moisture or allow your sweat to evaporate.
Length – Depending on what you are wearing, the length is also something important to consider. If you are wearing trousers, make sure the length will be long enough to cover the skin when you are sitting
Thickness – Many of the products on this list are a lightweight to medium thickness. If you are looking for a very thin or nylon option, try nylon trouser sock.