4 February 2020
The Very Best Vibrating Alarm Clock
Last Updated on 4 February 2020 by Marie Davis
People who are hard of hearing or are deep sleepers often find standard alarm clocks not very effective at waking them up. A good solution is to buy a vibrating alarm clock. These types of clocks come with a device that you put under your bed, your pillow, or you can wear as a watch. When it is time to wake up, it vibrates, and the alarm goes off. Most of the vibrating alarm clocks also come with extra loud signals and lamp flashers. Vibrating alarm clocks are also an excellent option for anyone who has to wake up without disturbing others.
There is a wide variety of vibrating clocks on the market; the following is a comparison chart of some of the bestselling and top-rated products you can buy.
Best for Heavy Sleepers

Runner Up

Also Consider

Best for Hard of Hearing

 
 
 
 
Sonic Boom SBB500ss
Vibrating Loud Alarm Clock with Bed Shaker for Heavy Sleepers
iLuv TimeShaker Wow
Clarity Wake Assure Alarm Clock

The loudest ringer you can get 113 dB
red flashing alert
12-volt bed shaker

 Large Clear Display
powerful bed shaker
78 dB
Battery Backup

Large LCD
Multiple alarm options: music, radio, buzzer, bed shaker
FM radio function
USB charging port to charge your Apple or Android device

Very bright LCD Display
85+ dB Alarm
Bed shaker and Lamp Flasher

Check Pricing on Amazon
Check Pricing on Amazon
Check Pricing on Amazon
Check Pricing on Amazon
Key features to look for:
For consumers, there are some things that you should keep in mind when choosing a clock. These include the power source, the loudness of the alarm, the strength of the bed shaker, and many other things.
Extra Loud Audible Alarm some alarms have an adjustable tone and volume and can go up to 113db. The combination of tone and volume control allow you to personalize the sound to your preference
Bed Shaker– Vibrating alarms come with a bed shaker that you place under your mattress or pillow. When the alarm goes off, the shakers will vibrate your mattress or pillow to wake you up. It is a very effective way for people with hearing loss to wake up.  The shaker is small enough to fit under your pillow and vibrates at a set time to awaken you. Couples and roommates can take advantage of the shaker to wake up discreetly. Heavy sleepers and those who are hearing impaired can use the shaker in conjunction with an audible alarm to ensure they wake up on time.
Lamp Flasher – Some clocks have an option to plug a lamp into an outlet at the back of a clock or at the end of a cord, when the alarm goes off the lamp will flash or many have a light flasher built into the unit.
Power Source- Most vibrating clocks are designs that you plug into an electrical outlet. Although you may want to ensure that any model you choose also has a battery backup in the case of a power outage or if you will be using it while traveling.
Time Display If you wear glasses or have a visual impairment, you may want to consider products that have a large, bright LED or LCD. Conversely, if you are someone who is bothered by a bright display, some products allow you to change the brightness or that dim the screen while you are sleeping.
Snooze Button – A snooze button is a pretty standard feature on most alarm clocks, but you may want to check the length of the snooze delay and whether you can program it.
Recommendations and Reviews
Sonic Boom SBB500ss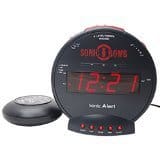 PROS: Extremely loud ringer 113 dB, built-in red flashing alert lights,  battery backup, 12-volt bed shaker.
CONS: Some complaints about customer service and the quality of the device wasn't what some users expected. The shaker is so powerful it may wake up a partner if you are sharing a bed.
Need to Know – Sonic Alert (the company that makes the Sonic Boom) pretty much has a lock on the vibrating alarm clock market. They have some choices that are great options if you are looking for a LOUD vibrating alarm.
What users love: This alarm will scare the pants off you. It is so loud; it will wake up even the deepest sleeper. If you have a hard time waking up or if you have a kid that doesn't like to wake up, this alarm will shake them out of bed. It is easy to use and tiny and compact, so it doesn't take up a lot of space on your bedside table.  The vibration from the shaker is powerful to help shake those heavy sleepers out of bed.
What could be improved: A few reviews have mentioned that the clock has some trouble keeping accurate time; in particular, it jumps ahead, and you have to adjust it every few weeks.
Suitable for: Deep sleepers who sleep through alarms regular alarm, hard of hearing.
Check Pricing on Amazon
Vibrating Loud Alarm Clock with Bed Shaker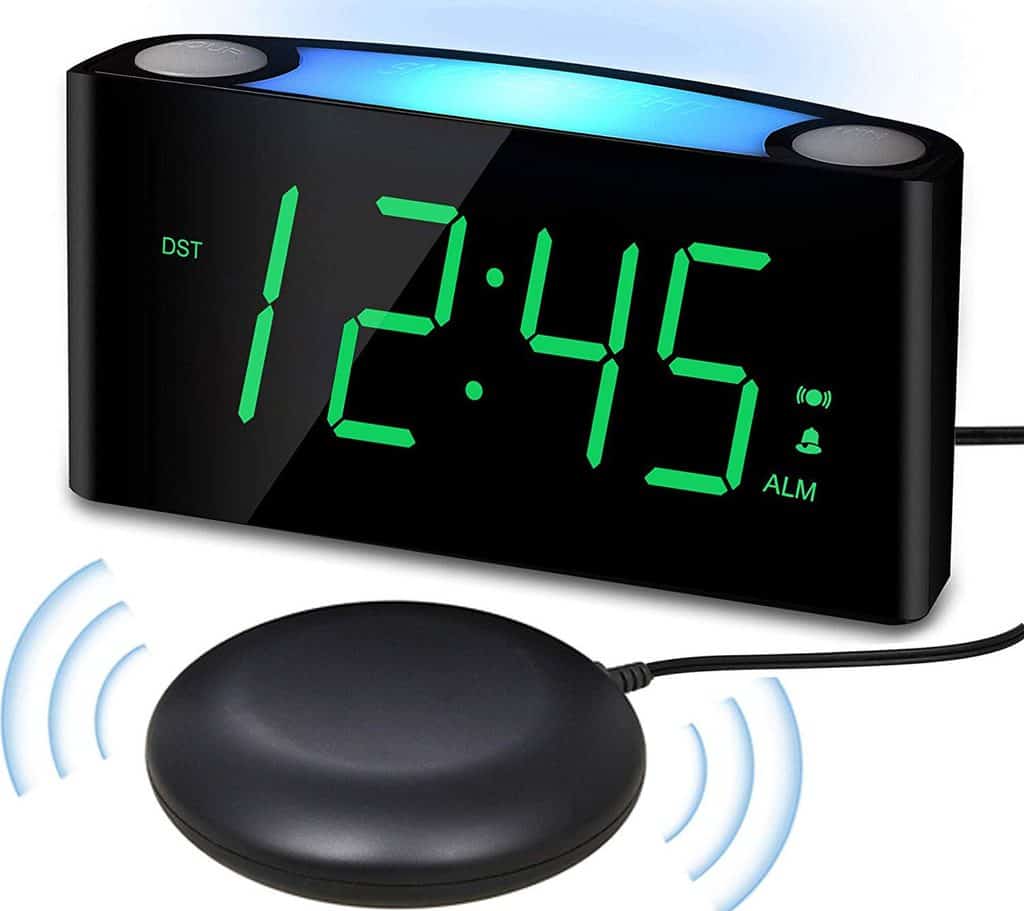 PROS: Large 7-inch display, 78db extra-loud alarm, inexpensive
CONS: Some quality control issues with the product for some users
Need to Know– This is a good alarm for people who are hard to wake. Just the vibrating alert is enough to wake most people, or you can adjust the sound level of the signal from 56 to 78dB. The clock may be a little big for some users.
What reviewers love about this alarm: You can adjust everything on this alarm: snooze time, alarm volume, and pitch, whether you have just the warning, just the bed shaker, or both. Some users have noted that one of the best features is adjustable time on the snooze button, while others find it aesthetically pleasing. The display is straightforward to read at night, even for someone that requires eyeglasses during the day.
Who would love this: This is a good option for visually impaired or people who don't wear their glasses to bed
It is also an excellent product for hearing impaired people or heavy sleepers, guaranteed to wake you up.
Check Pricing on Amazon
Clarity Wake Assure Alarm Clock 85Db – Black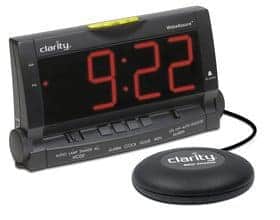 PROS: Large Display, loud 85+ decibel alarm, bed shaker, and a lamp flasher
CONS: The manual is very uninformative and challenging to understand.
Need to Know: One of the biggest markets for vibrating alarm clocks are the hearing impaired. If you have taken your hearing aid out, it is going to be difficult to hear an alarm clock. One of the companies that specialize in products for the hearing impaired is Clarity. This alarm has a bright light and a powerful bed shaker.
What reviewers love about this alarm: Customers love that it has a variable tone and an adjustable volume in case you get used to it. The flashing light is also an essential feature for those who are hearing impaired.
What could be improved: The snooze and the reset button is combined into one button, you press it once to reset and twice to get out of snooze, this seems to cause a lot of confusion for some users. The lamp is also part of the snooze/reset combo button, but it isn't as much of a problem.
Great for people with hearing loss who need an extra loud ringer as well as a light flasher. It is also suitable for heavy sleepers and people who don't want to wake others in the room.
Check Pricing on Amazon
Cost
The prices for vibrating alarm clocks range from just below $20 to $70. You can get a good quality basic alarm clock for around $30, but if you want extra features, you can expect to pay slightly more. You can get them at some major retailers like Walmart, Best Buy, Sears, and online through Amazon or eBay, as well as directly from some manufacturer's websites.
Performance
As far as the best performing vibrating alarm clock, the clear choice is the Sonic Bomb with the super shaker. It is super loud has dual alarms as well as pulsating alert lights and the Super Shaker bed vibrating unit, if you cannot wake up with this alarm clock you are in big trouble.
Warranty
The standard warranty for most of these clocks is a one-year limited warranty as long as you return your warranty card.  Standard return policies apply if you buy from a major retailer (i.e., 30-day return window).
Summary
If you are someone who has a difficult time waking up to a regular alarm clock either due to hearing loss or just because you are a deep sleeper, you should give one of these vibrating alarm clocks a try. They are relatively inexpensive and have a lot of great features like extra loud ringers, bed shakers, and flashing lights that can help get you up and out of bed without disturbing your partner or roommate.