11 February 2020
Top 5 Best Soy Milk Makers
It's simple to make soy milk at home, although depending on the method you use it can be somewhat labor-intensive. If you make it daily, you might find an automatic soya milk maker that will make your life easier. If you use an automatic maker you don't have to soak, grind and strain your soybeans, as the appliance will do all of this for you. By making your milk, you can avoid some of the non-organic and GMO (genetically modified) soybeans, as well as other additives that you find in store-bought products. It can also save you a lot of money if you are consuming large amounts of this type of drink.
Many products on the market can help you make homemade soya drinks quickly and easily. These are the best rated and top-selling options:
Benefits
Soy milk is a trendy alternative to cow's milk, you can easily purchase it at a grocery store, although many grocery store brands are full of additives. If you are drinking a large amount of store-bought milk, the cost can also add up quickly. You can make these types of drinks at home without a machine, but it is a bit of a process. You first soak the beans overnight for 12 hours, then you must remove the outer skin, you then blend the beans with water, after that you strain the mixture through a cheesecloth, nut milk bag or a strainer, and then finally you add the mix with water and bring to a boil in a saucepan. A much simpler and quicker way is to use an automatic maker. These types of appliances have been popular in some Asian countries for years.
If you only drink it infrequently, then using the blender method is fine, but if you are making it every week, it is worth the expense to invest in one of these products, as it makes the whole process so much easier. It is quick to make, and there is minimal cleanup. You will save money vs. store-bought brands if you are drinking large quantities, especially if you buy your soybeans in bulk. Depending on the type of beans you get and where you buy them, you may be able to get the cost down less than a dollar per gallon of milk.
If you do decide to make your own, you should be aware that it won't taste like the store-bought products. Homemade soy milk is thinner and less "milky" than commercial products. There are many tips online that can help you make your homemade drinks taste/feel more like store-bought.
Not only can you use these milk makers for soy, but you can also use them to make a lot of other things like almond, coconut, hemp, cashew, and rice milk, in addition to soups, porridge, and even hot chocolate.
Some of the reported health benefits of drinking nut/bean milk include reducing the risk of heart disease due to its being cholesterol-free and high fiber. It is also great for people who have lactose intolerance or who have milk allergies. It is also suitable for the dietary treatment of diabetes due to low glycemic index, and it is also cholesterol-free. For vegetarians, it offers a source of protein source, since it contains the necessary amount of essential amino acids for tissue repair and growth.
Features to Look for:
Capacity
The smallest maximum capacity is around 1 liter, and the highest capacity is 1.9 liters (on the Presto Pure 1.9 Liter Automatic Soy Milk Maker). Homemade milk tends to last only about 4 or 5 days in the fridge, so depending on how much you drink within a 4 to 5 day time period it may influence the capacity that you want to look for.
Price
Milk makers can range in price from around $60 to upwards of $200. The most popular models cost between $110 and $150 and realistically if you want good quality, with the best features and options you can expect to pay in that range.
Performance
The main advantages these appliances have over making soy milk manually is not having to use a blender to grind the beans or nuts. Most of the grinders in these devices do an excellent job of grinding the beans, so you end up with a higher yield and smoother textured liquid. You also don't have to worry about the device overflowing or burning, since when the milk is cooked fully machine will automatically turn off.
Easy to Clean
The point of these products is to help make your life easier, so one of the most important things to look for is that it is easy to clean. All of the top-rated products are super easy to clean, with the most time-consuming part (although not prohibitively so) being cleaning the filter if the appliance has one.
Number of Function Buttons
Oddly enough many consumers who purchase these appliances don't use them for soybeans, but instead use them for things like almond, coconut, rice or hemp milk. You can also use them for things like soup or porridge. Whatever purpose you are intending on using it for, take a look at the function buttons of any machine you are interested in, just to be sure it includes a function that you can use for what you will be making. Most manufacturers will add an image of the features similar to the following image in promo material: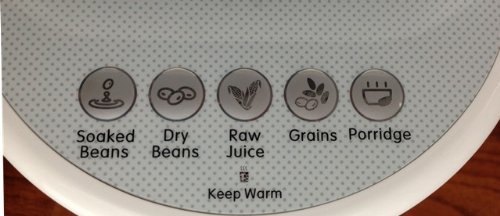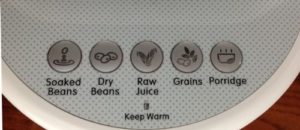 Design
The latest models generally have a very similar design. Some are even the same design, just rebranded by different companies. The main difference in design is the heating element. There are usually two types: one that can be submerged in the liquid (like an electric kettle) or machines that have a heating bottom plate. There may also be minor differences in the filter cup which holds the beans, and the type of screens that the water or milk passes through. The machines will also have a motor with stainless steel stirring blade to mix the soybeans. You can get different colors of devices, some with a floral pattern if you are looking for something other than a basic stainless steel look.
Material
No one wants to be drinking anything that has been boiling in any plastic, so the standard for the material that is used in the latest generation of automatic makers is stainless steel. Some models may still have some parts of the inner chamber using plastic, but try to avoid those products.
Warranty
These are not cheap appliances, so you will want to make sure you are clear on the warranty and ensure that you fill out and return any warranty card to the manufacturer.
Bottom Line
If you make soy milk on a daily or weekly basis, you may find purchasing an automatic milk maker can save you a lot of time and money. You can also use the automated machine for other healthy and nutritious nut milk as well as soups, pastes, and porridge. They are easy to use, easy to clean up, and may save you money in the long run.