It's very easy to make soy milk at home, although depending on the method you use it can be somewhat labour intensive. If you make soy milk on a daily basis you might find an automatic soymilk maker (also called soy milk machine) will make your life easier. If you use a soy milk maker you don't have to soak, grind and strain your soybeans, as the appliance will do all of this for you. By making your own soy milk you can avoid some of the  non-organic and GMO (genetically modified) soybeans as well as other additives that you find in store bought milk. It can also save you a lot of money if you are using large amounts of soy milk.
This guide will explain:
The benefits of using an automatic soy milk maker
Other foods and milks you can make with these machines
Features to look for in these appliances
Reviews and and recommendations of the best products
There are a number of products on the market that can help you make homemade soy milk quickly and easily. Here are the best rated and top selling options:
| Product | Ranking | Summary | Price | |
| --- | --- | --- | --- | --- |
| SoyapowerG4 Soy Milk Maker and Soup Maker | #1 | 1.7 L capacity with bottom heating technology. Stainless steel grinding/cooking chamber, eight automatic, one-button functions. | Check Pricing | |
| Joyoung Easy-Clean Automatic Hot Soy Milk Maker | #2 | Automatically pre-heats, grinds, and cooks. No internal filter for easy clean up, 1.3 L capacity. | Check Pricing | |
| Tribest Soyabella SB-130 Soymilk Maker | #3 | 1.3 L capacity makes milks in 15 minutes with its stainless steel boiling chamber. | Check Pricing | |
| TAYAMA Soy Milk Maker | #4 | 1.5 L capacity budget model with a double emulsification function. | Check Pricing | |
| SoyaJoy G4 | #5 | 1.7 L uses bottom heating and micro-pressure boiling technology. | Check Pricing | |
Benefits of Using a Soy Milk Maker
Soy milk is a very popular alternate to cow's milk, you can easily purchase it at a grocery store, although many grocery store brands are full of additives and if you are drinking large amount of soy milk the cost can add up quickly. You can make soy milk at home but it is a bit of a process. You first soak the beans overnight for 12 hours, then you must remove the outer skin, you then blend the beans with water, after that you strain the mixture through a cheese cloth, nut milk bag or a strainer, and then finally you add the mixture with water and bring to a boil in a sauce pan. A much easier and quicker way is to use an automatic Soy Milk Maker. These types of appliances have been popular in some Asian countries for years.
If you only drink soy milk infrequently then using the blender method is fine, but if you are making soy milk every week, it is worth the expense to invest in one of these products as it makes the whole process so much easier. It is quick to make and there is very little clean up. You will say money vs. store bought milk if you are drinking large quantities, especially if you buy your soy beans in bulk. Depending on the type of beans you get and where you buy them you may be able to get the cost of the milk down less than a dollar per gallon of soy milk.
If you do decide to make your own soy milk you should be aware that it won't taste like the store bought soy milk. Homemade soy milk is thinner and less "milky" than commercial soy milk. There are many tips online that can help you make your homemade milk taste/feel more like store bought.
Not only can you use these milk makers for soy, you can also use them to make a lot of other things like almond, coconut, hemp, cashew, and rice milk, in addition to soups, porridge and even hot chocolate.
Some of the reported health benefits of drink nut/bean milks include reducing the risk of heart disease due to it being cholesterol free and high fiber. It is great for people who are have lactose intolerance or milk allergies. It is also good for the dietary treatment of diabetes due to low glycemic index and cholesterol free. For vegetarians it offers a source of protein source since it contains the necessary amount of essential amino acids for tissue repair and growth.
Features to Look for in a Soy Milk Maker
Capacity
The smallest maximum capacity is around 1 liter and the greatest capacity is 1.9 liters (on the Presto Pure 1.9 Liter Automatic Soy Milk Maker). Homemade soy milk tends to last only about 4 or 5 days in the fridge, so depending on how much you drink within this time period that may influence the capacity that you want to look for.
Price
Soy milk makers can range in price from around $60 to upwards of $200. The most popular models cost between $110 and $150 and realistically if you want good quality, with the best features and options you can expect to pay in that range.
Performance
The main advantages these appliances have over making soy milk manually is not having to use a blender to grind the beans or nuts, mot of the grinders in these product do an excellent job of grinder the bean so you end up with a higher yield and nicer textured milk. You also don't have to worry about the milk overflowing or burning which can be a problem when done manually since most of these appliances include safety features to stop the boiling soy milk from overflowing. When the soy milk has cooked fully machine will automatically turn off.
Easy to Clean
The point of these products is to help make your life easier, so one of the most important things to look for is that it is easy to clean. All of the top rated soy milk makers are super easy to clean, with the most time consuming part (although not prohibitively so) is cleaning the filter if the appliance has one.
Number of Function Buttons
Oddly enough many consumers who purchase these appliances don't use them to make soy milk but instead use them for things like almond, coconut, rice or hemp milk. You can also use them for things like soup or porridge. Whatever purpose you are intending on using it for, take a look at the function buttons of any machine you are interested in just to be sure it includes a function that you can use for what you will be making . Most manufacturers will include a image of the functions similar to the following image in promo material: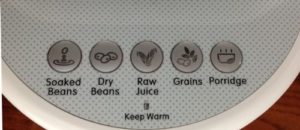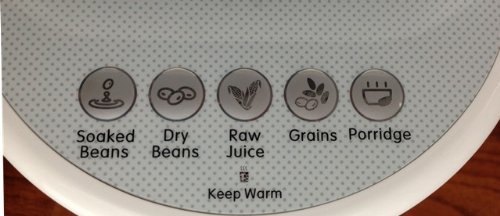 Design
The latest models generally have a very similar design. Some are even the exact same design just rebranded by different companies. The main difference in design is the heating element: that can be submerged in the liquid or a just have a heating bottom plate. There may also be minor differences the filter cup which holds the soy beans and the type of screens that the water or oy milk passes through. The devices will also have a motor with stainless steel stirring blade to mix the soybeans. You can different colors some with floral pattern if you are looking for something other than a basic stainless steel look.
Material
No one wants to be drinking anything that has been boiling in any type of plastic, so the standard for the material that is used in the latest generation of automatic makers is stainless steel. Some models may still have some part of the inner chamber using plastic, but try to avoid those product.
Warranty
These are not cheap appliances so you will want to make sure you are clear on the warranty and ensure that you fill out and return any warranty card to the manufacturer.
The Top 5 Best Soy Milk Maker Brands

1. SoyapowerG4 Soy Milk Maker and Soup Maker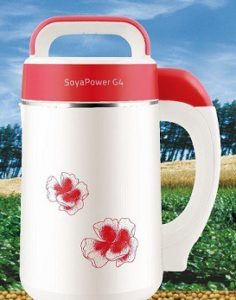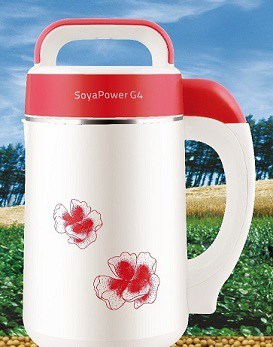 Sanlinx the company that make the Soyapower (as well a the Soyajoy) is one of the pioneers of the soy milk makers basically creating the original milk maker over 14 years ago. Their latest model has a 1.7 litter capacity and bottom heating technology. The total grinding and cooking chamber is all stainless steel construction so you don't have to worry about plastic leaching into your food. The G4 has eight automatic, one-button functions for fully cooked milk, soup, porridge, hot chocolate and raw vegan milk from soy milk, almond milk, quinoa milk, and milk from other nuts, seeds, or grains or a combination of them. It is easy to clean since it has a filter-less design. This model also uses bottom heating like a typical electric water kettle rather than a bottom heating plate so you don't have to worry about burning the bottom of the milk or soup. The grinder of the appliances has also been imporove3d from previous models so you get excellent milk yields and the beans are ground up really well so you don't have to strain as much and it has a more pleasant texture.
Check price of the Soyapower G4 Soy Milk Maker and Soup Maker on Amazon
2. Joyoung Easy-Clean Automatic Hot Soy Milk Maker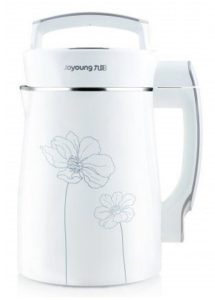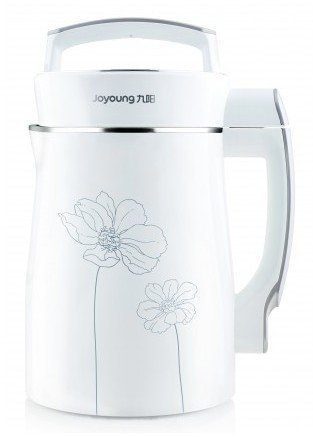 The Joyoung Easy Clean is a fully automatic home kitchen appliance that you can use to make: soymilk, five grains milk, full bean milk, mung bean milk, rice paste, corn juice and grains paste. It is computer controlled, and will automatically pre-heat, grind, and cook. Just push a button, the fresh sticky soymilk is ready to enjoy within twenty minutes. Contemporarily styled, all parts that come in touch with food and liquid are made from food service grade stainless steel. There is no internal filter to clean so that helps to make cleaning up easier. Makes up to 1.3 Liter of fresh milk from soy beans, rice, mung beans, almonds etc.
Check price of the Joyoung Easy-Clean Automatic Hot Soy Milk Maker on Amazon
3. Tribest Soyabella SB-130 Soymilk Maker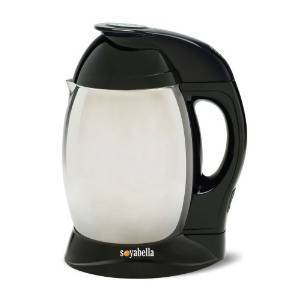 This Soyabella appliance lets you make soymilk, almond milk, rice milk, and cashew milk in as little as 15 minutes. You are also able to make raw nut milks in seconds. In addition to puréed soups and porridges like split pea soup, butternut squash soup, and rice porridge. It also has the option to grind coffee beans and other dry ingredients with its milling accessories.  Soyabella does not have an exposed heating coil, but instead features a safely hidden heating element inside its stainless steel boiling chamber so it is pretty easy to clean up and a bit safer than older models that used exposed coils.
Check price of the Tribest Soyabella SB-130 Soymilk Maker on Amazon
4. TAYAMA Soy Milk Maker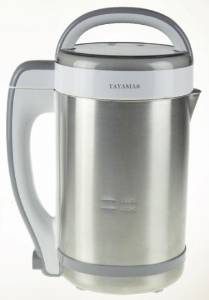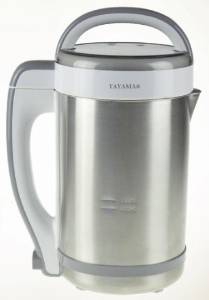 This is a basic model that doesn't have the bells and whistles of the Soyapower or the Joyoung, although you can still use it to make soymilk, as well serums, pastes, and soups, etc. It has a double emulsification function that grinds beans thoroughly. It also has an automatic multi-protection function that prevents overflowing and dry-cooking. It has a 1.5L capacity and comes with a recipe booklet.
Check price of the TAYAMA Soy Milk Maker on Amazon
5.SoyaJoy G4 Soy Milk Maker & Soup Maker with all Stainless Steel Inside New Model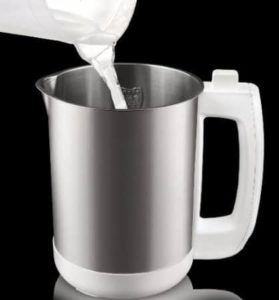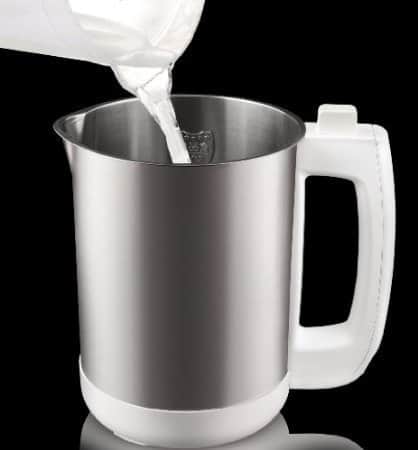 This Soyajoy G4 Soy/Soup maker uses bottom heating and Micro-pressure boiling technology. All of the inner structure uses food service grade stainless steel that guarantees food safe and healthy. It also has a double stainless steel insulation structure that will help keep liquids warm. The capacity is 1.7 liters and is suitable for 2-4 people.  It has six automatic function buttons that will let you make: soymilk, rice paste, soup, porridge, fruit/vegetable juice, as well as a button for washing.
Check price of Soyajoy G4 on Amazon
Bottom Line
If you make soy milk on a daily or weekly basis, you may find purchasing a soy milk maker can save you a lot of time and money. You can also use the automatic soy maker for other healthy and nutritious nut milks as well as soups, pastes and porridges. They are easy to use, easy to clean up and may save you money in the long run.