12 May 2015
Sunbeam Fleece Heated Throw Electric Blanket Review
Need to Know:
If you have been shopping for a heated throw, you likely will have come across Sunbeam's Fleece Heated Throw. This is one of Sunbeam's top sellers, partly because of the price and partly because it comes in a number of different colors and patterns.  It is a decent budget throw that works well and will keep you warm on your couch or at your desk in the colder weather. Depending on when and where you buy it, the price can go fairly low to around $30. It's made of a soft fleece fabric polyester that most users agree is soft and comfortable.  It is smaller than most average throws (50″ x 50 "), which makes it great for just one person or a great size for use at a desk.
A huge caution if you are buying this model online, if you buy from Amazon check to see if it says "Assorted Colors" , if this is the case then this means the supplier will send you whatever color is on hand. Obviously this isn't ideal for most people so you may want to check this one out in stores rather than online.
This throw comes in a large number of different colors and patterns, you can even get a Sunbeam NHL branded Fleece Heated Throw that has styles for all of the NHL team logos if you are shopping for a hockey fan.
It has the standard three settings (low, medium, and high) that work well. As well as an easy to use controller and most of the features you would expect from a product in this price range (preheat, meets all safety testing, warranty, 3 hour auto shut-off, etc.)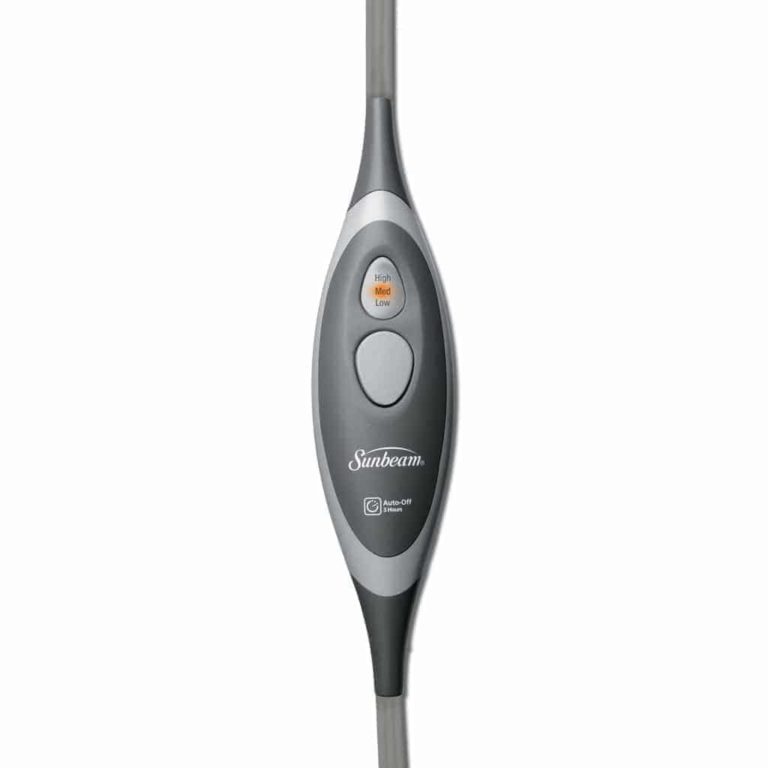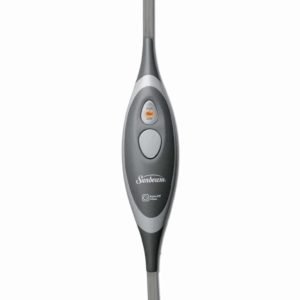 Back to: The Ultimate Heated Throw Buying Guide
What Reviewers and Experts love about this throw
Generally this blanket is reviewed very well. It does suffer from the standard issues that come up with all electrical bedding, which is that some units just don't work and will need to be exchanged for a unit that does work.  (Keep you receipts and register for the warranty!)
Most people find the softness of the fabric very good. It heats up well and stays hot until the three hour auto shutoff turns it off. The controller is easy to see and to use. There are three heat settings so you just choose your preferred heat. This throw does use Sunbeam's Thermofine warming system that adjusts the blanket to your body heat, so you are able to stay at a comfortable level (it uses a rheostat that is a built-in monitor that ensures even heating by detecting the heat from the users body as well as the heat from the throw and making sure there are no hot spots).
There are a few complaints about the size of the blanket, taller customers in particular find that it doesn't cover their feet. But generally the size works well for most people.
Complaints or Issues to look out for
Obviously the big problem with this blanket is if you end up ordering it online and inadvertently order the "Assorted Color" and don't get the color that you are expecting. Most customers are going to prefer to choose the color of any blankets they are buying, however if you do go for the assorted option the trade-off is that you won't be paying as and the options where you are able to select the color. So if you aren't picky about color you will get a better price, but if you are looking for a specific color or pattern, this isn't the throw for you.
Another minor complaint about this blanket is that the control is at the bottom end of the throw so you have to get up to turn it on or when it shuts off after the 3 hour auto shut off you have to get up to turn it back on.
There are also a few scattered reports of a chemical smell coming off the blanket, but if you get one with this odor you will know right away and will be able to return it within the return window of the store policy.
Who should get this blanket
If you are looking for a good quality blanket that will keep you warm while watching TV or working at your desk, this is a good economically priced option. Depending on where you buy from there are lots of colors and patterns to choose from that should satisfy most people. They even have the specialty NHL themed blankets that would make a great gift for a hockey fan.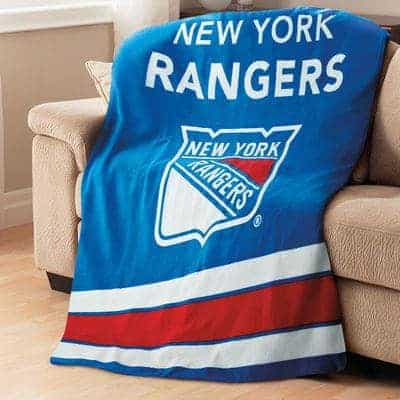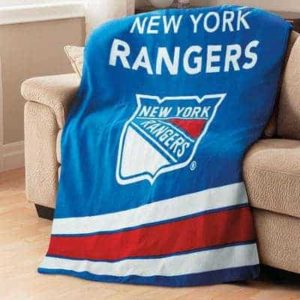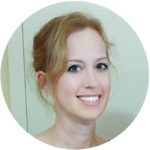 Latest posts by Marie Davis
(see all)