Updated May 22, 2018:
We have updated the post to include the new Microderm GLO Diamond Microdermabrasion System by Nuvéderm. In addition we have also updated some of the other products details to ensure we are giving you the most current information.
For anyone who is interested in microdermabrasion, but who doesn't want to pay the hefty prices for professional treatments, there are a number of portable microdermabrasion machines that you can use at home that can give you the same kind of results that you get at the spa. These new devices are a very effective treatment to help you get smoother, clearer skin quickly. They can also help individuals clear up blackheads, remove dead skin cells, even out skin tone and help your skin absorb topical creams better.
There are many different types and styles of microdermabrasion machines to choose from that can fit into a variety of budgets. To help you find the best machine for you for the best value, we have rounded up the standout devices that will give you beautiful skin in no time at all. Based on reviews from experts and consumers, these are your best options if you are looking for an at home microdermabrasion machines.
Recommendations and Reviews
Microderm GLO Diamond Microdermabrasion System by Nuvéderm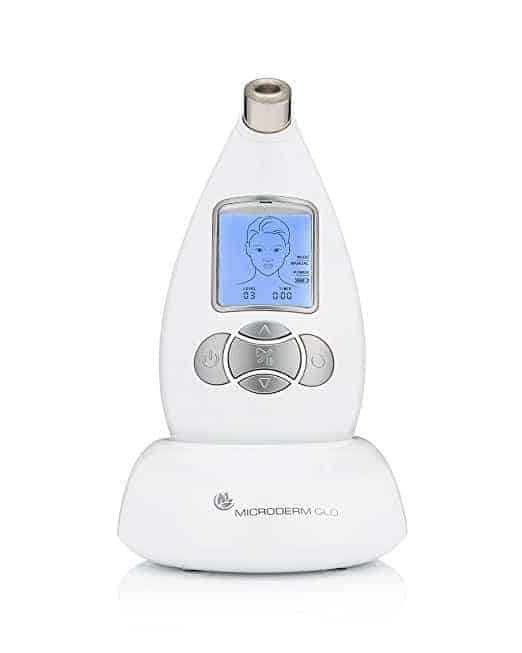 PROS:
Portable
No crystals needed
Easy to use and clean
CONS:
Only comes with one diamond tip
Pricey
Need to Know:
The Microderm GLO Diamond Microdermabrasion System by Nuvéderm is one of the newer at home microdermabrasion devices that is delivering salon like result in the comfort of your own home with very work or time invested. It is safe for all skin types and is able to help smooth out fine lines, wrinkles, blemishes, dark spots, visible pores.
What users love:
Users love the results they are getting with this device, some say it is comparable to salon treatments.
What may be a concern:
It only comes with one diamond tip, so if you like different degrees of abrasion this isn't the machine for you.
Check pricing on Amazon
Neutrogena Microdermabrasion System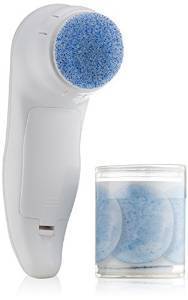 PROS:
Uses massaging micro-vibrations
Makes scars look less noticeable
It makes your skin glow
Inexpensive
CONS:
May be too abrasive for some users
Refill puff are a little pricey
Not recommended for sensitive skin
Need to Know:
The Neutrogena Microdermabrasion System is a well-reviewed, inexpensive device that is a good entry device if you have just become interested in microdermabrasion. It uses a combo of exfoliating crystals and micro vibrations that, according to clinical testing, can give you the same results as a treatment from a dermatologist. It is intended to be used three times a week in place of your regular scrub. The device uses a one-time-use rejuvenating puff, so the puffs will have to be replaced on an ongoing basis. The puffs contain ultra-fine crystals and mild purifiers as well as glycerin and replacement puffs are about $10 for 24. 1 Year Limited Warranty.
What users love:
The ease of use and the cost are the big selling features of the Neutrogena Microdermabrasion System. Most reviewers find that the system helps to make skin smoother, diminishes fine lines and improves the overall texture of their skin, but it must be used on a long term basis to maintain results.
What may be a concern:
If you have sensitive skin, you should be cautious with this system. Some users find the higher setting to be too harsh. You should also be careful using it around your sensitive areas on your face like near your eyes and mouth.
Check pricing on Neutrogena.com or Amazon
MiniMD Handheld Portable Microdermabrasion System by Trophy Skin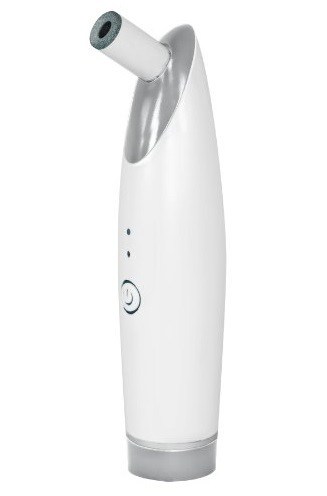 PROS:
Easy to use
Over time can get results similar clinical treatments
2 power levels
Convenient
Durable
Includes a real diamond tip and 30 filters
CONS:
The instruction manual could be improved
Some users find the machine isn't powerful enough for their needs
Isn't cordless
Need to Know
Trophy Skin have a couple of hand held machines- this is their cheapest model, they also have one called RejuvadermMD that is around a hundred dollars more and is also very popular. The MiniMD uses dual-action therapy with a combination of diamond tipped exfoliation and suction. The suction feature is important because it helps enhance the benefits of the device. The kit comes with a wonderful users guide that will show you details on how to use it on your skin.  This model is corded so you will need to be near an outlet to use it. In clinical trials performed by Trophy Skin on the MiniMD show that 80% of users who tested the unit reported decreased wrinkle depth while 95% of participants said they had softer, more hydrated and refreshed skin, and 85% of testers found that they had less blemishes. Diamond Tip will last about 3-6 months depending on use. It comes with a 6 Month Warranty/30 day money back guarantee.
What users love:
Users love the results that they are getting for price they are paying. A lot of the users who buy the MiniMD have had microdermabrasion treatments at the salon and find the result comparable when using the MiniMD.  It helps make your skin look younger and healthier. Most reviewers mention this model is simple to use, very effective and a great value for what you are getting.
What could be improved:
The one big complaint about this device is that despite being so small, it isn't very portable because it is not cordless, so you need to be near an outlet in order to use it.
Check pricing on TrophySkin.com  or Amazon
MicrodermMD by Trophy Skin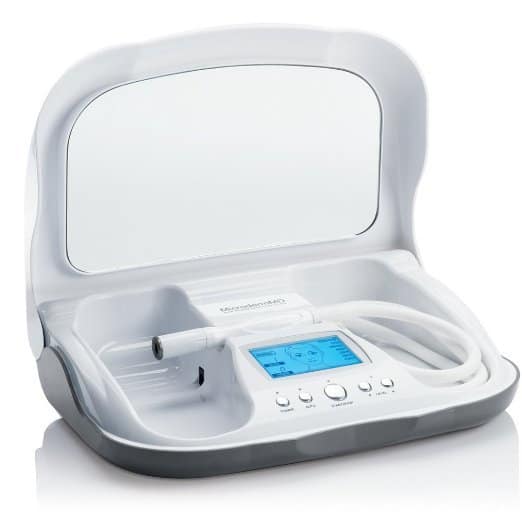 PROS:
Professional-grade
Helps you to get fresh, radiant skin
Uses diamond exfoliation and gentle suction
Safe for all skin types
CONS:
Slightly more expensive than other models
Need to Know:
MicrodermMD is a highly regarded home microdermabrasion machine, it uses diamond tip technology and dual-action therapy that can give you result similar to what you get at the spa. This machine requires a bit of an investment and you also have to replace the tip once a year which will cost you another $50, you will also have to buy replacement filters that will set you back $25 for 100 filters. It comes with a 3-year limited warranty/30 Day money back guarantee.
What users love:
Users love the results that they get with the MicrodermMD. It has a great design that is easy to use and works well. Reviewers note that the screen is a great feature that is really helpful to walk you through a treatment. The machine adjusts suction level for each area and has a timer, so you don't overdo any of the treatment areas. If you would rather not follow the machines guidelines, you can set it to manual and follow your own treatment.
What could be improved?
Some users would like to see the hose be a bit longer.
Check pricing on Amazon
Kendal Professional Diamond Microdermabrasion Machine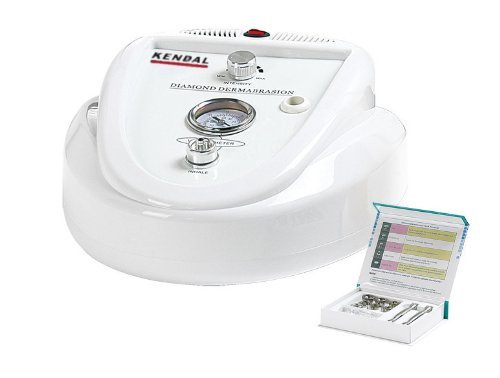 PROS:
Gives users Spa-like  results
Good Quality
Good suction
Includes everything you need to start, no extra purchases needed.
CONS:
Maintenance – you have to clean and wash heads after each use.
Some users find it painful to use
Need to Know:
Just like the MicrodermMD, this Kendal Professional Diamond Microdermabrasion Machine uses the diamond tip method. It exfoliates the skin and then vacuums the dead skin cells away, leaving the users with fresher, younger looking skin. It comes with 9 tips with different sizes and coarseness, so it works well for a number of different skin conditions and sensitivities. It also has in depth instructions on how to use each of the nine tips.
What users love:
This machine works well for a variety of skin conditions, not only is it great for fine lines and wrinkles, users rave that it works well to help reduce acne and acne scarring. Users also love that it is small and compact, but yet still very powerful to use.
Check pricing on Amazon
What is Microdermabrasion?
Microdermabrasion is a skin-exfoliating treatment it can help improve the condition of scars, wrinkles, fine lines, as well as other skin conditions by removing the outermost layer of dead skin cells from the epidermis. In the past it was performed by dermatologists, aestheticians or beauticians using a hand-held, device that uses a combination of a fine abrasive tip or crystals and vacuum suction to remove the dead cells and debris. Microdermabrasion is an incredibly popular beauty treatment because the results are noticeable right away and there is a quick recovery time. It is also painless, non-invasive, and now with at home devices, relatively inexpensive.
Benefits
A microdermabrasion treatment has many benefits, the following are just some of the skin issues that microdermabrasion can help with:
Wrinkles and fine lines
Sun damage/Sun Spots
Enlarged pores
Acne and acne scars
Whiteheads
Blackheads
Excess pigmentation
Age spots
Dull or sagging skin
Skin tone
Stretch marks
Helps skin absorb creams or treatments.
Things to be aware of when doing microdermabrasion
Microdermabrasion treatments have few to no side effects or complications. There are, however, a few things to be aware of before using any at home microdermabrasion machine. If you have sensitive skin, you may find microdermabrasion to be too abrasive for you, leaving your skin red or it may cause dryness, or temporary scratches. Some individuals may also find they have sun sensitivity after using and should use sunscreen after treatments
Before you begin this type of treatment, you should be aware that you have to continually do the treatment in order to maintain the results. You should also read all of the manufactures' recommendations and warnings before using any at home beauty treatment machine.
Features to look for when shopping for Machine for Microdermabrasion?
Easy to use – Look for devices that are easy to use, easy to hold and move about your face and body. You also want to make sure it comes with clear, easy to understand instructions. It is important that you read and follow all of the instructions to avoid any damage to your skin
Easy to maintain and clean – Most machines will require some cleaning and maintenance. The machines we have recommended are generally easy to maintain and clean. If you are looking at other models, check user reviews to see how cumbersome they are to clean. The harder they are to clean, the less likely you will use them on a regular basis.
Cost to run the machine – Another important issue to consider is the cost of replacement head/tips and cost for filters. Some units have very pricey refillable or replacement parts, so you will want to be aware of this before purchase.
Suction Power level – The higher end machines tend to come with different suction level options (some have 5 to 7 different levels). The average suction power for home devices is 16inHg, but some machines can go as high as 25inHg
Number of Different Types of Head/Tip – If you are planning on doing the treatment on different areas of your body, you may want to consider a device that comes with a few different sized tips
Do at home machines actually work?
Some of the at home machines are using similar technology that is used professionally and so you can get similar types of results without the large cost. The cheaper devices like the Neutrogena system don't use the same type of method, so the result won't be as dramatic, but many users find the devices do lessen the signs of aging and improve the overall look of their skin.
Does it hurt?
For almost all users Microdermabrasion is pain free. For some users with very sensitive skin or for those who don't follow manufacturer's directions there is some possibility of discomfort when using these types of devices. Most devices allow users to adjust the speed and the pressure of the vacuum (if it comes with that feature), so if there is any pain you can just modify the settings.
Cost of at home treatments
If you have ever done any professional microdermabrasion treatments you will know that they aren't cheap. For ongoing treatment the cost can go into the thousands of dollars very quickly. At home devices make this procedure much more affordable. The lower end devices can be bought for the initial cost of $30-$50 and you will need to also invest in replacement, puffs, filters or heads (depending on the device). You can get good quality professional grade at home devices for $200 to $300, plus replacement tips, heads and/or filters. You can also spend quite a lot more, but for most users a $200 at home device should suit their needs.
FAQ
Q: Can you use these types of machines on your eyelids?
A: No, they are not intended to be used directly on your eyelids.
Q: What types of skin are safe for microdermabrasion?
A: It is suitable for all skin colors. It is also appropriate for all skin types or texture. You should not have this treatment if you have Psoriasis, as it could make the Psoriasis worse.
Q: Does microdermabrasion work for acne scars?
A: It can be effective to help acne scars fade and in some cases disappear after a number of treatments. Depending on how superficial the scarring is you should begin to see improvement after a series of treatments, deeper scarring will take longer to see an improvement.
Q: How old should you be before doing microdermabrasion?
A: It is generally considered safe for patients who are aged 14 and up.
Q.How often should I use at home machines for optimal results?
Depending on what you are using it for, the general rule is 2 or 3 times a week for most conditions. If your skin is very sensitive you can use it less or use a lower setting.
Q. How soon will I see some improvement?
Everyone's skin reacts differently to different treatments, but most individuals will skin results almost right away after the first treatment, and the improvement will continue over the course of the treatments.
Conclusion
If you want to save yourself some money, but still have beautiful, smooth, even-toned skin, at home microdermabrasion machines are a great option. They are a low-risk, anti-aging device that can exfoliate the surface layer of your skin without pain or the use of needles that some other beauty procedures require. They can help you improve your skin quickly and help reverse and damage that has been done to it.