Losing your child is obviously not a fun experience for any parent to have, and hopefully this will never happen to you. If you have a child who likes to wander off or you would just like to have peace of mind knowing where your child is at any given point during the day, there are some high tech little gadgets that you can strap on your child's wrist or put into their backpack so you will know exactly where they are.
In recent years many of these trackers have been introduced to the market with varying degree of success. They come in a huge range of price points, with many having some kind of monthly fee. Based on user and expert reviews, we have rounded up your best options if you are on the market for a GPS locator to help keep your kids safe.
Best Overall

 Best Wrist Watch Style

Best Wearable Tracking Phone

Best Budget Model

Best for Special Needs

Spy Tec Mini Portable Real Time GPS Tracker
My Buddy Tag with Silicone Wristband
LG Gizmogadget
Mommy I'm Here Child Locator
 Angel Sense
 
 
 
 
 

100% Accurate Real-Time GPS Tracking
$25 a month, no activation fees, no contracts, no cancellation fees
E-mail and text  message alerts, geo-Fence,
Up to 2 week battery life

Alerts you when your child is out of set proximity
Alerts parents when submerged in water to help prevent accidental drowning
Panic Button
Can be worn as wrist band or  attached to a shoelace or placed in the pocket

Can make and receive calls with a single button.
You can locate the Gizmogadget on a map from your smartphone.
Water resistant
Avaliable in Navy or Red.
Single-Button Calling
Auto Answer Function

Wireless child location
Works from over 150-Feet away
Water resistant
Long Life batteries already installed and ready to use
Stylish and fun with rubberized feel

See locations, routes & transit
Real time tracking & automatically created geo-fences
Immediate mobile notifications
Runner Mode for emergencies
Late departure warning
Works throughout entire US
Sensory friendly, tamper-proof
Indoor Search
Listen-In
2 Way voice
30 day risk free trial

 Around $130 plus $25 per month
 $40-$50
 $150 plus $5 per month
 $35-$45
 $99 for GPS Device and $39.99/month subscription
Amazon
Amazon
Verizon
 Amazon
Angel Sense
GPS Trackers for Kids: What to Look For
Although most GPS trackers for kids use the same basic technology, they differ quite a lot in design and performance.
Features
One of the most important features of a GPS tracker is its update intervals. An update interval is the time that passes between location updates sent to the server by the GPS tracker. Look for trackers that can update at least once every five minutes. This ensures that the location information you are receiving is accurate and up to date.
The best GPS trackers let you designate zones on a map. When the tracker enters or exits a zone, you are sent an alert. This feature helps you make sure your children haven't wandered out of any safety zones that you have set up
Another feature to look for is two-way voice. This gives the tracker the ability to make and receive phone calls. This feature is especially important in GPS trackers for kids.
User Interface
The best trackers have easy to use websites or app interfaces that update quickly and give you an accurate reading of where the tracker is located. Look for a tracker that can also send text and email alerts and has an app for your smartphone and tablet. The user interface should also have a tracking history feature so you can see where the tracker has been.
Design
You will want to check the age range that the device is designed for. Some of the designs are for children under 6 or 7 years old and would not be appropriate for older kids who would want a more grown up look to it. The weight and size of the design is also worth considering, if it is too large or bulky your child will not want to wear it.
Fees
The fees vary quite a bit with these types of devices. You may end up paying a large amount for the cost of the GPS device and then have a lower monthly fee or vice versa. The cheapest trackers are those that do not have a GPS subscription, but you are limited with the functionality of the lower end models, they usually only track your kids within a small area.
If you are planning on using a tracker when travelling out of the country, make sure that it works internationally (this is usually listed in the specs).
Some companies also charge cancellation fees if you have a contract.
Performance:
GPS trackers come in all shapes and sizes, with a huge range of prices and varying degree of performance. The best performing trackers are those that cost more money but give you much more robust features and more accurate readings of location.
Reviews and Recommendations
Spy Tec Mini Portable Real Time GPS Tracker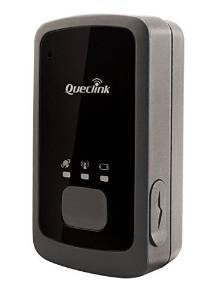 Pros: No contract, activation, or cancellation fees. It is very small and discreet, and has a long 2 week battery life. It also comes with an SOS button, and is easy to use as well as being accurate.
Cons: The user manual needs to be updated with more details, the fee of $25 a month may be a bit high if you are only using this as a child tracker
What you need to know: This is the #1 bestselling tracker on Amazon. The monthly fee is $25, the Spy Tec works well as a child tracker as it allows users to easily set up geofences around your child's commute home from school, letting you know if they stopped somewhere they shouldn't have. You can also geofence off areas in your neighborhood, alerting you the moment your child leaves those boundaries.
What reviewers love: Most reviewers agreed that the Spy Tec Mini is easy to set up and if you do run into problems the tech support is very helpful.
Approx. $130 plus $25 per month  Spytec.com | Amazon
My Buddy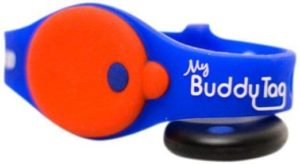 What you need to know:  This is a basic locator that will sound an alarm if the child wearing it goes out of a range that you have set up on the app (outside from around  80 to 120 feet depending what phone you are using (inside the distance is reduced to about 40 feet). A unique feature this locator has is that it will sound an alarm if the child is wearing the watch and it gets submerged in water for more than 5 seconds (this may help prevent accidental drownings).
Each Buddy Tag has a Panic Button. Your child can press the Panic Button to let you know he/she needs your help. It also has an email with Last Seen Location feature that sends you an email with the date, the time, and the map location when the child wearing Buddy Tag is totally out of the bluetooth range from the phone.
What reviewers love: The proximity alert works well; you can easily adjust it to adjust the distance from far, medium to near. The design and colors are kid friendly and comfortable for children to wear; the child isn't able to take the watch off very easily. Much more cost effective than a GPS tracker. Most reviewers like the simplicity and cost of My Buddytag, there is no SIM card or subscription to worry about or charging of batteries.
What reviewers would like to see improved: Some users find it frustrating that that you can not have this going on 2 apps at the same time. Some users would have liked to be able to have on both parents phones, but it will only connect with one devise. Apparently it was designed it this way on purpose, so that only one parent is in charge of the child, and not get into the situation of each person thought the other person was watching the kids and ended up with no one was watching.
Who is this best for: Customers who don't want to pay for a monthly GPS subscription but would like to monitor their kids in the yard, park, or a mall.
Pros: No monthly fee, has a panic button
Cons: Can only be used for close range, for example in a park or plaza. You can't use with 2 devices at the same time (2 phones watching one tag).
LG GizmoGadget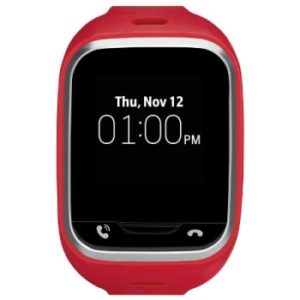 Pros: Simple child's smartwatch. It is easy for young kids to use. You do get voice service, which gives it an advantage over models that use GPS only.  It has a long battery life and it uses Verizon's network so it will be reliable. The phone can be turned on and off from the parents app and you get notifications when the phone is turned off if you didn't do it from your app.
Cons: Only good for kids in the age range of 4 to 7, since the band is quite small and won't fit on older kids wrists.It only comes in 2 colors: blue and red.
What you need to know: This is the latest version of the Gizmo smartwatch and is quite different than its predecessor. The updated design is much sleeker and less toy like. It still has the GPS tracker that parents can use to track its location using an app on any Verizon smartphone.
It also has an LED status lights to indicate incoming calls or messages.
Good for kids ages 4-7. The child only has to press the single button that will give them voice prompts The unit comes with a band that has  nine size settings. The phone will reject any incoming calls that are not from either of the four programmed numbers. Battery life is about four days of normal use. There's no battery indicator, but you can use the app to check battery status.
What reviewers love: Reviewers love that it is super simple, inexpensive and has great coverage due to Verizon's extensive network. Most users are happy with the battery life kids love the cool sounds it makes.
What reviewers would like to see improved: Some users would like to see the size of the band increased so it can be used by older children.
Who is this best for: Parents who want a reasonably priced simple cell phone so they can contact their child when they are away from them.
$79.99 plus $5 per month LG.com|
Mommy I'm Here Child Locator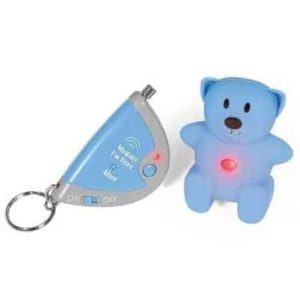 Pros: Cute design for younger kids, can track your kids up to 150 ft. away, long battery life, alarm actually warns you when your child wanders approximately thirty-Feet away. Very loud alarm, no monthly fee.
Cons: Range of the alarm can sometimes be inconsistent. Some people found the bear a little big to attach to the child.
What you need to know
This is a decent low cost way to keep track of kids when you are at a busy location like a mall or a park, while still letting them have some freedom to explore. There are no monthly fees, but the features for the Mommy I'm Here are somewhat limited. It will notify you with an alarm if you child has gone further than 30 feet away from you up to a distance of 150 feet. It is a cute child friendly device that younger children won't mind having attached to their clothes.
What reviewers love: Sound is strong and loud even through walls. Most users found the performance good and it is a good size with subtle appearance that works well for small kids.
What reviewers would like to see improved: Some users found the device would go off when the child was only a short distance away.
Who is this best for: Very small children at busy locations like airport, mall, and theme parks.
Approx. $35 MommyImHere.com|Amazon
Angel Sense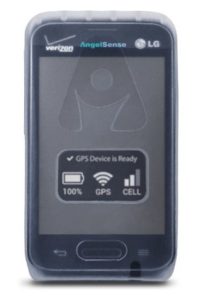 Pros: Designed for parents with children who have autism to track and help their children stay safe. Lets you know exactly where your child is at any point in time during the day and shows a full say's schedule so you can review the day. You are able to listen in to any interactions your child is having during the day. You can set up text or email notifications when your child changes locations. Has 10 second live location update.
Cons: More expensive than other tracking options for kids.It has a relatively short battery life of around 24 hours.
What you need to know: This device was designed by a father with a tech background who has a child with Autism who felt that he needed a more complex device to help monitor his child throughout the day and help keep them safe. You attach it to a pocket or a backpack and it is quite small so your child won't be bothered by it.  Angel Sense has a lot of unique features compared to some of the other children's tracking devices out there. It has the GPS tracking, but you input your home location then when you child goes to school it logs it as a new location and you get notified and then you can name it as a regular location that you child will be going to. After a few day your child's most frequently visited locations will be stored and named so in the future when you set up a schedule all the places your child goes or should be at a certain time will be listed. If your child doesn't show up at one of these place you will be notified.  If there's a deviation from his/her normal routine, you'll be notified and be able to react accordingly.
If you go onto the Angel Sense website you can also get real-time update about of your child's location. The other really cool feature is that you can listen into what is going on during the day if you call into the GSP unit.
What reviewers love: Customers love that the Angel Sense give a more in-depth idea of where a child is at any particular time of day, which is especially useful for children with special needs. Reviewers also love being able to listen in on what is going on with their child at school.
Who is this best for: Parents of children with special needs who need more intensive monitoring of their children's activities during the day.
$99 for GPS Device and $39.99/month subscription| AngelSense.com
Other options to consider:
SkyNanny GPS Child Tracker 2.0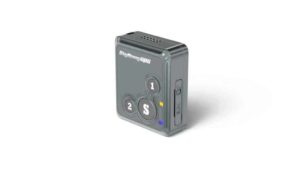 The Skynanny is a small device that lets you see your kid(s) on a map using a Android app. Not yet available for an iPhone or iPad. It will give you directions to your child and has alerts if they wander out of a boundary that you have set. It also has a panic button for the child and a low battery alert.
Approx. $130 for GPS unit and $4 month for GPS subscription service Sky Nanny|Amazon
Guardian Angel for 2 Kid's Tracker Child Children Locator Alarm
This is another basic alarm similar to the Mommy I'm Here device. You can use it to track up to four children at one time and it has a range of up to 50m. If the child goes out of range a 95 dB beep alarm is triggered both on the parent's unit as well as the unit that is worn by the child.
Find on Amazon
Trax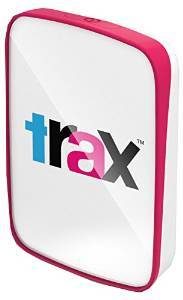 Trax is a tiny GPS-tracker that lets you see where the tracker is located in real time on a map that you view on a smartphone app. In order to keep track of your kids you can create safe zones, (GEO-fences) around areas like schools, playgrounds, sportsfields, parks, friends' houses. These can be scheduled to operate or lie dormant on specific days of the week and certain times for ease of use. and get notified when they have left the safe zone.  This is a great option if you are travelling out of the country as it comes with two years of free roaming in over 33 countries (check their website for specific countries).
Approx.$250 and $5 a month subscription  traxfamily.com | Amazon
Summary
With so many kids getting lost or wandering away from caregivers, it is handy that companies are being able to make use of technology in the form of these tiny convenient child locators that can help keep children safe. With devices that range in price from $30 to over $250 (plus monthly fees) there are options for every budget and every need, whether you would like to keep an eye on your kids at a park or you need more in depth monitoring there is a product that will suit your needs.