One of the best ways to keep dogs cool during the hot summer months is to use a cooling mat or bed. They come in a variety of sizes, and many can be used both inside and outside the house or in a kennel. It is very easy for a dog to become overheated and these mats can cool your pet down quickly and keep them cool for hours.
There are a few things to be aware of in order to find the best cooling pad for your situation. In this post we cover what you should look for when shopping for a cooling mat, as well as give you some recommendations for most popular products on the market.
Features to Look for in a Cooling Mat for your Pet
Durability– Obviously you will need a mat that can stand up to any rough treatment your pet may put it through. Biting, chewing and scratching at the pad are all pretty normal behaviors for a dog. Most pads are designed to withstand a small amount of chewing and scratching, but if your pet is a bit more on the destructive side than most, you may want to skip the cooling mats altogether and look at a product like the Coolaroo bed (listed below). For those who have a cat in the household with sharp claws, punctures are something that you may need to think about. A couple of the pads claim to be puncture proof, although that is kind of a tough thing to guarantee.
Material– The best cooling pads are made of a Nylon fabric and are latex free.  It is pretty hard to get a material that is indestructible, but Nylon is able to hold up to most of the worst wear and tear from pets while at the same time being breathable.  Avoid any types of beds or mat that contain plastic, foam, or rubber, as they will cause your pet to sweat.
Cleaning – Mats do tend to collect dirt and drool from dogs that are panting and sweating, it can make for kind of a gross combination. You will want a product that is easy to clean. All of the pads that we have listed are easy to clean with a damp towel or sponge and mild dish washing detergent. You CANNOT put these cooling products into a washing machine.
If you are worried about bacterial growth while storing a pad over the winter, some manufacturers recommend using a few drops of grapefruit seed extract into the water you are using for cleaning.
Sizing– Finding the right size of pad for your pet is going to be one of the most difficult aspects of shopping for this type of product. Most companies have many different sizes to choose from.  If you are unsure of what size will suit your dog, all you need to do is measure out the area that they take up when they are lying on their sides with their legs stretched. Once you have figured out how much room they are taking up, add a little bit of space to that measurement and you should be able to get a general idea of what size to get.
Inside/ Outside– Most pads can be used inside or outside. If they are going to be used outside, they must be kept out of the direct sunlight and off flooring that can get really hot like asphalt.
Weights of the pad- Generally cooling pads are lightweight and easy to fold up for storage or travelling. One exception to this is the Cool Bed III. Since the Cool Bed III is filled with water it can get pretty heavy and is not intended to be moved once it is filled.
Length of time it will keep your pet cool– Another important thing to consider is how long the pad will keep your pet cool. An acceptable length of time is around three hours, with 15-20 minutes to 'recharge' when not in use.
Water vs Gel filling– Most of the cool pads have a non-toxic gel filling. The gel filled mats are lighter and more convenient, but if you are worried that the gel may leak, you might want to stick with the mats that have a water filling.
Cooling Mats for Dogs- Best Products 2018
Pet Dog Self Cooling Mat Pad for Kennels, Crates and Beds- Arf Pets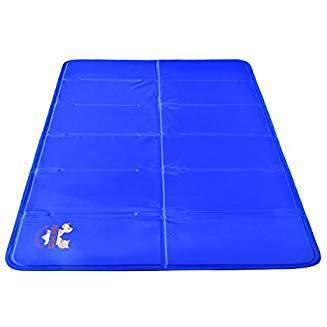 This Arf Pets solid-gel cooling pad is a great option to help your pets stay cool. It is lightweight, budget friendly, and easy to clean. It can be used as a standalone mat, in a kennel, or on a dog bed. It can be used inside or outside and can stay cool for around three hours with a 15-20 minutes recharging time when not being used. It has a slight cushion for comfort and folds up easily to move around your house or to take with you when you travel. It comes in 3 sizes, is puncture proof and is non-toxic.
K&H Cool Bed III Cooling Dog Bed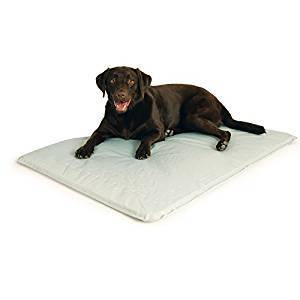 K & H make a lot of different types of pet beds, including heated indoor and outdoor beds. Their most popular cooling product for dogs is the Cool Bed III. Versions of this bed have been around for years, this latest version has a stronger material (heavy vinyl backing with a nylon coating) than previous versions. This is one of the few pads that is water based rather than gel based (you fill the pad with water only once when you first get it). The Cool Core of the pad absorbs the dog's natural body temperature and radiates it back into the air. It can be used inside or outside (in the shade only) and it comes with a two year limited warranty. One thing to note with this pad is that it has a strange problem where if you lift or move the bed by its corners the foam core interior separates from the sides, causing it to become lumpy and impossible to smooth out. In order to avoid this problem you have to fold the bed in a certain way if you are planning on moving it.
The Green Pet Shop Self Cooling Pet Pad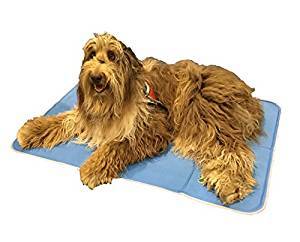 The Green Shop is another very popular option if you are looking for a good quality, low maintenance cooling pad. It folds up easily for storage or if you want to take it with you on a trip. It is also non-toxic and the vinyl cover is easy to clean. It will stay cool for up to three hours and will recharge itself in 15- 20 minutes if it isn't being used.  It comes in five different sized and is very sturdy.
Basen Pet Cooling Mat
This cooling mat from Basen is a durable good quality mat that is relatively inexpensive. It is filled with a non-toxic cooling gel that doesn't require anything to activate the cooling properties. This mat is also scratch and chew resistant while still being comfortable and flexible enough that you pet will want to rest on it in the warmer weather.
Dogbed4less Orthopedic Gel Cooling Memory Foam Dog Bed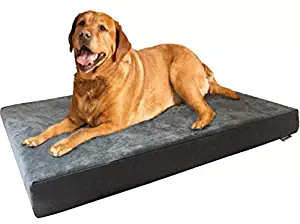 A slightly different style that is a great option for dogs with medical conditions that need a lot of cushioning, but also need to stay cool is the Dogbed4less Orthopedic Gel Cooling Memory Foam Dog Bed. This bed is great for medium to large breed dogs. It has easily removable washable covers, with a a cooling gel that is found within the foam that should help to keep your pets cool and comfortable in the warmer months,
How do they work?
The mats work by absorbing the heat from your dog's body and dissipating it into the air, so your dog stays cool. The pads don't generally feel cool to the touch, but they will be cooler than your dog's body.
The gel that is contained in most of the cooling pads is water-based with a polymer. When pressure is put onto the polymer gel it becomes activated and is able to pull heat from the body.  When the pressure is removed (i.e. the dog gets up from the mat), there is no longer any heat to absorb and the polymer gel is able to recharge itself.
Benefits
Obviously the main benefit is that these types of pads will keep your pets cool in the heat. Some of the pads have a little bit of cushion to them; they are more comfortable than sleeping directly on the floor. If you have a dog who is suffering from Cushing's disease they will be able to get a bit of relief from these types of products.
Best place to put a cooling pad
If you are using the pad indoors, the best place to put it would be in an area with good air flow and a type of hard, cool, flooring like a tile, linoleum or concrete. Make sure there are no sharp objects near the pad that may puncture it. If you are using the bed outdoors you must put it in a shady, cool area out of the direct sunlight.
To get the most out of your cooling pad
Since there is some chance of the pads becoming damaged or leaking there are a few basic things you should do to make sure you will get years of use out of the product. First, make sure your dog's nails have been trimmed to help prevent punctures. You should also ensure that the mat is placed on a smooth surface with nothing underneath that may cause it to puncture or rip. If you put the pad on a hardwood floor check it on a regular basis to ensure that there is no condensation or moisture that may damage your floors. Even though it is tempting, never place a cooling pad in direct sunlight. If they are used outside place the pad in a shady area. If you place it in the direct sun, it will become hot. Finally if your pet has begun to use the mat in a particular area, try not to move it so your dog gets used to using the pad and becomes attached to it.
Other Options
If none of the cooling mats that we have listed meet your needs, here are a couple of other options to help your pet stay cool and comfortable in the heat.
Coolaroo Elevated Pet Bed with Knitted Fabric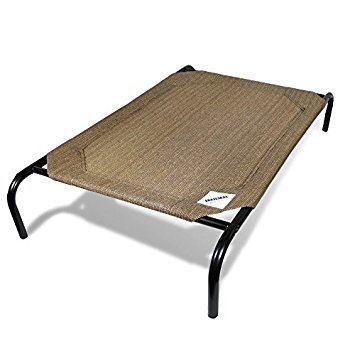 If you aren't so keen on the cooling mat, you may want to have a look at this cooling bed. The off-the-ground design means that your dog will have better air flow all around the bed. This design is elevated 7 inches off the floor and is made of a breathable high density polyethylene fabric that is comfortable and cool. The bed comes in three different sizes (S,M and L) and you can choose from five different colors. It is easy to clean, and the material that it is made of is flea, mite, mold and mildew resistant. The manufacturer claims the bed can be set up in 5 minutes, although many users reviews state that the bed can be difficult to set up and you may need to refer to some YouTube videos for assistance.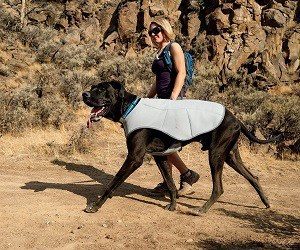 Ruffwear – Swamp Cooler, Cooling Vest for Dogs
Getting your pet a cooling vest is another great way to help them beat the heat, especially while out walking or playing. This vest from Ruffwear is a really clever design that uses evaporative cooling to keep your dog at a comfortable temperature. All you need to do is soak the vest in cool water, wring it out and then put it on your dog. As the water heats up, it vaporizes and cools the air surrounding the vest, in turn keeping your dog cool. This is a great product for dogs who overheat and have a lot of trouble being outside in the summer. It comes in 6 sizes so it should fit almost any breed.
Fuloon PVC Portable Foldable Pet Swimming Pool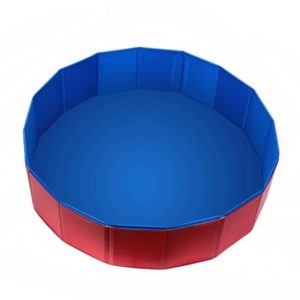 If you need to cool your pet down quickly a good way to do this is to have them submerse themselves in a pool, or body of water. If you don't have a body of water nearby, check out this dog swimming pool. It is great because it is made of pet friendly material and you can use it for a quick cool down spot. It can also be used to give your dog a bath, so you don't get your bathroom soaked in wet dog water. It comes in 4 different sizes and can fold up for easy storage or for travel.
| Amazon
Other ways to keep your pets cool in the summer
Since dogs can only release heat through some sweat glands in their feet and by panting, it is best to take some precautions in the heat to avoid your dog from becoming overheated. Here are some easy ways to ensure you pets are comfortable:
 Leave pets indoors with air conditioning if possible.
If the pet must be left outside, make sure they have lots of water and a shady spot.
Only walk your pet in the early morning or late evening when the temperature is more bearable.
To cool your dog quickly, provide a pool of cool water for them to stand in.
You can also cool them down quickly with a wet towel.
Avoid over exercising your pets.
The Bottom Line
No one wants their dog to be uncomfortable when it is hot outside. There are a number of products that can help keep your dog cool and give them some relief from the heat all your pets healthy and comfortable even in the hottest, most humid conditions. Remember to inspect any cooling mat that you get for damage and never place it in direct sunlight.